The Galapagos Islands are ancient islands formed through volcanic activity, off the west coast of Ecuador. They were discovered by a man from Panama, named Tomás de Berlanga in 1535. The islands were claimed by Ecuador in 1832. In 1835 Charles Darwin visited the region in order to explore the islands and research the geology, botany and zoology, in order to find evidence supporting his theory of evolution. Despite Darwin having not spent a great deal of time on the islands, his name has since been tightly coupled with any references to the Galapagos.
The Galapagos Islands are particularly special because there is an incredible biodiversity, and they have been well protected from human influence and damage. It is on the islands that you can see a wide variety of land and sea creatures that are not seen elsewhere in the world.
Despite being a volcanic region, there are currently only two islands with active volcanoes: Isabella and Fernandina. Unsurprisingly, we did not visit either of these two islands.
Galapagos Islands Tour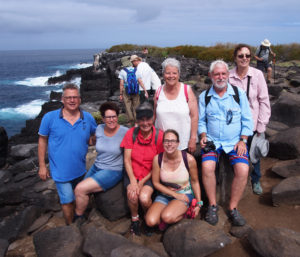 In July 2016 I ticked off bucket list item number 2, which was to take my mum to see the Galapagos Islands, something that was a life long dream for her. For ten days we toured together with family, friends and strangers on the Intrepid Travel Tour: Complete Galapagos (Daphne). The tour was all on a boat called the Daphne and our guide Wilo had recently been awarded "Best Guide in South America" by Intrepid. The crew were brilliant: Luis was a great Captain who got us everywhere safely; Benny and Herman took us everywhere in the zodiacs; Luis was a fantastic barman/waiter; Eric and Segundo prepared delicious meals for us daily; and Carlos kept the boats running.
There are a few reasons why I regularly tour with Intrepid, one of which is their commitment to supporting the community. Their stand on community support is in the case of the Galapagos backed up by legal requirements. Anyone who works as a guide or in any other capacity in the Galapagos Islands MUST be a resident of the Galapagos. This ensures the economic support of the islands, by providing income and jobs. It also means that you  typically encounter people that have a vast amount of knowledge and passion for their home.
When to visit
I am sure the Galapagos Islands are amazing to visit at any time of the year. Despite the cold currents and high winds, July was a great time to visit as we were able to see many of the birds nesting. In some cases, July is the only time of year when certain birds are seen on land. For the bird lovers in my group, this was a dream come true.
Isla Baltra
As the plane descended to land on Isla Baltra I can say I have never experienced such an intense buzz of anticipation emanating from all the passengers in the plane. We were all so curious to see what awaited us!
Baltra is an arid island, and for us, was only the point of arrival and departure. Within an hour of landing we headed across to Isla Santa Cruz by ferry.
Isla Santa Cruz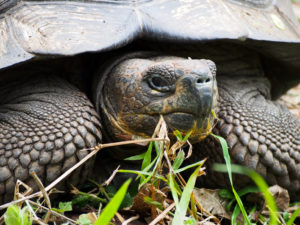 Santa Cruz is one of the few inhabited islands, with a population of approximately 23,000 people.
The main visit on Isla Santa Cruz was to a private farm where Giant Tortoises can be found after wandering into the highlands from the National Park. The land has been cleared, making it easy for the tortoises to find a greater variety and quantity of food.
The tortoises typically eat large quantities in the cold season, then travel to the lowlands to lay eggs.
A large old male can weigh up to 250kilograms. Tortoises never stop growing, though over time their growth rate simply slows down.
To see Giant Tortoises, Santa Cruz is the best island to visit.
Floreana
Floreana is another inhabited island, with a population of just 120. We visited an uninhabited portion of the island.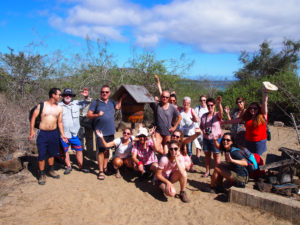 Our first stop was to Post Office Bay.  Post Office Bay has a large barrel containing mail (letters and postcards), traditionally sailors would stop by here to collect the post to deliver mail to other islands they were heading to. Now tourists leave postcards there, so that other tourists may hand deliver them if the destination is near their home. It's a really fun idea!
From there we walked to a lava tunnel where we did a short exploration in the dark and even swam to the end. The idea of hiking and swimming in a lava tunnel is so cool! But realistically, the one we visited was just like many caves I have visited.
Back on the beach, we went for our first snorkel in the Galapagos. We had the brilliant fortune of being able to see a large number of Sea Turtles in a range of sizes. We also saw some stingrays and fish.
The Sea Turtles were however, the highlight for me. They are such beautiful creatures, moving so gracefully through the water. I was also very impressed that they did not pay much attention to us and happily went about their business of eating, breathing and swimming as we watched in awe.
Devil's Crown
Just off the coast of Floreana Island is a volcanic crater with a coral reef in the centre referred to as Devil's Crown, and one of the best snorkelling sites in the Galapagos.
Dropping into the chilly water was rewarded with fantastic visibility and an abundance of sea life. We saw a huge variety of fish, not to mention a shark, eagle ray and marble ray.
Punta Cormorant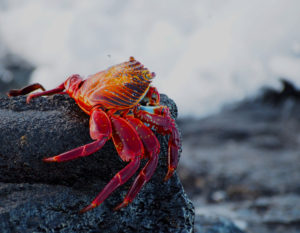 We finished our visit to Floreana with an afternoon walk across the island from one side to the other at a place referred to as Punta Cormorant.
Through the centre we were able to observe flamingos eating in the lagoon.
Across the island was a beautiful beach where we were able to observe the brightly coloured sally lightfoot crabs scampering over the rocks. We also watched the pelicans and blue footed boobies diving into the water to feed off fish.
Espanola
Española was the first uninhabited island we visited. An island where we made two stops.
Punta Suarez
Punta Suarez was our landing point on the island for a nature stroll. Instantly upon landing we were surprised to see hundreds of Marine Iguanas chilling out, soaking up the sun on the black rocks and warm sand. The Marine Iguanas eat red and green algae that grows on the rocks under the water, through their diet their skin has acquired a red colour and sometimes you can also see the green colour.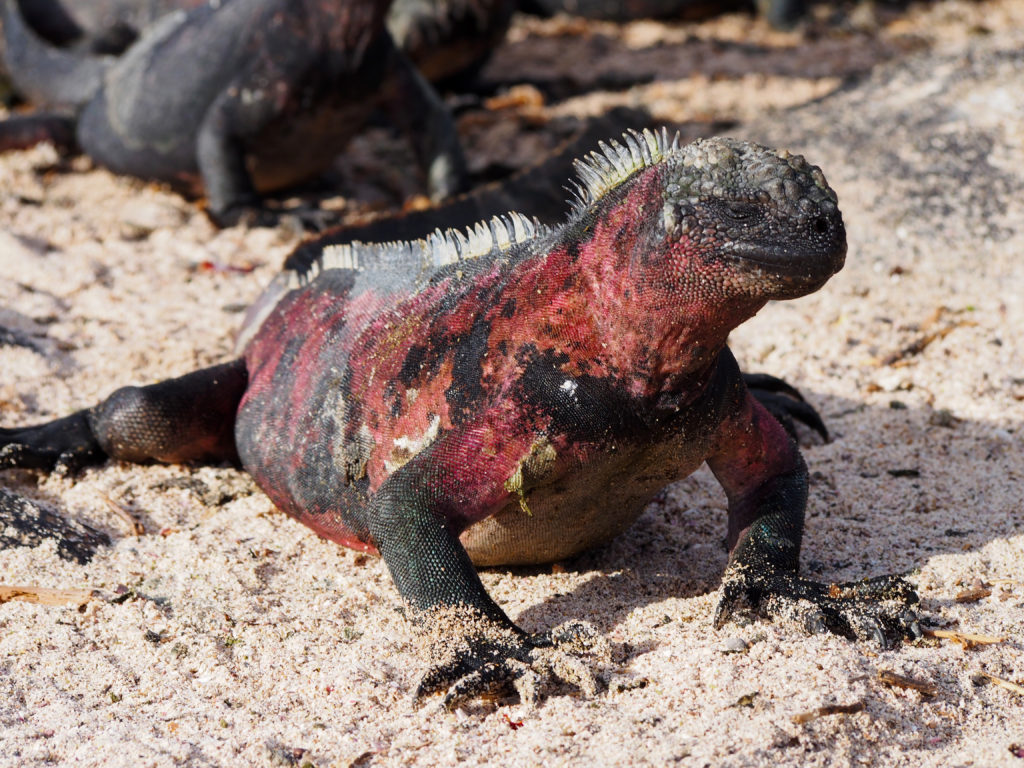 The Iguanas on Española are so abundant, it makes it challenging to walk, as every few steps you almost tread on one who has blended into the environment so well and is laying to perfectly still.
In addition to the Igaunas, we saw Lava Lizards, Frigate Birds, Nazca (Masked) Boobies and Albatross'.
The Nazca Boobie, was previously known as the Masked Boobie. In 2001 the name was changed to Nazca Boobie after the name of the tectonic plate on which the Galapagos Islands can be found.
Gardner Bay
We spent a lazy afternoon soaking up the sunshine and hanging out with the Sea Lions and Pelicans on the beach of Gardners Bay.
On the way back to the boat, Wilo, Andrea and I took one last dive to check out a sleeping Galapagos Shark on the reef.
As the sun began to drop and we motored our way to the next island, we were incredibly lucky to get an escort. A pod of bottlenose dolphins, jumped, swam and spiralled in the bow wave of the boat for about 15 minutes as we shrieked in delight.
San Cristobal
Mid way through our tour we made a visit to the inhabited island of San Cristobal. The population of San Cristobal is around 8000.
It was here that we said goodbye to some of our tour buddies and said hello to some new ones.
Kicker Rock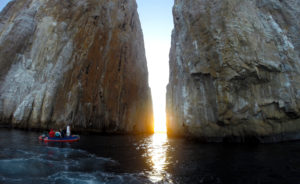 Prior to arriving at San Cristobal we had a 6am snorkel at Kicker Rock. Kicker Rock looks like an island with a hill, but to one side it appears to have split. It was through this split in the rocks that we snorkelled in search of sharks.
Everyone was an incredibly good sport about getting into the icy waters at 6am. Unfortunately our early morning diligence was not rewarded with good visibility. Close to the rocks you could see some nice coral, fish and algae. But through the center of the chasm all you could see was blue. At one stage through this blue a galapagos shark was spotted heading straight for my aunt and I. Hearing our tiny shrieks of surprise, the shark disappeared as quickly as it had appeared.
Island Adventures
On land, we said our goodbyes and gave hugs, before enjoying a spot of souvenir shopping as well as coffee and wifi connections.
Having recruited our new tour members, we enjoyed a brief land excursion starting with a visit to the Interpretation Centre.
The Interpretation Centre provided some geological facts about the islands and their formation. It also covered the history of the islands, and other information regarding its inhabitants, lifestyle, geology, botany and zoology. We continued through the visitor centre up to the viewpoint and statue of Charles Darwin, which was great for some photos.
From downtown San Cristobal we headed into the highlands to see another farm for Giant Tortoises, so that our new tour buddies would have an opportunity to see them.
We finished the day with a visit to Lake Junco which is at the peak of the island. This gave us a great panoramic view of the island as a whole, as well as the crater lakes nearby.
Isla Santa Fe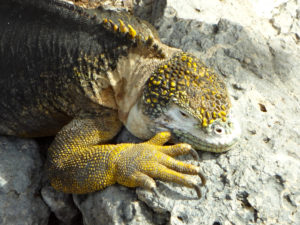 Exploring the uninhabited island of Santa Fe was indeed a treat as it was the first chance we had to see the Yellow Land Iguanas. Much like the Marine Iguanas, these guys were super chilled out, and only occasionally opened their eyes to check where you were in relation to them. I was impressed too, by the bright yellow in their skin, perhaps coming from their diet of Prickly Pear Cactus.
During our walk we also saw Sea Lions, and a variety of different birds.
Snorkelling
With our new tour buddies we dropped into the ocean once more. At this site we again saw a huge variety of sea life. The notable fish I saw included a Scorpion Fish, Mexican Hawkfish, Blue-Eyed Damselfish and Cornet Fish. We also got the opportunity to swim with playful Sea Lions and a lethargic (thankfully) White Tipped Reef Shark.
Plaza Sur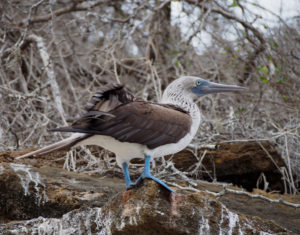 The Plazas Islands are a pair of Islands: Plaza Sur and Plaza Norte.
Plaza Norte is heavily protected and no one is allowed to visit. Plaza Sur is however a great spot to go for a walk along the island trails to see both Land and Marine Iguanas, Sea Lions, Tropical Birds, Swallow Tailed Gulls, Red Billed Tropic Birds and Blue Footed Boobies.
Genovesa
Genovesa is another uninhabited island where we took some opportunities to snorkel and walk.
Snorkelling
This was the place I was most excited about as it provided the opportunity to swim with Hammerhead Sharks! Unfortunately, the visibility wasn't fantastic and I got only the tiniest snippet of video footage and no photographs before my GoPro went flat, but I was lucky enough to see five or six of these majestic, not to mention HUGE creatures! I was bouncing off the walls with excitement!
The other highlight of snorkelling here was to see a huge school a Manta Ray swimming directly below me. It was amazing to see them swimming as such a tight cluster.
In addition to the Hammerheads and Mantas, we saw a large range of fish species including Parrot Fish and Angelfish.
Walking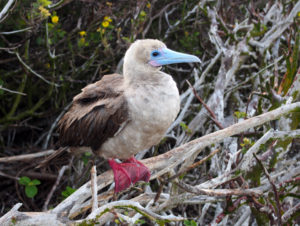 We made two land trips, one in the morning and one in the afternoon.
In the morning we landed on the beach and wandered along the rocks to see Red Footed Boobies, Frigate Birds, Swallow Tailed Gulls and Nazca Boobies.
Our afternoon walk started with a steep ascent up the Prince Phillip Steps. Named after the prince who stumbled down them in 1972. Up on the clifftops we found the nesting grounds for a variety of the bird species'.  We saw the Swallow Tailed Gulls, Red Footed and Nazca Boobies with their chicks.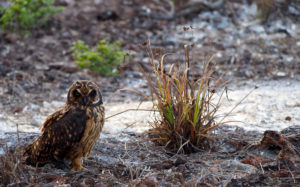 We were also incredibly lucky to spot the Short Eared Owl (seven of them in fact, when spotting even just one is a rarity). The Short-Eared Owls are quite evil creatures, to hunt they don't swoop down on their prey. Rather they hide in the burrows of their prey, awaiting their arrival before attacking them as they enter their home. It seems rather evil to me, but clearly it is effective as the birds haven't starved into extinction.
Santiago Island
Sullivans Bay on Santiago Island was the place that I considered most fascinating in terms of the landscape. The entire landscape that we explored was 140 year old, cooled black lava.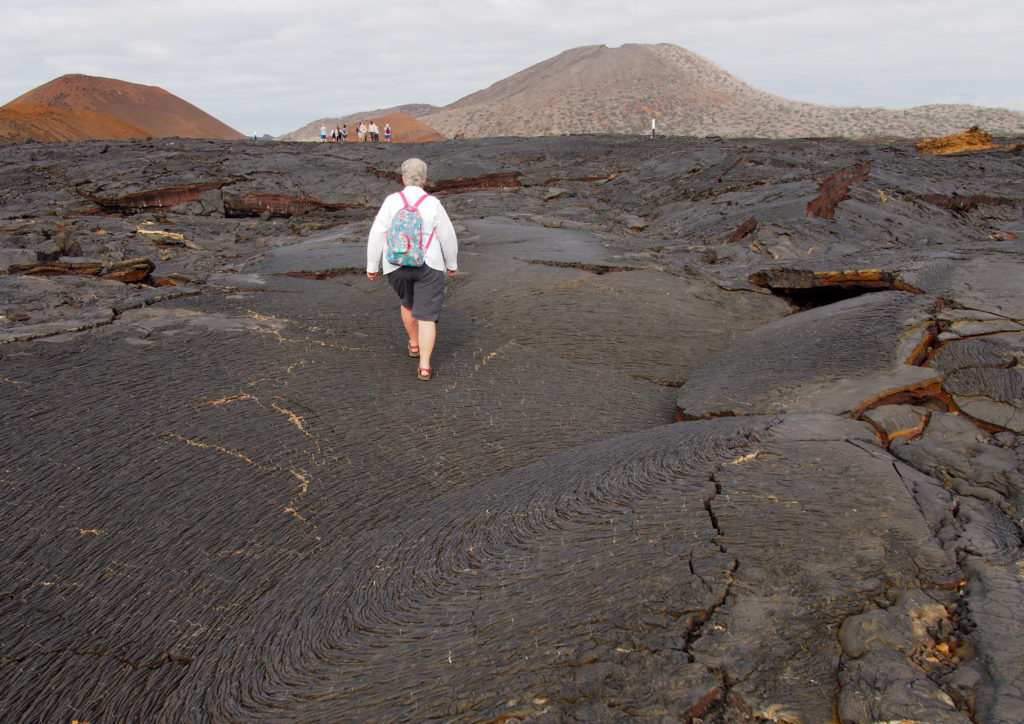 What I found so fascinating were the patterns in the lava, the lava flow visibly change direction at some points. Some sections had tight ripples, other loose ripples and other sections were flat and smooth.
Over time, the layers of lava have occasionally split and cracked, enabling you to see the layers in the dried lava, with it's various degrees of density and colour. Unsurprisingly, there was no animal life to be found here.
An afternoon snorkel around the islands' coast was also fascinating, seeing the rippled lava under the water. It was here that we saw a beautiful juvenile turtle enjoying lunch, a variety of fish and for the first and last time, a Tiger Eel.
Bainbridge Rocks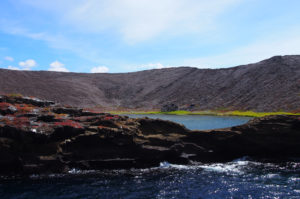 In our travels from one island to the next, we passed by Bainbridge Rocks. A volcanic crater with a lagoon in the middle. The lagoon is often home to flamingoes, but on this occasion we weren't lucky enough to see any.
Despite missing the flamingoes, I personally found the island/crater to be simply stunning and was not in the least bit disappointed at the lack of flamingoes!
Rabida Island
Our visit to the uninhabited Rabida Island was our last island visit. We enjoyed a walk and a snorkel.
Walking around Rabida
On first seeing Rabida Island, I feel we were all surprised at how red it was. The earth was a deep ochre colour everywhere you looked. The red looked magnificent set against the silver coloured, bare, incense trees and the lush green prickly pear cactus'.
Snorkelling along Rabida's Coast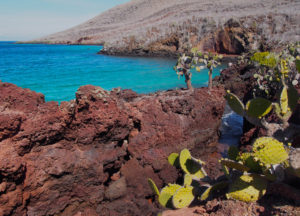 Our last snorkelling trip of the Galapagos Adventure was around the coastline of Rabida from one bay to another. As usual we saw a large variety of fish, some Sea Turtles and Starfish.
We were also on the lookout for more sharks, at least I was. I was not disappointed, and in fact was a little put out by the large number of sharks we came across. To start with I enjoyed swimming a few metres above a large a wonderfully graceful Galapagos shark. Soon he crossed paths with two others. As I continued on, another two were not simply swimming along the bottom, but headed upwards towards me. While I am sure we would not have been snorkelling if these sharks posed a threat, having a two metre shark swimming in your direction is not a comforting feeling.
I continued on and soon the number of sharks increased to about seven, mostly staying low in the water, until one swam past me at chest height, in the two metre gap between me and the rocks. This was incredibly exciting, but at the same time, I felt I had had my fill of sharks for the day and I climbed aboard one the zodiacs to get a birds eye view of the shark 'infested' waters while soaking up some warmth from the sun.
Santa Cruz
We finished our tour back where we started, on the Island of Santa Cruz. Before packing and disembarking, we had one last boat trip on the zodiacs into Black Turtle Cove.
It was a very relaxing way to start the day, so serene between the mangroves, with the serenity of sunrise and the perfectly still water.
Looking through the waters surface amongst the red and black mangroves we managed to see baby Black Tip Sharks, Eagle Ray, baby Puffer Fish and Sea Turtles.
It was with this last picture in our minds that we packed up, hugged the crew and headed back to civilization.
What an amazing adventure, the words simply don't describe how awesome this experience was!!