Meknes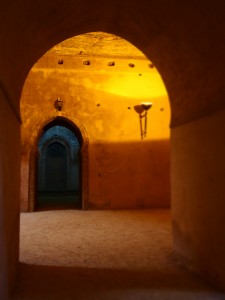 The tour made a short stop in Meknes, where we had a local guide tour us around for a few hours. We visited the Heri Es Souani granary which was built in 700 AC. It is built partially underground, and the smart use of high vaults and water flow systems were fantastic in keeping the grain cool. The granary sounding like something that would be boring to visit, but it was actually quite fascinating, not to mention beautiful.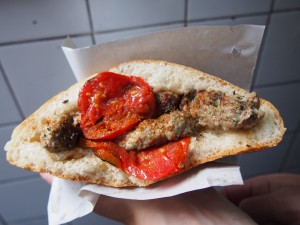 After our visit to the granary we walked around the palace I think (we weren't allowed to go in or take photos, so I am not sure what the walled and guarded area was that we walked past). We continues on to the medina where we ate camel burgers for lunch. For someone who is a chicken when it comes to food, I did eat one and it was surprisingly delicious!
After lunch we had a short wander of the local markets before it was time to continue on to Fes.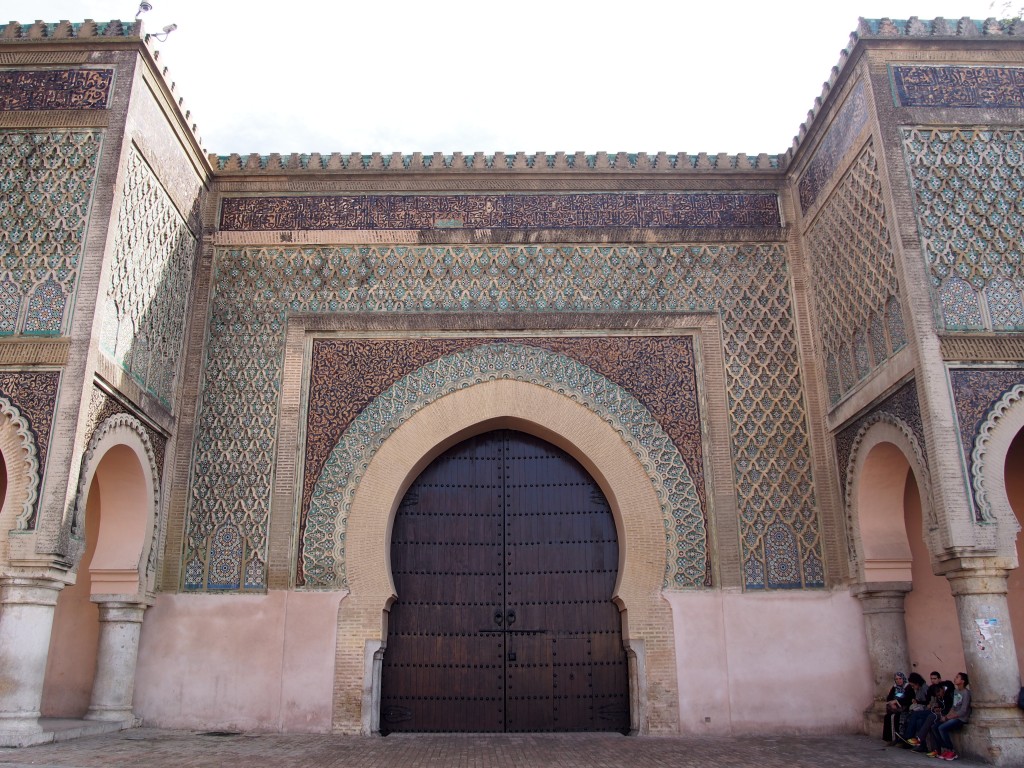 Fes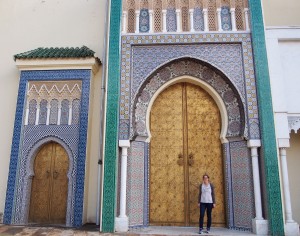 In Fes we once again hired a local guide to show us around, starting with a visit to the Royal Palace. Well, the front gates of it, which are absolutely stunning! The Royal Palace is found in the newer part of town, from the 14th century. The palace gates were restored in 1968 and are yet another display of intricate and colourful muslim design work. There were so many beautiful colours and patterns. I loved it. There are many palaces around Morocco where the King and his Queen may reside, as the Queen is originally from Fes they often visit this palace. I was also very interested to learn that the Queen of Morocco is a computer engineer!
(If you didn't already know, I am an IT teacher with a focus on getting more women interested and involved in Computer Science – I am always excited about women in IT especially someone in an influential role such as a position of royalty, it's a great example to provide girls!)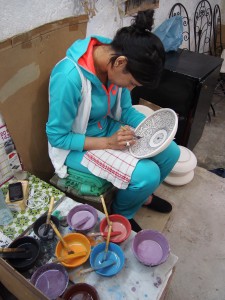 After visiting the palace gates and having some car trouble we headed up a hill for a view of the city and the medina. We made a short stop at a ceramics factory learning about the ceramics that are made and how the mosaics are created, before heading into the rabbit warren that is the medina. So many winding alleyways all filled with little stalls selling candies, bread, meats, olives, clothing, jewellery and more. It is a real feast for the senses!! (I might add that this isn't always a good thing!)
Through the medina and out the back we headed to the leather tanneries, much to my disappointment they were undergoing renovation and we weren't able to see the huge vats of dye's used to colour the leather hides. We spent the remainder of our time in Fes relaxing and drinking Nos Nos. (The local brew of coffee is crazy strong, but they have a variation of it which is half coffee half milk, called Nos Nos.)