Matagalpa is in the northern, hilly region of Nicaragua, known as the coffee region. We were really interested to head to Jinotega to check out the heart of the coffee region, but with limited time we opted to visit Matagalpa instead.
Our stay in Matagalpa
To be honest Matagalpa was a little disappointing for us. It was a fairly small city, densely populated and very urbanized. We didn't really enjoying being amidst the hustle and bustle. Also being in the mountains was unexpectedly cold, for which we were most certainly unprepared. Regardless we made the most of our time there wandering the streets checking out the local architecture and the fruit from the street sellers.
Selva Negra Coffee Plantation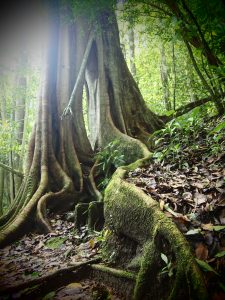 The goal of heading to Matagalpa was for the coffee, so we caught a bus further into the hills to coffee plantation Selva Negra. It is a large farm designed for agriculture and tourism. They offer farm tours, cacao and coffee tours; or you can simply pay the entry fee to explore their hill trails by yourself.
Unfortunately due to the rain the coffee tour was cancelled (it was kind of a bonus since the tour was a lot more expensive than we actually wanted to pay USD$22). So after enjoying a cup of the Selva Negra coffee in their lakeside cafe, we explored the hill trails in the forest – which were absolutely wonderful. Lush green vegetation, monster trees and some interesting species' of funghi. Despite being on the lookout for monkeys we weren't lucky enough to spot any.
Entry to the farm is 100 Cordoba, or 200 Cordoba which is redeemable but it was unclear in which situation it was redeemed.
The bus ride to Selva Negra was 13 Cordoba on the bus route to Jinotega, and the bus driver was so kind as to tell us when to get off.
Accommodation
We stayed at Hostal Martina's Place. It was a very large dorm room, though they also offer private rooms. Considering there were so few guests the large dorm was not an issue. The hostel was very clean, with a good location and good facilities. The only strange thing was having to pay a deposit for plates, and cutlery if you chose to cook your own meal.
Hostal La Buena Onda also looked good and also had a tour desk for asking questions about tours.
Getting There and Away
Express buses travel regularly between Matagalpa and Leon. The journey is 81 Cordoba and approximately 3 hours.