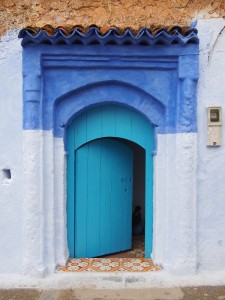 Chefchaouen is by far my favourite place in Morocco. It is in the Rif Mountains in the north of Morocco. Our guide told us it was built in 1511 by Berbers, Arabs and Jews. I was told by a random on a bus that the town name means "look at the two peaks", though I am not confident of this. The name does however relate to the two peaks which some say are shaped like two horns; and I do believe the peaks behind the town are important in the town's history. In the event of invasion, fires were lit atop mountain peaks to provide signals to nearby towns as a warning.
Chefchaouen is also sometimes referred to as Happy Valley, as there is a large amount of Marijuana grown in the area. I have heard that it is also fairly readily available in town, and is more commonly referred to as kif. For this reason, it is apparently quite a popular place for backpackers to visit, though I must say this certainly wasn't on my list of things to do.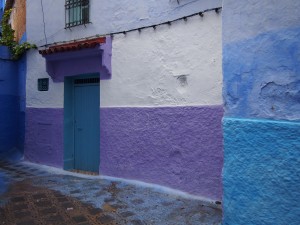 Despite other reasons for it being known t the travelling community, Chefchaouen is primarily known for being the blue city (in case you are wondering, no I do not know why everything is painted blue). A huge number of the buildings in the city are painted/whitewashed in various shades of blue, and sometimes purple. Often the tops of building here left as orange, but the walls, doorways and window frames were often beautiful combinations of different shades of blue. Despite my day of arrival being grey, glum and rainy, I throughly enjoyed exploring the narrow alleyways of the city. The following day and explored the same narrow alleyways and more and enjoyed it just as much the second time around. It is a gorgeous place to explore!!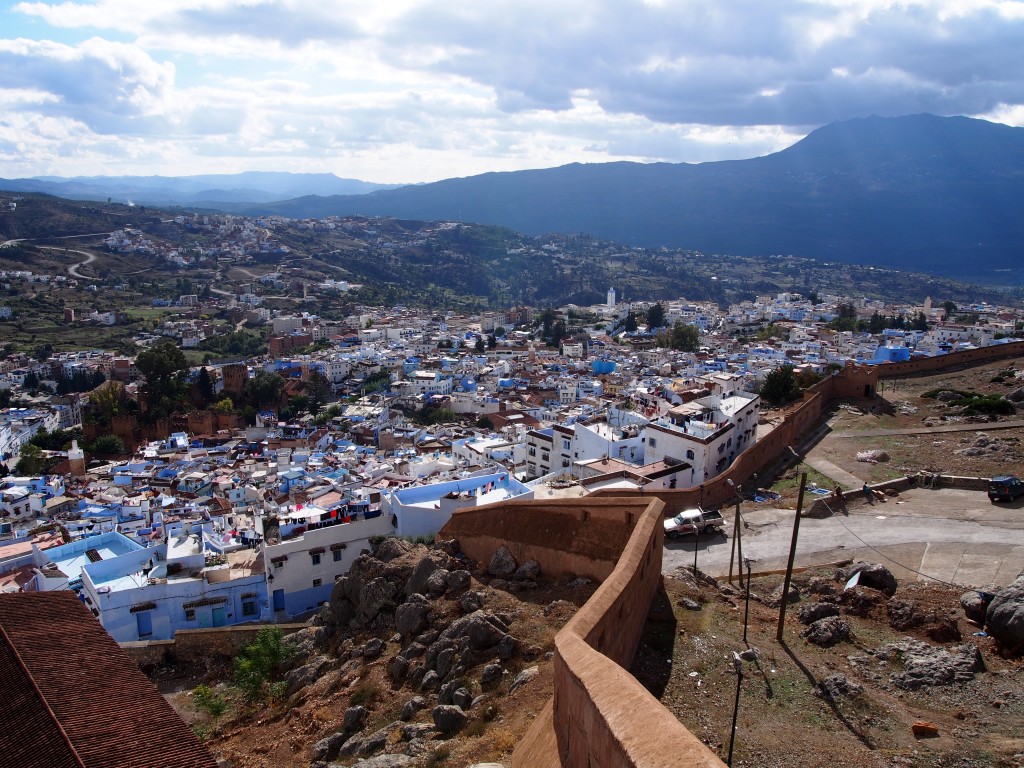 In stark contrast to all various shades of blue, the Kasbah in the town center is completely orange. It costs very little to go in and see, but it is also not overly worth it. Nevertheless I found it interesting.
Things to see and do in Chefchaouen include exploring at random, visiting the kasbah, exploring beyond the city wall or enjoying the view from the city wall, and hiking in the mountains (I didn't go hiking myself).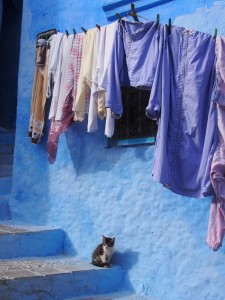 A word of warning, as with any place in Morocco and in fact many other countries. You will be hassled on the streets to look in stores, to buy products and to eat at specific restaurants. I found this a standard annoyance throughout Morocco, so Chefchaouen was no better or worse. What did bother me however, was the children. They would come up to you and essentially demand money. In one case we were asked by a girl if we had a pen, we produced a pen and she took off with it, we had thought she wanted to write something to show us. There was another case where someone on the tour had an ice cream taken from her hand by a child. Also it was here that boys yelled racist comments and threw stones at a member of our group.
So I love the city of Chefchaouen, it remains my favourite, but please be wary of the children.