The Corn Islands are a pair of islands roughly 70 kilometres off the western coast of Nicaragua, in the Caribbean Sea. They are known as Big Corn and Little Corn Island.
As the name suggests, Big Corn Island is the bigger of the two. It is geographically larger than Little Corn by 3 times, at roughly 10 square kilometres. It has an airport, cars, shops, ATMs, resorts etc.
Little Corn Island is 2.9 square kilometres, has some beach shacks, basic hotels, restaurants, and all traffic is by foot or bicycle. The island runs on generator power and can only afford diesel to run the generator for part of each day. As a result there is no electricity on the island between 06:00 and 13:00, though some restaurants run their own generators for this time period.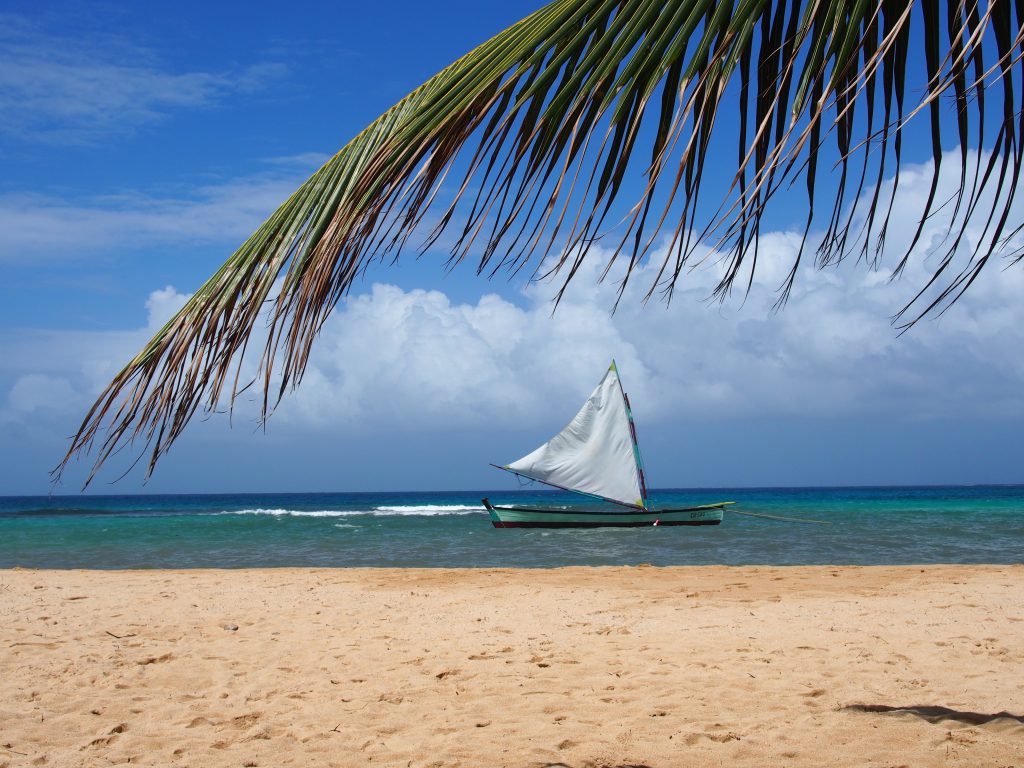 Our Stay at Little Corn Island
Visiting Little Corn Island was actually the trigger for wanting to visit Nicaragua. I saw some spectacular pictures and since then I have been wanting to visit. We decided to conclude our Nicaraguan adventure with some beach time. Taking life back to basics, is a great way to relax and visiting Little Corn Island is one of my highest recommendations for a trip to Nicaragua.
There are several activities on offer on the island, including kite-surfing, snorkelling, diving and fishing trips. A number of people we met had travelled to Little Corn Island to achieve their PADI diving certificates at an affordable cost. In the evenings there are always things happening such as live bands, quiz nights and so on.
The Lighthouse Hostel have a day tour "Island Trip" which includes a boat ride, snorkelling, fishing, a beach BBQ to cook the fish you caught and beach party to watch the sunset from the beach.
Exploring the Island
On the whole, the island is so tiny, there isn't that much to see or do except relax. There are many beaches to choose from where you can swim, snorkel, sunbathe or soak up the atmosphere from the shade.
We decided to walk as much of the island as possible, and as long as you are prepared to get your feet wet, you can walk a large chunk of the islands perimeter. The southern tip and northern easter corner have some rocks and cliffs which make walking a full perimeter impossible.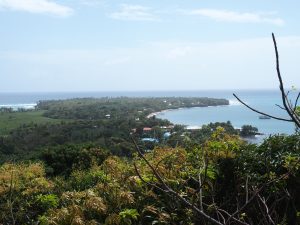 From the centre of town we walked across the trail from West to East. We walked along the Eastern beaches, through some of the beach bungalow accommodations and up to the kitesurfing school. At the kitesurfing school, you need to go inland for a section to get around a rocky outcropping. Following the trail, you pop back onto the North Eastern beaches and can continue along through to the main Northern beach, Otto Beach. From Otto Beach it is best to walk back through the island main trail, back to town.
If you do this island walk you can do it in less than three hours easily, but I'd recommend taking your time to enjoy the scenery, stop by some of the beach bungalows for a drink or a snack, or take a dip in the sea.
Snorkelling
You can rent snorkelling equipment from your accommodation or from a few different places in town, for around USD$3-$5 per day. There are a few spots on the island where you can go snorkelling from the beach. We were advised that the best place to go was the northern Otto Beach. The staff at the Otto beach bar can advise you exactly where to go. This is not a recommendation but more of an necessity due safety, because it is also near a boat route.
Snorkelling Excursion
To see a greater variety of underwater life, I would highly recommend taking a snorkelling excursion for USD$20. Boat's leave from the town and an excursion takes around 3 hours. We were taken to three different reef spots around the northern tip of the island.
By taking the boat further off the coast we were able to see a much greater variety of sea life than by swimming from the shore. It was absolutely spectacular. We saw various types of fish of all sorts of colours, shapes and sizes; one or two breed of sting ray; and the highlight were the sharks.
Food
Being in the Caribbean Sea means that fresh seafood is a popular menu item on Little Corn Island, with various species of fish on offer and what I consider the highlight: Lobster!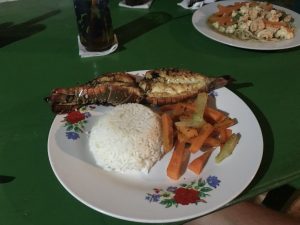 Almost the entire population of Little Corn is on one main strip on the islands eastern side. This is where you will find the vast majority of the restaurant.
The best meal for the best price that we had was at Rosa's, a short way off the main strip in the direction of the west side of the island. It is a very local, family run restaurant. The staff were so friendly. We both ordered a dish with a full lobster tail, it came with a starter and a dessert and was only USD$7.
The Beach Bar, Tranquilo and Desideri were among our favourites places to eat, though they were in the higher price bracket.
A meal recommendation which were were given but did not follow through on is Darinia's Kitchen.
Accommodation
Accommodation is dependent on budget and travel style. We originally wanted to stay on the northern end of the island, but due to availability this was not an option, so we stayed in town. In hindsight we were very grateful for this, as people staying on the northern end had a 30 minute night jungle hike with no light, sometimes during a tropical downpour.
In town two highly recommended hostels are The Lighthouse which is very quickly booked out, and Green House Hostel.
We stayed at Green House Hostel, which was managed by Corn Island local Georgia. The facilities were really clean, well located and had a brilliant friendly vibe amongst staff and guests. Georgia and the other staff members were absolutely brilliant in providing advice on best beaches for different things, best places to eat etc. It felt a bit like a happy family at Green House and we truly enjoyed our stay.
Money
There are no ATMs on Little Corn Island, so you need to bring your wads of cash with you. Typically everywhere works on a cash basis, even accommodation.
There are a few restaurants/cafes that will accept credit card but there's an extra charge, around 3%. If you are really desperate for charge your credit card and give you the cash, but the commission on this is 10%.
Also be aware when planning how much cash to bring, Little Corn is very expensive. All prices are listed in USD$, though you can pay with Cordoba. The prices are in my opinion also US prices, meals can be up to USD$18 and activities typically start at $20.
Getting There and Away
The recommended way of getting to Little Corn Islands is to fly from Managua to Big Corn Island, then take a panga (boat) to Little Corn Island.
Flight to/from Big Corn Island
La Costeña are the only airline flying this route. If you book directly on the phone with La Costeña you will get the best price, booking online or via a travel agent will incur extra costs. Also via La Costeña directly more flight times are available than online. A return flight should be around USD$165 plus taxes and other charges depending on where and how you book.
Note: Airport tax is USD$2 per person each direction.
If you aren't sure of exactly how many days you want to stay on the Corn Islands, La Costeña also offer an open return ticket where you can leave the return date open.
Ferry to/from Little Corn Island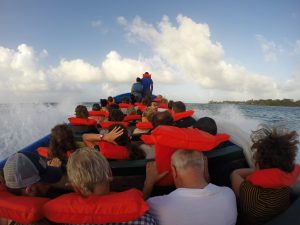 On arrival on Big Corn Island a taxi collectivo to the ferry terminal costs 20 Cordoba per person.
The panga (ferry) costs approximately 120 Cordoba per person, ID required. As soon as the ticket booth opens you need to queue for the ticket as there are limited  seats. If they decide to send a second boat the price per person increases. The ferries operate on a fixed schedule, and there are only two 'guaranteed' departures per day in each direction. Big Corn to Little Corn runs at 11:30 and 16:30 daily. The return trip is at 06:30 or 13:30 daily.
The panga ride to Little Corn is approximately 30-40 minutes and the sea is typically quite rough. Be prepared for a bumpy ride and to get soaking wet! Your main bag will be in the boat storage space. You will have your daypack on your lap, so I recommend protecting it with a bag coat and/or plastic bags.
Note: You can also take a panga from Bluefields on the Eastern Coast of Nicaragua, through to the Corn Islands. I heard that the trip is 6 hours of rough weather, involving crying and puking passengers. There were no positive recommendations for this transport option.