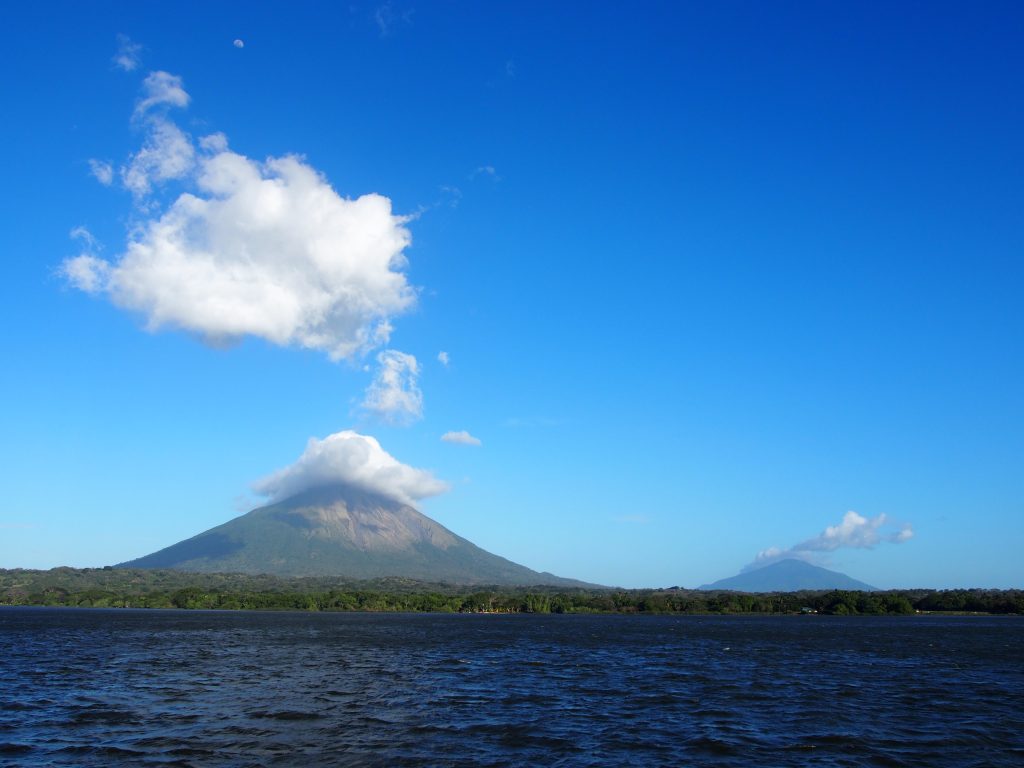 Isla Ometepe is a figure eight shaped island in the centre-western section of Lake Nicaragua, with a population of 47,000 people. The island was formed by the two volcanoes, Volcan Concepcion and Volcan Maderas, connected by an isthmus.
With such a high volume of volcanic, fertile soil, Isla Ometepe has a strong focus on agriculture, with plantations of beans, rice, corn and various fruits.
With two stunning volcanoes, one active and one not-active; various beaches; natural springs; waterfalls; and beautiful nature, Isla Ometepe is also a tourist hot-spot.
Our Stay at Isla Ometepe
The main goal of our visit to Isla Ometepe was to hike Volcan Concepcion. Many claim this to be Nicaragua's hardest hike. In addition to hiking, we wanted to see more of what the island had to offer. We spent three nights on the island, allowing us two full days on the island, one spent hiking and one spent exploring.
Despite it not being a particular hub for tourism, we stayed in Moyogalpa. For people planning to hike Volcan Concepcion, this is the best place to stay. For those more interested in simply exploring the island, staying in Balgüe would be my recommendation.
Volcan Concepcion
We booked our tour up Concepcion through our accommodation, Hospedaje Soma. The tour needs a minimum number of people to run (from memory it is a minimum of 2-3) and the cost is calculated based on the number of people in the group. With a party of six people we paid USD$21 per person for the tour, plus USD$3 entry fee to the Volcan Concepcion nature reserve. No food or water is provided so you must pack and carry your own.
The full hike to the crater at 1610 metres takes 9-11 hours, and is a reasonably extreme incline, so be prepared for some hard work!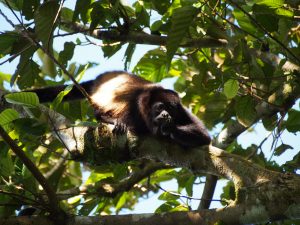 We were collected from our hostel by our guide Wilmore at 06:30 and driven the 10-20minutes to the base of the volcano. We registered and paid our entry fee, grabbed some walking poles and headed off up the mountain.
Our guide Wilmore was absolutely brilliant and absolutely the best guide we could hope for. He had a focus on safety, the environment and sharing knowledge about the area, it's history, flora and fauna.
The hike is approximately 7.5 kilometres. The first 2.5 kms are reasonably flat terrain, the remaining 5 kms are a 25-30% incline. If we didn't have walking poles we would have spent a great deal of time using our hands as well as our feet!
The lower section of the hike is through beautiful, dense, green jungle. We were lucky enough to see some white-headed capuchin monkeys and some families of howler monkeys. At the end tail end of the hike, we spent a half hour just watching the families moving about the trees.
From approximately 900 metres altitude the trail incline increases and the vegetation disappears. At some point the clear skies turned to cloud and we spent a large proportion of the hike walking through misty, wet clouds. Reaching the craters edge was exciting, not to mention a little scary as the high winds seriously affected our ability to stand upright. Despite the complete lack of visibility, it was incredibly exciting and rewarding to reach the crater's edge at 1610metres. Quite the achievement!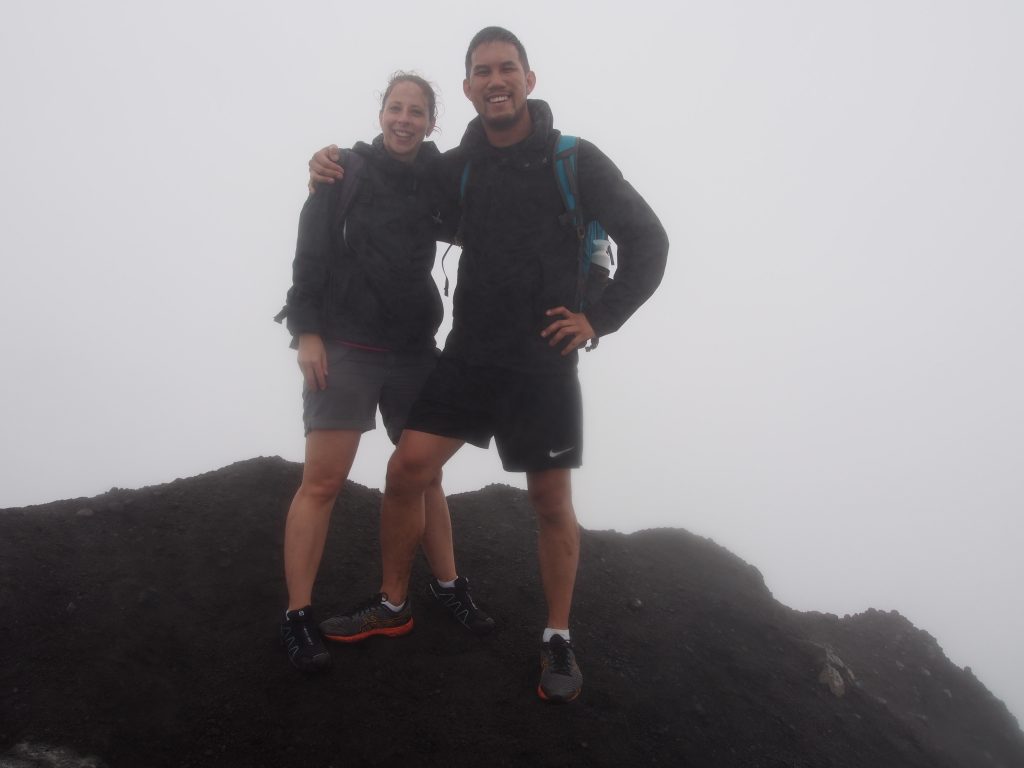 Ride the Island
A great way to see the island is to rent a scooter, motorbike or ATV. We paid around USD$20 to rent a motorbike for the day. Due to leg pain from the hike, we had a late start and didn't get to see much – but what we did see was fabulous!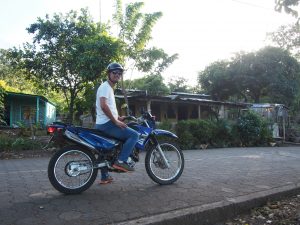 Firstly it's important to be aware that there are few sealed roads on the island. The road from Moyogalpa to Balgüe in an S shape (west then east across the isthmus) is sealed and easy enough to travel. Basically anywhere else you need to be prepared for slow, off-road travel. This being said, places I would have liked to have visited include Volcan Maderas' crater lake and San Ramon waterfall.
One of the funniest things about riding around the island is crossing straight over an active, functional airstrip without any kind of warning signs. Hopefully they actually put security at the road crossing when plane landings are anticipated!!
Ojo de Agua
A site that we visited in our adventure around the island, was Ojo de Agua, Eye of Water. There are mixed reviews of the place, and I would have to say that I thought it was wonderful – but I will explain.
Ojo de Agua is essentially a man-made public swimming pool in the jungle that is fed by natural spring water. The fact that it is a natural spring is quite clear in what you read, but there are fewer references to the fact that the spring water feeds into a man-made constructions. So many people are disappointed with their experience.
Entry costs around USD$3 per person, there are change rooms, toilets, a restaurant and many sun lounge chairs on site. There's also a banana plantation and trails through the agricultural area of the site.
The pool has deep and shallow sections, a tarzan swing and a slackline. After a seriously epic hike, I found it relaxing and rewarding to enjoy some time by the pool.
Food
We had two fantastic meals out in Moyogalpa that are worth mentioning the restaurant Mar Dulce and the random, hard to find, local restaurant.
Reviewed as the best place to eat in Moyogalpa, Mar Dulce can be found on the main street in town. They have a decent range of food options covering both Italian, Mexican and Latin American dishes. We had a two person serve of mixed, chicken & beef, fajitas that were simply divine. The serving size was massive and we barely managed to finish it all.
The other restaurant that we ate at was a local restaurant with very typical Nicaraguan food at a great price. You  can find it on Google Maps under the name Pollo Cervecero bar y comedor. The staff only speak Spanish, but are more than happy to help you as much as possible with their snippets of english. The food was fresh, delicious, a great price (222 Cordoba for 2 people including beers – USD$7) and a great location by the beach.
We enjoyed our breakfasts at our accommodation Hospedaje Soma, included in the room cost was a choice of four breakfast menus, all of which were delicious and hearty.
Accommodation
Wanting to stay in Moyogalpa and not in the centre of town limited the accommodation options, however we managed to find a place called Hospedaje Soma and made a booking via Facebook Messenger.
We splashed out on a private room with shared for three nights at USD$30 per night including breakfast. The facilities were modern and clean. The staff were absolutely wonderful, knowledgeable and helpful. They were ready to answer any and all questions we could think of, and were happy to arrange our tours and motorbike rental.
They were an easy 10 minute walk out of town and it was a very peaceful place to stay. I would highly recommend staying there if you plan to stay in Moyogalpa.
Getting There and Away
As mentioned in my post about Granada, Rivas is the central transport hub for getting around southern Nicaragua.
Granada to Moyogalpa, Isla Ometepe
We travelled to Isla Ometepe from Granada, which meant first taking a chicken bus from Granada to Rivas for 50 Cordoba per person.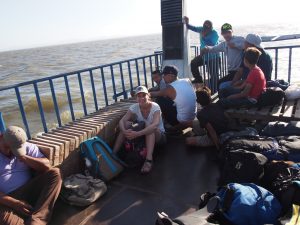 From Rivas you need a taxi collectivo to San Jorge Ferry Terminal. a Taxi Collectivo is just a taxi that functions similarly to a bus, when there are enough people to fill the vehicle, they depart. It should be quite cheap per person, but we got screwed over into paying 450 Cordoba (USD$14) for two of us for a 10 minute taxi ride!
There are two ferry types travelling between San Jorge and Moyogalpa, one is a smaller passenger ferry and the other for cars and passengers. The larger one is a bit slower but more stable, and slightly more expensive. In terms of scheduling, the passenger ferries are more frequent, and the larger ferry will have a scheduled time but then wait until it is full before departing. The passenger ferry cost 45 Cordoba per person.
Check this site as a guideline for ferry times.
Moyogalpa, Isla Ometepe to San Juan del Sur
We took the Car ferry to return to San Jorge for around 50 Cordoba per person.
On arrival in San Jorge we ended up taking a Taxi Collectivo directly to San Juan del Sur (rather than going via Rivas) together with another couple. We paid USD$7.50 per couple for this trip.
Note: If you are going to get scammed for transport costs it is pretty likely to be in Rivas! Bus prices are fixed, but you need to watch out for taxi drivers. You will be told things like "you missed the last bus and will have to take a taxi". Tips for avoiding being ripped off, ask locals what the price SHOULD be for a particular trip and try to team up with others heading the same way as you to get a bulk discount or collectivo price.