Laguna de Apoyo is a lake inside the caldera of an extinct volcano. It is in the provinces of Granada and Masaya with the province border crossing through the lake.
About Laguna de Apoyo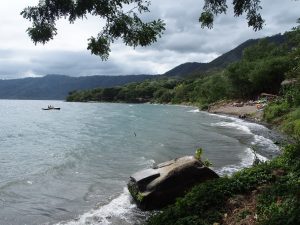 It's a fresh water lake with a volume of approximately 2.58 cubic kilometres, and surface area of just under 21 square kilometres. It is 6.6 kilometres in diameter and 175 metres deep.
Laguna de Apoyo was declared a nature reserve in 1991, and is a popular place for people to visit for both day trip and a few days away. Many people with limited time visit as a day trip from Granada, but those with more time tend to stay a night or two.
Our stay at Laguna de Apoyo
Arriving in Managua at 10pm, we had organised an airport pickup to take us straight to our accommodation at Laguna de Apoyo, and we started out vacation with two days on the side of the lake.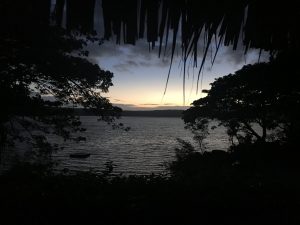 This was a brilliant way to switch from work mode to holiday mode. We arrived at night time, tired from travel, and we woke up to blissful calm. We watched the sunrise; easing into the day listening to the birds chattering, the howler monkeys howling in the distance and the wind lightly rustling through the leaves of the trees.
No matter where you stay by the lake, all accommodations provide kayaks and inner tubes for enjoying time on the lake. Some accommodations have a pontoon to which you can swim out and then enjoy the sunshine. The accommodations also typically have hammocks and beach chairs, some also have barbecues and picnic tables at your disposal.
We had a great time paddling around in the kayaks and lazing on the pontoon.
In addition to enjoying the water activities, you can walk along the waters edge to check out other accommodations, restaurants and quiet spots to soak up the scenery. I believe there are some hiking trails in the area and that the view from the crater rim is spectacular, but we didn't get to either of these things. For those who dive, there is also lake diving.
Accommodation
There are several accommodation options by the lake and on the crater rim. We chose to stay on the Granada side of the lake, by the water at a place called The Monkey Hut.
The Monkey Hut is a great spot for peace and quiet, there weren't many guests there and it was a very relaxed place to be. A dorm bed cost USD$16.10 per night, and includes coffee, tea, purified water and the use of kayaks, inner tubes, pontoon, hammocks, beach chairs. I made the booking via email and WhatsApp.
We loved the Monkey Hut for the peace and quiet, but if you are travelling solo or are a bit more social, then neighbouring Hostel Paradiso would be my recommendation.
The only downside of The Monkey Hut was the food. They did have a restaurant, but it was not on site, food was delivered plastic wrapped and the price/quality wasn't amazing. Paradiso however was fantastic, with a huge range of options. It was a 3-5 minute walk between the two sites. At Paradiso we were able to get a day pass for free in order to make use of the restaurant (if you want to use the swimming facilities – kayaks etc. then you need to buy a day pass for USD$6)
Getting There and Away
We travelled to The Monkey Hut direct from Managua airport with a private transfer organised by Monkey Hut for USD$40 fo two people.
On their website Money Hut have directions for how to get there by car, taxi, shuttle or bus from Managua, Masaya and Granada.
Making use of the daily shuttle from Hostel Paradiso, we paid USD$3 per person for the ride to Granada. The shuttle goes between 3-5 times daily. Their website also provides some transport directions.