Granada is a wonderfully colourful old colonial city positioned on the shore of Lake Nicaragua, a popular destination on the tourist route and the second stop on our Nicaraguan adventure.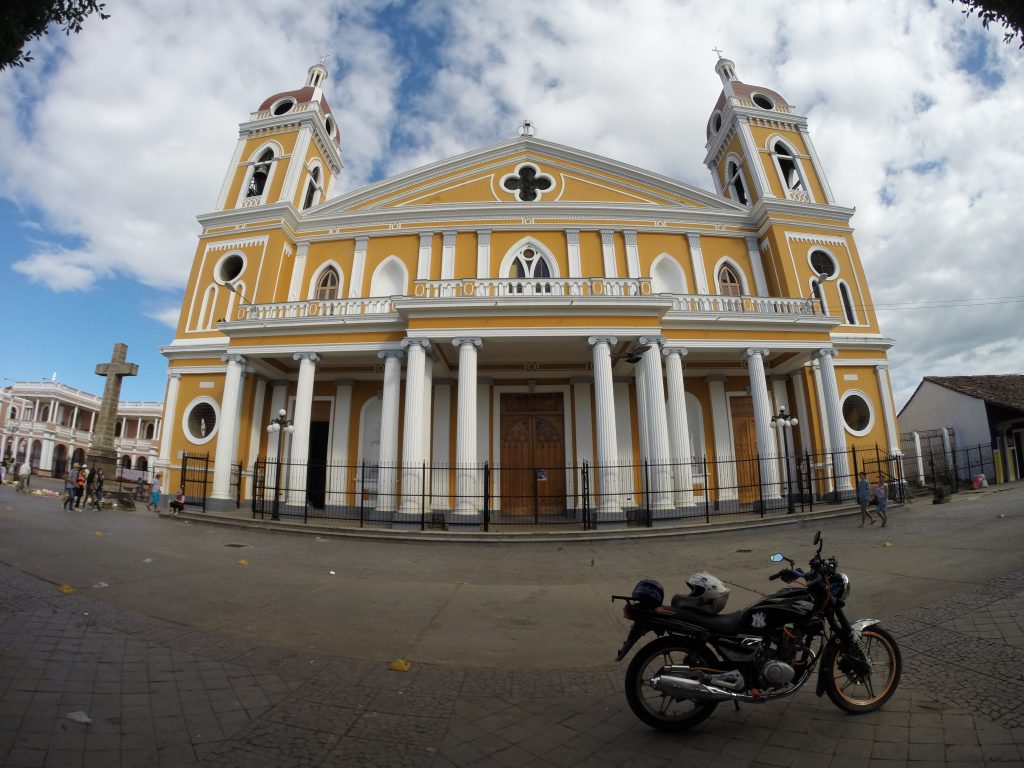 About Granada
The city of Granada in the province of Granada,  was founded in 1524 under Spanish rule.  It is located at the northern end of Lake Nicaragua and is a central point between two active volcanos, Masaya and Mombacho.
Granada's location for settlement was a strategic choice, with access to fresh water, waterways for trade, and fertile volcanic soil for agriculture. The well positioned, busy trading port became a target for pirates and plunder. Making for a rich history.
The city is quite large, with a population of over 100,000 but, as the city is sprawled over a large geographic area, it doesn't feel at all crowded. Granada's city centre is buzzing with life, and is a display of well maintained, spectacularly colourful, colonial architecture.
Granada tends to compete with Leon as the most popular city for tourists to visit in Nicaragua. I feel it's truly personality and interests that affect which one you prefer. As someone with a preference for quaint and charm, Granada was certainly my preferred city.
Our stay at Granada
During our days in Granada we did a combination of tours and self-exploration.
Get lost in the streets
My first and foremost recommendation for Granada is to get lost. Wander the streets at random, say hi to all the friendly locals, appreciate the brightly coloured buildings, the fascinating and intricate door designs and taste some of the treats for sale by street vendors (I generally stick to the fresh fruit options).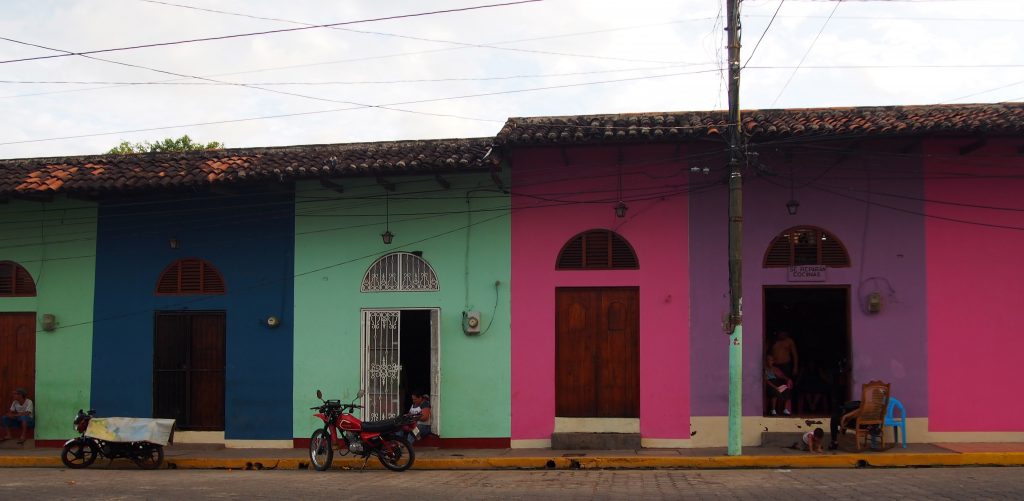 Cathedrals and Churches
All the churches have different architecture and colouring, and they are fascinating to visit. They each cost $1 to enter.
The main cathedral has a wonderful ceiling painting and the view over the plaza from the tower is gorgeous! Iglesia La Merced also has a spectacular view, some people prefer it to the cathedrals view, but I thought they were both equally interesting.
Mercado Municipal
The Mercado Municipal is the local market, you can buy anything and everything here: fruit, vegetables, fresh meat and fish, socks, underwear, shoes, brooms, bed linen, plastic buckets…the list goes on. It's a really interesting place to explore, but be prepared for crowded, dark spaces.
There are some food stalls where you can buy a cheap, fresh,  local meal. I was nervous ordering food when I did not know what I would get, but my local lunch was absolutely delicious! It was a server of grilled beef, served with a gallo pinto (rice and beans) and a salad for only a dollar or two.
Doña Elba Cigar Factor
North of the city centre, near Xalteva church is a tiny Cigar factory called Doña Elba. Their daily production is 300-350 cigars all hand rolled and pressed.
You can get a free (donation based) tour of this tiny factory and if you want you can learn to roll your own cigar for $7.
The staff at the cigar factory were lovely and despite not being smokers, nor having a particular interest in cigars, it was a very pleasant experience.
Las Isletas Tour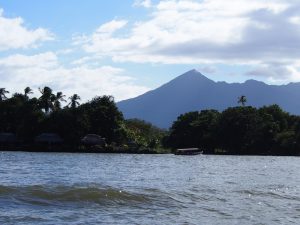 Thousands of years ago Mombacho Volcano erupted and threw rock and ash into Lake Nicaragua forming an archipelago of 365 islands. Most of the islands are vegetation and wildlife rich dur to the rich, fertile volcanic ground.
Many of the islands are inhabited or for sale, they are largely foreign owned due to the very high price tags. Two of the islands have monkeys, but they did not come to be there naturally and are simply to appease the tourists. Sadly they get fed Oreos and other things to bring them close to the tourist boats.
It was quite interesting to zip in and around the islands, to see the huge houses, and the variety of birdlife and vegetation, but it was disappointing to see the monkey so far from their natural habitat.
The Las Isletas tour cost $18 per person for a 3 hour tour. They run from  9-12 and again 2-5pm.
Masaya Volcano
From Granada an evening tour to Masaya Volcano is quite common, you can also self tour but we booked a tour. Masaya Volcano is the smallest but most active of the active volcanoes in Nicaragua. It is 635 metres above sea level, and the lava level is currently up to 270 metres above sea level.
We had hoped to hike the lava tubes, but as they are at 250 metres above sea level, they were under the current lava level.
For the majority, the tour is spent in a van travelling, and we had a brief visit at a museum on the way up. The main event however, is a visit to the volcano crater after the sun has set. Vehicles are sent up in batches, after arriving at the car park you are given 15minutes to look around and take your photos and you must then get back in the van and leave. As the volcano is so active, the sulfur fumes are dangerous and also it's ridiculously popular, the visit is very short.
Despite being a short visit I considered it worth the time and money. I thought it was truly a great experience to look down into an active volcano, and see the glowing red, fast-flowing river of lava below!
The Masaya Tour cost $20 per person and was around 3 hours in duration. It was operated by TransTours, but we booked through El Caite Hostel.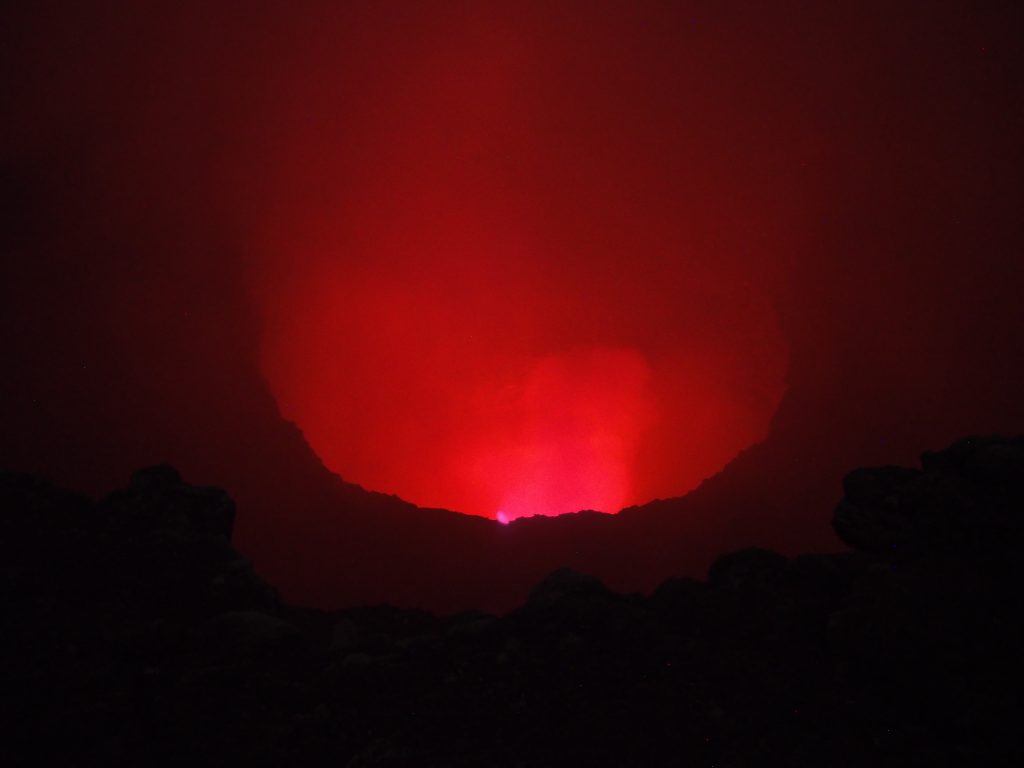 What I would do if I went back…
If I went back to the Granada region in Nicaragua I would take some extra time to do some hiking and ziplining at Mombacho Volcano; explore Chocoyero Nature Reserve to see El Brujo; and visit the craft markets at Masaya.
Food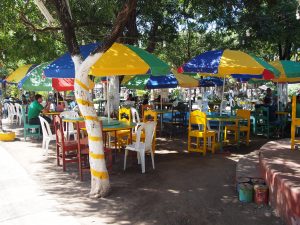 Two fantastic restaurants I can recommend in Granada, are more American cuisine and prices than Nicaraguan, but the food was absolutely delicious.
For great steak, my recommendation is El Zaguan. I enjoyed the surf and turf – steak with a full grilled lobster tail on top and it was absolutely amazing.
For fresh healthy, salads and wraps, as well as modern versions of local dishes, great coffee and smoothies, then The Garden Cafe is worth a visit. They also have a great little store and an amazing selection of books to read.
A local dish recommended to us was Vigaron, this can be purchased in the central park at the cafe/stall with the colourful umbrellas. Vigoron is a traditional dish served of Yucca, chicharron (pork crackling), pickled tomato, cabbage and something else green.
Accommodation
Through relatively random travel choices, we stayed at three different places in Granada. Two of which I would happily recommend, and the third I would strongly advise against.
El Caite is a hostel two blocks back from Parque Central. It was a fairly busy hostel but with a great location and good facilities. There was a really friendly vibe amongst guests. The only downside was that the staff didn't speak much english and this leads to some issues with booking tours,.
At the end of our trip we had another two nights in Granada before flying out. We thought we would splash out on a private room, so we booked Hotel Casa Generalife but were most disappointed to find that our superior room with a garden view was simply a painted concrete room with no view, and the ensuite was only separated from the bedroom with a flimsy curtain. We promptly booked our second night at another hotel.
The night we spent at Hotel Glifoos was not in any way disappointing. The welcome was warm and helpful the hotel itself felt more homely, clean and modern. The facilities were better and it was a fantastic location. Only a block and a half from Parque Central but with no street noise.
Getting there and away
Granada – Laguna de Apoyo
Our first trip to Granada was from Laguna de Apoyo; we took a local shuttle from Paradiso hostel directly to Mercado Municipal in the centre of Granada for US$3 per person.
Granada – Rivas
If you wish to head south from Granada, to either Isla Ometepe or San Juan del Sur, you will need to go via Rivas. The local chicken bus departs from a stop three blocks south of Mercado Municipal and costs 50 Cordoba per person.
Note: the chicken buses always have their route name on the front of the bus so they are easy to identify.
Granada – Managua Airport
We travelled from Managua Airport by taxi to Mercado Roberto Huembes Bus station for 100 Cordoba per person.
From the bus station we took a chicken bus to central Granada for 21 cordoba per person.
Returning to Managua Airport for a 7am flight, we took a private shuttle for US$35 organised through the hotel. We were actually driven by the Hotel Glifoos Hotel Manager, David, who was a truly wonderful man.