Nicaragua has been on my "To See" bucket list for some time, so when a cheap flight popped up I had to jump on it. I then explored Nicaragua for 3 weeks with my partner.
Extended posts on each of our Nicaraguan destinations to follow.
A loop around Nicaragua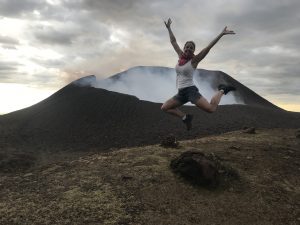 Our three weeks in Nicaragua took us in a clockwise loop around Nicaragua and ending with a trip out east to the Caribbean.
We flew into Managua, but being a big city and having heard negative things about it, we arranged an airport pickup to take us straight to Laguna de Apoyo.
A visit to Laguna de Apoyo was the best way to start our trip, by giving us time to slip into holiday mode relaxing by the lake. (2 nights)
From Laguna de Apoyo we headed south to the colonial city of Granada, where we explored the city and neighbouring natural sights such as Volcan Masaya and Las Isletas. (2 nights)
From there we travelled further south and a little east to Isla Ometepe in Lake Nicaragua, where we completed the steepest hike in Nicaragua, up Volcan Concepcion. (3 nights)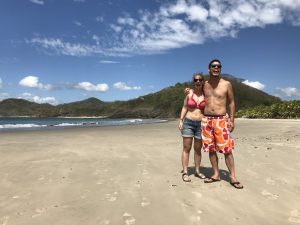 The next destination was our most southern stop, Playa Maderas in the San Juan del Sur region, to enjoy some time by the beach. (3 nights)
We then headed north to Leon, in order to hike Volcan Telica and surf down the slopes of Cerro Negro. (3 nights)
From there we went to the coffee region of Matagalpa in the north-east, but when we found it wasn't what we had hoped for we returned to Leon. (2 nights)
From Leon we bussed down to Managua in order to fly to the Caribbean for some days of sun and snorkelling on Little Corn Island. (4 nights)
To finish the trip we spent the last days in Granada writing postcards, and people watching by the plaza. (2 nights)
Budget and Bookings
Including flights, accommodation, tours, food and everything else we spent under €3000 for two people for 3.5 weeks including travel time. While the national currency is Cordobas, Nicaragua makes extensive use of the US Dollar. You can pay in either currency, but you will notice that the majority of prices are listed and quoted in US Dollars. Whenever bargaining, be sure to check what currency you are discussing!
Flights
We flew with United Airlines from Amsterdam to Managua return for €330 per person when a cheap deal came up online through TicketTippers.
The flights from Managua to Big Corn Island are through the regional airline La Costeña. We booked with a travel agent in Leon at a cost of USD$195 per person return, however if you book on the phone directly with the airline the cost is around USD$165.
Note: if you book online it is around the same price as a travel agent, but fewer of the flight times are available for booking.
Transport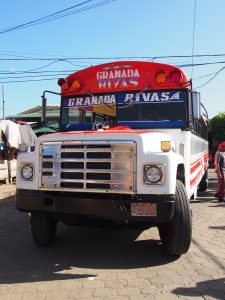 We predominantly travelled by Chickenbus and Microvan (UCA), where prices range from USD$1 to $3 for trips up to 3 hours.
An airport transfer from Managua to Laguna de Apoyo cost USD$40 for 2 people; and a transfer from Granada to Managua Airport for 2 people was USD$35.
Taxi's anywhere can be ridiculously expensive as the drivers try to rip off the tourists. I have been scammed out of $15 for a 5 minute ride. Try to take Taxi Colectivo where possible as they will also pick up additional passengers and it brings down the cost for everyone.
Note: there are pirate taxi's you need to be aware of. When taking a taxi check that the number plate has horizontal striped colouring Red, White, Red. Official taxi's have these plates, and usually also the 'Taxi' bubble on top of the car. I also always take a photo of the licence plate before I get in and ensure that the driver see's me doing so.
Accommodation
We mostly stayed in hostel dorms that we booked through HostelWorld paying between USD$6 and $14 per bed.
On a few occasions we splashed out for a private room, which we booked via booking.com paying between USD$19 and USD$30.
We saved some food costs by trying to always book a hostel that included breakfast. The best free hostel breakfast was most definitely at Hospedaje Soma on Isla Ometepe; the best paid hostel breakfast was at Hostel Paradiso at Laguna de Apoyo.
We occasionally booked rooms by sending WhatsApp or Facebook messages directly to the accommodation. This was typically a great way to find availability and costs for places not listed on the common booking sites.
Food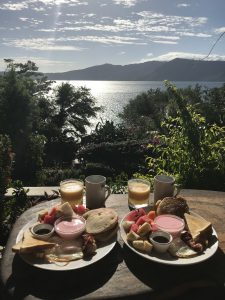 It depends on how adventurous you are with food as to what your food budget is likely to be. We enjoyed some street food, as well as some nice restaurant food. We found that some towns had really well priced meals at USD$6-9 like Granada and Isla Ometepe; but some places were closer to American pricing around USD$10-$18 such as San Juan del Sur, Leon and Little Corn Island.
There's a great local restaurant, Comedor San Benito in Leon where you can get more food than fits in your belly for only $4. Another one is an amazing local shack called Rosa's on Little Corn Island where you can enjoy a spectacular 3 course lobster meal for only $7.
By comparison you can eat a ridiculously amazing lobster and steak meal (surf'n'turf) for USD$18 at El Zaguan in Granada, or the most amazing breakfast burrito at Salud! in San Juan del Sur for around $8.
Activities
Tours were always the most expensive thing we did, but were a great way to experience numerous things you can't do solo. Tours for things like volcano hikes and snorkelling trips will typically cost around US$20-25. The cheapest (paid) tour we did was a 3 hour tour through the islands of Granada for US$18, and the most expensive tour we did was a 6.5 hour tour and sunset hike up the active volcano Telica for US$45 including dinner, snacks and a free t-shirt.