San Juan del Sur on the western coast of Nicaragua in the country's south is a very popular destination in Nicaragua for two reasons: drinking and surfing. It has a reputation as an epic party destination and is most well-known for it's Sunday Funday weekly party. As such a popular tourist destination it is important to note, that the region is also catering for US tourists in terms of price!
We weren't interested in drinking sessions, partying or surfing, but still made the trip out to the region and were happily rewarded for the effort.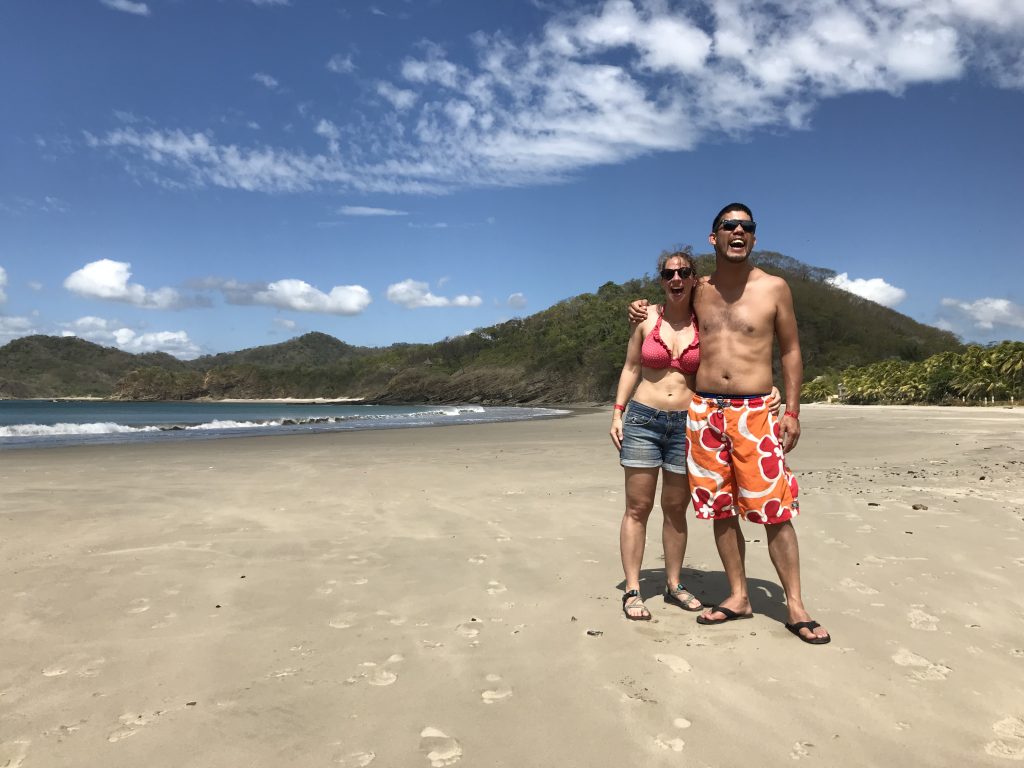 Our stay at Playa Maderas
In our two days in the region we actually did very little, but the sun, sand and surf were wonderful for relaxing.
Playa Maderas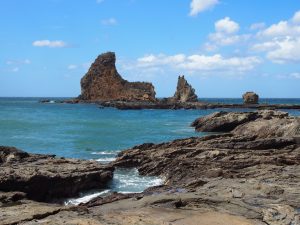 We walked from Selinas Maderas to Playa Maderas, and explored the length of the beach and around the rocky outcroppings through to Playa Majagual.
We spent some time lazing on the beach soaking up the sunshine and enjoying fresh juice.
If you are into surfing, you can rent surfboards and/or book a surf lessons at the beach.
Exploring the area
Our second day in the region, we hitched a ride to San Juan del Sur where we rented a motorbike for $20/day. We had the intention of popping in to various beaches along the coastline, but with limited riding experience and gravel roads, we ended up visiting Playa Hermosa and again relaxing in the sun with delicious food and drink.
The highlight at Playa Hermosa was watching a tub full of baby turtles that had been obtained from the turtle sanctuary La Flor. The baby turtles were released into the ocean at sunset and it was a truly wonderful experience. The turtles were absolutely adorable!
The only downside was the number of tourists picking them up to 'help' them into the ocean, rather than letting them find it for themselves.
Food
At Playa Maderas The Jungle Dream is my number one recommendation for food. Their tacos are delicious, staff are friendly, it's a super chill cafe and the prices are reasonable.
On the beach in front of Camping Matilda is a tiny beach hut run by a local family. The service was wonderful and welcoming. The food was very typical local food, and typical local price which was welcome as everything else was three or four times the price!
In San Juan del Sur we had breakfast at a cafe called Salud Kitchen and while it was certainly pricey, it was absolutely fantastic. The coffee was great, the avocado toast was delicious and the breakfast burrito was out of this world!
Accommodation
Not wanting to stay in San Juan del Sur, we found accommodation just near Playa Maderas at Selina's Maderas. Selina's is a chain of hostels found throughout Latin America, owned by "an Arab" (as stated by one of the employees).
The facilities at Selina's were great, modern and clean and it was a good location. The staff, food and prices were less amazing. The staff weren't friendly or helpful, the prices were upper end with no inclusions whatsoever and the restaurant menu was limited. When we did eat at the restaurant for exorbitant prices we were left hungry and disappointed. Your best bet is to shop at the grocery store in SJdS and cook for yourself.
We paid $16 per bed in an 8 bed dorm, and were grateful for the wonderfully hot showers.
Getting There and Away
You get to San Juan del Sur via Rivas. With a chicken bus the trip should cost only 30 Cordoba each way.
To get to Playa Maderas, you can be lucky enough to hitch a ride with someone, or pay for a shuttle ride at Casa del Oro for USD$5 return. To be honest, we bought return tickets and only ever used a one-way the rest of the trips we hitched or used our hired motorbike.