Cartagena de Indias is a town on the Caribbean Sea. I will be one hundred percent honest, I did next to nothing during my visit to Cartagena, as it is ridiculously excessively hot there. Daily temperatures were around 35 degrees celsius, but with between 70-90% humidity depending on the day, resulting in a 'feels like' temperature of around 43 degrees celsius. The minute you move a single muscle, you are already drenched in sweat. Any day time excursions would be advisable for the early morning or very late afternoon, be aware there is little to no shade.
My Cartagena highlights were the old town, Getsemani and a quick visit to the castle on the hill.
Cartagena's Old Town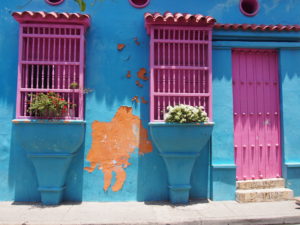 While the town of Cartagena is now  modern sea port, the old walled city oozes the charm and character of it's Spanish Colonial History. The gorgeous colours of these 400 year old buildings have been listed as a UNESCO World Heritage Site to retain their history.
While the old town has churches and probably castles, I didn't pay much attention to specific monuments, I really just explored and was gobsmacked at just how beautiful and colourful almost every building was. Many have fantastic colour combinations, sometimes with plants and vines falling gracefully from a balcony above. It feels like this town was the most photogenic city I have seen in my life. I absolutely LOVED every second of my explorations of the old town.
As a walled city, it is also worth walking the perimeter on the wall itself, the views are gorgeous.
Getsemani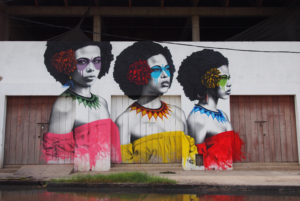 Getsemani has been mentioned from time to time as an unsafe area of Cartagena, while I was not keen to wander through solo after sunset, I would have been more than happy to explore solo during the day.
Getsemani is a lively suburb where many bars, cafes and restaurants can be found. The highlight of the suburb for me was all the street art. The walls were dotted with some fantastic pieces, many by artists we had previously come across in Bogota and Medellin. There are graffiti walking tours available for the area, so if you aren't comfortable going solo, the a tour is an option.
Getsemani is definitely the place to be for nightlife, but go with friends.
Castillo de San Felipe de Barajas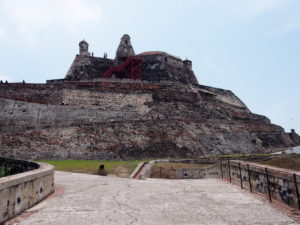 Entry to the castle costs 25,000 pesos for an adult; a student/teacher ticket is 10,500 pesos (Right about now is when I am grateful for my International Teacher Identity Card). Tours or audioguides are an additional expense, which I choose not to pay.
Make sure to visit the castle as early as possible in the day because it really is roasting hot. The castle affords some fantastic views over the city, both old and new as well as out to sea. I didn't learnt he history of the castle but did enjoy wandering around and exploring the underground tunnels.
In trying to get into the castle you will be harrassed by street vendors selling water and hats, if you don't have these things already, it's not a bad thing to give in to a street purchase at this point. The hat is a lifesaver!
Eating and Drinking
Honestly with the weather so hot, sometimes what you need to is to seek refuge in an air-conditioned or fan-cooled building. A few restaurants, cafes and bars I would recommend visiting include:
Cuba 1940s: This Cuban style cafe is in the old town on the corner of one of the plazas. They sell absolutely delicious cocktails and the food is to die for! In addition to amazing food and drink, the selling point for the cafe is that it has a pool in the centre, you can sit on the edge, drink your cocktail and dangle your feet in the water.  It is super chilled and well worth spending some time and pesos here.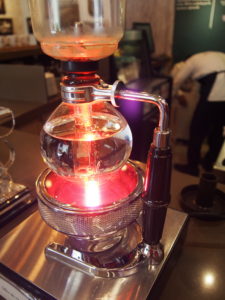 San Alberto: This cafe in the old town really specialises in preparing good Colombian coffee. The coffee is sourced from Buenavista, Quindio. The cafe offers a variety of coffee preparation methods for you to choose from, such as cold drip, french press, not to mention a whole swag of others I have forgotten. I opted to share a siphon with my friend Jake and Laura. The siphon is a coffee preparation method I have not previously come across, but was very happy with. It was a fascinating and engaging to watch coffee prep process, that resulted in absolutely delicious coffee.
La Mulata: A seafood restaurant in the old town that has ripper reviews on TripAdvisor. It is ideal to reserve a table if possible, but you should still be prepared to wait. Without a reservation we waited at least an hour before ordering, I was getting tired, cranky and hungry but all this disappeared when I saw my meal. Very generous portions of fantastic quality seafood, cooked to perfection. This place was well worth the wait!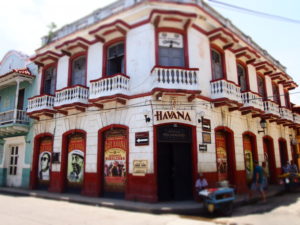 Cháchara: In the suburb of Getsemani is a funky cafe/restaurant called Cháchara. It has funky decor with almost a garden party feel to it. The food was delicious and reasonably priced.
Cafe Havana: This is a famous cafe well known for live music and salsa; the fact that Hilary Clinton visited it certainly boosted it's profile. It's big night of the week is Wednesdays, where crowds flock in the doors, paying the 8000 peso entry fee. Things don't kick off until about 11:30, but get in early if you want to sit down.
Accommodation
My recommendation for accommodation in Cartagena consists of four requirements: In the Old Town, has Air Conditioning; has fans; and has a pool. Being centrally located and having access to a means to cool off is vital to staying in Cartagena.
I stayed at Hotel Escallon and was very happy with the location and facilities.