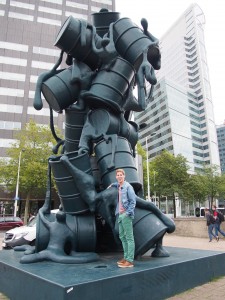 Rotterdam is an interesting city, it got almost completely destroyed in the second world war through bombing (the city that lost it's heart) and as a result is the most architecturally modern city in the Netherlands. It is a place that visited often, but only ever to shop; and despite my interest in architecture, I had never really bothered to look at the city, so it was about time to change that!
One way I really enjoy getting to know a city is through free walking tours. There are many cities that offer free walking tours, always offered by people who genuinely love their city and work for tips.
Surprisingly and disappointingly, it wasn't so easy to find a free walking tour in Rotterdam in 2015, at the time of writing this post.
As Rotterdam has started to gain more tourist appeal, the walking tour options have improved, and inspired a revamp/rewrite of this post. My knowledge and interest of the city has also grown since I recently became a Rotterdam resident.
Rotterdam Free Walking Tour
On Saturday June 17th, 2017 Tim, Vincent and Hans started Free Walking Tour Rotterdam. Eager to see what the guys had to offer and coinciding with a visit from friends I went on their first tour.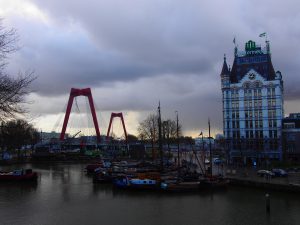 Tim and Vincent did a fantastic job of showing the city sights, explaining the city's history and sharing with us what makes the city tick.
Since I now live in Rotterdam I can vouch for the fact that the tour hits all the highlights including my personal favourites: the Market hall, Cube houses, Old Harbour and the White House.
At this stage Free Walking Tours Rotterdam only operate on Saturdays at 1:30pm from the Market hall. Due to popularity they are investigating increasing the frequency of the tours.
A range of walking tour options
Ani & Haakien hostel have a broad range of free walking tours on offer within Rotterdam, as well as a few offerings for paid tours further afield (If I hadn't already been – the tour to the UNESCO heritage listed Kinderdijk would be pretty high on priority list!).
I enjoyed the architectural walking tour of the city, which runs on Saturdays at 11am. The tour covers the history of the city's architecture, the architectural styles over time and the city's programs for renovations. The focus of the tour was definitely the older architecture, pre and post war, but with little attention paid to newer architectural structures such as the new Market hall.
The added bonus – you do not need to be a hostel guest to access their tours and the staff I spoke to were awesome, friendly and helpful! (If I had a need to stay in Rotterdam, I would definitely book a bed in this hostel)
Self Guided Walking Tours
If, like I was, you are stuck with the problem of not being in Rotterdam the day that a particular tour is offered then the next best option is a self guided walking tour – which is obviously free.
For this I have two recommendations. For architecture and the general sights of Rotterdam I would recommend the app from Rotterdam Tourist Information. If you prefer to check out street art then the Rewriters App is fabulous. (they do also offer a paid street art tour on the weekends when enough people are interested).
My self-guided street art tour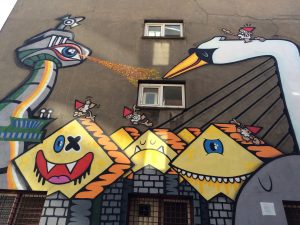 With a keen interest in street art and the knowledge that Rotterdam had numerous hidden gems, I was pretty excited to hit the streets of Rotterdam. The best option I found was an app called Rewriters. The app costs a dollar but provides a fantastic interactive map through Rotterdam to a great number of interesting works of art from a variety of artists. The app contains audio and text to explain a bit about the artist of each piece, as well as some information about the piece itself.
I really had a fantastic time checking out all the art works, I was impressed by the quality of the work and range of styles and pieces visited on the route. It was also a great way for me to get to know my new city better.
The app offers two complete walking routes, one within central Rotterdam and the other in Capelle aan den Ijssel – this one is still on my 'To Do' list.
Note: Ani & Haakien offer a Graffiti and Bar Tour on Friday nights at 9pm. I was interested in checking out the street art in the middle of winter, so wasn't prepared to walk for 1.5 hours in the dark and cold. Now that we have long daylight hours in Summer, I have already seen the majority of the art and as a result have not done this tour myself.
My self-guided architectural walking tour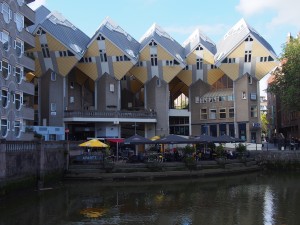 The app is really well designed and walks you from place to place, with pictures, maps, descriptions and audio. I went with my cousin Roel and his friend Sjoerd (they are both still students and require good english for their studies and future careers, so the outing was partly english practice for them and partly about seeing the city).
The tour has 46 places of interest to visit, but we had limited time and were easily distracted by shops, food and drinks, so only managed to visit about 9 of them.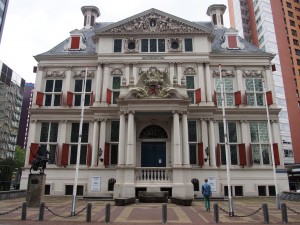 The tour starts at the tourist information office on the Coolsingel of Rotterdam, a short walk from Rotterdam Blaak train station. From there it heads across to the Maritime museum, though I am not sure why. The third stop was the Museum of Rotterdam, which was a gorgeous old building. The only seventeenth century building in the city center that was left standing after the war.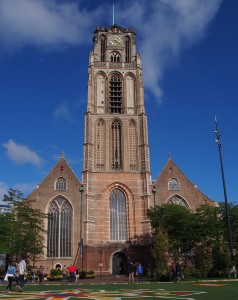 Continuing on was another old building, St Laurens Church, which was the only surviving late-gothic building from the original medieval city of Rotterdam. It was badly damaged in the war, but has since been restored.
Just a block or so from the cathedral the style of architecture is a drastic change, and switches from classic to extremely modern. The new markethall, the library, the pencil building and the cube houses are all very interesting designs.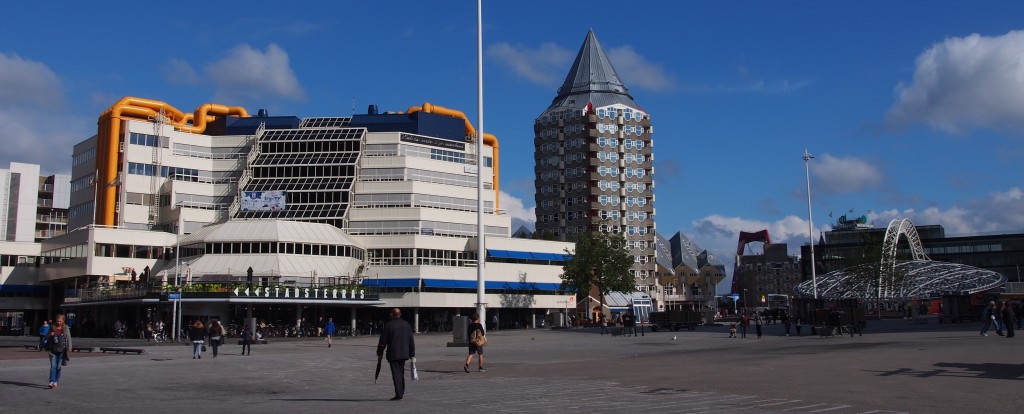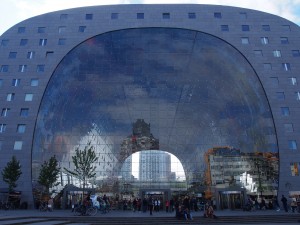 The markethall is the newest of these, having been opened in October 2014 (not even a year ago). It has an arch shape, through the arch are apartments, the two ends are capped with glass walls. Internally the center section is filled with market stalls, cafes and restaurants. The walls and ceiling of the hall are beautiful bright colours and are essentially an artwork representing the foods and flowers you might find in a market, as well as some depictions of neighbouring buildings, such as the Laurens Church. It's a thoroughly fascinating piece of architecture, one that has drawn many people in the direction of Rotterdam, where previously Amsterdam was the big drawcard of the nation.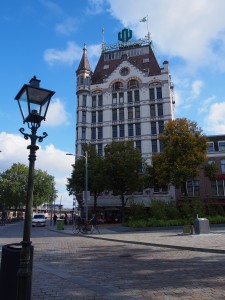 From this very modern area in the direction of the wharf, at least one older building can be found, The White House. The first Dutch "Skyscraper" standing a not so high 45 metres tall, with 11 storeys. It's a gorgeous building by the water, but once again, provides such a contrast to the modern buildings nearby.
From here it is about a block to the river where you can see the iconic Erasmusbrug and Willemsbrug (bridges). These weren't on the walking tour officially, but they were so close that I threw them in for my own interest. The last stop I made it to from the official list was the Red Apple building. It's a very new building and has quite a large overhang. I noticed actually, that many of the modern buildings in Rotterdam has an overhanging component, which I find fascinating, not to mention and engineering wonder (that is, to me, who is not an engineer).
We finished up our afternoon with a beer in one of the many restaurants in the market hall. A fabulous end to an enjoyable afternoon!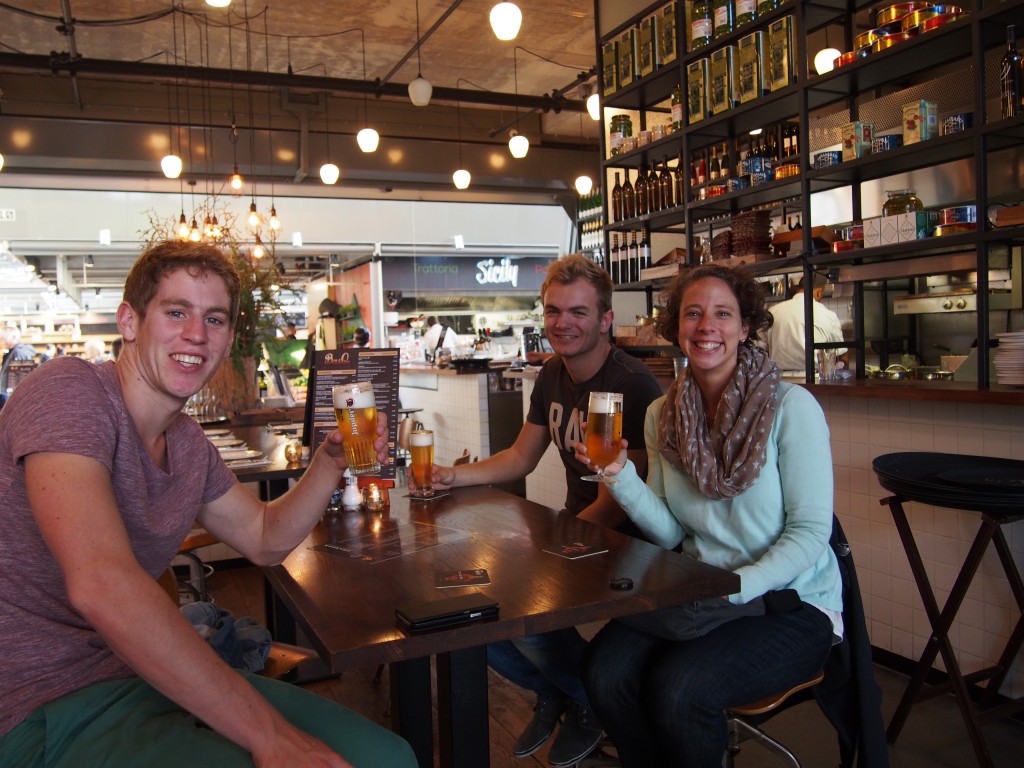 Some other tour options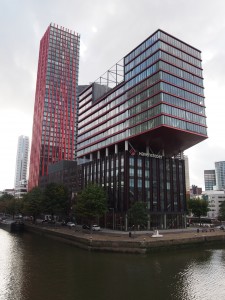 Franks Tours: Frank runs tours through Ani & Haakien, as well as independently. His city tour and graffiti tour both sound like they are worthy of investigation.
Urban Guides: Cost is between €17,50 – €25, tours take 2,5-3 hours and it is by bicycle – this one sounds pretty cool, but in September it only operates on the weekend and unfortunately my weekends are already all booked up.
Leijnse Stadtoers: Cost is €15, it takes 1,5 hours and is available on request.
Gilde Rotterdam: Cost is €5, it takes 1,5 to 2 hours and there is an agenda from which you can select a walk.
Rotterdam Roots: Cost is crazy expensive, tour lengths range from 1,5 to 4 hours.
City Walking Tours:  They offer a few tours, you need to call or email for bookings.
Editor's Note: This post was originally published in December 2015, the walking tour options in Rotterdam have since greatly improved and this post has been revised and republished as a result. Happy Walking!