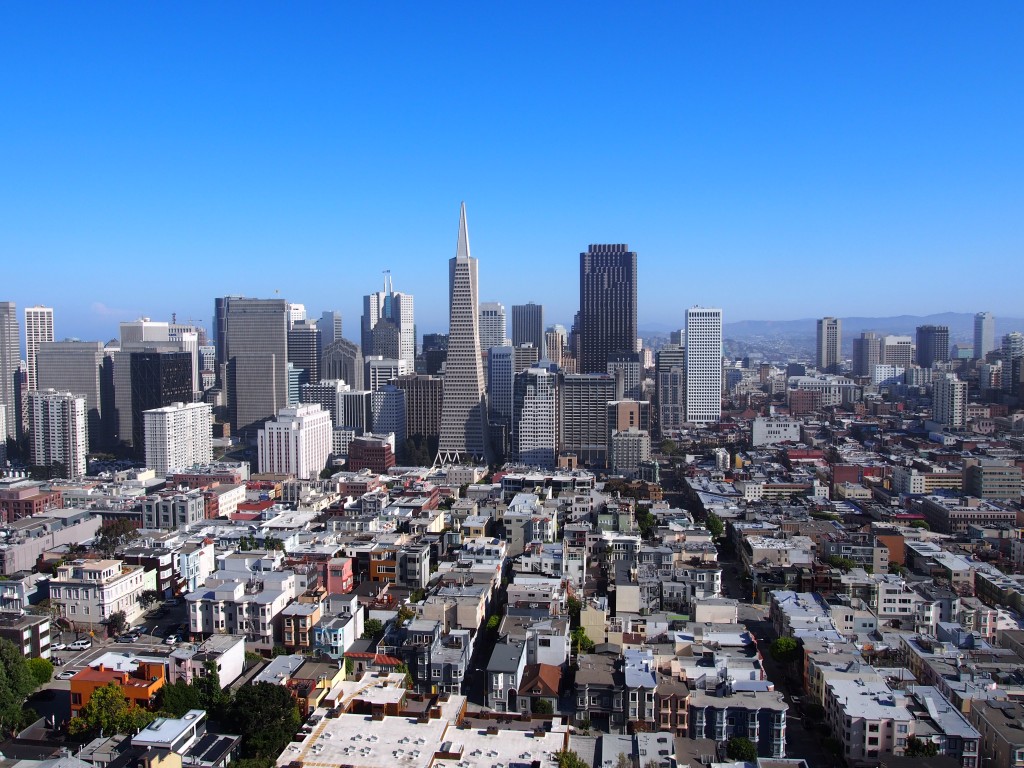 I have made the leap back across the world to the U.S.A where I will be doing a study tour for the next two months, essentially looking at the use of technology in the classroom. While on tour, I will have some opportunities to explore the places I go.
My first stop in the U.S.A has been San Francisco. I had just under a week to explore before the study tour begins. San Francisco is a big city, particularly in light of where I come from. It has a rich culture and so much diversity in the city. Aside from a few key sites, I felt that San Francisco is mostly about exploring the suburbs.
Things to See and Do
Cable Cars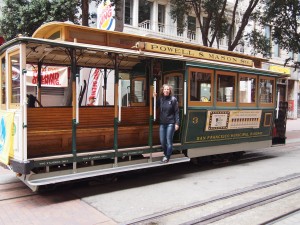 I think one of the things San Francisco is very well known for are it's crazy steep hills which are tackled by super cute old school cable cars with wooden brakes. At each end of the line, the cable cars are rolled onto a turn table and manually turned around.
These things are so cute it's not funny! I loved riding the cable cars!
From Powell Street Turnaround there are two lines Powell & Hyde and Powell & Mason. They both take you up and over towards the Fishermans Wharf area. Depending on what you want to see and do, I recommend the Powell & Hyde line and to jump off at the top of the famous Lombard Street. Walk down Lombard and weave your way through the streets towards Fishermans Wharf, or keep walking straight-ish to head up Telegraph Hill to Coit Tower.
Hot Tip: The line to get onto the cable car at Powell Street Turnaround is ridiculous, walk a couple blocks up the street to another cable car stop and get on there.
Lombard Street
Whether there is truth to it or not, the claim is that Lombard Street is the worlds crookedest street. It is a very steep one way street, that runs the length of one block and has eight hairpin turns. It's definitely worth a look.

Coit Tower
Coit Tower is at the top of Telegraph Hill and provides a pretty awesome 360 degree view of the city of San Francisco. Be aware that a visit to the top costs $8 and last entry is at around 5:30pm.
Golden Gate Bridge
The Golden Gate Bridge, probably the city's biggest icon. Well known, unfortunately, for being shrouded in fog. There are loads of ways to see the bridge, from mountains, from towers, from boats, walking and cycling. I opted to cycle the bridge together with a girl from my dorm room.
There are about a billion bike rental places to choose from, while it possibly wasn't the cheapest option, we rented our bikes from San Francisco Bike Rentals on Jefferson Street, west of Pier 41. By reserving a bike online we got a 20% discount off the rental price, and paid $24 to rent a bike for the day (A helmet and a bike lock are included in the price).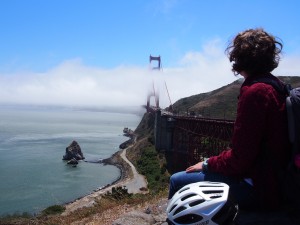 From the Pier 41 area, you follow the coast line. There are loads of photo ops along the way, provided the bridge isn't completely hidden by fog. You continue along the coast line until you are close to Fort Point (You can cycle to Fort Point for more photos if you choose), then you turn left up Long Avenue, which winds its way up to the bridge.
The bridge has a reasonably wide path which is shared by cyclists going both directions, as well as pedestrians. Make sure you take it easy! If you want photos, be sure to stop and pull up to the side of the path so that you don't block traffic.
Once you reach the other side, you could turn around and go back or continue cycling to the historic upper-class town of Sausalito and catch the Ferry (approx. $11) back to the Fishermans Wharf area.
Cycling the bridge is fun but pretty windy, make sure you bring a coat!
Street Cars
The street cars look a little bit like trams. They are vintage and like the cable cars, super cute! I made good use of the F-line street car which runs all the way along Market Street and then along The Embarcadero (waterfront) to Fishermans Wharf. The route the F-line takes is scenic and gives you a great opportunity to see what there is on offer at each of the piers.
Fishermans Wharf and Pier 39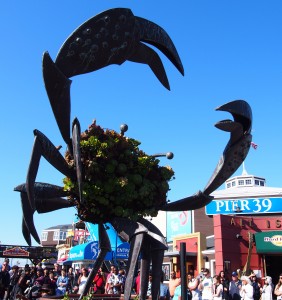 The Fishermans Wharf and Pier 39 areas are very commercial. Pier 39 almost feels like you are visiting Disneyland. That being said, I did think they were worth a look. There were some good options for eating out and I made sure I had some 'famous' clam chowder in a bread bowl.
Fishermans Wharf is pretty much just food, but Pier 39 has food and many specialty and souvenir shops. At the end, on the west side of Pier 39 is also a sea lion colony, which attracts hordes of tourists!
Alcatraz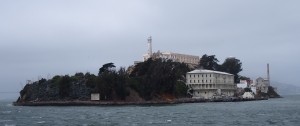 Alcatraz is another San Francisco icon. It is an island (and national park) 1.5 miles off the coast of San Francisco. From 1934 to 1963, it was home to the Alcatraz Federal Penitentiary, a maximum high-security prison.
We booked tickets to Alcatraz online through Alcatraz Cruises for $30 each. The ticket cost covered the return ferry ride to the island, entry to the national park and an audio tour of the prison.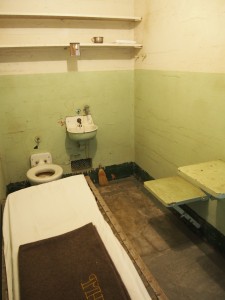 The ferry ride to the island and the island visit were bitterly cold, which gave an indication to us of just how awful it must have been to be stuck out on "The Rock". Alcatraz was basically used to house the worst of the worst; the prisoners who caused too much trouble in other prisons. Life on The Rock had very strict routine without too much disruption, though riots in May 1946 due to a failed escape attempt were rather horrendous. Less bloody, was an escape by three inmates who dug out ventilation tunnels with the use of metal spoons and escaped on an inflatable raft made of stolen raincoats.
The prison was interesting to explore and the audio guide that went with it was just fantastic. It was narrated by one of the prison wardens, with additional commentary from various inmates and family members of the prison staff who lived on the island. The narration was accompanied by appropriate and effective sound effects, which created a real sense of place and time.
The View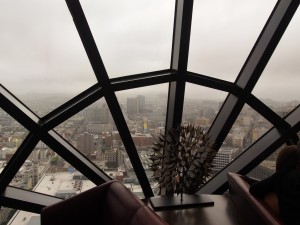 The View cocktail lounge on the 39th floor of the Marriott Marquis Hotel on 4th Street. Unsurprisingly, it has a superb view of the city!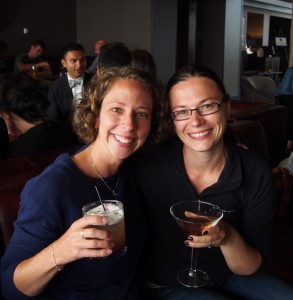 It's a pretty fancy place, but to my surprise didn't have a strict dress code. With some friends from home, we turned up in jeans and sneakers. We sat amongst people who had just come from a Giants game and others who were wearing Tuxedo's and formal dresses.
This was the perfect spot to sit for a few hours lounging around on sofas, drinking tasty cocktails, watching the sun go down.
Mission
I'm not sure what the Mission District is mostly known for, but what I found there was loads and loads of cool street art, and some good coffee.
The coffee place I checked out was Four Barrel on Valencia Street, they had a great atmosphere and really tasty coffee. As I enjoyed my latte,  I did some googling about what to see in the Mission and came up with Balmy Street Murals (Balmy Street is off 24th).
Caffeinated, I jumped on a bus and made my way to Balmy Street, stopping at several alley ways along the way. I noticed that deep in Mission I heard very little english and even the bus announcements had become Spanish only, so I wonder if it is a latino district perhaps.
Anyway the street art was awesome, so many different colours, styles and messages – I loved it!
Castro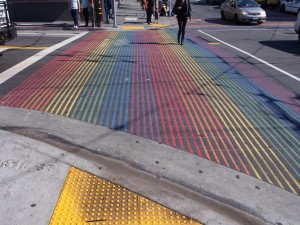 Castro is the Gay and Lesbian district, I had heard that it was a very colourful district in a variety of ways. I think I was there too early in the morning to really experience all the colours on offer, but the man in fishnet booty short provided a bit of an insight.
The pedestrian crossings in the pride colours and the colourful murals were pretty cool.
Painted Ladies
On Steiner Street just next to Alamo Park are some gorgeous Victorian style buildings, over the top of which the city can be seen. The houses and the view are both beautiful, but I don't know that it was really something to write home about.
Exploratorium
The Exploratorium is a museum on the waterfront at Pier 15, which is all about learning through exploring. Throughout the museum are workstations that allow you to interact with various gadgets and devices to learn concepts by tinkering and doing. If you are a person curious about how things work, then it is definitely worth a visit.
As a teacher studying technology and investigating the idea of learning by doing, this place was great. It gave me a number of cool ideas for ways in which different things can be taught. I also think that as a place for young people to visit, it's almost like an educational theme park, loads of fun!
Visits cost $29, but are discounts to $24 for teachers.
Some General Info
Accommodation
I stayed in Hostelling International, San Francisco Downtown.  The location was absolutely brilliant, right near Union Square and a short walk to everything downtown. Rooms were a good size, nice and clean. I spent 3 nights in a 4-bed female dorm and 3 nights in a twin private room with a colleague, both with private bathroom. There is a tasty bagel breakfast included, and the wifi is fast and reliable. It's one of the best hostels I have stayed in.
If you aren't a HI member you need to pay a bit extra than the listed price, I would recommend buying the eMembership because it quickly pays itself.
Transport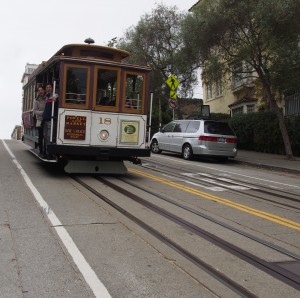 Getting around the city with public transport is crazy easy. I am usually a walker, but with all the really cute public transport ie. cable cars and street cars, not to mention the hills, I opted for public transport instead.
In and around the city I would recommend buying a muni pass. The muni pass gives you access to the cable cars, streets cars, buses and light rail. You can get a day pass for $17, 3-day for $26 or 7-day for $35. The alternate option is to pay around $6 per ride, which adds up very quickly.
You can buy a muni pass from a ticket booth right near the cable car turnaround on Powell Street (just look for where Powell Street meets Market Street)
Food
I'm aiming to travel on the cheap and I'm not much of a foodie, so I don't like to splash out too much on food. I found that buying frozen meals or pre-packaged salads from Walgreens cost close to the same as eating at a budget restaurant.
For most meals I paid between $9 and $15 for a single main menu item. Most meals in the US are quite big portions, so I never had more than one menu item.
Check out all my San Francisco Photos on Flickr