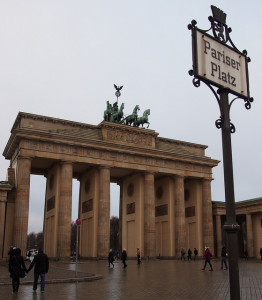 After spending a few weeks with my family in The Netherlands, I decided to head off again, this time for a week in Berlin with a friend from University.
Berlin is a fantastic city, there is so much to see and do, it's really easy to get around and it has such a lively buzz with people. For getting around I would recommend a multi-day public transport card. I had a 7 day card for about €37 but I was staying in an outer suburb of the city, inner-city options are cheaper (and I might add are sooooo much cheaper than in The Netherlands!!). Once you buy a card you need to make sure to validate it, and then you just need to make sure you carry it with you all the time. It is valid for use on the S-bahn, U-bahn, trams, buses and the regional trains (make sure to stay within the zone you paid for though).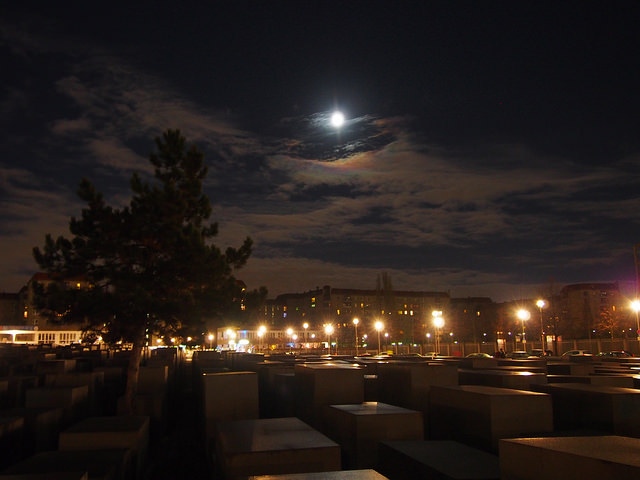 I managed to make my way to all the major sights and a few lesser known ones too. The places I visited included: The Fernsehturm (TV tower), the Brandenburg Gate, Reichstag, Checkpoint Charlie, Memorial to the Murdered Jews of Europe, site of Hitlers Bunker, Potsdamer Platz, Berliner Cathedral, German Cathedral, Berlin Wall East Side Gallery, Bebelplatz, Gendarmenmarkt, Sea Life & Aqua Dom, Humboldt Box, Bernauer Straße, Kreuzberg and Kurfürstendamm. I hear that the city also has numerous amazing museums, but I am not a big fan of museums myself.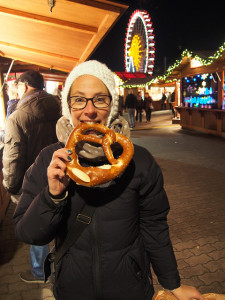 I mostly enjoyed just wandering from place to place, and I used the app Triposo to see what was nearby. When I downloaded the Berlin city guide, all this info was available offline, so I didn't have to worry about data roaming. The app was fantastic at showing what sights were nearby that I could visit and it also had a map that was really helpful for me to figure out which direction to walk. Looking at the sights listed on the app, it also provided directions to get there and gave an indication as to the public transport options available to get you there. The only frustration was that the map within the app was really bad at showing where stations were, eg. train and bus stations. To look up station locations I reverted back to using Galileo Offline Maps.
Visiting Berlin in late November is an awfully cold, but beautiful, time to visit. I experienced the first snow of the winter. In fact it snowed on more than half the days I was in Berlin.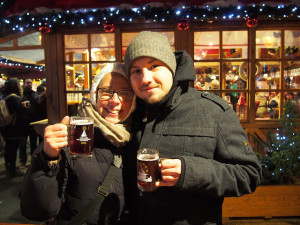 I was also there for the opening of all the Christmas Markets, and certainly enjoyed a Gluhwein or three!! If you are heading to a Christmas market I have a few recommendations:
Gluhwein
Egg Nog
Feuerzangenbowle (it's a hot drink, the base is gluhwein, then they light a very high-proof rum and pour it over solid block of sugar into the boiling gluhwein – it's delicious!)
Pretzels
Bratwurst (Go on I dare you…get the half metre!!)
Currywurst
I'm sure there's loads you can read about the history of Berlin and all the important sights, so rather than bore you with that, I figured I would mention the sights/activities that I enjoyed most.
Berliner Mauer East Side Gallery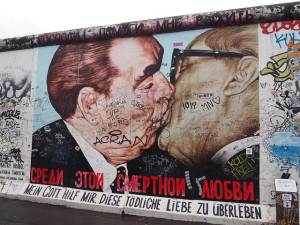 The East Side Gallery is basically an open air street art gallery where the art works are displayed on 1.3km of the Berlin Wall. I think the sections of wall were all moved to this location and that they aren't on their original place, but I could be wrong. I also believe that most of the art works are new.
I really enjoyed looking at all the colours and patterns. I found that the side of the wall facing the river was more 'standard' street art, where the road side was more specific art works, generally portraying a message.
With so many unique works on display, and with such crazy cold weather, I went back to the East Side Gallery twice. I think it's such a fascinating place to visit. I didn't stay very long either time because it was snowing and I genuinely feared I might lose fingers and toes!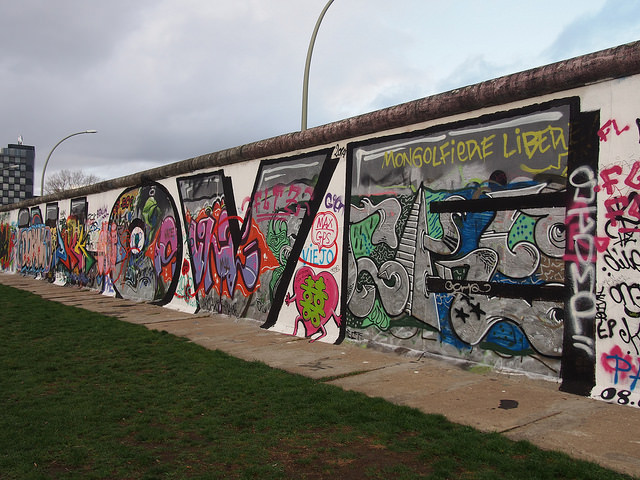 Reichstag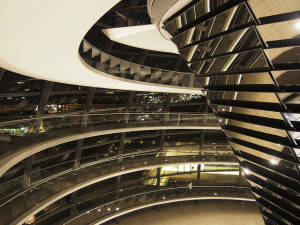 If you want to visit the Reichstag, which I HIGHLY recommend, you need to register the week prior to your visit. Visits are free but you have to register with photo ID, and bring photo ID on the visit. If you don't manage to book the week prior, you haven't necessarily missed out, but you will need to stand in line for probably an hour or more to register in the office across the street. I waited 1.5hours in the freezing cold (literally, it snowed!) and managed to reserve myself two tickets to see the Reichstag dome, one during the day and one at night.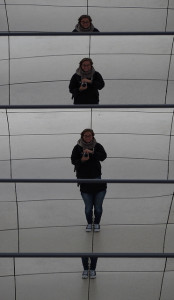 I really enjoyed my night visit to the dome, there weren't many people around and the light wasn't too crazy for reflections. It actually made for fantastic shadows around the place.
My day time visit was much more hectic, as there were loads more tourists. It was a cloudy, rainy day so there wasn't a great view and there was no real benefit to seeing it a second time because of the poor weather.
I'm not a crazy architecture nut, but I do really appreciate architecture that is unique. The Reichstag dome is a crazy modern glass, metal and mirrored dome, atop a really old looking sandstone building. It's a fascinating combination that actually works and looks good. Within the dome I just love the winding ramps that take you to the top, I love all the glass, exposed steel and in particular I simply LOVE the inverted cone through the centre made of layered mirrors. It's such an amazing place to visit, I love it and I took squillllllions of photos!!)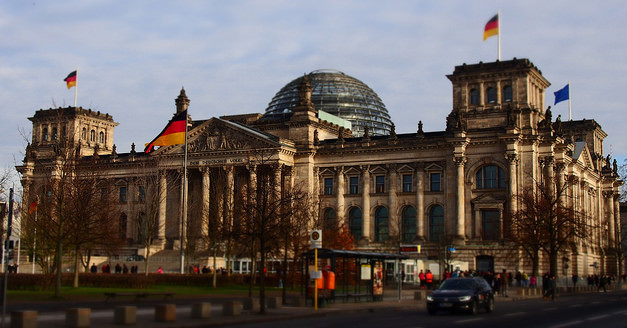 Alternative Berlin Walking Tour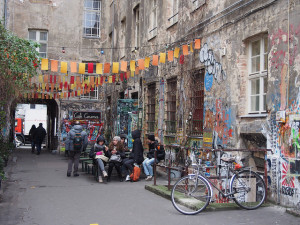 I did the free walking tour with the guide called Liam (sorry it was his last ever tour, so you won't get the opportunity to have the same awesome guide) and it was FANTASTIC! It was predominantly about the street art of Berlin and the subculture that goes with it.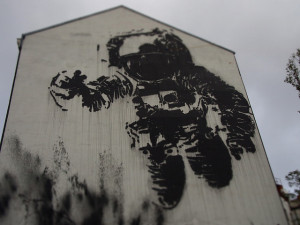 Liam was very knowledgable about where to find cool street art; the various styles of street art around, what was popular and why, which styles were legal, illegal or in a grey area of the law; and he also knew a great deal about the artists themselves.
The tour followed the train line near Alexanderplatz, headed into Hackesche Höfe and then we caught a train to Kreuzberg.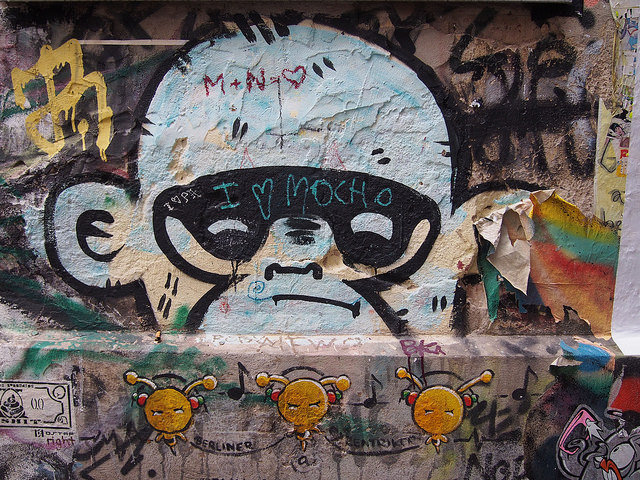 Berliner Unterwelten
The Berlin Underworld tours are quite fascinating and there are a few different themes to choose from. I did Tour 1 and Tour M.
Tour 1 was about the bomb/air raid shelters that were created during war-time. We went into the subway tunnels and from there followed passageways into the shelters to see how they were designed, what technologies were used and how the shelters were used during attacks. It was quite interesting to see and you can imagine just how scary it would have been to have to hide out in one of these shelters. Thankfully people were rarely in a shelter for more than an hour or two at a time!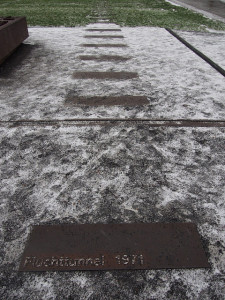 Tour M was all about escape attempts under the Berlin wall. There were three main ways in which people attempted to escape. The first way was through the subway tunnels, until these were too heavily guarded and became inaccessible. The second way was via the sewers until this also became too heavily guarded and passage was blocked by heavy metal grates within the sewer tunnels. The third method was to dig tunnels in strategic locations. Just near the Bernauer Straße U-Bahn stop is a wall memorial site, here you are able to see marked out where some of the escape tunnels had been. Each method had some success stories, and sadly many failures. It was most definitely very interesting to hear about.
Unfortunately I do not have photos to share as photography is not permitted on the tours. Throughout the tours there are displays of relevant items and photographs, many of these are from private collections and for this reason photography is not permitted.
Abandoned Berlin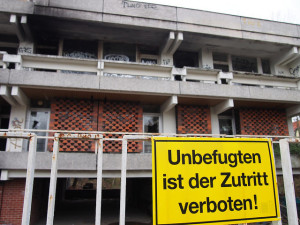 Something I was really interested in seeing, but didn't really get around to, is Abandoned Berlin. The city suffered a great deal in war-time and after and as a result, there are numerous abandoned buildings to be found. Some of these places charge an entry fee, and some others are illegal to enter, nonetheless they sound thoroughly fascinating to me.  Unfortunately, but unsurprisingly, I was unable to find a tour of abandoned places and as a result, made a small attempt at visiting these places by myself.
I got as far as the Iraqi Embassy in Pankow, which is in the process of being gutted ready for demolition or renovation and due to the workmen on site I wasn't able to go in.
The Pankow Schwimmhalle had big steel gate surrounding it, but strangely they weren't up and I was able to go in and explore. There is loads of street art and graffiti in the old swimming hall and I thought it was quite cool to see.
I didn't get to any other abandoned buildings, but for those interested, theres' a website of suggested sites and public google map which shows you where all the sites are.