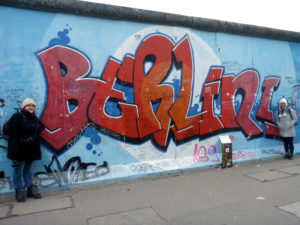 What can you see in Berlin in 36 hours?
A whole lot actually!!
When I returned to The Netherlands in October, the first thing one of my cousins said to me was that she had never been to Berlin and wanted to go together with me. We picked a date in December, booked the cheapest transport we could, tee'd up accommodation with one of my best friends who lives in Berlin and I told my cousin to make a list of everything she wanted to see.
At the end of trip she was absolutely thrilled that we had been able to tick everything off her list – she hadn't anticipated how easy it would be to get around all the main sites of Berlin.
My walking-sightseeing route
I am a person who enjoys walking, so this is my recommended walking route for sightseeing Berlin. You could easily do things in a different order, take transport to connect sections and also split the adventure over multiple days. I will mention both things you could see as well as what we did see. Also your personal interests and budget will alter what things you consider worth visiting.
Alexanderplatz is a great spot to start your sightseeing, there is a big open square with loads of shops and cafe's, not to mention a famous world clock. During December there are two enormous Christmas Markets in this area, one on each side of the station. They are well worth a visit for some tasty food and drink, not to mention shopping and ice skating.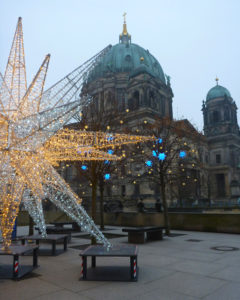 A nice way to start is with a visit up the tv-tower, Fernsehturm. The tower was completely shrouded in fog, so we didn't bother with this visit. However, if you have never been to Berlin and the skies are clear, it provides a reasonable view of the area, which can really help give perspective to the city's layout.
From here you head up the Karl-Liebknecht Strasse in the direction of the Brandenburger Tor. Based on time and interest, you could make your first stop the St. Marienkirche; you could also zip across to visit the Rotes Rathaus and  Nikolaikirche both on/near Spandauer Strasse. The Nikolaikirche is the oldest church in Berlin.
We made our first tourist stop a visit to the Berliner Dom on Karl-Liebknecht Strasse. It is a beautiful old cathedral on Museum Island. While originally established in 1415, the cathedral underwent various changes in administration and construction over time. The current building was established in 1905. It is a domed beautiful cathedral that is worth a visit, be sure to climb the cupola and walk around the terrace outside. The entry fee is €7.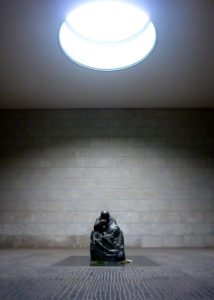 Continuing up Karl-Liebknecht Strasse you have a nice view of the Lustgarten and you could pay a visit to the Humboldt-Box. Once you cross the beautiful Schlossbrücke bridge, the street name changes to Under den Linden. A very well known street.
Our next stop was a visit to the monument Neue Wache. It is a memorial for the victims of war and tyranny. It is a sombre hall with a single sculpture lit by natural light funnelling into the room through a central portal in the ceiling. I find it a fascinating memorial to visit. Entry is free.
Across the road from the Neue Wache and little further up, turn left in front of the Humboldt University to find Bebelplatz and the underground library, memorial sit of the nazi book burnings.  These outdoor memorials are obviously free to visit.
Continuing in this direction at the end of the street and to the left is St Hedwigs Cathedral, a beautiful and strikingly modern cathedral.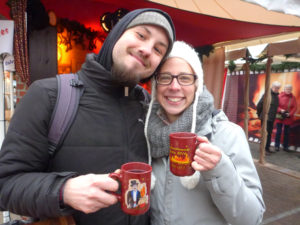 From St-Hedwigs continue up Behrenstrasse to Charlottenstrasse, turn left to visit the Gendarmenmarkt. This is a stunning square with a French Cathedral on the right, German Cathedral (Deustcher Dom) on the left and Concert hall behind. At the time of our visit the square was filled with one of the most popular Christmas Markets of Berlin. Needless to say, we paid our entry fee and popped in to look around and enjoy a Feuerzangenbowle (a very alcoholic version of Glühwein). The Deutscher Dom is also worth a visit.
From the Gendarmenmarkt head up two blocks to Friedrichstrasse, turn left on this street. This is the super fancy part of town with all the expensive shops, I don't recommend shopping, but I do however recommend walking along the street to visit Checkpoint Charlie and numerous other sites in the immediate area with information about the Berlin wall.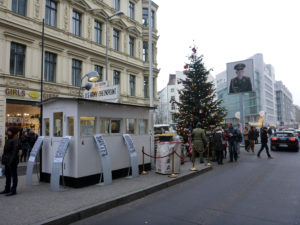 From Checkpoint Charlie walk along Mauerstrasse to Leipziger Strasse and up to Potsdamer Platz. Potsdamer Platz is the old heart of Berlin and still today is a central hub for the city. During December it is also a site of another very popular Christmas Market.
From Postdamer Platz head along Ebertstrasse in the direction of the Brandenburger Tor. After a few blocks you will come across the Memorial to the Murdered Jews of Europe; and if it interests you the site of Hitlers Bunker (on Gertrud-Komar Strasse).
Back on Ebertstrasse a block or so further is the Brandenburger Tor and Pariserplatz, the end point of the famous street Unter den Linden. The Brandenburger Tor, or Brandenburg Gate, used to serve as a gate separating East and West Berlin; it now symbolises Germany's unity.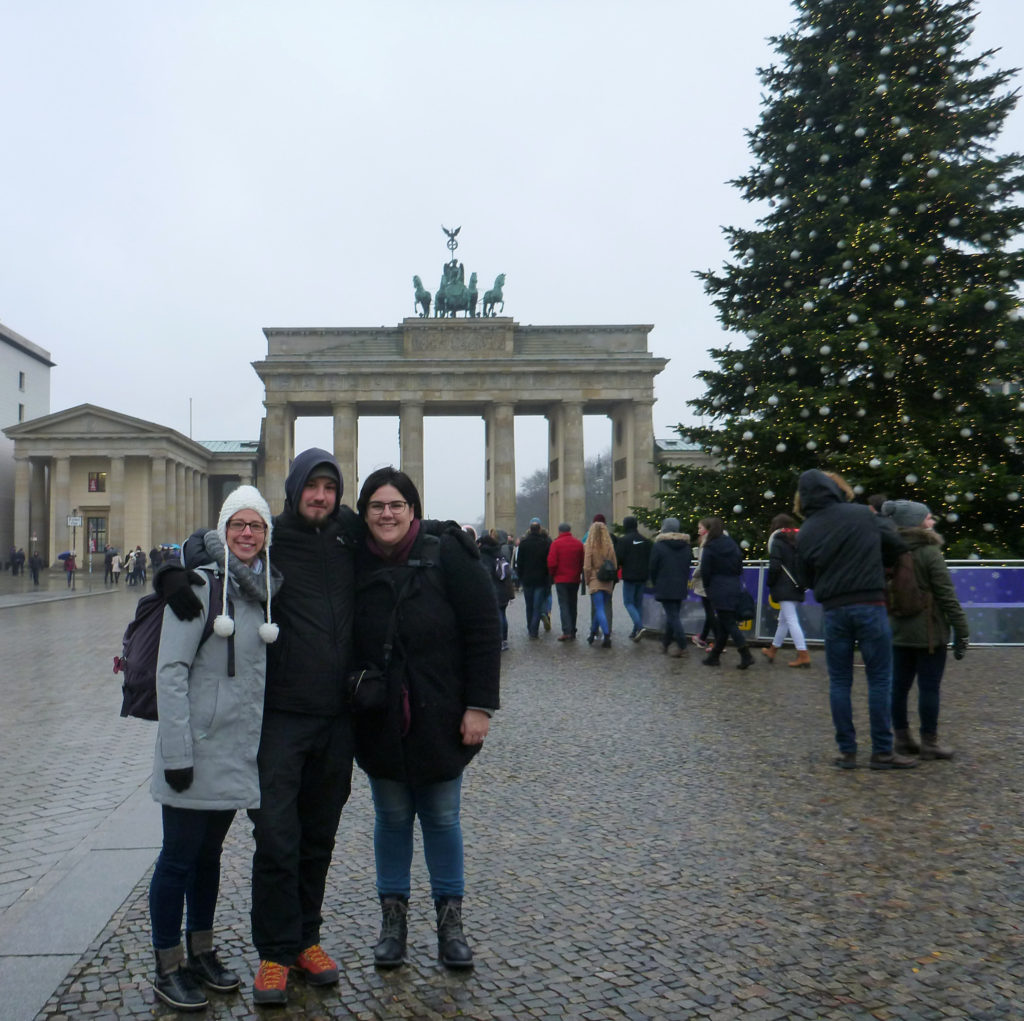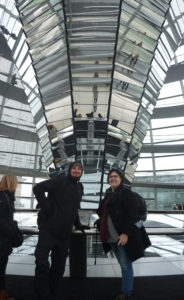 North of the Brandenburger Tor is the German Parliament building, the Reichstag. This is one of my architecturally favourite buildings in the world. The lower part is constructed of stone, while the cupola at the top is glass, steel and mirrors. I find it an interesting contrast and simply beautiful to visit, both during the day and after dark. Visits to the Reichstag are free, but you really need to book online in advance, but during the month of your visit. If you don't book online, it is still possible to visit, but you need to stand in line for up to a few hours to make an appointment. If you have a short visit I would strongly advise booking in advance.
These are the main sites in central Berlin, all within a simple walking route. Outside of this area I highly recommend a visit to the East Side Gallery, though I recommend using transport to get there. By train the nearest station is Ost-Bahnhof, by U-Bahn or S-Bahn head to Warschauer Strasse. From here you can see the iconic Oberbaumbrücke and walk the length of the East Side Gallery, which consists of painted sections of the Berlin Wall.
For more detailed information and some additional ideas on things to see and do on a longer stay, check out my other post on Berlin.
Tourist Tickets
Many cities have a city pass which you can buy that includes entry fees to certain sites, and also sometimes includes your public transport. Many cities have just one tourist card, Berlin however has five on offer: Berlin Pass,  Berlin CityTour Card, Berlin WelcomeCard, EasyCityPass Berlin and QueerCityPass Berlin.
While this is something we didn't make use of, I would highly recommend investigating if one of these passes covers the things you want to see and do, and evaluate if it is a more cost effective option for you.
Transport
Around Berlin
Staying at a friend's place outside the city centre, we bought daily A,B,C tickets which cost €7,70 and allowed us unlimited public transport in zones A, B and C; using regional trains, S-Bahn, U-Bahn, Bus and Tram. For central Berlin an A ticket should be plenty.
Getting there and Back
To get the cheapest transport between Rotterdam, The Netherlands and Berlin, Germany we did quite a bit of googling. The three main options are bus, train and plane. If you are lucky then you can get a flight for €25 with Transavia, though in looking for flights I would still always check Kiwi.com first.
Unfortunately we couldn't find cheap flights as we were travelling at peak season for Christmas Markets. The cheapest we found was on overnight bus with FlixBus and a return train trip; which cost €29 and €49,90 respectively.