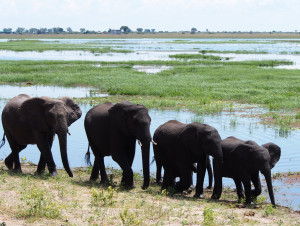 After saying goodbye to my Nomads tour group, and having a few days to enjoy Victoria Falls, I met my new tour family. I booked a tour from Vic Falls to Jo'Burg with On The Go tours, which was provided by ATC (African Tour Company). My new tour crew were guide Will, cook Mama Flo and driver Aaron.
Together with the crew and 12 new travel tour family members we set off for Botswana. The population of Botswana is just over 2 million and the most common language is Swana, though many people speak English.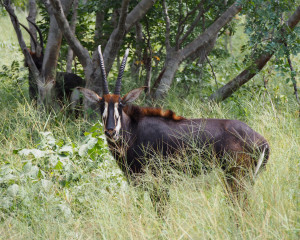 The Swana people are more reserved and shy than some other African people, but a smile with the greeting "Dumela" is a fantastic ice-breaker.
The first destination in Botswana was the Chobe River and National Park. The Chobe River is a natural border between Botswana & Namibia, alongside which the Chobe National Park can be found.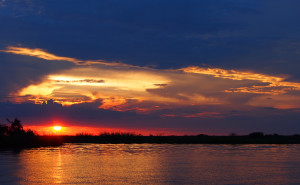 The Chobe National Park is around 11.7 square kilometres and has a very high concentration of elephants, most likely due to the year-round availability of water.
In a long afternoon I did both a game drive and sunset cruise in the national park. In addition to see loads of elephants, we saw some Chakma Baboons, Sable Antelope, African Giraffes, Impala, Kudu, Zebras, Crocodiles, Buffalo and a Tawny Eagle.
Visiting the Chobe National Park was a lovely introduction to Botswana.