After quite a long day of transit and a border crossing, we found ourselves in the lakeside village of Panajachel in Guatemala, on the shore of Lake Atitlan.
Atitlan is a word that means "place of water". It is a lake in the Guatemalan highlands, at an altitude of 1564meters above sea level, which has a rough size of 130 square kilometers. The area around Lake Atitlan is near the meeting point of three tectonic plates and experiences regular earthquakes, they say daily, though I didn't feel any. The lake is also bordered by three large, now dormant, volcanoes: San Pedro, Atitlan and Toliman. These provide the most amazing view of course.
Panajachel
From our base in Panajachel we made a few minor excursions but otherwise took it quite easy. The town of Panajachel has a population of around 11,000 and is really cute and the people are very friendly. There are loads of market stalls by the side of the road and the sellers have some quite lovely items, though none of the sellers are excessively persistent for which I am grateful. For the coffee lovers Cafe Loco is worth a visit. I wasn't fortunate enough to go as it was closed when I popped by, but some friends went and I heard reports that the coffee was genuinely AMAZING! Sunset cafe by the lakeside is a fabulous location, and the service was good, but the hotel restaurant a block above it is actually a bit better. In front of the sunset cafe is a great 'mirador', viewpoint, to take pictures of the lake and volcanoes.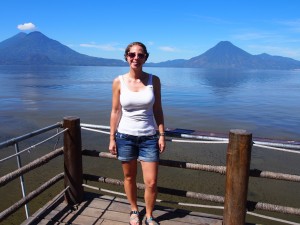 From the mirador it is easy to access the public jetty, it was here that we rented a private boat for our group of 12, to cross the lake to visit the villages of San Juan and San Pedro. A group of 12 of us, a scenic route and two village stops cost us 110 Quetzales each – a bit pricey in the scheme of things, but quite cheap, much cheaper than a set tour. If you do rent a boat, be sure to go early in the day as the weather starts to crack up any time after midday and the crossing back to Panajachel can become a little rough.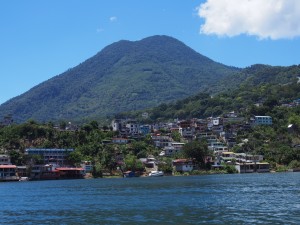 San Pedro, the village at the base of San Pedro volcano wasn't overly exciting to me. Just another busy village, perhaps I needed to walk further in to see the real charm, but it didn't have a great deal of character as far as I was concerned.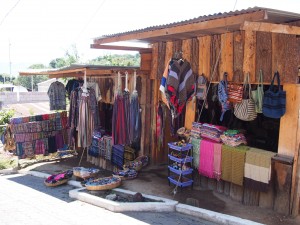 San Juan on the other hand was bursting with character, colour and life. The streets were lined with market stalls of hand made artworks, paintings, tapestries, toys, etc. Also the town had loads of street art adorning the sides of buildings, which I thought was just gorgeous. All the people were super friendly and it was a very welcoming little village.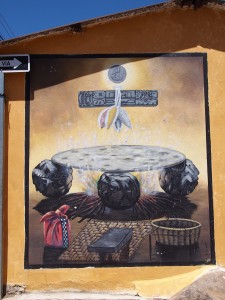 My favourite piece of street art was on the side of a Tortilleria (tortilla shop) and of course it depicted tortillas. It was fantastic.
A short tuk tuk ride out of Panajachel is the Atitlan nature reserve. We didn't have enough time to tackle the zip lines through the forest unfortunately, but we did do a short nature walk to see some of the forest, walk across swinging bridges, visit a butterfly house and my favourite…watch the spider monkeys swinging in the trees.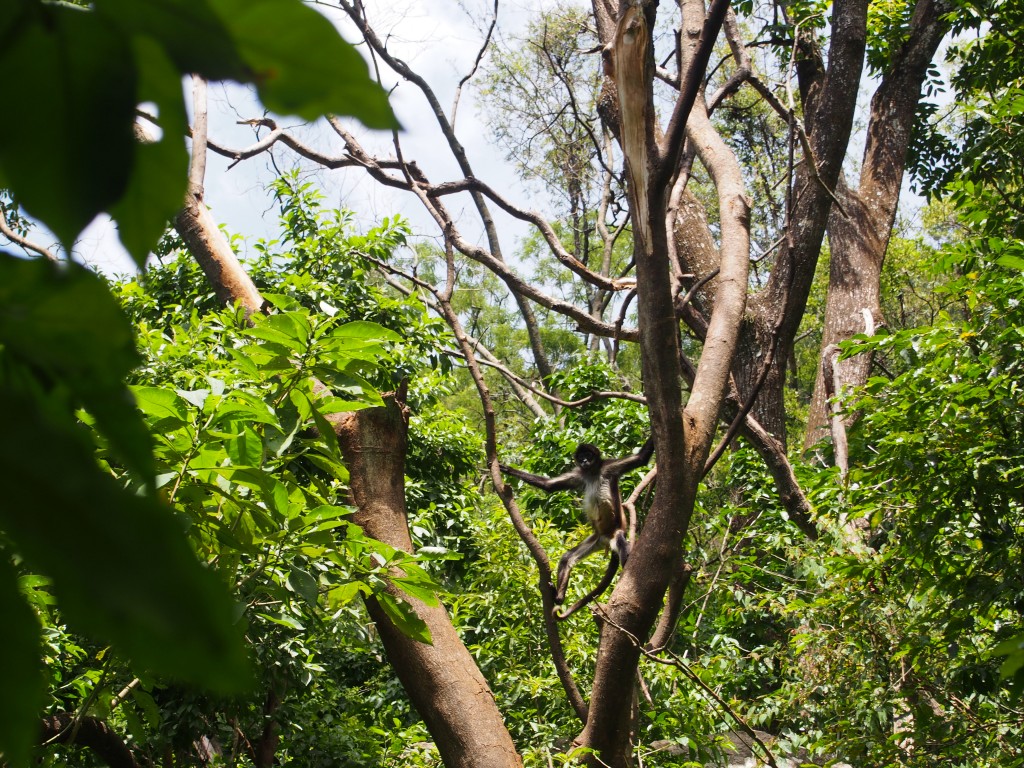 San Jorge Homestay
In the afternoon of our second day in Panajachel, we packed up our stuff and headed a little further around the lake and into the hills a bit to the village of San Jorge, where we were paired up and sent to stay with a Mayan family overnight.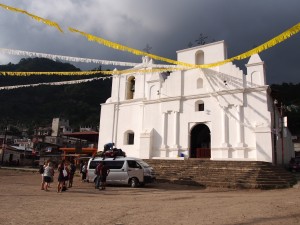 San Jorge is a village of approximately 3000 people. The people speak the Mayan language Kaqchikel, which is a very challenging language with many interesting guttural noises. The primary industry for people living in San Jorge is construction. The men are considered the primary workers, the women of course work just as hard, but at different things, such as having babies, managing stores, making jewellery, tapestries and paintings to sell at the markets and other such things.
Our family, Alejandra, Juan and some of their children, welcomed Anthony and I into their home, near the center plaza of San Jorge. Alejandra and Juan have been married for forty years, they have eleven children, six of whom have moved out of home, married and produced 8 grandchildren. Of the five children who still live at home the youngest three are still attending school and the older two work.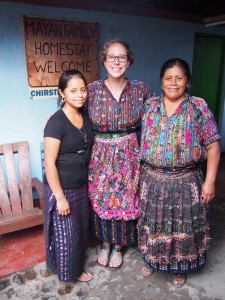 The home we stayed in was small, but comfortable, there were two rooms for homestay guests, of which Anthony and I had a room each. The opened on to an open courtyard. At the front of the courtyard was a big sink for preparing food, washing dishes and other general household uses. At the back of the courtyard were the shower and toilet. To the right was the dining room, from the dining room, the room to the left was the family bedroom (I assume) and to the right was the kitchen.
When we arrived we chatted for a bit in broken Spanish to learn about our host family. Alejandra and her daughter Angelica dressed me up in traditional costume, and then Anthony and I went out to explore the town. It is a very poor village, but the people and the children were all so happy and welcoming. I received many comments and compliments on my outfit; and all the children we saw wanted to play with us and have their picture taken.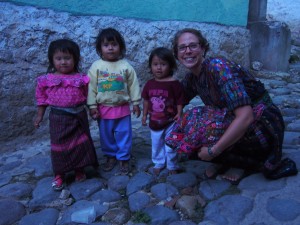 Once we returned home we were given mugs of Pinol to drink, it's a local hot drink, the nearest description of which would be sweet corn tea. Our pinol was accompanied with the main meal of Polique (a thick corn and chicken soup), boiled chicken, carrot and choco (otherwise known as water potato, though I had never heard of such a thing), served with tamalito (a corn bread that is steamed in leaves) for dipping into the soup. The meal was a very traditional one, one that is often served at parties and weddings. We certainly felt that this was a more lavish dish than they would normally have, but they were very proud to share with us meals that are considered traditional. It was delicious!
By this stage everyone was exhausted and we had an early night. The morning was quite short as we needed to depart by 8am. Our host mother had gotten up early to prepare fresh tortillas served with refried black beans and scrambled eggs, served with a cup of coffee, that tasted remarkably like the pinol.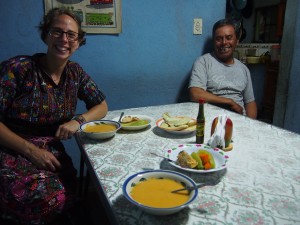 The homestay experience is always extremely awkward due to the inability to communicate effectively, but it is always an interesting experience and it really is one of the best ways that you can learn about a culture. It's also a good way to give back to the community, they get paid for hosting people, they may receive donations and sometimes people buy the products they make – I bought some beaded bracelets.
After our hearty breakfast we piled into the bus and headed for Antigua.
 Check out all the photos on Flickr