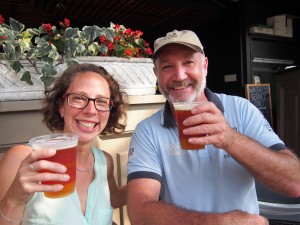 With one part of the study tour over and a short gap before the next part would begin. A colleague, Marie, and I spent four days exploring New York at our own pace. While there we also met up with Wayne, who I had been on tour with from Buenos Aires to Rio de Janeiro in May.
Around New York I revisited some places I had already been, as well as seeing new sites.
Top of the Rock
The Top of the Rock is an observation deck accessible from Rockerfeller centre. I got my ticket combined with a MoMA ticket for $45, but I believe entry to Top of the Rock by itself is around $27.
There are three observation levels at the top of the building, approx. 850 feet (260 metres) above sea level. The lowest of the three is predominantly indoor, but has an outdoor section. The middle of the three is predominantly outdoor but has a small indoor area without views. The top level is smaller, and is completely outdoor. The views from the building are absolutely spectacular. The view of the Chrysler building wasn't fabulous, but the Empire State Building and Central Park had clear, uninterrupted views.
Something I love about Observation decks, is that once you are there you can stay as long as you like. A suggestion would be to arrive at the end of the day to experience the views during daylight ours, stay through sunset and then appreciate the night skyline. My personal choice, based on a friends recommendation was to see the Top of the Rock during the day and the Empire State Building at night.
Statue of Liberty & Ellis Island
It turns out that if you want to visit the Statue of Liberty's museum in the pedestal or to go up to the crown, you need to book a couple of months in advance. So as you can imagine, I didn't do those things. For $18 I got a ferry to Liberty Island and to Ellis Island, with an audio tour for each included in the price. It probably would have been cool to go up to the crown, but I honestly didn't feel I was missing out by not having done it.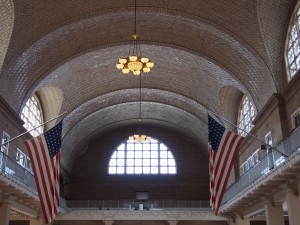 The audio tour around the Statue of Liberty was really good. It was interesting information and it was well narrated, the audio tour on Ellis Island was less interesting to me because it was more of a museum with loads and loads of history. I also found the building much too cold, and I was tired by that stage so I had quite a short attention span.
It was really cool to see Lady Liberty, she was a gift from France to the USA. The Americans simply had to make a pedestal for her to stand on. She is made of very thin copper on an iron frame and stands 305feet tall from the ground to the torch. I find the statue to be elegant, and I loved running around taking pictures!
Wall Street
A quick stroll along Wall Street and around the Financial District was interesting.
The Charging Bull sculpture is pretty awesome, but the crowd around it is ridiculously dense. There certainly isn't even a glimmer of hope to photograph it without random people photobombing.
Down the way from the Charging Bull, on Wall Street itself is the New York Stock Exchange. The building is rather grand and imposing in a beautiful way.
The Guggenheim Museum
I'm not an art or museum lover but I do appreciate architecture and atmosphere. The museum design by Frank Lloyd Wright is fascinating both inside and out. I found it a very pleasant art gallery to wander through. The use of lines, curves, light and shade were fantastic and I even saw some art along the way that I appreciated looking at! It was worth my $18 student entry fee.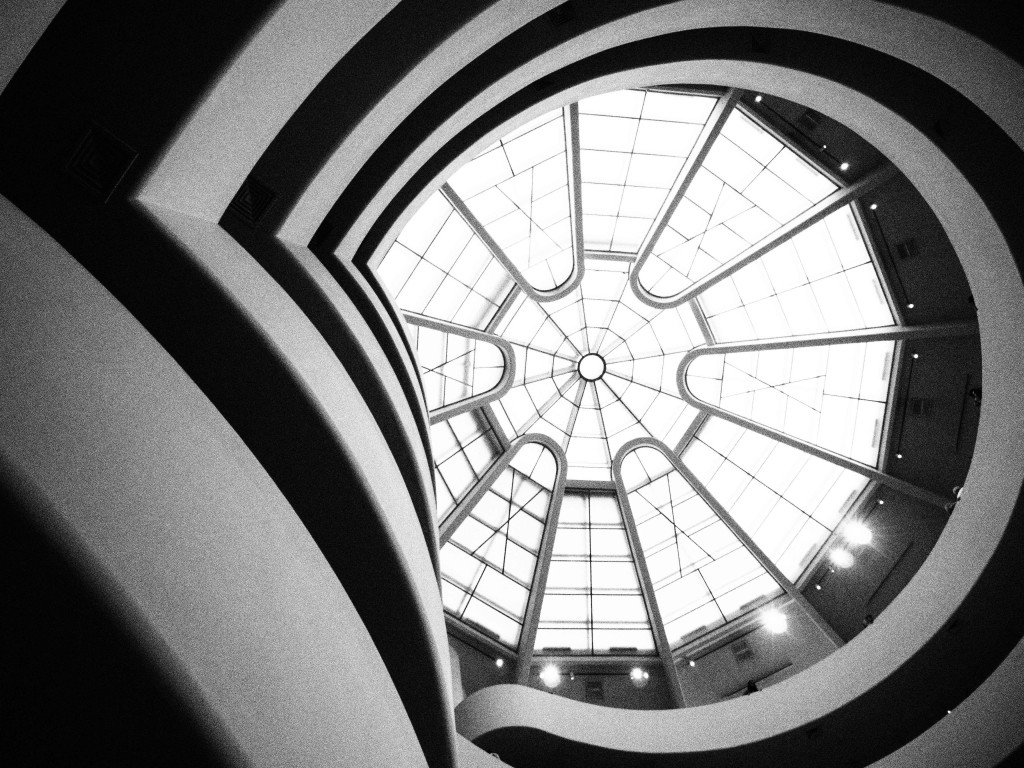 Brooklyn Bridge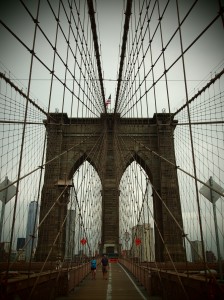 The Brooklyn Bridge is a New York icon, so we walked from Brooklyn across to Manhattan. The bridge structure is really cool to look at, so many interesting lines and symmetry. The walk is very pleasant, not very far and certainly not in the slightest bit taxing. It also provides great views on the Manhattan bridge and general surrounds. You can also cycle over it, but we chose to walk.
Central Park
I have mentioned it previously, Central Park is simply enormous. It is 3.41km2 public park. It has cafes, lakes, a castle and more. It is a great place to go for a walk, have some food and just enjoy the atmosphere. After two visits I have still only seen a tiny portion of the park. If you want to see more of it and don't have days to do it, then I would recommend looking into bike rental costs. If I had had the time I would certainly have done it.
Empire State Building
We visited the Empire State Building just after sunset, the queues weren't excessive and soon enough we were at the top, enjoying stunning views of New York at night. The roads are buzzing red with traffic feeding the city with life. The whole city glows and buzzes with energy, it's quite spectacular to absorb such an amazing sight.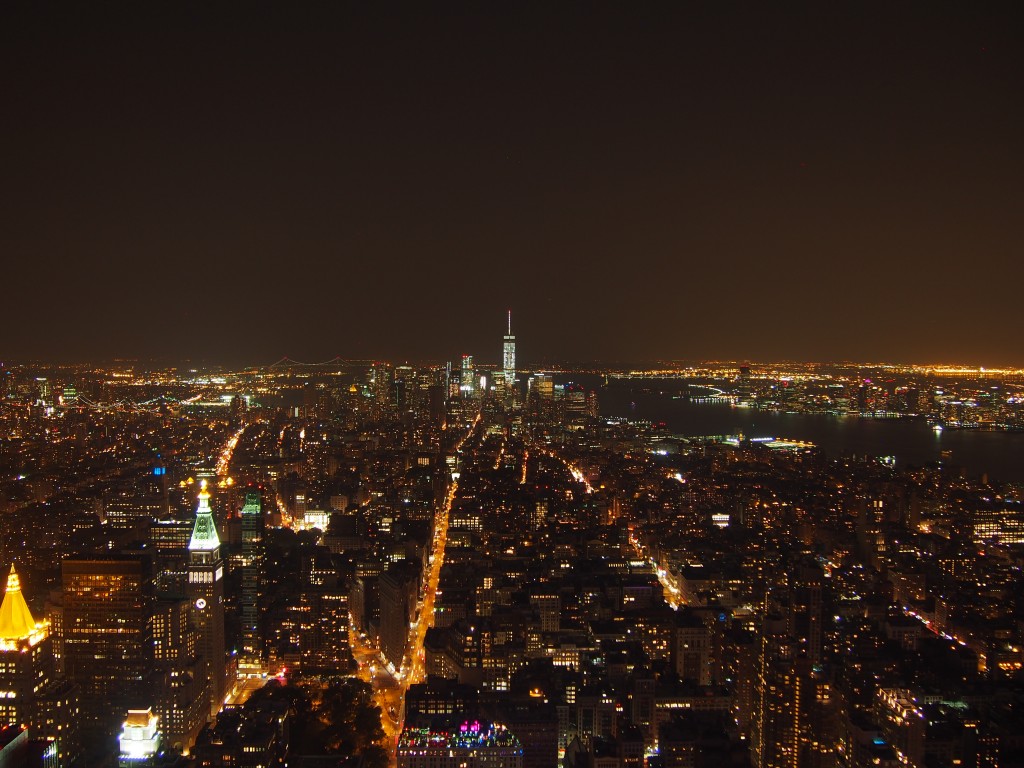 General City Sights
Around New York there are loads of things to see: interesting architecture, cute parks, cool sculptures and funky street art. Some things I really liked were the Flatiron Building, the Hope and Love sculptures and the glass cube Apple Store.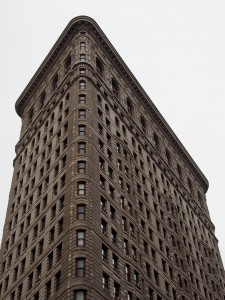 I would also highly recommend Bryant Park, near the New York Library, it's certainly not even on the same scale as Central Park, but in it's small size and location it is a hive of activity. There are Café's, Bars, outdoor reading zones, tables and chairs, lawn space and more. They also have a big screen set up for evening movies during the summer. It's a brilliant spot to hang out.
July 4th – Independence Day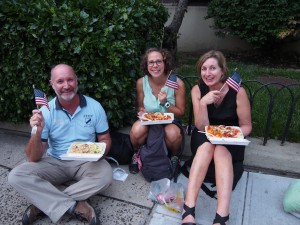 Our stay in New York coincided with July 4th. We went out and bought ourselves little American flags and parked our butts near-ish to the waterfront of the East River on the Manhattan side to enjoy an evening of fireworks. We chose not to go too close to the waterfront because the crowds were just way too big and full on for us. So we sat a block or two back and enjoyed the views of the fireworks over the rooftops of the lower buildings. It was a fabulous evening!!!
Check out all my New York photos on Flickr