The promotion has just started so jump on it before December 31st!

In case you aren't sure what Eurail is, it's a European train ticket. You can buy them to allow you train access for a specific country, group of countries or a global pass that allows you to access the 28 countries that accept the Eurail pass. Compared to buying a ticket per ride, this rail pass is AWESOME!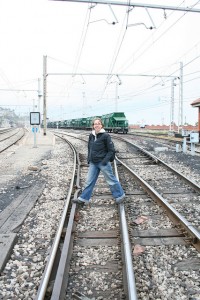 Way back when I had my second gap year, in my early 20's, I bought myself a two month unlimited Eurail global pass. So for two months I train-ed my way around Europe and I saw so many amazing things that I would otherwise not have had the opportunity to see.
Departing from The Netherlands, where I was living at the time, I started by heading north to Denmark, Sweden and Norway. Then I headed south and a bit east travelling through Germany, the Czech Republic, Austria, Slovakia and Hungary.  I finished by heading further south, but this time west to Italy, France, Spain and Portugal. I then had to get myself back to The Netherlands as quickly as possible before my rail pass expired.
The Eurail pass that I had saved me a lot of money on buying separate flights, train or bus tickets. In some places the rail pass also allowed you to use the local subway system; and there are sometimes other discounts you can get with your Eurail pass, such as on hotel accommodation and museum tickets etc. Occasionally I also saved money on accommodation by taking overnight trains to my next destination.
The Eurail prices are generally fairly expensive, though I would say they are still worth the money. But with this discount, it has never been such a great idea!!
Make sure you check if the train you want to catch requires a reservation, in many cases the reservation has no additional cost, but in some cases it does.
Get a Eurail pass now!!! Or at least find out more about them…