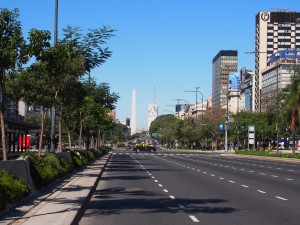 Buenos Aires is a sprawling city. Each suburb has something a little different to offer.
While I stayed in San Telmo I actually didn't end up exploring the suburb as I had originally intended. I also heard good things about Palermo, but didn't quite make it out there.
On the map, it looks quite easy to get around on foot, but once you start walking, you begin to realise just how great the distances between things are.
I didn't see as much of Buenos Aires as I would have liked, but I did make it to all the places on my 'must-see' list.
City Centre
Around the city centre are so many gorgeous old buildings to look at and streets to explore – it's worth wandering and just getting lost.
Buenos Aires Free Walking Tour
I did a free walking tour, the guide was a uni student called Loli. The tour  was about four hours of walking starting in downtown Buenos Aires near the famous opera house Teatro Colon (the day previously I did a tour of the theatre and it was just amazing!!!! A gorgeous theatre to see and a brilliant tour) and finishing at the Cemetary of Recoleta. The walking tour was amazing and we learned summary versions of the history and evolution of Buenos Aires.
Recoleta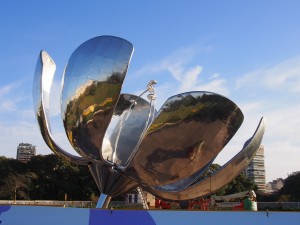 Recoleta is a suburb a few kilometres out of downtown Buenos Aires. It's a super chilled area, with many cafes, markets and sculptures.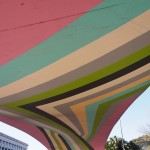 The highlight of Recoleta is actually the cemetery, the most expensive real estate in town!! The cemetery looks basically like a mini city, with many different 'streets' and the mausoleums each look like mini houses. It's simply so fascinating to wander around and look at all the different styles of mausoleum. It's also interesting to peer through the windows to see what 'goodies' were left to people in their afterlife – bridal flowers, books, photographs and more. Though I found it terribly sad each time I saw a child coffin. The mausoleums were predominantly for entire families, so many had multiple tiers of coffins shelved within them. Also they used to be used for storage as many people ran out of storage in their homes.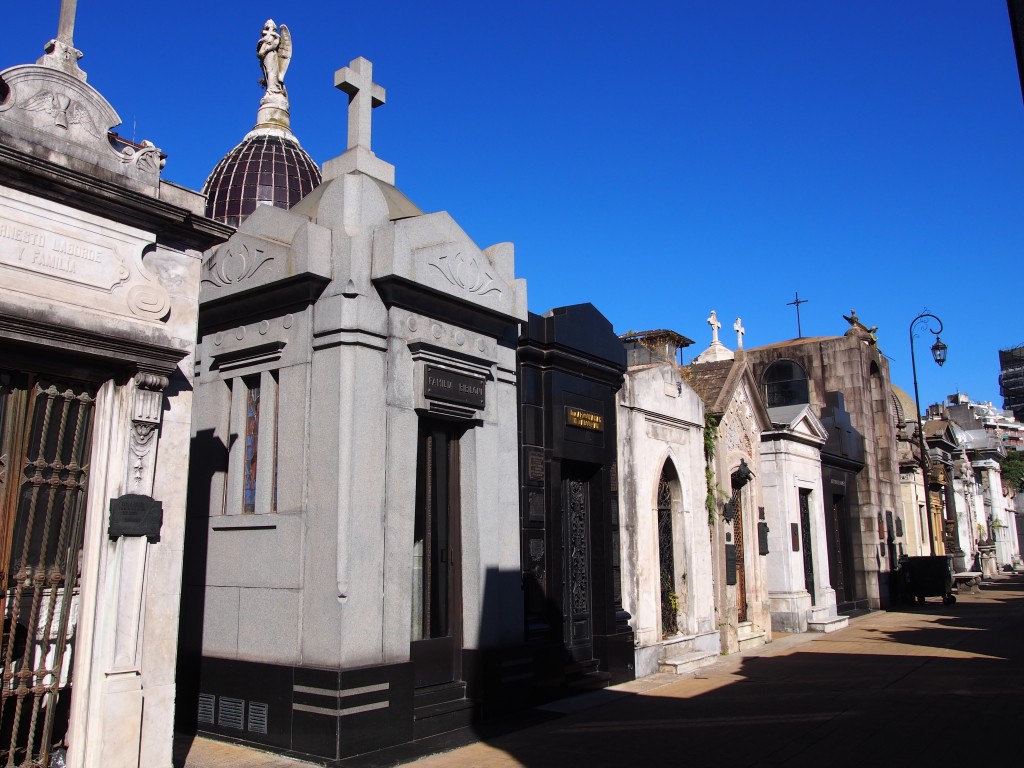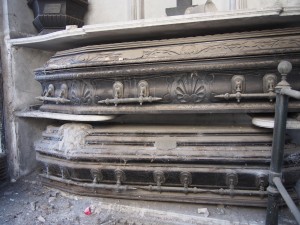 I'm not normally into cemeteries, but this place was throughly fascinating. It does also have the mausoleum of Eva Peron, the only one to be visited regularly and have fresh flowers.
Tango Show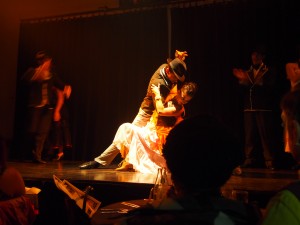 Argentina is known for the Tango. Apparently it originates through men fighting other men to vie for the attention of prostitutes. So the better fighter, or dancer was likely to win the attention of the prostitute. So the Argentines previously didn't put a lot of importance on the Tango, until Europeans started to recognise it. At which time Argentina claimed it as its own and put more energy into perfecting the dance.
Together with the group I went to a tango show. We were wined and dined, did a tango lesson and then were treated to a show which showed how the tango has evolved over the years. It was just brilliant!
La Boca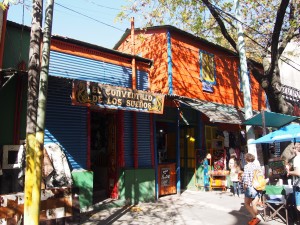 The Italian region of Buenos Aires is called La Boca. It has become famous for it's Calle Caminito (Caminito Street) which is lined with brightly coloured buildings, most of which are multi-coloured. It's an amazingly colourful area, very interesting to wander.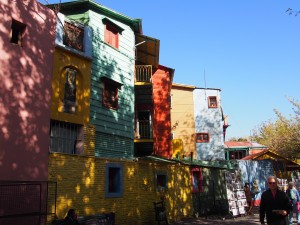 It is so clearly a tourist trap, all the souvenir stores and restaurants have hiked up prices. Tango dancers line the streets ready to pose for a photo with you just so they can charge you for the privilege.
It's also a very unsafe area, so you need to get there by bus or taxi and leave via the same way. If possible, it is advisable to go in a group. Once there, there are only a few streets that you are allowed to wander. Police patrol the end of these streets to prevent you from accessing unsafe areas by mistake.
Puerto Madero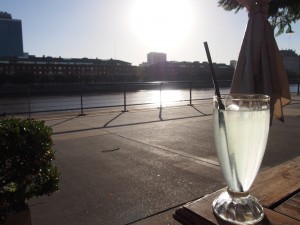 Buenos Aires is actually a fairly major port and the port area Puerto Madero was developed to support the shipping, however once it was finally built it was only used for 9 years before the cities shipping needs had outgrown the port. So the port was moved further away and made larger.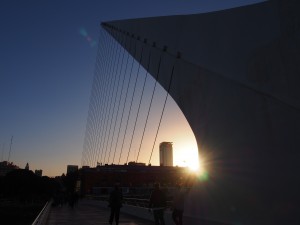 The Puerto Madero area is now super trendy and both sides of the port are lined with restaurants and cafes. Having grown up near the water, this was the area I felt most relaxed in Buenos Aires. It was a great spot to sit with a lemonade and people watch.
El Zanjon de Granados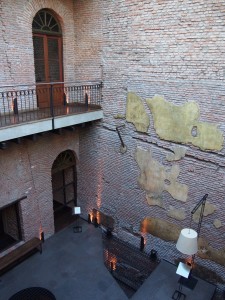 One archaeological site that I went to fairly last minute was just phenomenal; El Zanjon de Granados is a private museum in San Telmo. Many years ago it was the homestead of a well off family, tunnels were built over the creeks running underneath and houses were built above. As sickness spread in the areas, through the creeks and via the river, the wealthy families sold their houses and moved to a different area of town. The houses then became used a cheap tenement housing. Many years later a gentleman bought one of these houses to convert to a restaurant. As he started to renovate, he discovered the tunnels and the rich history of the property and went about restoring it. As restorations went on he discovered more tunnels under his neighbours properties and purchased the tunnels (but not the houses) off them.
More tunnels are being found and restored even today. The site is absolutely fascinating to visit and has been beautifully restored.
Buenos Aires is such a big city and has so much to offer, my three days really was the minimum amount of time you would want here; four or five would be better.