Every so often on the study tour we have a snippet of free time. In Seattle we had a day off before an evening train ride, to explore the city, and explore is exactly what we did!
Pike Place  Market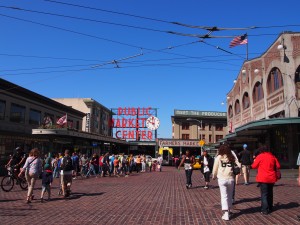 Pike Place Market has existed since 1907 and is one of the oldest farmers markets. There are loads of tasty treats and creative products to be found. It's really interesting to wander from shop to shop seeing, and sometimes testing, what is on offer.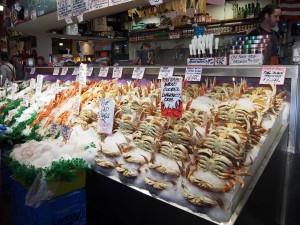 The fish market is a particular highlight. The staff are a fantastic demonstration of collaboration and team work, yelling orders and throwing fish. Fantastic to see!
The First Ever Starbucks
Starbucks opened their first store in Pike Place Market in 1971. The original store is still open and retains its old-school signage, but the company has grown exponentially into a multi-billion dollar since then.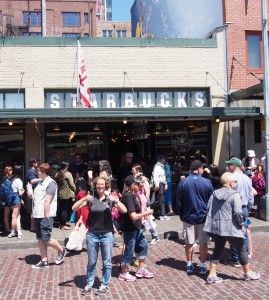 As a huge corporation I'm not the biggest fan of Starbucks or any larger chain. However I can say that when you are travelling and are looking for something reliable, something that you know, Starbucks provides consistent products and quality (by that I don't mean the worlds best coffee by the way, I'm just saying the quality they provide is consistent globally) world wide.
As someone who appreciates coffee, I couldn't walk past the store and completely ignore it. Though looking at the line, I certainly wouldn't line up and order a coffee!
Gum Wall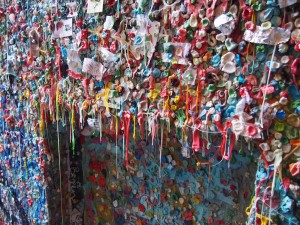 Just below Pike Place Market you can find a little alleyway called Post Alley. The walls of the alleyway are a kaleidoscope of colour, it's very eye-catching. On closer inspection it's actually rather disgusting and most unhygienic!
Post Alley hosts a gum wall, anyone is welcome to contribute. Some people just stick their wad of gum to the wall, others use it to stick their business card to the wall and others get creative, stretching their gum into shapes and letters.
The Underground Tour
Seattle actually has quite a crazy history. Loads of bad town planning decisions that resulted in the city being entirely flooded, having insane raw sewerage problems, the city later being burned down completely, the city rebuilding but in some bizarre dual level system. Ultimately this resulted in a number of streets still existing under the streets and buildings of the current city.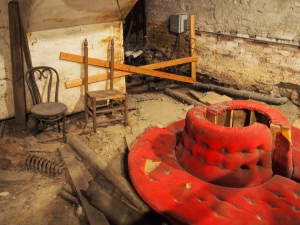 There is a cool Underground Tour that you can do, it starts at Pioneer Square and goes under the neighbouring city blocks. I found it quite fascinating. It wasn't the worlds best tour, but I think a contributing factor is the guide that you get. There is the potential for the tour to be extremely engaging. Certainly the city has enough rich history to make it a fantastic afternoon adventure.
Tickets cost $19
Columbia Center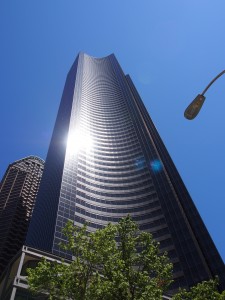 Seattle has at least one iconic building, the Space Needle. Most people head up the space needle to get a view of the city. It's quite an interesting structure and is taller than it's immediate neighbouring buildings. However these days, it's actually rather tiny in the scheme of the city's architectural landscape.
Rather than go up the space needle, we found a taller building with an observation deck, and were able to view the space needle from across town. Our views from this height were uninterrupted.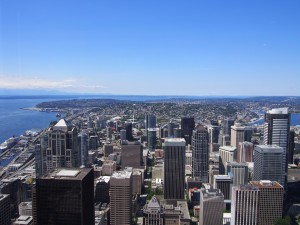 The Columbia Center has a Sky View Observatory providing pretty much 360 degree views of Seattle City. The Observatory is on the 76th floor, just over 300 metres above sea level.
The View is fantastic and I would recommend a visit. Tickets cost $14.25.
Microsoft
As part of the study tour we did pay the main campus of Microsoft a visit. The Redmond Campus is absolutely enormous!! They have 5000 staff working there who consume 2 millions gallons of coffee (I think Starbucks) annually!! It was a fun visit.