Otavalo is North of Quito, an area well known for its indigenous craft market and neighboring mountains and lakes. My reason for heading to Otavalo was to stay with a host family for a week while I attended daily Spanish lessons. My intention was to study Spanish for the first half of each day and explore the area in the afternoons, only my plan went a little bit pear-shaped on Day 2…
Spanish School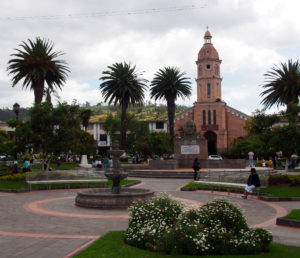 Knowing that I would be travelling South America for the coming months (and having travelled to so many Spanish speaking countries) I decided it was time to work on my Spanish skills. So I spent hours researching and emailing various Spanish schools around Ecuador, comparing costs and locations.I finally settled on Mundo Andino in Otavalo. The cost was $145 for 20 hours of private Spanish lessons over the course of one week (4hours per day for 5 days), plus $17 per night to be placed with a local host family.
The director of the school Aida was fabulous in arranging everything for me and was great at helping me get settled. My teacher Mayra was absolutely lovely and did her best at helping me increase my Spanish level. We combined grammar theory, with grammar practice, as well as learning expressions and phrases, in addition to getting side-tracked with very stilted conversation.
After a week of Spanish, I certainly still can't hold a conversation but I can speak and understand a great deal more than before. So while I still have a long way to go, I consider my Spanish lessons a success.
My host family
Located in the centre of Otavalo, just three blocks from my Spanish school, was my home with the Montalvo family. Maria and Pablo and their children Pablo and Camila. Their oldest daughter Lizeth was there for the first day before heading back to Quito where she lives for study purposes. Also living in the home was Christina, Pablo Senior's sister.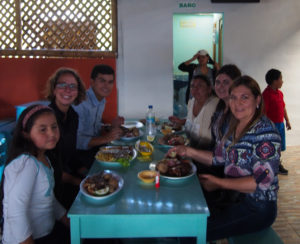 I arrived around midday on a Sunday. My family warmly welcomed me into their home, before taking me off on an adventure to nearby town Ibarra. We went to the local lake Yahuarcocha for a traditional Ecuadorian meal. Fish is the typical dish, but I was grateful to find a meat dish to eat while my family tucked into their fried fish meals.
We finished our first day together with a family trip to the cinemas, where Cristina, Lizeth, Camila and I watched Buscando a Dory (Finding Dory). It was a throughly entertaining movie, and I loved it even though I only understood about 10 words! Maria and Pablo Jnr were more into the terror genre and headed off to see the Conjuring 2.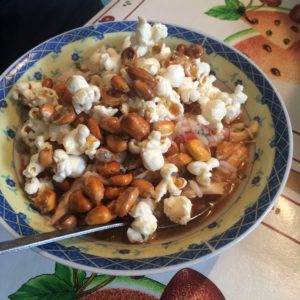 The following day I started into the routine of breakfast at 8:30, school from 9-1. Lunch at home at 1:30. The afternoon for homework and/or exploration. Dinner at 7. Continue homework and then sleep.
Aside from meal times, I didn't spend much time with my host family, they all lead busy lives themselves with school and work. I did however spend some time with my little sister Camila. Together we baked a cake for her teacher in celebration of the last day of the school year. We sang (I attempted to sing) along with contemporary Spanish songs and danced like crazies. She also was interested in my website, and was super keen to write something…
Camila's Short post about Otavalo
Ecuador es muy lindo a pesar de ser un paìs pequeño tiene mucha biodiversidad es el paìs que tine diversas culturas, Imbabura es donde yo vivo tiene mucha cultura donde esta el  corazón del imbabura , el lago san pablo , el lechero, la cascada de peguche etc.
My interpretation of Camila's post: Ecuador is a very nice place, despite being small it has a great deal of biodiversity and diverse cultures. The heart of Imbabura where I live, has much culture: San Pablo Lake, El Lechero (a sacred tree), Peguche Waterfall etc.
She would have liked to continue writing, but at that point in time we had to go eat dinner, and we didn't get back to finishing her post.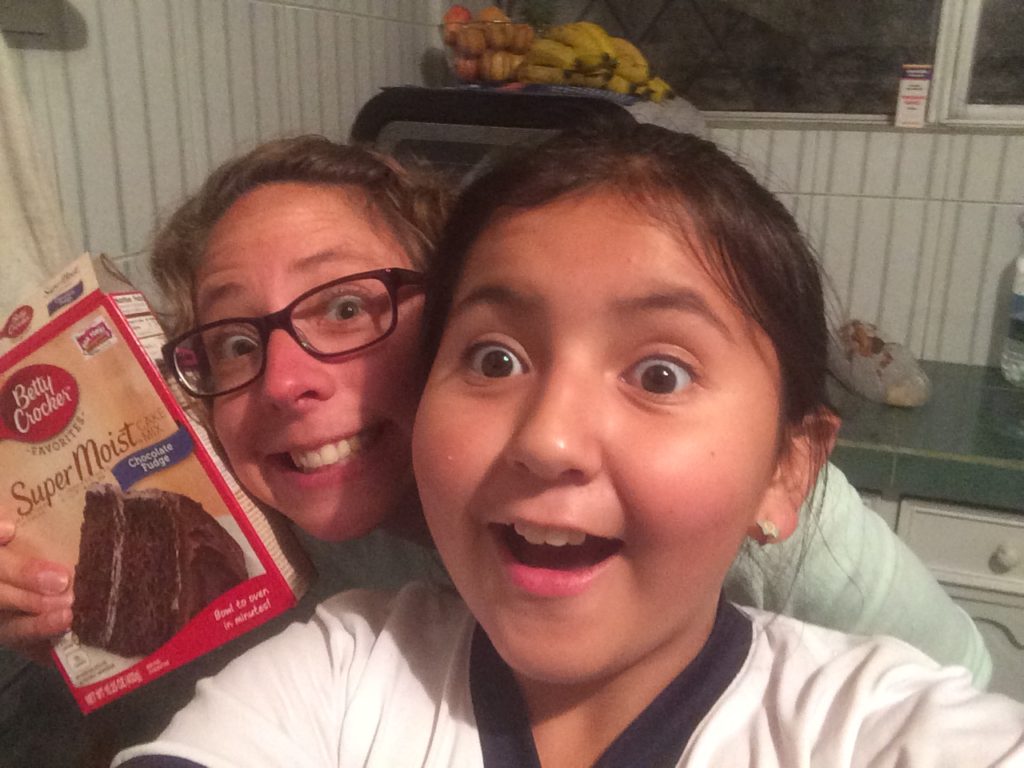 Attempts to explore and resulting disaster…
After some time spent reading the lonely planet guide, talking to my new siblings and internet reading, I had quite a little list of activities I wanted to do while in Otavalo. This list included seeing the market, visiting the local sacred tree El Lechero, walking to Peguche Waterfall and walking around Lake Cuicocha.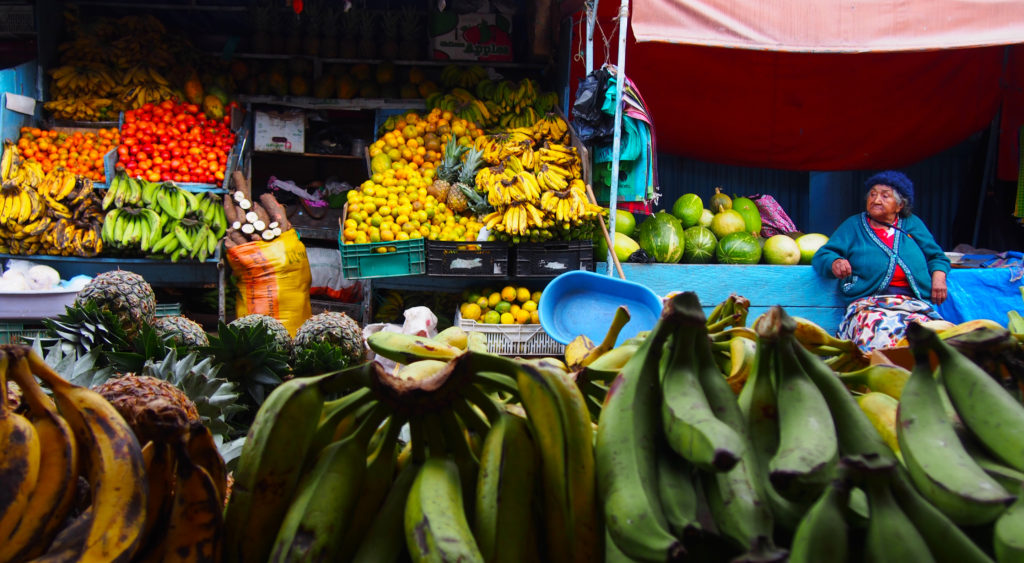 After my first day of Spanish classes I figured I would start with something fairly small, a walk up the hill to El Lechero. I was told it was pretty well sign posted and was about a 20 minute walk.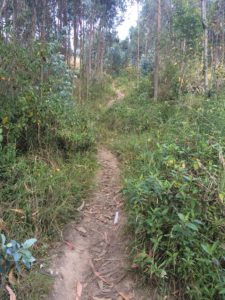 I downloaded the google map, slung my camera over my shoulder and off I went. As I went up into the line of houses on the hill I got some good views of the city and some pictures of cool street art. I started to head off into the section of unsealed roads, and then dirt trails, regularly asking random passersby for directions. Eventually I got to a narrow little goat trail up the hill, whistling as I walked, enjoying the great outdoors. I popped up near the hilltop assuming I should be pretty close, but didn't know whether to follow the trail left or right. I headed left where there was a ramshackle farmhouse, I thought I may be able to call out and ask for directions.
As I neared this farmhouse, I heard some dogs start to bark. Suddenly a pack of five angry dogs had surrounded me, barking and snarling. I was TERRIFIED!!! I started screaming! At first the dogs backed off, but then came back at me. One of them managed to grab hold of my right leg, before some young children came running out of the farmhouse and subdued their dogs with brooms.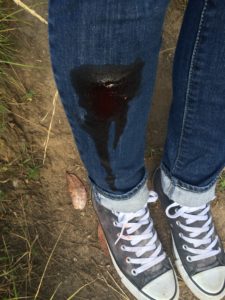 At this point, with blood soaked jeans, I made a quick getaway down the hillside, all intentions of finding El Lechero cast aside. I walked 3 kilometres back to town before bursting into tears in front of my host mother and father, who promptly took me to the hospital for treatment.
Over the course of the following five days I received a tetanus shot, two rabies shots and made daily hospital visits for wound cleaning. I was also given a stack of pain killers and a two week course of antibiotics.
It was possibly the most terrifying experience of my life! It also reinforced I had made the decision to buy a local SIM card. I was able to remain in contact with friends the whole time, to let them know what was happening. As a solo female in the hills of some random town in Ecuador and no one knows where you are, it is a brilliant idea to have a local SIM card, so that if/when something happens, you are able to contact others for help.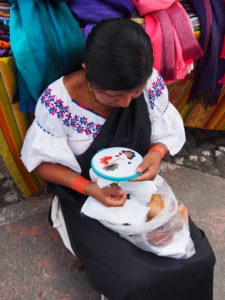 From that day on, I kept my explorations to the confines of the city. Checking out the famous indigenous craft market at Plaza de Ponchos. The market is on daily, but on Saturdays it explodes in size and extends all the way up and down the streets too. You can buy arts and crafts not just from indigenous Otavaleñas and Ecuadorians, but also indigenous goods from neighbouring countries such as Columbia, Peru and Bolivia.
The main square of town is Parque Simon Bolivar. It is where you will find the towns White House and main Iglesia (church). While Simon Bolivar seems to be the Main Street running through town, if you want nice (probably over priced) cafes and restaurants, head to Plaza de Ponchos, around the market. I enjoyed an amazing latte at Plaza Cafe Sisa (not to be confused with the restaurant Sisa somewhere else in town)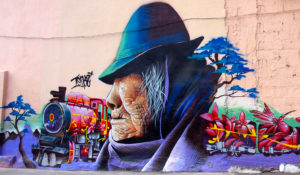 I also spent quite some time wandering the streets to find all the cool street art (I was surprised at how much cool street art I found in this small town), and checking out local fruit and vegetable markets.
It's  great town and the nearby natural sights sound like they are worth seeing, but I will wait until I have travel buddies before I go exploring again.
Getting There
I travelled to and from Quito to Otavalo. I went there via shared taxi and came back with the bus, both are affordable options.
First up, it's worth me mentioning that I have an irrational aversion to buses, they scare me. I don't feel comfortable riding the bus, especially when carrying both my hiking pack and daypack. I fear for my own safety and the safety of my belongings. The cheapest way to get to and from Otavalo is only with buses, this is completely do-able, but I chose not to do it.
Option A: Shared Taxi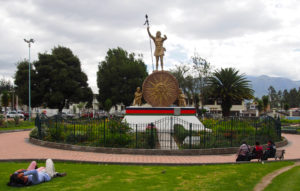 TaxiLagos is a company that provides a shared taxi transport service.  It is cheaper than a standard taxi, but more expensive than a bus, however the security is obviously much higher.
I paid $15 to travel from Quito to Otavalo, the ride took approximately 1.5hours. They pick you up from your hotel and drop you off at your exact destination (I didn't understand enough Spanish to understand that they would pickup from the hotel, so I paid $4 to get a taxi from my hotel to the Taxi Lagos Office.)
The TaxiLagos office is on Calle Ascunsion 3-82, just near Calle Versalles. The sign on the outside of the building says ServiQuito.
Total Cost: Taxi + Shared Taxi = $19
Time Cost: 1hr 45mins.
Option B: Bus
So as I mentioned, the cheapest way to do this is just with the bus, but that is not what I did.
I caught a taxi from central Otavalo to the bus station Norte to get a bus "Directo Quito", some of the buses make heaps of stops and the ride can take 3hrs+. All Taxis around Otavalo central cost a fixed rate of $1.25. Again you can do this by bus and it will only cost 30 – 40 cents.
On arrival at the bus station I asked "quito directo" and jumped on a bus that was "seguro" (secure/safe). The bus cost $2.50 and took approximately 2.5 hours to get to Quito Carcelen Bus Station. The bus was indeed secure and was fitted with security cameras, much to my relief.
The Carcelen bus station to central quito is still quite a distance, an hour by bus or about 30-40minutes by taxi. I took a taxi for $8.
NB: only travel via Carcelen bus station when travelling north
Total Cost: Taxi + Bus + Tax = $11.75
Time Cost: 3hr 15mins.