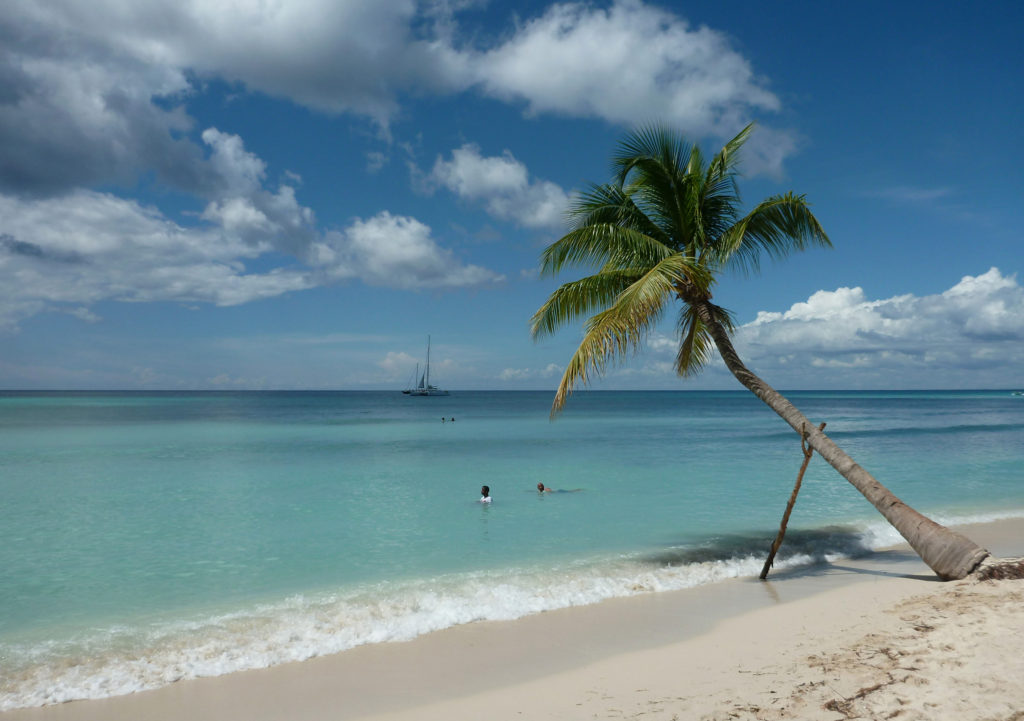 Isla Saona is the stereotypical Caribbean island you picture when someone talks about Caribbean islands; white sand, clear blue water and palm trees. Whether there is truth in it or not, I have heard people say that it is one of the islands that has featured in at least one of the Pirates of the Caribbean movies. Because it sounds better, I'm going to roll with it and say I visited one of the islands from the movies!
Isla Saona is off Southern Coast of the Dominican Republic, in the Far East of the country accessible by boat from Bayahibe. I would consider it a Must-See activity for any visit to the Dominican Republic.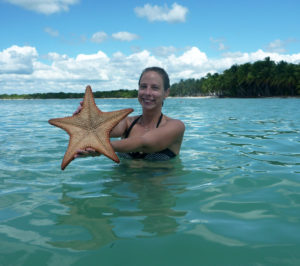 To access the island we took a speed boat ride. We made a brief mid-way stop at a remote beach for a quick dip in the water to cool down. We had some time to enjoy a rum punches, before all jumping back in the boat to continue through to Isla Saona.
With the spectacular views of tropical white sand beaches whizzing past it wasn't long before we reached our destination.
On arrival, I selected my deck chair in the shade of a palm tree and ordered myself a rum and coke. I spent a couple of hours alternating between relaxing on the chair and relaxing in the water and sunshine. I enjoyed a delicious typical Dominican lunch, and enjoyed a few rum and cokes in true Dominican style.
As the day came to an end we all boarded a luxury catamaran, The crew played Dominican dance music and danced the afternoon away. For me it was a magical finish to a brilliant day, to lay on the nets of the catamaran with the water flowing past underneath me as I listened to the dance music, and enjoyed the warmth of the afternoon in the shade of the sail as we sailed through the Caribbean.
Isla Saona Day Tour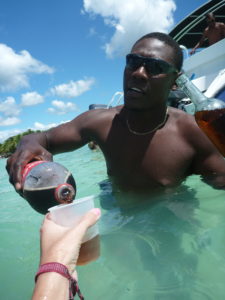 In order to undertake this adventure I signed up for a tour with the local tour company, ATA Excursiones. They offer a variety of tours and have something on every day. Their office can be found in Calle El Conde near the corner of Calle Santome in Zona Colonial. They are contactable via Facebook or Whatsapp. One or two people in the office speak a very limited amount of English, but if you have any Spanish and an adventurous spirit then I would highly recommend travelling with them.
The tour cost DOP$1900 (approx US$40), this is the standard price but sometimes they have discounted departures on weekdays.
The price includes transport from Santo Domingo to Bayahibe. You then use a speedboat and catamaran to visit the island.
Drinks and lunch are also included, this means that if you really want to immerse yourself in the Dominican culture, you may enjoy a steady flow of rum punch all day long.
Note: Bayahibe itself is a popular beach that is worth a visit. There are many tour operators offering snorkelling and diving trips as well as trips out to Saona.