Las Terrenas is a reasonably small beach town on the northern cost of the Samaná peninsula. It is a great spot to relax, and enjoy a slower paced lifestyle for a few days.
Despite my grand plans of seeing loads of things on/near the Samaná peninsula, on arrival I just decided that I wanted to relax and take it super slow. So I ticked one item off my list and otherwise enjoyed the beach, some cocktails and great company with my new hostel friends.
Places I wanted to see but didn't include: a day trip to Los Haitses, Las Galeras, Samaná and Caya Levantado.
Las Terrenas Beaches
As it is on the coast, Las Terrenas has beach after beach after beach. On the main strip the recommendation is to walk West and spend time at the quieter area of Playa de las Ballenas.
If you are interested in surfing, then taking a motoconcho to Playa Bonita would be the recommended option.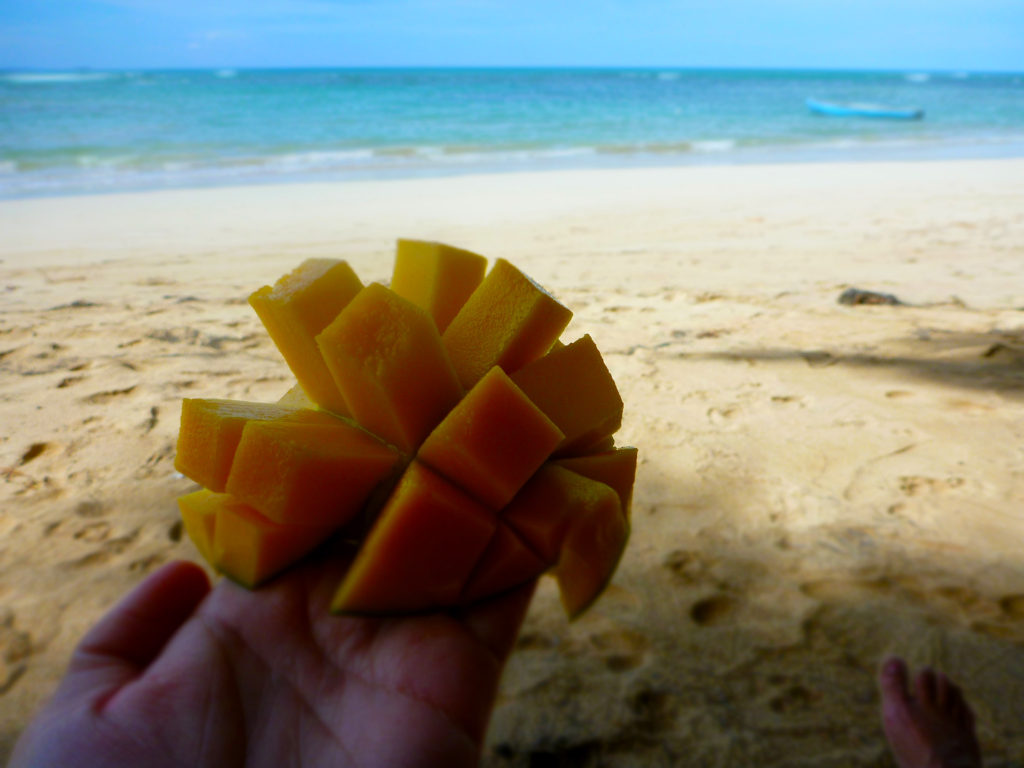 Salto El Limón
Salto El Limón is a gorgeous waterfall in the hills behind Las Terrenas. From La Bodega in Las Terrenas it's a short DOP$50 peso ride to a central stop and then an additional DOP$25 GuaGua ride to a park entrance.
Entrance costs DOP$50 and it is only a short 40 minute hike in the tropical jungle to the waterfall. Be sure to bring water because it is crazy hot and humid.
Many people pay for a horse ride to the falls, I am not sure of the cost. There will also be many locals offering their services as a guide, but in my opinion a guide is not necessary.
There are numerous entrances into the park, we entered through one and exited through another.
Despite initial problems finding the trail in, the walk was very peaceful and pleasant as it was just our group of friends amongst the trees and rivers. The exit trail had been well trodden and pooped on by horses, while the scenery was beautiful the actual trail was horrid, for this trail you really need gumboots!
The waterfall itself is 52metres high and has a nice pool at the base for swimming. You will see people climbing the rock walls and jumping into the pool below. As there were large rock is random places beneath the waters obscure surface, I personally chose not to do any jumping.
Jumping or no jumping, the waterfall was beautiful to see and the swim was wonderfully refreshing!
Getting Around
Around Las Terrenas I would recommend walking, but transport is required if you want to go further afield.
When travelling to places like El Limón, Las Galeras or Samaná then a GuaGua is the most economical option.
For zipping around locally to places such as Playa Bonito or the main GuaGua station, then a Motochoncho is a bit more pricey, but the best option.
Getting There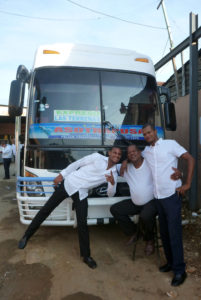 My original plan to visit Samaná had been to take a two day excursion with ATA Excursiones (the two day tour costs DOP$3,400). Unfortunately Hurricane Matthew swung by the weekend of the tour and for safety reasons it was cancelled. They didn't offer anything else on dates that would work for me, so I undertook the adventure independently. While renting a car would have been ideal, the road tolls would have cost more than the car rental and this was simply money I did not have. So I opted for public transport.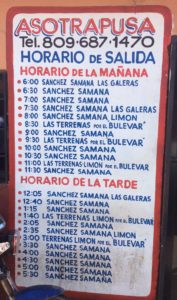 Buses go direct from Santo Domingo to Las Terrenas six times per day. The bus station is behind Plaza Lama Duarte in a reasonably sketchy looking area, however the bus costs DOP$350 one way and the bus company is reliable with friendly and helpful staff. On arrival in Las Terrenas I took a Motoconcho to my hostel for DOP$50
Accommodation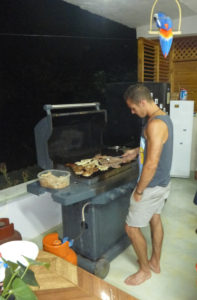 I found a brilliant family run hostel in Las Terrenas on booking.com, Dan and Manty's Guesthouse.
It was absolutely a home away from home; cosy, welcoming and comfortable. Dan was super helpful for helping me plan my stay and gave information on how to get places and what to expect to pay.
Due to the low season I had a dorm room and bathroom all to myself. The provided breakfast and purchased dinner was amazing, I hadn't eaten so well in months!!