While my North Morocco Adventure covered most of what I wanted to see in Morocco, there were a few things I still wanted to see/do – namely visit the famous kasbah Ait Ben Haddou and ride a camel in the Sahara Desert so I booked a three day Merzouga Desert Trek departing from Marrakech.
The tour was primarily spent sitting in a minivan because the distances out to these places are huge. For this reason if you are considering this kind of trip, make sure you do a 3 or 4 day, not just 1 or 2 because you simply won't get to see anything.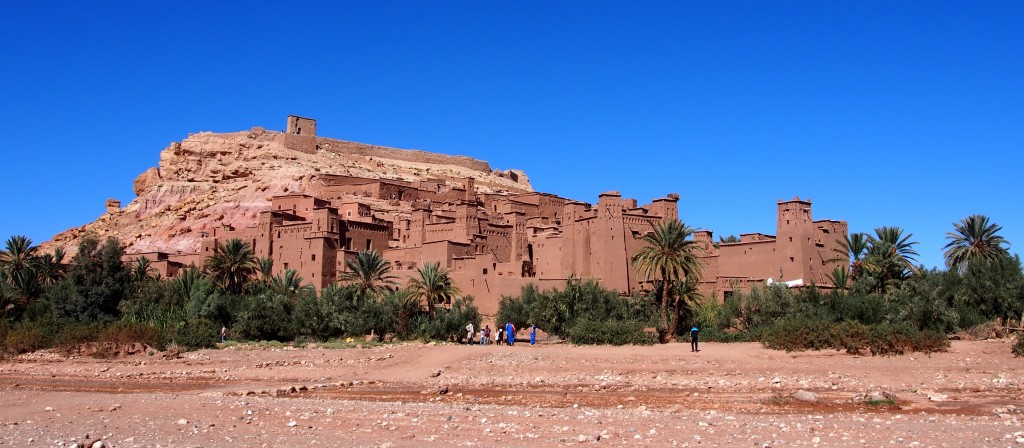 Once you have driven over the Atlas mountains, the first main stop on the adventure is the kasbah, Aït Ben Haddou. It is quite a famous kasbah situated alongside a river along the former caravan route between Marrakech and the Sahara.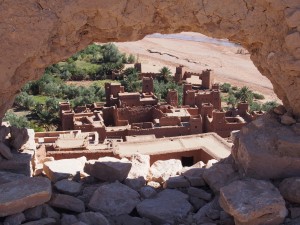 The kasbah is a UNESCO world heritage listed site. Strangely though, only the exterior is UNESCO protected according to our local guide. The exterior looks very well maintained and is a stunning site to behold. The interior, I found stunning too but in a more rugged way. I believe four families still live within the walls of the kasbah, but most people live in the village across the small river.
The Aït Ben Haddou site has been used in scenes of several movies over the years, including Lawrence of Arabia, Gladiator, The Mummy and more recently in the popular tv series Game of Thrones. While the Aït Ben Haddou site is often used in films, many of the sets are off site in a nearby town called Ouarzazate at the Atlas Studios. We stopped outside the gates for a photo on our way through to the Dades Valley.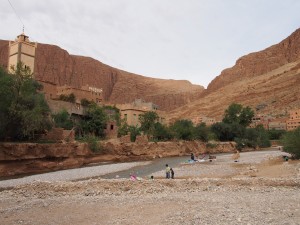 We spent the night in a hotel in the Dades Valley, before having a local tour of the area in the morning. Walking through a small village to learn about their culture and way of life. We also met a Berber woman who demonstrated how she makes carpets to sell. After our short visit to the Dades Valley, we made a brief stop at Todre Gorge. I was astounded at how crystal clear the water was!
Then we continued on, in a mad rush, to Merzouga. This is where we saddled up on our camels and went for a two hour ride into the Sahara Desert. While the ride was hampered by cold weather, high winds and some rains; it was still a phenomenal experience. There was a break in the rains as the sun set and it was absolutely gorgeous to see!

After two hours on a camel, the sun having set, we arrived at a Berber campsite in the dunes of the Sahara. We were assigned a tent, and then welcomed to spend time in the communal tent where we shared a traditional moroccan meal and played some games. I thought it was quite amusing, although a little annoying, we were each given a fork and between us there was a bowl of bread, one big dish of rice and one tajine of vegetable and chicken to share. Sitting around the table, we each used a piece of bread as a plate! What a mess we made!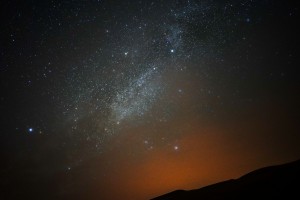 With our bellies full and our hearts full of good cheer, we all made a circle outside around a fire pit. We clapped, sang and danced as people played on bongo drums. Ending the night flat on our backs staring at the stars in the sky. We were all amazed at how clear the skies were and just how many stars could be seen. We even saw a few shooting stars, though not all of us were quick enough to think of a wish to make.
After some time we each wandered off to our tents, rugged ourselves up in blankets and slept until the 6am wake up call from our Berber guides. We grabbed our things, saddled up and rode our camels 2 hours back to Merzouga. We were much quieter than on the way in the previous day – perhaps it was due to the cold morning, the lack of sleep, the endless agony that comes with riding a camel for so many hours or simply being so awestruck at having such a phenomenal experience. I have to say that for me it was all of the above, but mostly being able to ride a camel in the Sahara Desert watching the golden sun rise and light up the dunes was an experience I will treasure forever.
The tour ended with breakfast in Merzouga and a 10 hour minivan ride back to Marrakech. I spent one last night in the Red City having dinner with my fellow tour mates, before flying back to The Netherlands.
I'll be seeing you again soon Africa….