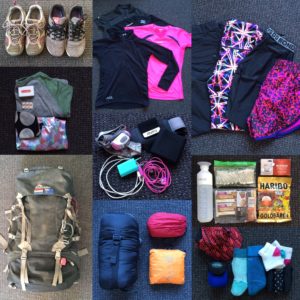 I heard that many people had so many concerns about packing for the camino. Since I had been living out of a backpack for 13 months prior to starting the camino, and with friends who had done the walk, I had a pretty decent idea of what and how I wanted to pack.
When it came to actually packing my bag I refined my ideas based on suggestions from my friend Ari, and the packing guides written by travel bloggers Dave and Candice.
I aimed to stick with the advice of getting the bag down to 7kg, but was unsuccessful. That being said my bag was 9-10kg with food and water and I had no problems with the weight. I had anticipated having back, shoulder and neck problems and was pleasantly surprised not to experience any of those issues at all.
Final Packing List
MacPac Genesis Aztec 55L Travel Pack
Passport, Pilgrims Passport and Money
2x Full Length Sports Leggings
1x Hiking Pants
1x Shorts
3x Tech/Sports T-shirts
1x Sweater
1x Lightweight Raincoat
3x Microfibre Underpants
2x Bras
2x Merino Wool Socks
2x Cotton Ankle Sport Socks
1x Pyjamas (T-Shirt and Shorts)
1x Sleeping Eye Mask and Earplugs (and some sleeping pills for the bad nights)
1x Hat
1x Sunglasses
1x
"Buff" Camino pattern
neck warmer thing
1x Teva Sky Lake Event Hiking Sneakers
1x
Adidas ZX Flux
Running Shoes
1x
Teva Tirra Sport Sandals
1x Pack Rain Cover
1x
One Planet Cocoon 5
 Sleeping Bag
1x Satin Sleeping Bag Liner*
1x Cotton Sleeping Bag Liner*
1x Toiletry Bag
1x Travel Towel
1x Medical Kit
1x Mobile phone with charger and cable
1x Headphones
1x Head Torch
1x
AMPY
kinetic energy battery pack
1x Plastic drink bottle
1x Flexible plastic drink bottle
1x Bag of snacks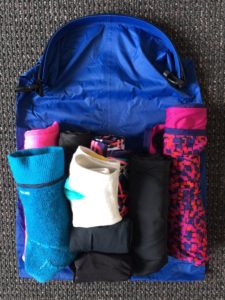 I like packing things in packing cells or dry bags so that packing and repacking is much easier. I use the Kathmandu Dry Bags.
I had one dry bag containing all my clothes each rolled up for compression, one dry bag containing all my medical supplies, a toiletry bag with toiletries and of course a sleeping bag.
When I anticipated rain, I put my sleeping bag and sleeping bag liner in a trash bag to keep them dry. Despite having two or three days where I was completely soaked from the rain, nothing inside my pack ever got wet.
My pack cover and raincoat were kept in an easily accessible outer pocket.
Travel Pack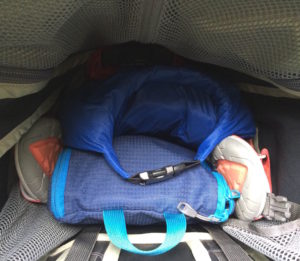 My Macpac Genesis Aztec 55L Travel Pack was not ideal for the Camino, but it was what I had and it worked just fine.
The Positives: comfortable harness, easy to pack, lockable compartments, heavy duty weatherproof fabric construction
The Negatives: bigger and bulkier than necessary so lots of empty space, heavier overall bag weight
AMPY
The AMPY kinetic energy battery pack was a great idea. In theory you generate energy whilst walking, so that when you get to a hostel you can charge your phone without needing access to a wall socket.
The Positives: Clean energy
The Negatives: it is reasonably weighty, the movement of walking was not vigorous enough to generate charge
Sleeping Paraphernalia
I have issues with full body sweats at night time, often in reaction to synthetics. I took a satin sleeping bag liner as well as a cotton one. When I was having issues with the satin one, I switch to cotton. It was mildly better but I chose to stick with it.
The bonus of the satin sleeping bag liner was that I could leave it in the sleeping bag when I packed it up each morning. The cotton one didn't pack as small and had to be packed separately.
Yes, I packed pyjamas, yes I know that was a luxury. Call me a traditionalist if you will, but I enjoy sleeping in pyjamas. Particularly for the fact that they aren't synthetic active wear. Many people simply slept in their hiking clothes for the following day, definitely a smart thing in some regards, particularly with the very early starts before lights are switched on. However, I wore my hiking clothes multiple times between washes, so I was not keen to do this!
Also the MUST-HAVE items are an eye mask and ear plugs!!!!! My sleeping bag has a little zip pocket in it, so I was able to keep these readily accessible in my sleeping bag.
Sleeping Pills are not for everyone, but I really appreciated having some sleeping pills with me. Some nights the snoring was really bad, my mind was overactive or I was in pain and the sleeping pills helped me to nod off. I only resorted to them twice, but was grateful to have them with me. I use Temazepam, which the doctor described to me as being a pill that will help you to fall asleep but will not maintain sleep, which is perfect for me and it also means you wake up clear headed and functional the next day.
Note: Temazepam IS a prescription drug, it can be addictive. You must consult a doctor before taking any pills of this nature. 
Bras
Loads of people recommended packing sports bras because you are active and walking so they provide good support. Additionally the straps would be in a different position to the pack straps and thereby reduce rubbing and abrasions on the shoulders. Despite these recommendations I opted to pack normal bras and am glad I did. The benefit of a standard bra is that in the dorms rooms I was able to get dressed/changed without flashing any skin or needed to go to the bathrooms. Having spent a lot of time in dorm rooms I am quite comfortable stripping down to my underwear in order to change. Once in just my bra, I could drop the straps to put on my pyjama shirt before unclipping my bra. In reverse I was able to clip up my bra, take off my shirt, pull up the straps and put on my t-shirt. There is no way I could have done this in a sports bra. In regards to the rubbing of the straps, I had no issues there. My pack harness is very well designed and I adjusted it appropriately so the weight was on my hips and not my shoulders.
Shoes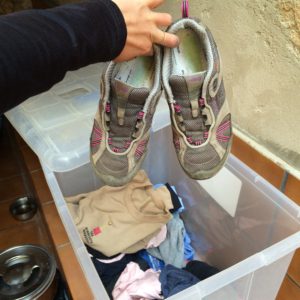 This is where I had some issues. Despite having owned and walked in my hiking sneakers for the last four years with no issues, on the camino I had issues from the start.
I developed huge blisters on both my heels which made walking excessively painful, then when walking downhill my toes continually hit the end of the shoes and both my big toenails were damaged so badly they were about to fall off. So my feet were destroyed on day one. I tried walking in my hiking shoes only one other time, and again experienced excessive pain. Within a short amount of time I decided to throw my shoes away and left the in a box at a hostel that was labelled "Take what you want, leave what you don't".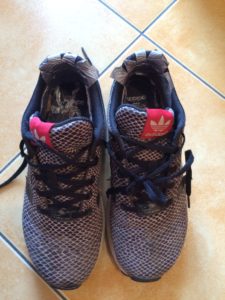 I walked 29 out of 31 days in my running shoes. This was not ideal as the soles as a bit too thin for long term hiking. I tried to minimise this with the use of a sports gel insole, but the soles of my feet still became excessively sore as though bruised. Even so, the comfort level was much better than my hiking sneakers. The running shoes were larger overall with more space in the toe box and while I still experienced some blisters, none of the pain of day 1. After a few weeks, the padding in the heels started to wear out and for the last two weeks I stuck them together with duct tape and was able to nurse them to the finish line.
Once I was down to one pair of shoes, I bought a pair of sports sandals to wear for comfort in the afternoons. They were very pricey but a purchase well worth it! My feet were incredibly grateful!
Note: I was surprised at just how much my feet swelled up during the day, I think close to a full shoe size. The swelling didn't go down until three days after I had stopped walking.
Medical Kit
In my medical kit I had a few items I used regularly and a couple of items I never used.
Items that I regularly used:
Needle
Compeed
Hypafix
Scissors
Blister cream from the pharmacist in Fromista
Ibuprofen Gel
Ibuprofen Tablets
Knee Brace
Items I did not use:
Antiseptic Cream
Bandaids
Ankle Brace
For some tips on blister care and dealing with foot and joint pain, check out my discussion in my final post about the Camino experience: Everyone walks their own Camino
Things I posted home:
AMPY: didn't work as effectively as I had hoped
Head Torch: never used it
1x Merino Wool Socks: with the thick socks and swelling in my feet I couldn't get my shoes on.
Rain Pants: never used it
Satin Sleeping Bag Liner: opted to use the cotton one
How to pack a bag effectively
Once you have decided what to pack, another important thing is knowing how to pack your bag effectively for weight distribution to minimise the negative impacts on the body when carrying it for a long time.
The important considerations are to keep things centred and to keep the heaviest items as close to your body as possible, preferably around the middle of the back.
My style, put the sleeping bag and sleeping bag liner down the bottom, centred. Put the toiletry bag on top but against my back, put clothes bag in front of that. Put shoes and/or sandals to each side of the packed items. Squish the medical kit into whatever gap remains.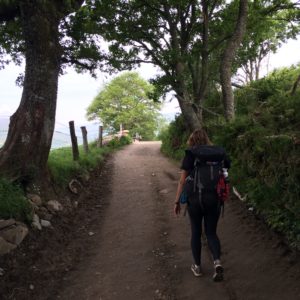 On top of these items would be a shopping bags with all my lunch items: bread, meat, cheese and piece of fruit. The two external side pockets of the bag each contained a water bottle. My hat was clipped to the front of the pack. The front zippered pocket contained the pack cover and my raincoat. The hood pocket had my passport, pilgrim passport, money, and sunscreen. I had a tiny dry bag which I attached near my waist containing my phone and headphones.
Once your pack is filled with your necessary items, make sure to adjust it appropriately so the waist strap is nice and tight so that your hips hold the packs weight. Ensure the shoulder straps are tight enough that the pack is snug to your body and the weight of it is not pulling you backwards.
A well fitted, well balanced and properly packed bag shouldn't cause you too much hassle for the long haul. My pack might not have been the ideal bag for the camino, but you make do with what you have and I was really happy with it.