Santiago Airport
The flight to Lima went via Santiago, Chile. While this is not a particularly noteworthy event, it's an airport worth discussing. It's quite small, but in a sense quite chaotic. The short version is that flights don't appear on the departure screens until the very last minute. To assist passengers find the right gate there are no information desks, airline desks or staff with knowledge of such things. Santiago airport is simply a waiting game. Not recommended for the anxious traveller.
Miraflores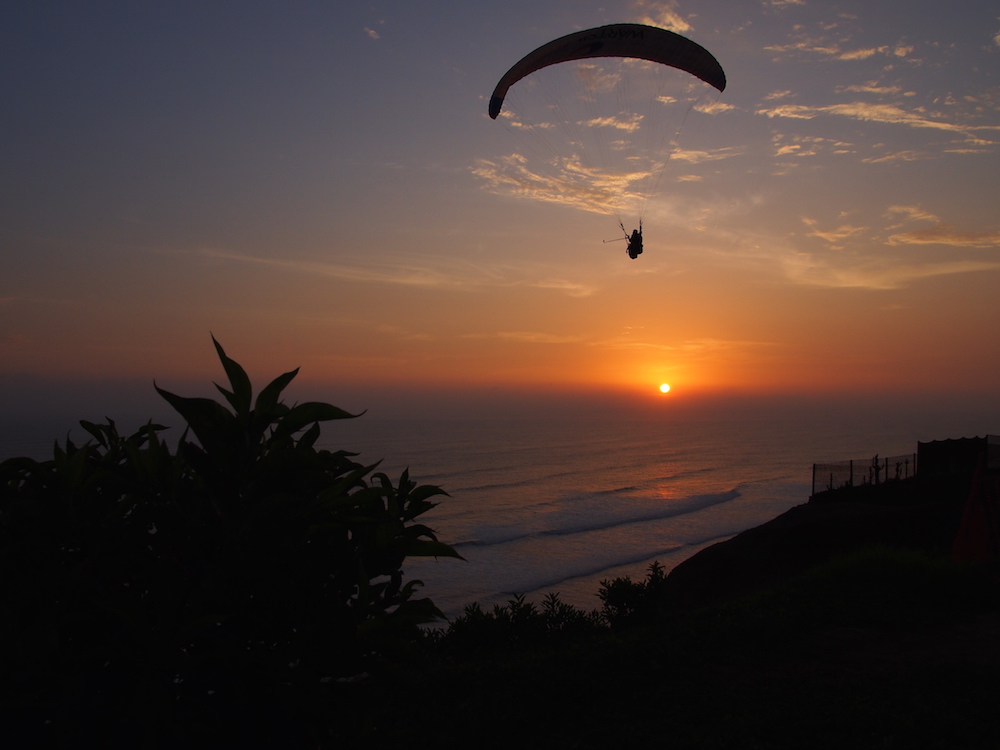 Lima has several suburbs, I stayed in Miraflores, which is a more affluent suburb. It is coastal, a cliff top suburb looking out over a pebble beach and the ocean. I felt that the city planning was done well as there are gorgeous wide avenues, many green parks and the city is wonderfully clean. It also feels incredibly safe and the people are friendly.
There are a few main streets worth mentioning. Avenue Jose Pardo is a main street, while it doesn't seem to offer a lot to see or do, it feels a bit like one of the backbone roads of Miraflores.
For shopping and restaurants Malecon Balta and Avenue Larco are great. The two streets meet at Kennedy Park which is a great location, lots of people and a gorgeous park which has night stalls. It is also around the Kennedy Park area where you will find lots of restaurants.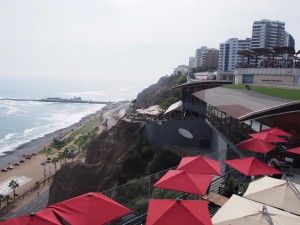 If you head all the way down Avenue Larco it ends at a cliff top shopping mall called Larco Mar. Larco Mar is very cleverly designed, open air and to make the most of the views. While they are probably more expensive, there are a number of restaurants and bars here too.
If you follow the coastline in a northerly-ish direction (I'm bad with compass directions) a walkway continues for kilometers, and passes through numerous parks. The park of Love is quite fascinating and I would say reminiscent of Gaudi's Parc Guell in Barcelona. Lovely mosaic sculptures and walls. These cliff tops provide the most stunning backdrop for sunsets. And it is at sunset that you can go paragliding (for an obscene about of money – approx. USD$100 for 10 minutes)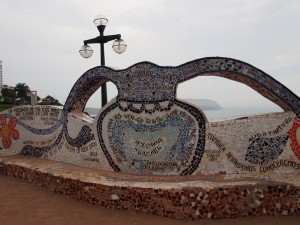 My day of exploring Miraflores was a Sunday, so not much was open. One place worth a mention is the ruins of Huaca Puccllana. About a ten minute walk up from Avenue Jose Pardo. Randomly in the middle of all the houses is a partially excavated site. I found the guide a little hard to hear, so I will provide my best version of what I understood.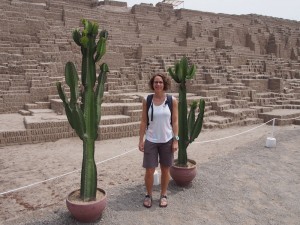 As it had previously been private property the site looked like a big pile of rubble, until it was discovered to be a buried historic site in 1981. The site was a basically a town, the area that had been restored was the temple and plazas. The pyramid at the back of the complex was used for religious purposes and was a tiered construction. A new tier was built every twenty years. For each new tier, human sacrifices were made and the bodies were buried in the tier. It was also later used as a giant cemetery.
The buildings were all constructed from bricks that were quite narrow, they were laid vertically on a slight angle, with gaps between them, the next row would be angled in the opposite direction. This is called the bookshelf technique; it is thought that this design would allow for movement without damaging the structural integrity of the buildings. It was suspected this technique was used because of the earthquakes that are known to occur in the region. I also wonder if the technique was used for insulation purposes.
Downtown Lima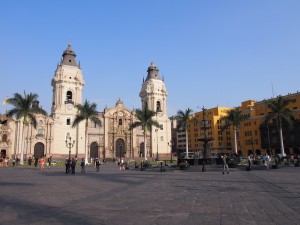 Downtown Lima is way more hectic than Miraflores and traffic is completely nuts. While I felt quite OK, I read and heard a few warnings about safety. Just make sure you are careful with your personal belonging.
The Moorish influence can be seen in the architecture in downtown Lima with many building having old timber balconies extending beyond their walls. Many of the buildings are painted bright colours and have elaborate doors and windows.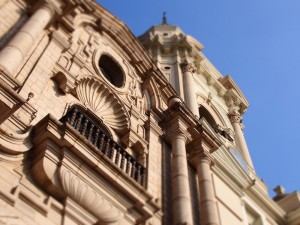 A few main sites in downtown Lima are Plaza San Martin, Plaza de Armas and the Monastery of San Francisco. It's nice to wander between these sites, and they are all fairly close to each other.
Plaza san Martin and Plaza de Armas are both public squares. Plaza San Martin has a statue of San Martin and Plaza de Armas has a fountain. Bother have fantastic buildings surrounding them and it is great to just wander and take in the atmosphere and the architecture. Plaza de Armas has a large cathedral on one side and adjacent is the presidential palace (I heard there is a changing of the guard once per day, at midday).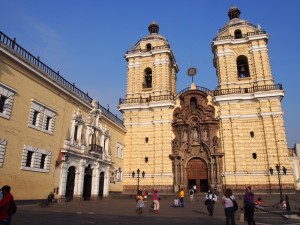 The Monastery of San Francisco is quite fascinating. The church was closed when I went, but the monastery had a guided tour throughout, including the catacombs. No photos can be taken inside, so I am unable to share, but it certainly was stunning. The old architecture, carved cedar ceilings, the art work, ornate doorways and furniture. The catacombs of course were fascinating, crypts housing hundred upon hundred of bones, I think we only saw femurs and skulls.
A piece of artwork that was particularly interesting was a Flemish painters version of the last supper. It was created with a Peruvian flair, where the main meal being shared was guinea pig and wine was being drunk from golden Inca goblets.
Food to try:
Two local dishes worth trying are Pollo a la brassa, some form of roasted chicken; and Ceviche, raw fish cured in lime juice and onion. Lomo Saltado is also quite a common Peruvian dish and is a fairly basic, but very tasty, beef stir fry.
The traditional drink is a cocktail called a Pisco Sour.
Many dishes are served with rice and chuclo. Chuclo are large white corn kernels. They don't seem to have a whole lot of flavour.
The average cost of a meal is about 40 soles.
Where I stayed:
Prior to my tour starting I stayed at Backpacker's Family House, only about a block from the coastline. I thought it was good value for money, good location. It was a clean hostel with friendly staff, free wifi and breakfast included.
Getting around:
Around Miraflores I found walking was easy, and the distances between places aren't too far.
To get to downtown Lima you can catch the metropolitan (bus) or take a taxi. When you take a taxi, be sure to get the price before getting in – it should not cost more than 20 soles. (I paid between 15 and 17 soles).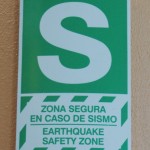 Random Note:
In every building are 'S' signs, indicating where you should gather in the event of seismic activity (earthquakes).