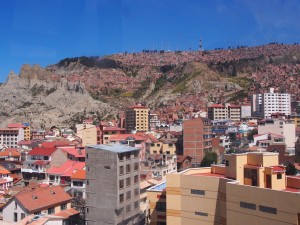 La Paz is an enormous city with a population around 1.4 million. The city, like so many in South America is in a valley. The difference with La Paz is that it is kind of separated into three tiers. El Alto is at the top of the mountain at an altitude of 4100m, central La Paz is in the centre at 3600m and the lowlands are at 3100m. So the city has an altitude difference of 1000m, this also affect temperature, as there is a difference of 1 degree per 100m.
La Paz isn't particularly well known for its safety, so I didn't venture too far in my wandering. The hotel we stayed in was across the street from the infamous San Pedro prison, had they still run official prison tours I would have been interested to see inside, particularly after having read Marching Powder by Rusty Young, which details (among other things) the way the prison runs as a community where you need to work for your place in the prison. With no tour I had to settle for a birds eye view from my room.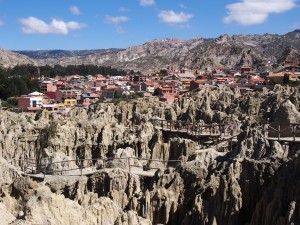 I made a visit out to Valle de la Luna, Moon Valley. It was about a 20mim taxi ride, that cost 35 bolivianos. Entry to the site was 15 bolivianos and I did a self guided walk. The landscape is quite peculiar with spires of land just sticking up out of the ground. It's almost like a small city of termite mounds. It was interesting to see, but I didn't need a great deal of time to explore. From the valley, I took a taxi to the green line cable car.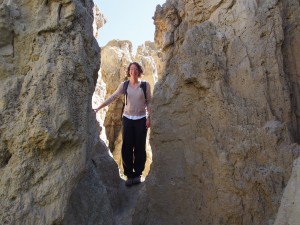 The cable cars are cheap 3 bolivianos per line/colour. They provide the most fantastic overview of the city of La Paz. You are able to see the way people have built into the steep hillside, you can see the affluent areas and normal areas and you can see out over the hilltops to the glaciers!
I took the green line to the end, where I changed to the yellow line and then got off at Sopocachi, which is the closest stop to central La Paz.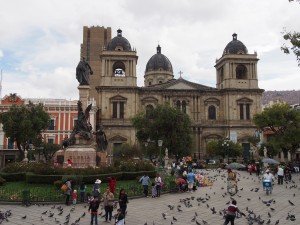 The main street of La Paz is El Prado, but I didn't spend much time exploring the main street, more the neighbouring streets. The area around San Francisco church is quite good, but it certainly targets the tourists with all the souvenir shops and cafes with the promos of wifi. The street to the left of San Francisco goes up the hill to the witches market where you can find all sorts of talismans and llama foetus' (I think they are used as sacrifice, I can't remember).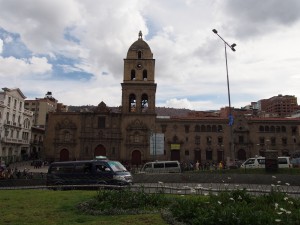 The highlight of La Paz for me, which was before I got sick, was mountain biking Death Road.
I went with a company called Altitude Biking as it has good reviews from a few people I knew. Apparently Gravity Assisted Biking is the best company, but they are also twice the price. It was a full day trip and included snacks, lunch, t-shirt and a CD of the photos for USD$108.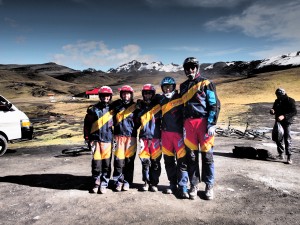 Death Road used to be a main thoroughfare in Bolivia. It's 3.2metres wide and for the majority of the road, has a 600m drop on one side. Needless to say, as a two way main road it resulted in many deaths over the years. A replacement road was built and opened in 2007, since which time there have been way fewer deaths.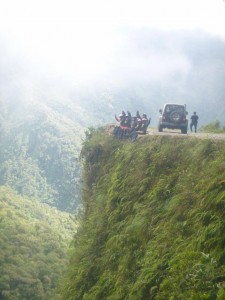 So our ride down Death Road started amongst the glaciers at 4700m. We wound our way down the gravelly hillside through a waterfall or two, stopping for photos along the way, to the sunny jungle at 1200m.
It was terrifying at first, but then loads of fun. The scenery was amazing though we didn't have too much opportunity to take it in, only during our brief stops. You certainly don't want to take your eyes off the road for more than a second when you are riding on a cliff edge!!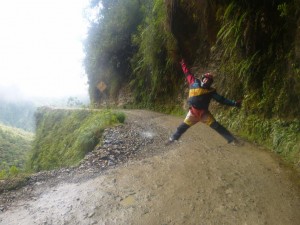 Because we booked the ride with a group of five of us, we were taken as a private tour. I was impressed with the safety standards and attitudes of our guides, Alex and Americo. All bikes were checked and double checked before we headed down the mountain. One guide stayed in from of us at all times, one checked on the entire group as we went and the van followed our group. We were given clear instructions on how to use the road safely and were strongly encouraged to go at our own pace, no matter how slow that might be. Unfortunately a number of the groups that flew past us clearly weren't advised about appropriate or safe behaviours on the road.
Please note: despite being on an Intrepid Tour, I did the mountain biking on a free day. It is not supported by Intrepid and they actively discourage tour members from doing it.
Thus ended my South American West Coast adventure. I did the Intrepid combo tour Explore Peru and Bolivia and I would highly recommend it!
Brilliantly organised and loads of fun. The tour guides Mario (Peru) and Julia (Bolivia) were just brilliant and their local knowledge made all the experiences so much more meaningful and interesting.
South American East Coast here I come!!!