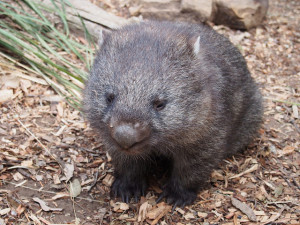 It's no secret that I don't love living in my state, I made that quite clear in my recent post Tasmania, Why I love and hate my home state. But you will recall that I said it is an absolutely beautiful place, and it's a place I would highly recommend visiting.
As a local who has frequent visitors from overseas I have a bit of an insight in what Tasmania has to offer. Most of my experiences are in the South and the East of the state, so that's what I will focus on.
Getting To Tassie
Flying
If you are looking at flying to Tasmania from an international destination, flight prices can look horrendous. This is because there are very few airlines that fly to Tasmania. I would recommend booking flights to Melbourne and then booking a separate flight to one of Tasmania's two airports, Hobart or Launceston. I would recommend Hobart as the starting point as it is the state's capital.
There are three airlines that fly into Tasmania: JetStar; Virgin Blue; and Qantas. JetStar is typically the cheapest, with one way flights sometimes as cheap as $39 + checked baggage.
Sailing
You can get to Tassie by boat from Melbourne. The Spirit of Tasmania sails between Melbourne and Devonport, Tasmania, regularly.
You can take the boat as a day or night sailing, with or without a vehicle. A walk-on day sailing can cost as low as $86. Night sailings can cost as low as $96 if you are happy to sleep in a recliner,a s opposed to a dorm bed or cabin. Unsurprisingly, sailing with a vehicle costs more (and no you cannot sleep in the car).
Getting Around
Unfortunately getting around Tassie isn't all that easy. As I have never backpacked around my own state, I don't know exactly what services are available, but I do know that the easiest way to see Tassie is with a car. In fact, it's very challenging to see the best parts of Tasmania if you don't have your own transport.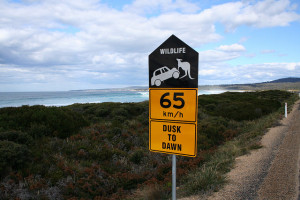 So I highly recommend renting a car if you can afford to. Every airline that flies into Tassie has a discount agreement for a car rental company. It's possible to rent a car (or pickup a pre-organised car rental) from the airport or from the city. (If you are renting a car, perhaps enquire if a parks pass is included)
Once you have a car, it's also important to know what places you are going to want to see, and if it includes more than two days within a National Park then the best plan is to purchase an 8 week holiday parks pass for $60 for the car (which covers up to 8 people). This will give you access to all national parks in Tasmania.
Be aware that the best things to see in Tasmania are all in National Parks.
Communication
The really beautiful parts of Tasmania, the parts worth seeing, have little or no cell phone service. If you are planning on purchasing a SIM card to use when visiting, then Telstra will provide you with the best coverage. Alternately anything using Optus networks is ok, but avoid Vodafone.
Hobart
Mt Wellington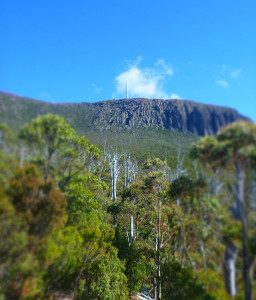 Cost: Free
Access: No Public Transport, approx. 15 minutes drive from Hobart to the pinnacle
Details: Mount Wellington is the mountain  overlooking the city of Hobart. At 1271m it provides an awesome view of the city. If you are into hiking, there are loads of walking tracks on the mountain. A good starting point is The Springs, part way up the mountain. The Zig Zag track to the Pinnacle is pretty cool; also the short walk from there to Sphinx rock is nice and has a great city view. Some other mountain walks that are a bit longer, are The Lost World and Wellington Falls.
MONA
Cost: $25
Access: MONA ROMA Ferry or Coach from the city's waterfront, Brooke Street Pier $20 return
Details: Museum of Old and New Art (MONA) is a private museum/gallery at the Moorilla Estate Winery site. The museum is fascinating. I love the architecture of the building, the location is fabulous and as someone who is not into art I would have to say that the gallery is controversial, quirky and worth seeing. Numerous visitors fly in to the state, just to visit this museum.
On Sundays in the summer, outside the museum is a free market (MoMa) which is a very pleasant place to spend an afternoon tasting various local foods, drinking local wines and craft beers in pink bean bags on the lawn, often with live music. Even if it's not market day, there are two cafes from which you can grab a bite to eat and you are still able to enjoy a wine or a brew in the pink bean bags on the lawn. I would highly recommend this!
Salamanca Market
Cost: Free
Access: It's in the city center
Details: Every Saturday from 8-3 Salamanca Market is on at Salamanca, near the waterfront. Visiting the market is basically Number 1 on the every list of things to see and do in Tasmania. There is a large variety of crafts, local products and local produce to be found. It's a pretty pleasant way to spend a morning.
Mountain Biking Mt Wellington
If you are an active person then I would highly recommend finding a tour company to take you down the North-South Mountain Bike Trail. It's an awesome, incredibly challenging, but super fun downhill mountain bike trail.
Eating and Drinking in the city
For eating out there are three main areas to go.
Elizabeth Street, North Hobart has the largest variety of restaurants in a concentrated area.
Salamanca also has a large number of restaurants to visit, though the scene here is a bit more drinks focussed. Many of the restaurants have outdoor seating and I consider the general vibe here to be pretty cool. This is the area to head to if you want to head out for drinks.
Battery Point is the suburb directly behind Salamanca, it's the older part of town, and has some nice restaurants but there aren't heaps of options.
Some of my favourite dinner options: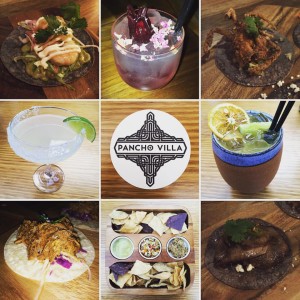 The Drunken Admiral, themed restaurant by the waterfront with AMAZING seafood.
Pancho Villa, Mexican Restaurant and Tequila Bar in North Hobart  has delicious food and awesome decor.
Frank, South American Restaurant by the waterfront is also amazing
Cargo at Salamanca, is one of my default go-to restaurants, they have brilliant wood fired pizzas (the Hoi Sin Duck is an absolute winner!!), a great selection of wine, beer and ciders and they even have a gelato bar.
Jack Greene is next to Cargo at Salamanca and has a great selection of craft beers and gourmet burgers. If you want to taste Wallaby (the smaller breed of kangaroo) then this is a place where you will find it on the menu!
Some of my favourite breakfast (and coffee) options: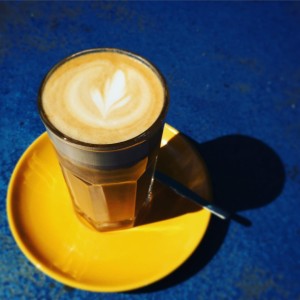 Machine Cafe at Salamanca Square
Room for a Pony on Elizabeth Street, North Hobart
Jam Jar in Battery Point
Ginger Brown in South Hobart
Straight Up Coffee + Food in Liverpool Street, Hobart City Center
Tricycle in Salamanca
Pilgrim Coffee in Hobart's city center, on the corner of Argyle Street & Liverpool Street.
Greater Hobart
Bonorong Park
Cost: I think it's $26
Access: No Public Transport, approx. 50 minutes drive from Hobart
Details: Bonorong Park is a wildlife rescue centre, where injured animals are brought, nursed back to health and released back into the wild. If animals are injured to the extent that they will not survive if released, they are kept in the park. If you haven't seen Australian animals before and are interested in learning about them, with the opportunity to pat and feed wallabies, then I'd recommend it. There is a free tour where you are introduced to the animals and you can see Tasmanian Devils get fed. I believe the tour is at 11am, but you should call ahead and check.
Pennicott Wilderness Journeys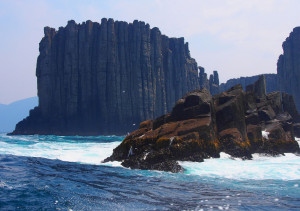 Cost: $100+ dependent on which tour & tour option you choose
Access: Each tour includes the option of pickup/dropoff from the city
Details: Rob Pennicott has created a name for himself in EcoTourism with his absolutely fantastic jet boat cruises showing off Tasmania's amazing coastline and wildlife, sometimes you are lucky enough to see dolphins and whales.
The current tours on offer include Bruny Island, Tasman Island (which can be paired with a visit to Port Arthur) and the Iron Pot. There is also a seafood cruise. The tours are absolutely brilliant and I can't recommend them highly enough!
Port Arthur Historic Site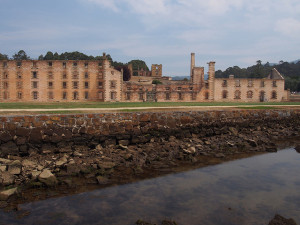 Cost: $37 for two days
Access: approx. 1.5 hours driving
Details: Tasmania was initially settled as a penal colony, by the British. Port Arthur is one of these convict sites and is a fascinating insight into the states history. I find it quite enjoyable to wander around the site and appreciate the older architecture. In addition to it's historic significance, the site is in a beautiful location and is quite a nice spend some time.
A ticket includes a tour of the site, but additional sites such as the Isle of the Dead are an additional cost. If you stay on after dark, the ghost tour can be quite fun.
The Pennicott Tasman Island Cruise can be taken from this location, and through the Pennicott site you can purchase a ticket for both.
Tasman Peninsula
Cost: Free
Access: approx. 1.5 hours driving
Details: If you have headed to Port Arthur on the Tasman Peninsula, then some natural sights that are along the way and worth the visit are: Remarkable Cave, the Tasman Arch, Devils Kitchen, the Tasman Blowhole and the Tesselated Pavement.
Mt Field National Park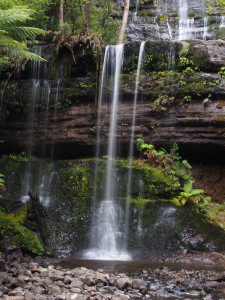 Cost: Free, provided you have a national parks pass.
Access: No Public Transport, approx. 1.5 hours drive from Hobart
Details: Mt Field National Park is really gorgeous. If you want to do some easy grade hiking and see waterfalls, then the walk to Russell Falls from the visitor centre is fabulous. If you have the time, continue driving up to Lake Dobson, as the walk around the lake is beautiful. As it is higher altitude than the falls the flora is actually quite different, and is absolutely magical when covered with snow in the winter.
Gordon Dam Abseiling
Cost: $210
Access: Transport provided with the tour, approx. 2.5hours drive from Hobart)
Details: For the keen adventurer, Aardvark Adventures offer trips to abseil the Gordon Dam. This abseil is claimed to be the highest commercial abseil at 140 metres. As the dam wall is concave, most of the abseil is spent dangling from a rope, without the ability to touch the dam wall.
The company has fabulous guides and adheres to strict safety regulations. I was one of those crazy cats who hung like a starfish for the fun of it (after requesting the guide to hold my descent while I did so). It's certainly not for the faint of heart, but an activity I would highly recommend.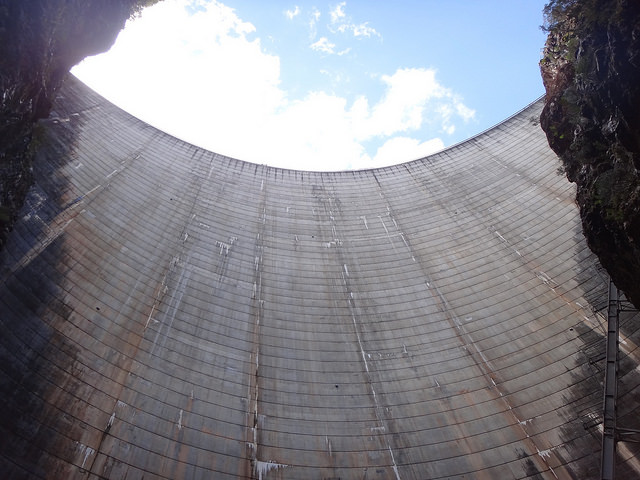 Bruny Island
Cost: Free… kind of..the island is accessed by ferry, which costs $38 for a car, and you really need a car in order to see the island
Access: approx. 40 minutes south of Hobart to the ferry terminal.
Details: On the island there are loads of beautiful places to go, it is mostly destination to go for nature, to check out the views of the neck of the Island, the visit the beaches such as Adventure Bay and also the sand dunes at places like Cloudy Bay. The lighthouse is worth a visit, and doing a Pennicott Wilderness cruise is a fantastic idea. The Bruny Island Cheese Company is also worth stopping at for some tasty cheese.
Tahune Air Walk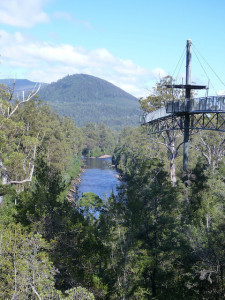 Cost: $28
Access: 1.5 hours drive south of Hobart
Details: For the nature lovers, a visit to the Tahune Airwalk is a great way to get amongst it. Crossing the bridge over the Picton River, you walk onto a suspended walkway in the forest canopy, 20-30 metres above the ground. The walkway ends at a cantilever viewing point providing a stunning view of the forest and river below.
Hastings Caves and Thermal Springs
Cost: $24 guided cave tour and access to the thermal springs pool ($5 for the thermal springs pool only)
Access: approx. 2 hours drive south of Hobart
Details: Within the Hastings Caves State Reserve you can visit two main sites, Newdegate Cave and the Thermal Springs.
Doing a tour of the Newdegate Cave allows you to go underground and see stalactites, stalagmites, beautiful formations, and of course the creepy crawlies that typically live in caves.
The other part of the site is the thermal springs where you can swim in the thermal springs pool, use the BBQ facilities and enjoy a walk through the forest. I remember when I was very young, I was once lucky enough to spot a Platypus in the river here.
Launceston
Cataract Gorge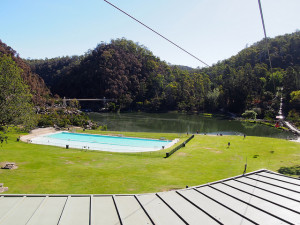 Cost: Free
Access: approx. 2.5 hours driving north of Hobart
Details: The Cataract Gorge and Basin is a pleasant scenic spot to visit and relax if you have time to spare. It's a nice place to wander amongst the gardens, walk across the bridge or ride the chairlift. Perhaps pack a picnic and spend some time by the pool.
Platypus House
Cost: $24
Access: approx. 3.5 hours driving north of Hobart
Details: Australia has a very strange native creature called the Platypus, it is a very shy creature and it's very rare to see one in the wild. If you want to see these beautiful but strange creatures, a visit to the Platypus House is a great idea.
Seahorse World
Cost: $22
Access: approx. 3.5 hours driving north of Hobart
Details: In the neighbourhood of the Platypus House, is Seahorse World. A great opportunity to learn about and see the seahorses native to our waters.
Hollybank Treetops Adventure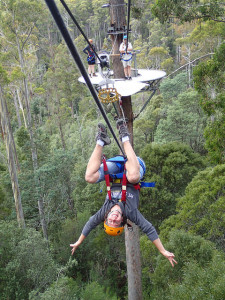 Cost: $120
Access: approx. 3 hours driving north of Hobart
Details: Another activity for the keen adventurers is ziplining amongst the treetops at Hollybank Treetops Adventures. They also have segway tours around the forest floor, but certainly my favourite way to see the forest is in the canopy and preferably at high speed. Zipping amongst the treetops is loads of fun!!
East Coast
Freycinet National Park
Cost: Free, provided you have a national parks pass.
Access: approx. 2.5-3 hours driving north-east of Hobart
Details: Ideally you need a few days here. The gateway town to Freycinet National Park is Coles Bay, and this is where you will find accommodation.
Coles Bay has loads of fantastic things to offer, the beaches are gorgeous and a great place to spend a day or so soaking up the sunshine. For more active people, Freycinet Adventures offer awesome Sea Kayaking tours, but also offer kayak rentals.
For the seafood lovers, approximately 10 km out of Coles Bay centre, is Freycinet Marine Farm where you can buy fresh oysters, scallops, mussels or abalone.
Another amazing experience in the area is a scenic flight over the national park. Near the airstrip is a turn off to Friendly Beaches, and there are some of the most pristine white sand beaches you will find. If the swell is right, it's also a great surf spot.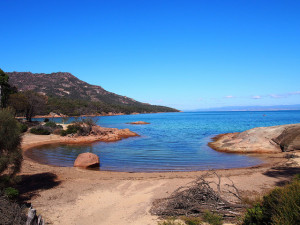 Just 2 kilometres down the road from the centre of Coles Bay is the entrance to Freycinet National Park. In the park are many more amazing bays and beaches (such as Honeymoon Bay and Sleepy Bay), Cape Tourville lighthouse and the highlight of the area, access to Wineglass Bay.
Wineglass Bay is an absolutely stunning beach of pristine white sand, crystal clear waters and edged with rocks coated in fiery red lichen. It is an absolute must see for all visitors to Tasmania.
The most common walk to Wineglass Bay, is the Wineglass Bay lookout track. It's approximately 30 mins walking uphill to the lookout which provides a lovely view of the bay. From this point you can also continue down the other side of the mountain to get access tot he beach itself. Sitting by the beach with a picnic lunch is a good idea. Once there I would recommend strolling along the beach, the far end has less wind and is actually more pleasant.
To return to the carpark you can go back up and over the saddle the way you came, or return via the hazards circuit. Which is also beautiful, but takes a few more hours.
For the best view of Wineglass Bay, the Mt Amos hike (3hour return) is my recommendation, however it is only suitable to people who are very fit and who are seasoned hikers. It is a very challenging track.
For super keen walkers, there are also multi-day hikes in the area.
In terms of accommodation, if you are travelling with a family then my recommendation is to check out one of Andrea's places on airbnb (I have a vested interest in Utopia), alternately Iluka Holiday Park has some decent options.

Bicheno
Cost: Free
Access: approx. 3 hours driving north-east of Hobart
Details: Bicheno is a super cute little town worth visiting. It's nice to stop by and check out the blow hole and drive along the coast. There are also lovely beaches and a few cute cafes.
If you stay in Bicheno or a neighbouring area overnight, then I would recommend doing a penguin tour. You can see the penguins emerge from the water and visit their burrows. This doesn't need to be done as a tour, you can also just take yourself down to the shore after dark and wait quietly to see the penguins appear. If you choose to go see the penguins, be sure to remain very still and very silent. You also cannot use any form of lighting. Noises, movement and lights will scare the penguins.
Binalong Bay & The Bay of Fires
Cost: Free
Access: approx. 4.5 hours driving north-east of Hobart
Details: Binalong Bay and the Bay of Fires is an absolutely gorgeous place to visit. The Bay of Fires, along with Wineglass Bay, are the two coastal sites of Tasmania that receive the most national and international publicity.
The beaches are pristine white, barely a soul in sight (except for in the middle of summer). The name Bay of Fires comes from a red lichen that grows on the rocks, so the crystal clear water and pristine white beaches are offset against the fiery red rocks and it looks spectacular!
Central Highlands
Cradle Mountain

Cost: Free (if you want to drive into the park yourself you need a national parks pass, however there is a shuttle bus that runs from the visitor centre)
Access: approx. 5 hours driving from Hobart
Details: Cradle Mountain in the central highlands of Tasmania is a beautiful place. There is such a great range of flora to see, the mountains and lakes are just spectacular.
Within the Cradle Mountain National Park there are loads of short and long walks that you can do, I can't recall the names of them all. Some are close to the lodge and visitor centre, other are deeper into the park. This is another place where you really need to stay a few days to get the most out of your visit.
At an absolute bare minimum I would suggest doing the Dove Lake Circuit. Though with enough time Marion's Lookout and potentially even climbing to the peak of Cradle Mountain are pretty awesome. Lake Oberon is another walk that I believe to be spectacular, but have never got around to doing.
There are also multi-day hikes available for the keen hikers.
For accommodation there are limited options and most are very expensive. The cheapest option is the Discovery Holiday Park. They have tent sites, dorms and cabins. Be aware that they do close fairly early in the evening, so it is best to advise them in advance if you may arrive after closing time and they will give you an option for key collection.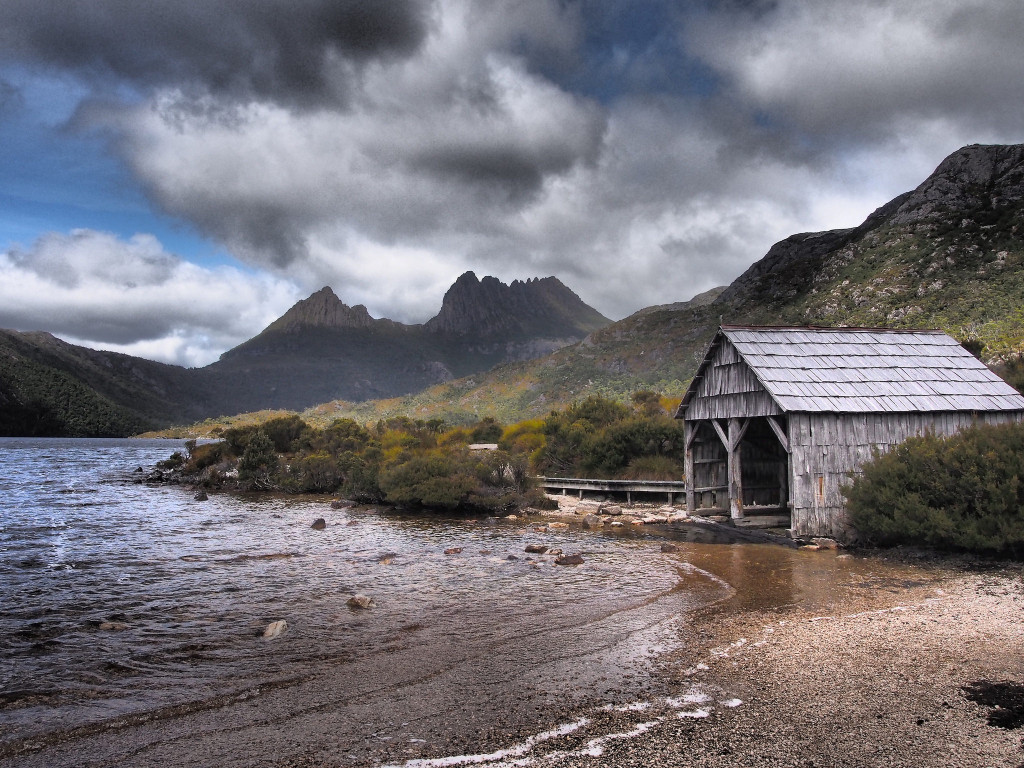 Cradle Mountain Canyons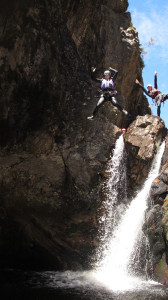 Cost: $105 – $210
Access: approx. 5 hours driving from Hobart
Details: Another highly recommended activity for the keen adventurer is Canyoning. Cradle Mountain Canyons offer three canyoning tours, Dove Canyon, The Lost World Canyon and Machinery Creek.
You need to be fairly fit and fairly brave to participate in these tours, they include swimming, abseiling, jumping from rocks and in some cases you get to use natural waterslides.
They are full day tours with lunch provided, and are 100% worth it! I did the Dove Canyon tour a few years ago and absolutely LOVED every second of it!!
Mole Creek Caves
Cost: $19
Access: approx. 4 hours driving from Hobart
Details: Mole Creek Caves are definitely worth a visit and have a brilliant showcase of rock formations, stalactites and stalagmites. I am always torn between King Solomons Cave and Marakoopa Cave.
When choosing between the two cave tours, I simplify it down to the fact that Marakoopa Cave has glow worms and King Solomons Cave has more elaborate formations. They are equally amazing to see, but it depends on what you are after as to which one you would prefer to see.
Recommended Itinerary
My recommended itinerary is a fairly vague road trip, but I would recommend at least 9 days or more to do it in. I would also add time at the start or end to see Hobart and surrounds.
Starting from Hobart, head North on the Midlands Highway turning off at Melton Mowbray pub to drive the highway through the Great Lakes.
Make sure to stop at various scenic lookouts, all of which are amazing. Take the turn off to Liffey Falls and do the short walk in to see them. The falls aren't massive but they are beautiful and it's a great interruption to the long drive.
Continue along the highway in the direction of Deloraine, stop there for some lunch at the Red cafe, they have nice pizza.
Head from Deloraine to Mole Creek to do a cave tour, before continuing on to Cradle Mountain.
Spend a few days at Cradle Mountain, see notes above for ideas. Depart Cradle and head to Launceston, to visit the various sites and go zip-lining. You may need to spend a night in Launceston.
From Launceston head towards the East Coast via the Tasman Highway aiming to get to St Helens/Binalong Bay. Spend a night in the area in order to see the beaches, before heading south along the Tasman Highway towards Freycinet National Park. You could possibly stop in Bicheno for a night on the way.
Book in to some accommodation in Coles Bay for a few nights to enjoy the absolutely stunning beaches and walks in the area.
From here I normally head back to Hobart, but you could also head to Port Arthur for a night or two before heading to Hobart. On the trip down, I would recommend a few stops for food/drink.
Stop 1: Devil's Corner Vineyard. At the cellar door is a look out tower, some food options (Tombolo make delicious pizza!!), and some fantastic local wine. The wine is my favourite part at this particular location. The deck on the eastern side has a beautiful view and is a relaxing spot to sit and soak up the sun.
Stop 2: Kate's Berry farm, the turn off is on the right, shortly after passing through Swansea. Kate makes the most delicious berry ice creams and berry pies. I stop here EVERY time I drive past.
Stop 3: In the small town of Orford, on the left on the southern side of the bridge is a restaurant called Scorchers. They have a pretty tasty Wallaby Salami and Brie pizza which I can recommend. As of December 2015 it is under new ownership, so I am hoping the standard of pizza is maintained.
Things to Note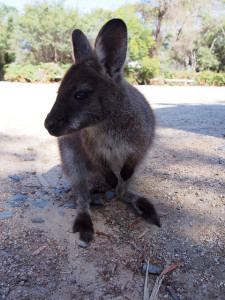 Most Tasmanian's pride themselves on the cleanliness of our state, please be respectful of this, use recyclable bags, recycle what trash you can and don't litter. You will frequently see this slogan:
"Take only photographs, leave only footprints"
Please keep our state clean and tidy.
In reference to cleanliness and being as eco-friendly as possible, many supermarkets don't provide plastic shopping bags, so please bring your own bags, or be prepared to pay for one at the store.
We also care greatly for our wildlife, please be respectful. Drive slowly on our roads and keep your eyes open for animals. If you are out walking and see animals, keep quiet and keep a respectful distance, do not try to pat or feed the wildlife.
I wish you happy travels!