Medellin was a city I instantly warmed to, and not just because it was literally warmer than any place I had been to recently. The city vibe was friendly and relaxed. I felt very welcome as a tourist and I was really excited to explore a city that had once been the most dangerous in the world.
We took on board the advice online and from other travellers about staying in the suburb El Poblado, and from there we ventured out to other areas of the city and surrounds.
Before launching into my discussion of Medellin, a quick safety lesson…
The Papaya Rule
Taught to us by our walking tour guide is the Papaya Rule, just a helpful tip for increasing your safety and reducing your risk of being pick pocketed or having things stolen.
Don't offer the Papaya
If the Papaya is on offer, it should be taken
What that equates to is, don't have your stuff out there for people to see and take. If you have a nice camera, don't hold it loosely in your hand, rather use the wrist strap or neck strap and have it attached to your body.  Make sure that your bag is zipped up tightly, and in crowded areas wear it on your front rather than your back.
Remain mindful of how easily accessible your stuff is, and pay attention to it.
El Poblado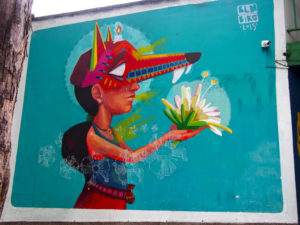 El Poblado is a really trendy neighbourhood where all the hostels, cafes, restaurants are bars are. It has a very lively atmosphere, particularly after sunset when people spill out of the bars and onto the streets.
There were so many places to eat and drink, I barely even scratched the surface though my one biggest recommendation is Al Alma for breakfast, it was AMAZING!! Though, be prepared to wait for your food and drinks as service on the whole in Colombia is not quick.
While you always need to keep your wits about you, the area really is quite safe to explore. I would have been quite comfortable to walk around by myself, even after dark.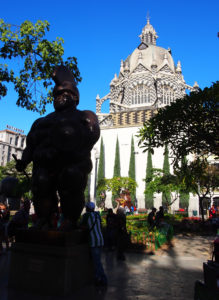 There are loads of free (and paid) walking tours available in Medellin, the one we chose to do was highly recommended by a friend we met in Salento, it was the Real City Walking tour. If you are keen to do it, you need to reserve a place online as the tour is incredibly popular and can book out a few days in advance.
We met our guide Hernan, a Paisan, who is very knowledgeable and passionate about his city.
Medellin is a city in the province of Paisaland. People from the region are referred to as Paisa's and they identify themselves as being different from other Colombians through their display of two characteristics. They feel they are different to other Colombians and they view themselves as being better than other Colombians. As a result they are often hated by Colombians from other regions. While Hernan felt that it was not a correct view, it is one that has been ingrained in all Paisans over a long period of time. Paisaland is a a 'gold mine' of coffee, gold ore, mining and other things that contributed to the regions development as an industrial city. They developed the first railroad in the country, which allowed industry and trade to flourish. As a result Paisaland became more wealthy than other regions of the country, it had well developed infrastructure and became quite modern. In their travels and trade efforts Paisans saw other Colombians continuing to work very hard using traditional methods of farming and mining, and the result was that Paisan's felt superior them.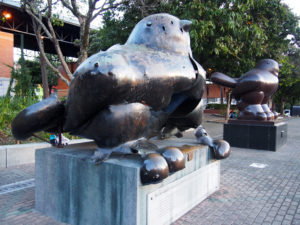 A member of the walking tour asked a really good question at this point, as to whether Medellin's wealth was a result of drug money, as Medellin was for a long time the drug capital of Colombia, and home to 'famous' drug lord Pablo Escobar. The answer was no, the city was built up as an industrial city in the past. The industrial history of the city and region allowed the city's infrastructure to be built up prior to the drug situation developing. It was due to Pablo Escobar in the 1980's that drugs became a big trade in the region. The jungle provided access to many lands that were not easily easily accessible or monitored. So the quantity of land and accessibility to water for shipping was the reason for Colombia's 'success' in the drug industry. Pablo Escobar was shot in 1993 in Medellin, while it was not discussed, my assumption is that the safety in Colombia started to improve after his death.
Colombia's reputation as a dangerous place was well-deserved but since the the change of government in 2002, initiatives have been put in place to increase safety. Also part of the initiative was the creation of numerous public libraries which double as community centres; they are there to provide education and support to the communities, particularly to enlighten the children that there are other opportunities in life than violence. After the initiatives were put into place, within just one year the safety increased dramatically and kidnappings decreased by 90%. While there were also many negatives associated with this initiative as it is linked to the USA Plan Colombia, which I touched on in my post about Bogota, the positive outcomes are what contribute to us being able to visit Colombia today.
Throughout the tour we saw some bits and pieces around downtown Medellin, like libraries, sculptures, the Botero sculpture park, the worlds largest church made of baked bricks (which is how it is publicised though technically inaccurate) and other sights around town. The tour was more about the stories and history of Colombia and was throughly fascinating, especially when explained from the perspective of someone who lived through the bad years and into the good. Hernan was grateful that we took the time and effort to visit his country, as unfortunately it has had a bad rap in the past, but it is important to share with the world that Colombia is a beautiful and amazing place to visit and that tourists are most definitely welcome (This was reinforced by the interruptions of various locals throughout our tour to welcome us to Colombia and thank us for visiting).
Comuna 13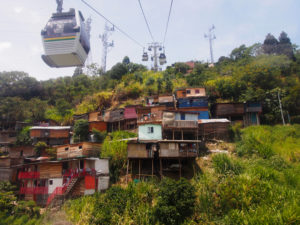 After reading up a bit on Street Art and things to see in Medellin, Comuna 13 kept popping up as an area to visit. Comuna 13 is the suburb where, just ten to fifteen years ago, people were being regularly shot in the streets in broad daylight. When the Government cracked down on crime and introduced an initiative to help educate the people and increase security, the area improved dramatically. I often like to do walking tours, but then I also like to explore by myself. With my desire to Comuna 13, I did quite a bit of reading and talking to others before determining whether the solo venture would be safe. I read a great blog post on Optimism Rampage that outlined transport to the area and what they experienced when they visited in January 2016, it gave me the information I needed to set off on my own.
I started by heading to San Javier Metro Station, where the first I did was catch the Metrocable (Cable Car) up and over the hills, so that I could see the local neighbourhoods as well as a good view over the city. Riding the cable car is recommended, but getting off at any point is not. These neighbourhoods are not safe for tourists to explore. So jump on the cable car, ride a full loop and enjoy the views. A round trip if you don't get off costs 2,125 pesos.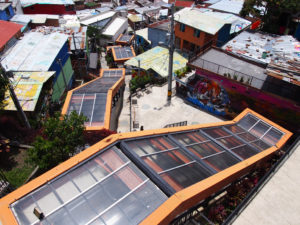 Back at the Metro Station, grab one of the buses to Escaleras Mechanicas for 1000 pesos. The area around the escalators is the place you want to visit. The neighbourhood is on a very steep hill and some years ago, to assist people in getting to and from their houses, a series of outdoor escalators were built. I feel that they are a source of pride within the neighbourhood and are very well maintained.
As this started to attract the tourists, the people in the neighbourhood painted their houses bright colours and filled the blank walls with beautiful, colourful street art. The people in the area are super friendly, and all greet you with a smile. The kids are in for high fives and photos. Don't stray too far from the escalators, but definitely go and see the area, take in the colours, the art and the view. It was the highlight of Medellin city for me!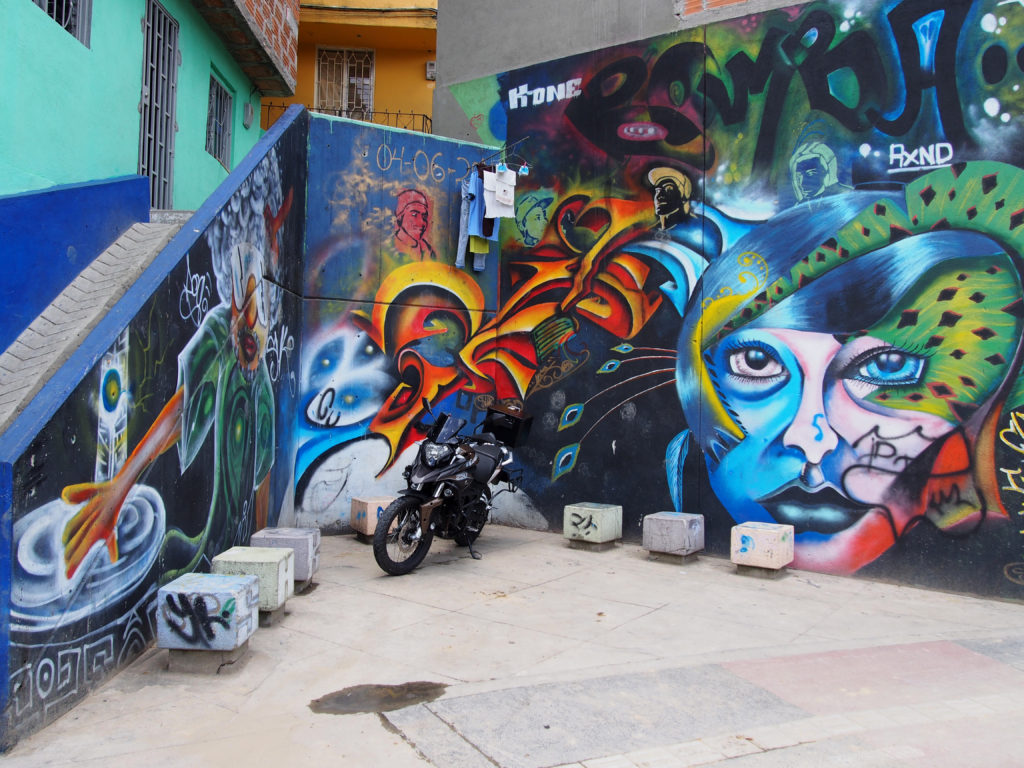 Day Trip to Guatape
Guatape is one of those places that people keep mentioning. It's a few hours out of Medellin and worth a visit. Coming soon will be a blog post about my Guatape visit.
Accommodation
We spent our four nights in dorm rooms at Caminante Hostel. It is a new hostel in the El Poblado suburb of Medellin, which is the recommended suburb to stay in as a tourist. Caminante is a very new hostel and hasn't yet received many reviews online, we took a chance and it paid off.
The hostel was quite modern, clean and in a great location. The staff were really helpful and friendly, and their English was pretty good. I really appreciated them making bookings for tours and taxis on my behalf as I was not able to communicate on the phone myself.
A great place to stay for sure!!
Getting There and Away
We arrived in Medellin after a 6 hour bus trip from Salento for 37,000 pesos.
Departing Medellin for Cartagena we paid 65,000 pesos for a ride to the airport and roughly USD$75 for a budget flight with VivaColombia.