Within the La Guajira province along the Caribbean coastline are several places worth stopping in for a visit. I used Santa Marta as a jumping off point to access Taganga Beach and Tayrona National Park. While Santa Marta is a charismatic town, I didn't feel the need to explore it at all.
Taganga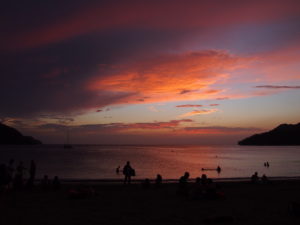 Taganga Beach is approximately 15 minutes by taxi from Santa Marta. A one-way trip in a taxi costs 8000 pesos, or a bus ride is 1400 pesos.
Taganga is a super small, super chilled beach town. Days here consist of lazing on the beach reading a book, swimming and enjoying food and drink on the shaded terrace of one of the many café/restaurants along the beachfront. You can easily spend a few days here relaxing.
I stayed at Mirador de Taganga, which was reasonably priced but fairly basic, with a good view over the beach area. My favourite place to spend time during the day was at Taco's at the western end of the beach, they make amazing cocktails and happy hour offer 2 for the price of one and extends for about 4 hours. The best restaurant in the area was Pachamama, the atmosphere and food were both amazing; though it is at the pricier end of the scale it is well worth it.
Tayrona National Park
Cost of Park Entrance: 42,000 pesos.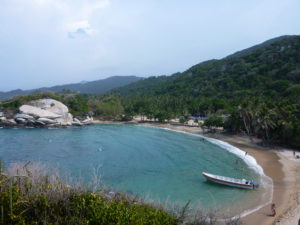 Tayrona is certainly a highlight for a huge number of tourists, the beaches are gorgeous and reasonably isolated. The setting is white sand, looking out over the beautiful blue Caribbean Sea with a lush green jungle at your back. Peak season is mid-July to mid-August, and weekends are noticeably busier.
While the park coastline has many different beaches to visit, I chose to go to and stay at Cabo San Juan. It is probably the most popular of the beaches, but has a nice range of basic facilities, safe waters for swimming, gorgeous views as well as sunny and shady spots on the beach for lazing about with a book.
Be prepared for limited facilities, but it is the simplicity of the environment that makes it such a pleasant place to visit.
Note: I would advise that you should pack a daypack with the necessities and leave your main luggage at your hotel in Taganga or Santa Marta when heading into the park.
Food
On Cabo San Juan is one restaurant only. Meals vary in price from 15,000 to 30,000 pesos. Waiting times can be quite long, but the food quality and quantity is reasonable. There are some sellers who wander up and down the beaches with ice cream and snacks such as empanadas and arepas. To buy drinks and other snacks there was a small store next to the restaurant.
Accommodation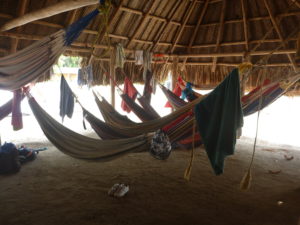 Cabo San Juan only has one accommodation option, for which check-in opens at approximately 1pm. Queues for the desk will start early and proceed slowly. There are two sleeping options, hammocks and tents. I did not ask about the cost of a tent as with the excessive heat, I heard that sleeping in tents is torture with the lack of airflow. Hammocks are the preferred option, they cost 20,000 pesos per night and you need to get in quick before they run out. The hut of hammocks is fairly tight packed and in some cases, people bump elbows with their neighbours during the night. Sleeping in a hammock is certainly not my preferred method of sleeping, but it was a fantastic experience to have had – I was glad however, that I only booked one night.
Accessing the National Park and Beaches
The area is not as easily accessible as most towns. There are two main ways to access the park, via land or via water.
Land Access
To access the park via land from Taganga you first need to catch a bus to Santa Marta, 20 mins and 1400 pesos. You then get a bus from Santa Marta to the Tayrona National Park entrance, approximately 50-60 minutes and 7000 pesos. At the park entrance you will have a full bag search, you are not permitted to carry drugs or alcohol into the park. From the park entrance to the trailhead is an hour walk, or 10-15 minutes on a bus for 3000 pesos.
From the trailhead it is approximately 2 hours walking to Cabo San Juan, which is the beach I stayed at. There are other beaches along the walk in where you can swim and/or visit. Arrecifes is beautiful, but swimming is not advised due to dangerous rips. La Piscina is gorgeous and much less populated than Cabo San Juan.
Water Access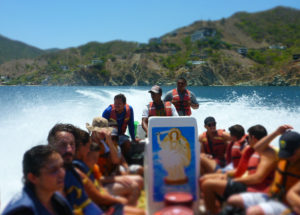 You can get a boat from Taganga beach at around 11am for 40,000 pesos one-way, the ride takes approximately one hour. Departures from Cabo San Juan returning to Taganga are at around 4pm. Despite the calm appearance of Taganga, it is a very sheltered beach, the same cannot be said for the transit to the park. The ride is reasonably extreme in large swell and you are likely to be completely soaked within 20 minutes – be prepared for a hard core ride!