Yet another day trip from Quito organised by the fabulous Ruben from Southern Paradise Tours, and on this occasion Ruben was free himself to take us out to Papallacta Thermal Pools.
The tour on this occasion cost $45 per person for five people, excluding lunch and the pools entry fee of $8.50.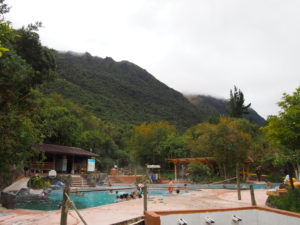 The drive from Quito to Papallacta took around two hours, with the highest point a pass at 4100 metres. The variation in landscape at the changing altitudes was gorgeous! Also we all had our eyes glued to the road and roadside bushes in the hope of seeing a spectacled bear, but we were sadly disappointed.
The thermal hot springs are at an altitude of 3250 metres, they are set in the mountains with a river running by.  The pools water is said to be good for: "respiratory, digestive, renal and skin conditions; bones and articulation pain;  improves circulation blood and removing toxins; stress, insomnia and anxiety; and relax muscles and relieve tensions."
The day we visited was ridiculously cold, so we headed straight for the hottest pool and didn't move for at least an hour, when we were well cooked.
It was so calming to sit in the pools, soak up all the natural minerals into our tired and sore bodies, watch the steam rise from the pools and look into the skies at the mountain pics searching for condors.
After the exhaustion of continuous travel, the time out in the hot pool was just what I needed!