Landing in Israel was a bit of a shock to the system and I will admit I felt incredibly ignorant about the country when I arrived. I had assumed, being in the Middle East, that Israel was a Muslim, Arabic speaking country. But it is actually a Jewish, Hebrew speaking country. Compared the Arab countries I had been to recently, the infrastructure in Israel is better, the streets and buildings are cleaner and newer. The city and it's people are much more modern and open minded – it was a welcome breath of fresh air.
The only unfortunate aspect of my visit to Tel Aviv, was the weather. As a three day break between gorgeous sunny days, I got to experience cold, wind, rain, thunder and lightning. Not to be deterred, I made the most of those three days.
Jaffa, the Old City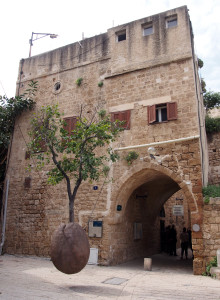 As I try to do with most places, I started my exploration of Tel aviv by doing a free walking tour. On this occasion it was with a company called Sandemans.
The tour started near a clock tower in the suburb called Jaffa, which is the old part of Tel Aviv. For two hours we wandered by the Tel-Aviv promenade to the wharf area and through the narrow stone laneways and alleys that make up Jaffa.
The buildings are all a beautiful yellow stone, with many stairways and arches. Colourfully painted doors and windows frames. While the area is quite small, it provides a lovely little labyrinth of old architecture to wander and get lost in.
Street Art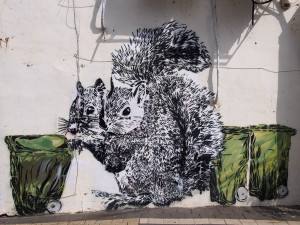 One of the first things that struck me about Tel Aviv is how much street art there is. Some of it is fairly average, as you might expect, but loads of it is really cool.
Almost every street I walked down had street art worth taking pictures of. Areas particularly dense with street art were the narrow laneways east and west of Elifelet Street.
Neve Tzedek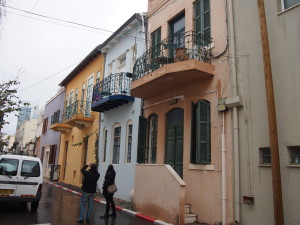 Neve Tzedek is a gorgeous suburb. It looks like an area that used to be quite run-down, but has had new life breathed into it. It feels a bit like a artists, urban zone. The houses are all colourful and compact. The main streets are lined with boutique stores and cafes.
I really enjoyed just wandering through Neve Tzedek, it is a suburb with a very chilled out vibe.
Rothschild Boulevard & Dezignoff Street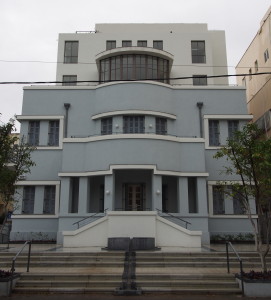 Tel Aviv's White City is the central area of the city of Tel Aviv. It was UNESCO Heritage listed in 2003 and has the worlds largest concentration of Bauhaus architecture.
To see the architecture it is best to walk up and down Rothschild Boulevard and Dezignoff Street. Everywhere you go are interesting buildings and sculptures to look at.
Carmel Market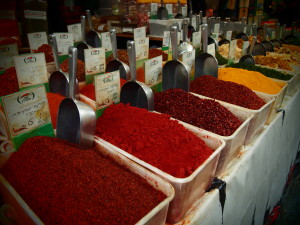 Carmel Market is a local market worth visiting. You can see and try local fresh fruit and vegetables, juices and sweets. On Tuesdays and Fridays the market is extended for arts and crafts.
It was a pleasant market to visit and I certainly indulged in a couple of tasty treats. Unfortunately it rained my entire visit to Tel Aviv, so when visiting the arts and crafts section of the market, very few stalls were set up.
The Nitty Gritty
Transport
I arrived in Tel Aviv by taxi from the airport. It cost 144NIS, which I thought was a huge expense. The bus and train combo costs 6NIS (bus) + 13NIS (train) and takes the same amount of time or less.
Getting around Tel Aviv I walked everywhere. It is a fairly easy city to get around and in my opinion the things to see were all within walking distance.
Accommodation
I stayed in the Florentine Backpackers Hostel. It had a great location, it had a very enthusiastic (sometimes overwhelming) community feel. It was reasonably clean and tidy, but there are only four showers available for all the dorm rooms.
A bed in a 4-bed female dorm costs 82NIS per night.