On the east coast of Tanzania is the city of Dar Es Salaam, Arabic for "a haven of peace". It is the economic centre of Tanzania and used to be the capital city until 1974 when it was moved to Dodoma.
Dar Es Salaam remains a bustling city, but its biggest draw card for me is that it provided a gateway to the Zanzibar Archipelago.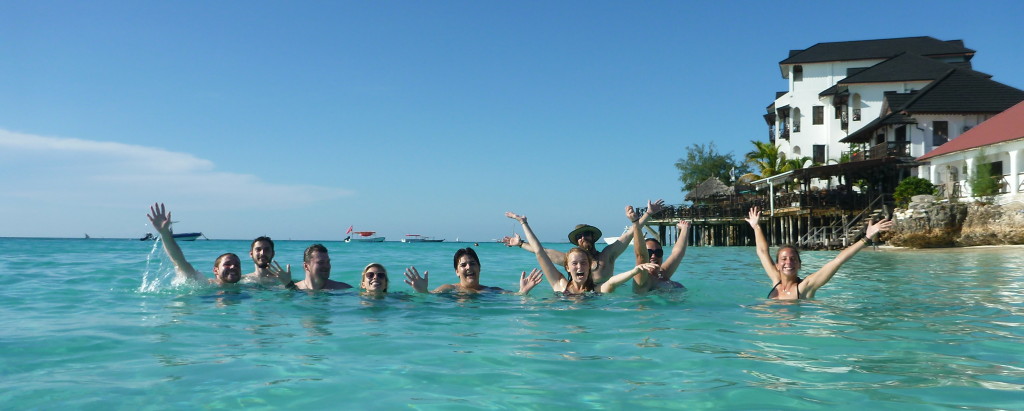 Zanzibar Archipelago
The Zanzibar Archipelago is in the Indian Ocean, 1.5 hours by ferry from Dar Es Salaam. Amongst twenty or so islands, there are two main islands Zanzibar and Pemba. Despite it being part of Tanzania it has its own entry requirements and passport checks.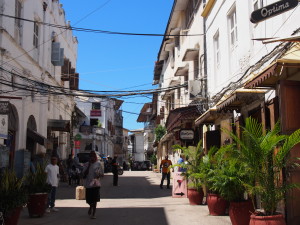 The Zanzibar Archipelago is home to 1.3million people, 99% of whom are Muslim. Quite extreme Muslim, and if you plan to visit as a female you must ensure appropriate clothing. Cover your arms to the elbows and legs past the knees. Even as recently as a couple of years ago women have been stoned for inappropriate dress.
Stone town, built in the 1830s by the sultan of Oman, is the capital of Zanzibar. Between 1804 and 1964 Zanzibar was ruled by twelve sultans until the Zanzibar revolution when they demanded independence from the Arabs and chose to join the Tanzanian Republic.
Stone Town
Stone Town earned its name by the construction of the buildings. The coral stone from the ocean was used as a building material. Based on the towns unique construction and its history, it was declared a UNESCO World Heritage listed site in 2001.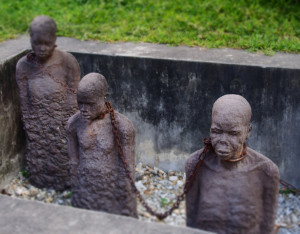 One of the most notable historic aspects of Stone Town was its slave trade. Africa had a large slave trade, slaves from the West were traded to America and slaves from the East were traded through the spice markets in Stone Town to Asia. The slave trade was officially stopped in 1873, but was continued in secret until 1907. Two million slaves were traded over 400 years, and many more would have died or been killed before making it to the slave markets. A very sad history.
Spice Tour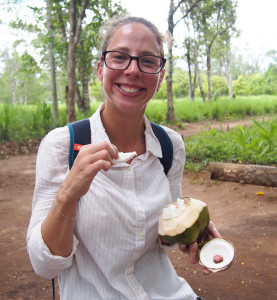 Part way between Stone Town and Nungwi, we stopped by a spice farm for a tour. We learned a little bit about some of the spices grown on the island and the purposes they had in both cooking and medicine. We also had the opportunity to watch a coconut tree climbing demonstration, as well as enjoy some fresh young coconuts to drink and eat.
As a group we didn't think the spice tour was run in a particularly professional manner and didn't particularly enjoy it, and we were also unhappy that every person on site asked us for a tip though they did little to nothing to earn one.
Nungwi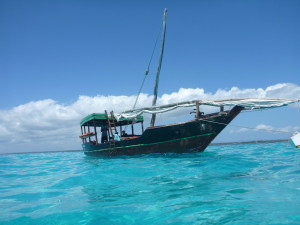 On the northern coast of Zanzibar is the quiet little beach town of Nungwi. When you head to Zanzibar for your beach getaway, this is the place to be. Crisp white sand, crystal clear blue waters and bright, hot sunshine.
It is a great place to relax on the beach or by the pool. The more adventurous can book snorkelling or scuba diving excursions.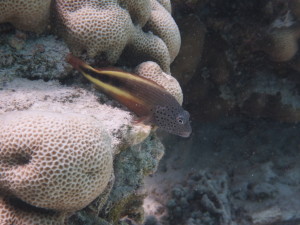 With a group of eleven of us we booked places on a traditional sailing boat for a full day snorkelling trip to the island of Mnemba. We enjoyed the sun and views for the trip out and back. Dropping anchor just off the coast of the island we leapt into the clean, cool water. The snorkelling there was lovely, with live coral and a large variety of colourful fish in all shapes and sizes.
Before heading back to Nungwi we stopped at a beach for some lunch with freshly cooked fish, rice and a local tomato/vegetable sauce.
The full day snorkelling trip included drinking water, lunch and snorkelling equipment at a cost of USD$25.