Leaving Botswana we descended into South Africa, passing through Polokwane. Making scenic stops at the Blyde River Canyon, heading down to Kruger National Park and ending in Johannesburg.
Blyde River Canyon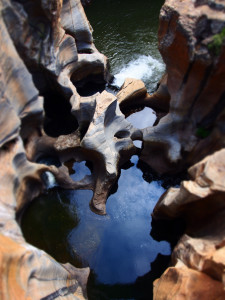 Entering into South Africa we stopped at three sights in the By;de River Canyon Region. The first stop was the The Rondavels, which are circular mountain and rock formations that look like the traditional circular huts made of dung and thatch, which are called Rondavels. Due to the mist the view wasn't as spectacular as it could have been but it was still beautiful to see these mountains with a view over the valley and river.
The second stop was to view Bourke's Luck Potholes. They are at a point in the river where the water flows down a small waterfall into the river below. At various points in the rock path, are some beautifully smooth, round potholes caused by the wind and water swirling through them. In addition to be ing fascinated by the shapes created, the colours and layers of sediment in the stone were beautiful to see.
God's Window was the last sight we visited in the region, at the higher altitude we were in the clouds and unable to see the view. We did however enjoy a short rainforest walk and thoroughly appreciated the lush green vegetation and fresh mountain air.
Kruger National Park
The main highlight of our visit to Eastern South Africa was a visit to what I think is probably the most well known national park in Africa, Kruger National Park. We did a sunset game drive and a sunrise game drive.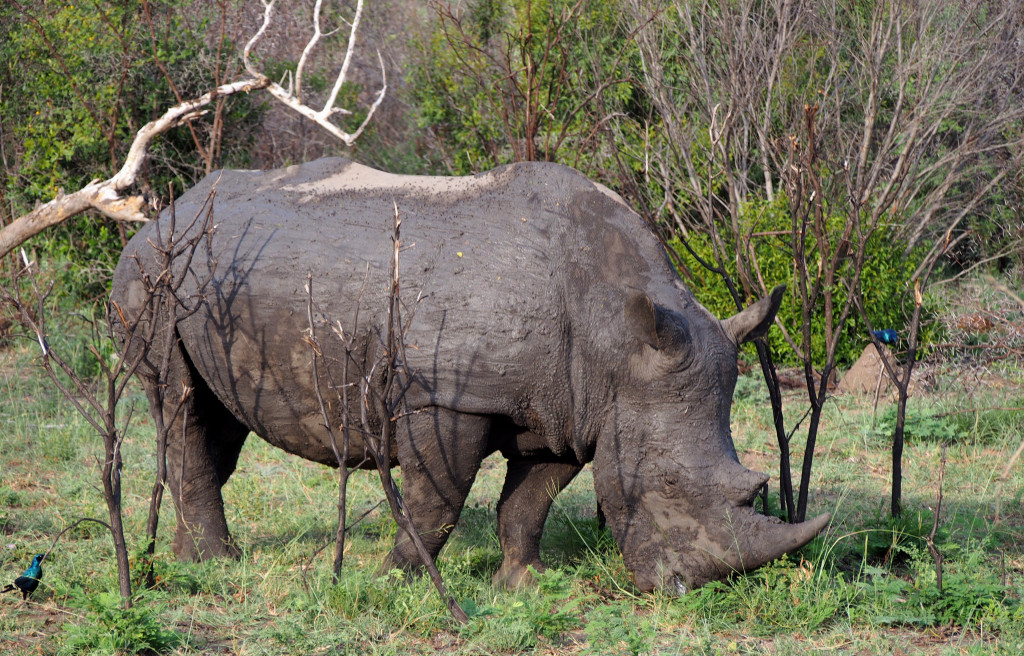 Sunset Game Drive
Late in the afternoon we met our driver Rick, climbed into his jeep and headed into the park. Rick was a really fun guide, who was very knowledgeable. He made the drive and information we learned fascinating and entertaining.
We saw loads of Impala, but that is to be expected since they are everywhere. We also saw Waterbuck, Hippopotamus, Buffalo, Zebra, Waterhog and my personal favourite in Kruger: White Rhinoceros.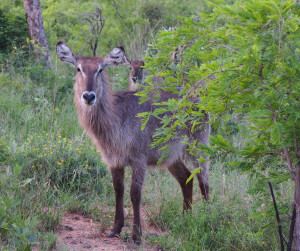 The white rhinoceros earned its name, not from its colour, but from a mistranslation of wide mouth. The white rhinoceros is larger than the black rhino and it grazes grasses hence the wide mouth, rather than browse trees for leaves like the black rhino, who has a more narrow, hooked mouth.
We were ridiculously lucky to see a crash of white rhinos, at a distance we believe there to have been five of them: two bulls, two cows and a calf.
As the sun dropped in the sky we found a nice place to stop. Rick set up a little picnic table with nuts and popcorn to nibble or, as well as pouring us each a glass of Amarula liqueur to enjoy as the sun went down.
The Amarula liqueur is made from the fruit of the Marula tree. It is a sweet creamy liqueur which I would say is kind of comparable to Baileys Irish Cream. The Marula trees grow in various places around Africa, when the fruit is ripe it falls to the ground and ferments, at which time many drunk animals can be found stumbling around the national parks.
While we didn't get drunk on our Amarula sundowners, we were in high spirits as we took off to see a few more animals before retiring for the evening. We managed to spot a Scrub Hare, Blue Duiker (the smallest antelope breed, which is unfortunately almost extinct), Nightjars (which are birds, part of the owl family) and some Kudu.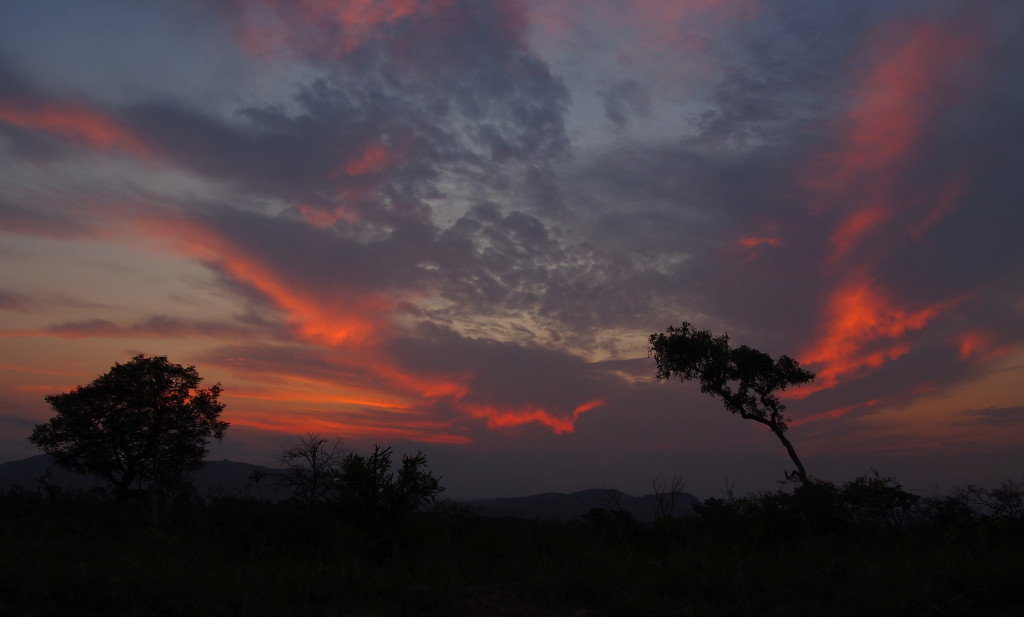 Sunrise Game Drive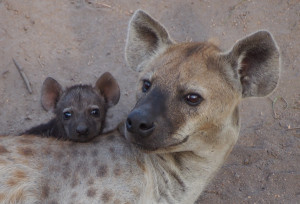 We woke up early, bundled ourselves up in layers of clothing and jumped into our jeep, with the first female driver we had, Nicky. I would love to claim that the female driver was the best game driver of all time, but unfortunately she was actually the worst driver we ever experienced. She took her own photos at each of the animal sightings and then gave us only a few brief moments to take ours before rushing off to the next thing. Also despite having paid extra for the game drive, we were returned to the camp earlier than the scheduled end time.
Despite having a terrible guide we did get to see loads of animals. We saw a number of Elephants, Hyenas with pups, a collution of Cheetahs, Buffalos, Klipspringers, more White Rhino's, Lions, a Leopard, Hippos, Giraffes, Water Terrapins hanging out on a hippos back, Woolley Neck Storks, Bushbucks, Kudus and a Water Monitor.
Random animal facts…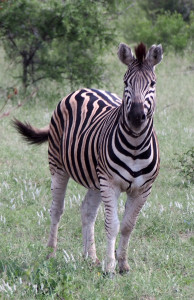 Male elephants eat roughly 280kilograms of food per day, females 180Kg. The drink approximately 100 litres of water per day and their trunk contains 100,000 independent muscles.
Lions sleep for approximately 20 hours per day.
Cheetahs can accelerate from 0-96km/h in three seconds, but they need to catch their prey within 500 metres or they will overheat.
Also, a cheetah is the only big cat that doesn't typically climb trees, due to the fact that it's claws are not retractable.
A pack of hyenas is led by a female whose clitoris grows so big it looks like a penis. When she gives birth it tears out and then has to re-grow.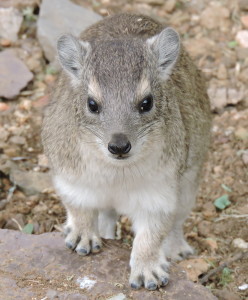 Male vervet monkeys have bright blue balls, the brightness of blue is an indicator of their virility.
Every zebra has its own set of stripes that identify it, like fingerprints.
The Rock Hyrax (or Dassie as it is known in South Africa) looks a bit like a rodent, but surprisingly it's closest relative is the elephant.
Johannesburg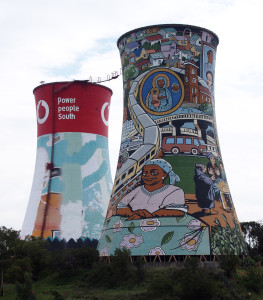 We arrived in Johannesburg in the late afternoon and said goodbye to our fabulous group of new friends, which is always sad.
The following day I met some friends to have a bit of a look around Soweto, visiting the Hector Pieterson Museum and Mandela House. I went out for lunch and a beer and checked out the street art, before heading to the airport for my flight to Cape Town.