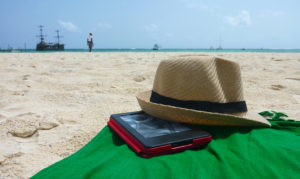 Most people you talk to about the Dominican Republic only know about Punta Cana. Punta Cana is in the far east of the Dominican Republic. It's a coastal all-inclusive resort town that gets a huge number of tourists visiting on a regular basis.
Staying in a budget hotel in Bavaro, I really enjoyed the chilled out atmosphere of the region. I enjoyed wandering the streets to find cosy cafe's in which to eat and drink. The beach was a great place to go for a walk, a swim and enjoying some time soaking up the sun while reading a book. Beyond that, I found there was little to do in the region.
While I enjoyed my weekend away, I decided Punta Cana is not my kind of town. Being a resort town with huge number of tourists, it lacked the cultural aspects I prefer in my travels. If you like to swim at the beach and in the pool, sunbathe, drink and do little else, then Punta Cana is definitely a great place to visit!
CocoBongo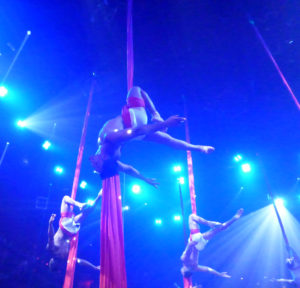 I'm not the biggest party girl, but someone told me I *HAD* to go to CocoBongo while I was in Punta Cana. I dutifully booked my ticket, put my dancing shoes on and headed out.
CocoBongo is a combination between a disco and a live show. From 11pm to 4am, they alternate between dance and acrobatic performances and  general disco/nightclub dancing.
Girls are invited to dance on the central bar and various podiums. At random intervals they give out balloons. The best part for many people though, is the open bar.
Tickets cost USD$75, it includes hotel transfers, entry and of course the open bar. While the ticket is expensive, the inclusions make up for it and I can assure you it is a night out you will not regret!
Where to stay
Punta Cana is predominantly all-inclusive resorts, prices can be exorbitant through to affordable. Most of the affordable accomodation options are at nearby beach town El Cortecito / Bavaro. I found a reasonable option on Booking.com
In the event you want to travel into central Punta Cana, taxis cost 1000 pesos for the 10 minute drive, because they know you have no other option and they can charge what they like. Taking a moto-taxi is much more affordable for getting around the area.
Getting There
Expreso Bavaro travel multiple times per day to the Punta Cana region. Buses depart daily at 7, 9, 11, 13, 15 & 16 daily, they depart at the same times from Santo Domingo and from Bavaro.
This website made a nice summary of the information and the stops along the way.
The bus station in Santo Domingo is on Juan Sanchez Ramirez in Gascue, half a block from Metro stop Joaquín Balaguer.
Tickets are 400 pesos one way, they sell out quickly and do not take reservations, so you need to arrive early. The journey takes approximately 3.5 hours.