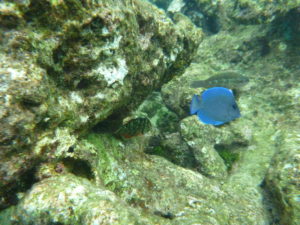 Playa Blanca, just an hour out of Cartagena is reported as a great place to cool down and relax. Many people head directly there via boat or public transport, or it can be done as a tour.
I opted for the tour version. With a company called Backpackers, I did a two day package. The tour itself cost 150,000 pesos and the accommodation for one night on Playa Blanca cost an additional 50,000 pesos.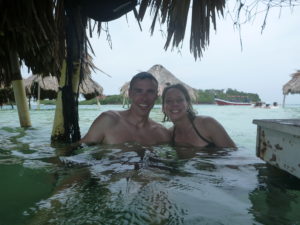 On the first day the hotel pickup is at 6:15, followed by an hour van ride out to Playa Blanca. From here you can leave your bags at the accommodation if you are staying overnight.
You then jump in a boat and head out to the Isla Rosario archipelago for some water activities. Firstly is an hour of snorkelling around the tiny island just off Isla Grande, called Isla Manglar. The coral reef here is predominantly brown, but it is still living and houses a beautiful variety of fish species.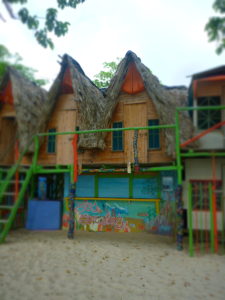 The second stop is a place called Cholon, where thatched bungalows have been set up in the water. For 4000 pesos per person you can rent a  bungalow and sit on chairs in the water, watching life swim by while indulging in a drink or two to cool down.
The third stop is Agua Azul, for some swimming and sunbathing.
Lastly you finish up at Playa Blanca for the lunch that is included in the tour cost, and some more beach time. This allows three hours at Playa Blanca if you do the day tour, or 27 hours for those staying overnight.
On the beach you can rent jet skis and stand up paddle boards. Also surprisingly, the restaurants along the beachfront have delicious food on offer. Be aware that in staying at Playa Blanca, aside from bottle water and one shower per day, you have no access to fresh water.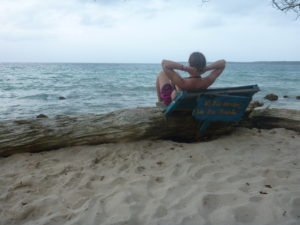 I would definitely recommend the overnight stay so that you have the time to unwind in the shade of a tree, reading a book. Playa Blanca is over the top crowded between 1-4pm daily, with all the boat tour day trippers. The morning and late afternoon are wonderfully relaxed!
Playa Blanca is a great place for some time out!!