Guatape is one of those town names that gets name dropped in reference to Medellin. It is a small town approximately two hours from Medellin where there are a few sights to see.
The Guatape region was predominantly farmland, and in the 1970s a large hydroelectric dam was built. While this no doubt had negative ramifications for the local people and their lifestyle, the end result for tourists is a beautiful green landscape with water surrounding bodies of lands. It looks almost like a lagoon dotted with islands.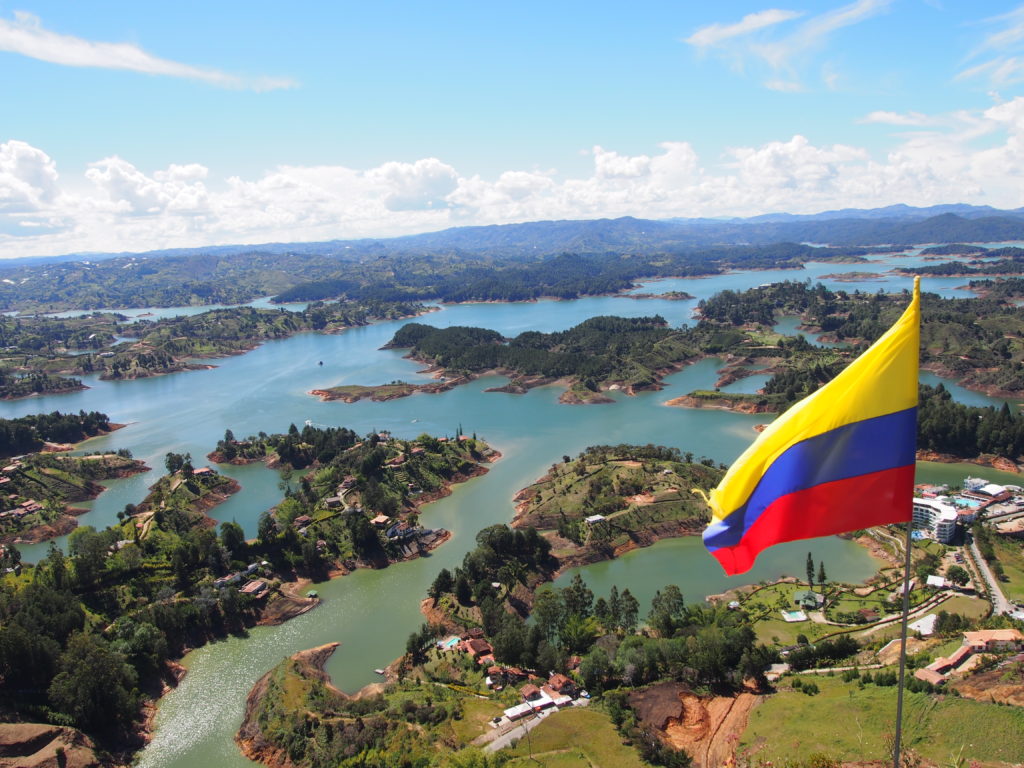 Peñol Replica Township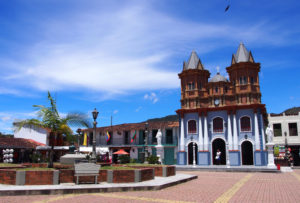 On a hill overlooking the dam is a super cute replica township, with a brightly coloured church and some stores and restaurants. It is a great place to stop for an introductory view over the lakes.
Guatape Lake/ Dam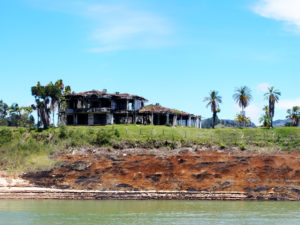 From the replica township, we walked five minutes down the hillside to a boat which took us on a round trip cruise through a section of the lake. It was absolutely beautiful.
Some of the fascinating sights to be seen from the boat included some of the famous drug lord, Pablo Escobar's old houses. Some in good condition and some destroyed and burned out.
The boat ride was quite a fascinating experience, with music being pumped out at top volume at 10am, people enjoying sunshine and a beer and other partying hard with congo lines and salsa dancing. It was thoroughly entertaining!
Piedra el Peñol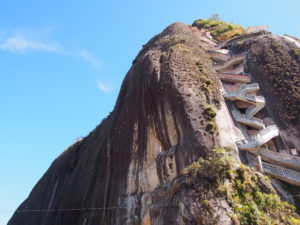 Piedra el Peñol is a fascinating natural rock formation that towers 200 metres over the lake. It juts straight up and out of the earth, with only quite a small footprint/diameter. You can climb the rock for 15,000 pesos, and it takes you 750 steps straight up to the top.
Ignoring the obscene number of people on the top of the rock, the views are spectacular.  It's well worth climbing the rock, ad after having taken pictures, rewarding your efforts with an ice cold beer.
Guatape Village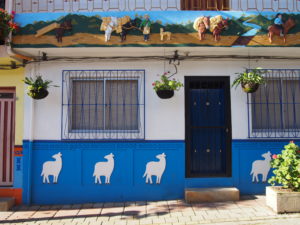 Guatape Village was our last stop of the day, it is also referred to as 'Town of Zocalos'. A Zocola is a colourful concrete bas-relief scene, throughout Guatape Village many buildings have Zocolas on them, together with incredibly loud, colourful painted door and window frames.
Some people refer to Guatape as the most colourful town in Colombia, while I feel Cartagena gives it a run for it's money in terms of colour, it really is spectacular to see. I will say the biggest disappointment of the tour, was that we didn't have time to explore the town for ourselves. As a group we only did a 30 minute walk through and I found that incredibly disappointing.
The colours and designs I did get to see though, were not in the slightest disappointing, they were absolutely gorgeous!
Tour Options
Firstly, I would say that you are best off planning your trip to Guatape in advance. If you have the time, it is financially the best option to go it solo and stay there one night, as the day tours are a bit rushed. Going solo, you can also do it in a full day but I expect it will be challenging for time with public transport.
For time and convenience there are a number of tours available. If you try to book the night before, you are unlikely to find availability for the tour you want, which is what happened to me.
The tour I wish I had the money for…
The tour that sounds pretty awesome is the full day Pablo Escobar tour. It hits the highlights of Guatape, such as the dam, the rock and the colourful town. It also visits some of Pablo Escobar's houses, and has a bilingual guide. It does not include any food, and costs a crazy amount of money (USD$295).
The tour I realistically wish I had done…
A friend recommended visiting Guatape with Do it in a Van. Their itinerary sounds good and it is designed for a younger crowd. my friends experience was that the tour didn't feel too rushed and was loads of fun. Transport is in funky old vans. It is a full day tour and includes breakfast and lunch. They don't operate every day, and as I found out, they book out in advance. The cost was reasonable, but I don't recall exactly what it was, perhaps around 70,000 Pesos.
The tour I actually did…
I did the full day tour with some random company whose flyer was in my hostel. The cost was 90,000 pesos and included breakfast, lunch, transport and visits to the places I wanted to see, unfortunately the guide could not speak a word of English.
While the tour group wasn't by any means young, fun or communicative, the tour achieved what we wanted it to and that was to get us to each of the places we wanted to see.
I'm personally glad I did a tour because I felt the logistics and timing of going it solo for a day trip were going to be a wee bit challenging a stressful.