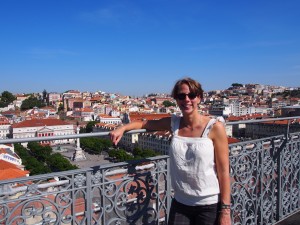 Lisbon, Lisboa, is the capital city of Portugal.
What do I think about it? I LOVE IT!!!
This was my second visit to Lisbon and I loved it even more the second time around.
The narrow cobblestone streets, hilly terrain and super cute homes that are tiled and painted bright colours are all just amazing. It's such a fabulous city to get lost in, just wander at random and you come across so many amazing things. Some of the main areas to wander around include the Praça do Comércio, Arco da Rua Augusta, Rua da Augusta,  Praça Dom Pedro IV, Praça do Figuera, along the Avenida da Liberdade and up to the park overlooking the city.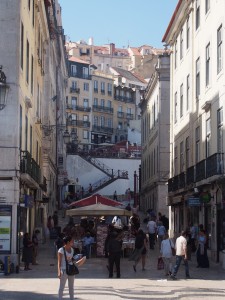 For getting around the city I highly recommend walking and getting lost in the various laneways and suburbs. Bairro Alto, Baixa, Chiado and Alfama,  are all great for exploring.
However my hot tip relating to public transport is to go to a metro station and buy a day pass for 6,50€, it's valid for 24hours from the first use. It's well worth the money and covers all types of public transport: metro, bus, tram, funicular and elevator. Some of the tourist highlights include tram, funicular and elevator – so I highly recommend this day pass!
Lisbon City Highlights
Elevador da Santa Justa
At the end of Rua de Santa Justa is a charming old elevator which used to be used as a form of public transport to get people up the steep hill. Now it is a popular tourist spot because from the top of the elevator you can continue up by a set of stairs to a viewing platform that provides a brilliant view of the city.
The cost is about 5€ but if you buy the metro day pass the cost of the elevator is already covered and you only have to pay an additional 1,50€ to get access to the viewing platform. 
Sao Jorges Castelo
St Georges castle is on a hill in the Alfama district. It costs €8.50 to get in. Despite it not being an amazing castle, I still think it's worth the visit, you can explore the grounds and walk along the castles walls and towers. It also provides a pretty awesome view of the city.
Sé Catedral
The cathedral is a short walk from St Georges castle. It has free entry and is a beautiful church to visit.
It has a mix of architectural styles, construction began in 1147 and the building has since undergone many changes, reconstructions and renovations over time, sometimes due to earthquake damage.
Santo Domingo Catedral
A random find of ours was Santo Domingo Cathedral. Again as a cathedral it has free entry. On walking through the doors my jaw dropped!
The cathedral was seriously damaged by two earthquakes and a fire. While it has been partially renovated the damage is clear to see and it makes the cathedral so much more beautiful!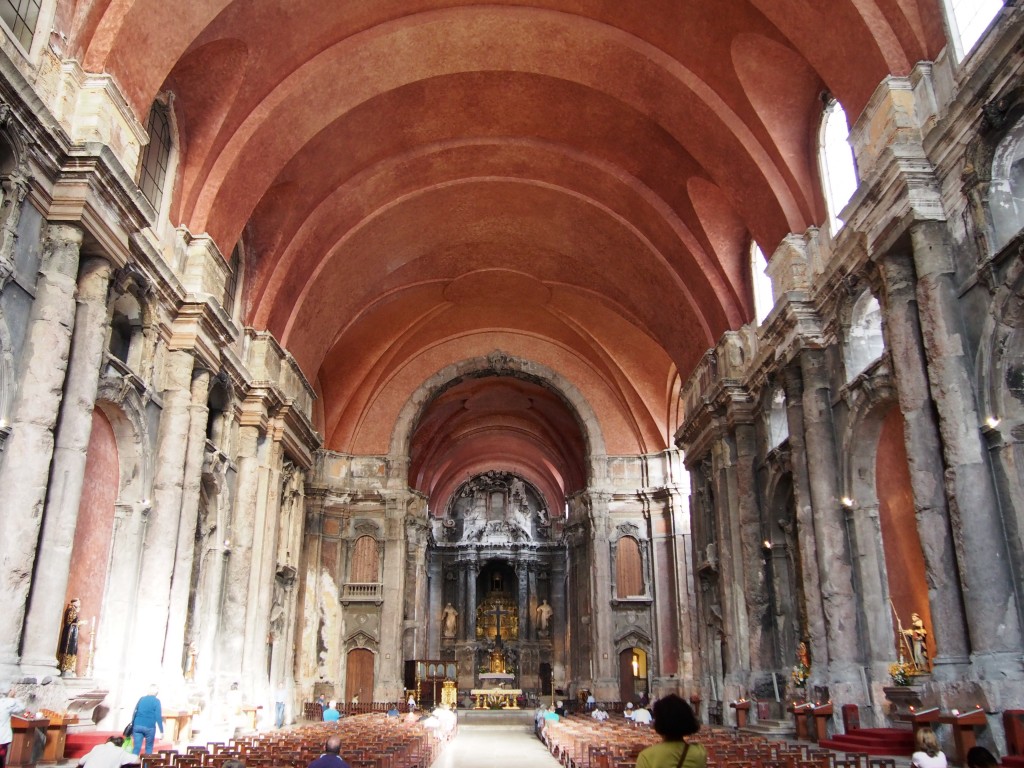 A Ginjinha
In the small plaza just outside the Santo Domingo cathedral is a tiny hole in the wall shop/bar. Here you can buy a small taster cup of the local Portuguese liqueur, Ginja. It is a sour cherry liqueur and tastes quite nice. A little taster costs 1,40€.
Tram 28
Vintage Tram 28 is very popular for tourists, and the queue to get on was pretty crazy. it starts at Praça do Figuera and ends somewhere random. If you ride it to the end, you need to get off and then back on five metres up the road in order to make the return trip. One way from start to finish is about 40minutes.
Despite its popularity I thought it was loads of fun. It winds its way through the narrow streets, bumping and jolting along. There are some cool sights to see from the tram and some of the stops are at popular tourist sights, such as St Georges Castle, Sé Catedral and Praça do Comércio.
I'm not sure of the cost, as I used my metro day pass.
Belem
Belem is just outside central Lisbon and is easily accessible by tram, we took tram 15E from Praça do Figuera and it took about 30mins.
Tower of Belem
The tower of Belem juts out into the river. It was originally built as a defence fortress to defend Lisbon's harbour. The architecture of the tower is gorgeous and there is so much detail in all the carvings. Definitely worth a visit.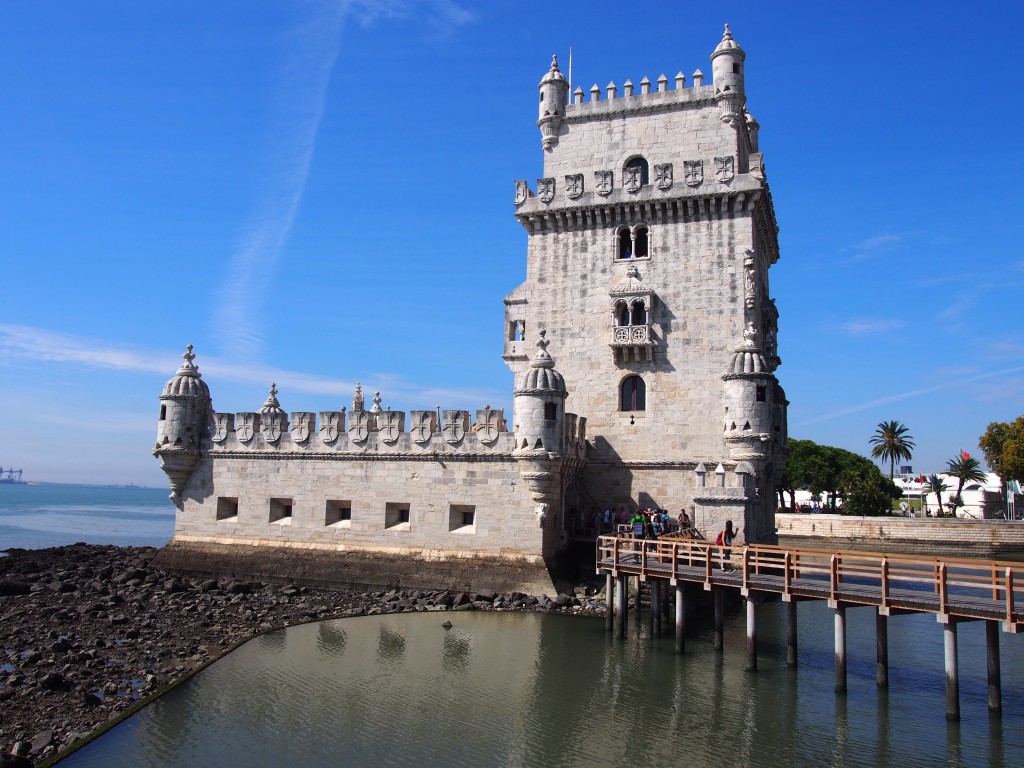 Jeronimos Monastery and Church
Jeronimo's Monastery is an absolute must-see. the architecture is phenomenal and it is just such gorgeous white stone set against beautiful blue skies.
A combo ticket for the tower of Belem and Jeronimo's Monastery cost around 12€.
Padrão dos Descobrimentos 
By the waterside, this is a monument that was inaugurated in 1960 on the 500th anniversary of Henry the Navigator's death. It shows Henry and other famous explorers. You can climb to the top of the monument, but I am unsure of the cost as I decided I wasn't interested after having climbed the Tower of Belem.
Pasteis de Belem
Pasteis de Belem is a famous patisserie that serves the traditional Portuguese egg tart pastry, Pastel de Nata. If you are willing to wait in the queue (which actually moves pretty fast) then I would recommend stopping by to grab one of these tasty treats.
Accomodation
My friend and I rented an Airbnb apartment on Rua Dom Pedro V and it was brilliantly located, just a short walk to the centre of town.