When in Baños I enjoyed chatting to a fellow Netherlander, when asking for his highlights from his Colombian visit he mentioned the salt cathedral in Zipaquira, a short day trip out of Bogota. On seeing his photos I promptly added it to my To-See list.
La Catedral de Sal
Cost: 50,000 pesos for entry and tour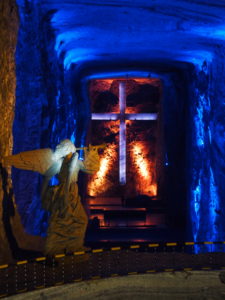 Zipaquira is home to a large salt mine. As it was being used so heavily and miners lived underground for long periods of time, a cathedral was built inside the mine.
Many years on the Cathedral has been developed as a tourist attraction though it stills houses a functioning Cathedral offering weekly mass, that is also available for weddings.
The tour leads you into the mine from a hillside, you are led through the stations of the cross, through the naves and to the main altar. Each part of the cathedral has a monument, a cross, carving or sculpture. Everything has been created with great attention to detail and in fine carving work. They are all highlighted with coloured lighting, for stunning visual effect.
Wandering through a cathedral, up to 180 metres under the ground is an eerie but awe inspiring experience. Under the ground is both calm and beautiful. The guide I had was fantastic – both informative and with a great sense of humour and I absolutely loved my visit,
Getting There
To catch local buses you need to buy a transit card and top it up with money, ask the seller about the cost of a return ride to Zipaquira and entry into the stations and get that amount on the card. We used a combination of taxis and buses, so I lost count of costs, but I think it's somewhere in the vicinity of 20,000 pesos round trip by bus.
To get to Zipaquira, catch a bus to Portal Norte. From Portal Norte get the bus to Zipaquira.
Returning, jump on a bus on the main street of Zipaquira that is headed to Bogota. Change buses at Portal Norte and jump on the J72 to Las Aguas.
Allow two hours travel time in each direction.