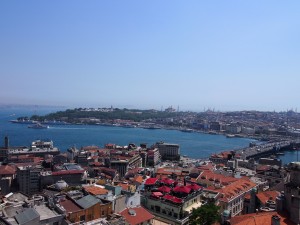 Istanbul is Turkey's largest city with a population of 18 million people. It's easy to gauge the sheer size of the city when trying to travel across it in a car. It takes forever to get even just a few blocks.
My hotel was in the old part of the city and this was absolutely the best place to be. It was just 10-15 minutes walk to any one of the important sites.
At first glance of the map, the old town of Istanbul looks very big and has a labyrinth of winding streets, but I actually found was that was very easy to navigate. On my second day in the city I already left my map at the hotel.
Byzantine Hippodrome
Back when Istanbul was known as Constantinople, during the Byzantine Period a Hippodrome was created in the centre of the city.
It is a U shape and is essentially a race track for horse and chariot racing. The Hippodrome has two obelisks in the centre line of it, one at each end. One is an Egyptian Obelisk called Obelisk of Thutmose III; the other is the Walled Obelisk built by an Emperor in the 10th century.
Sultanahmet Mosque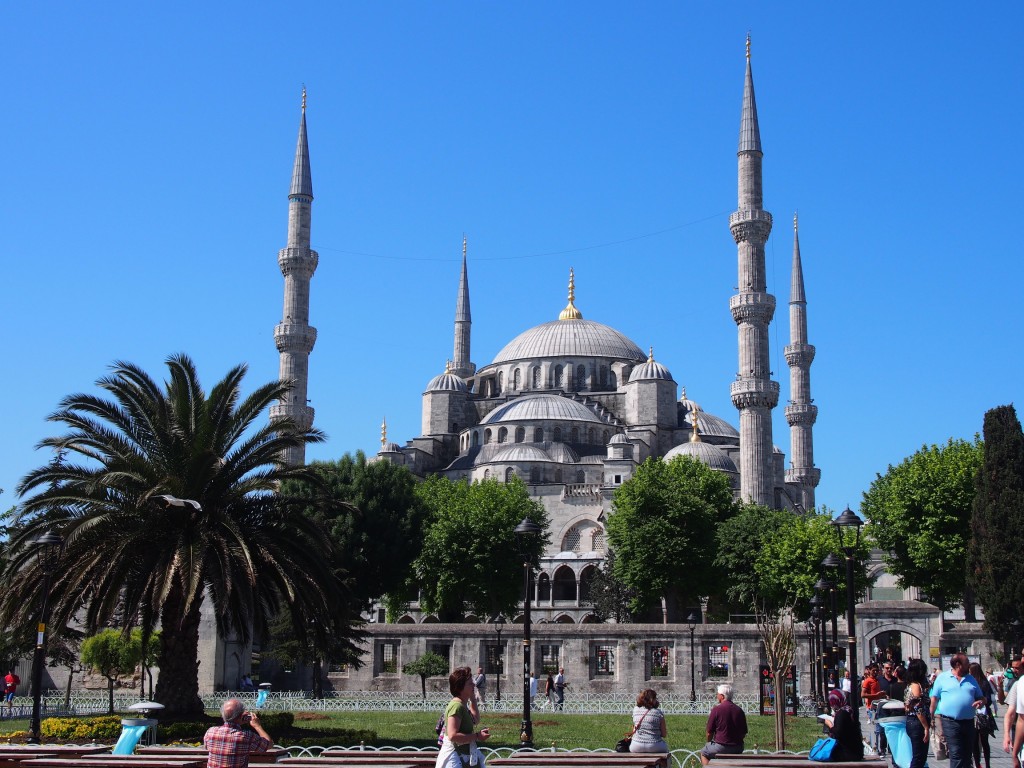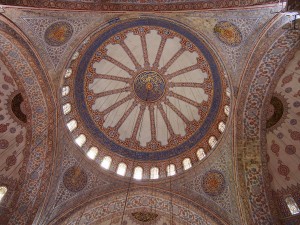 More commonly referred to as the Blue Mosque due to all the blue tiles used for the interior decoration. It is the only mosque with 6 minarets in Istanbul, and one of only 2 in Turkey. It is a 17th century Ottoman mosque, and is still in use. When visiting you are required to take off your shoes; women are required to wear a head covering and ensure that their shoulder and knees are covered too.
The mosque is simply stunning, there is so much detail in every aspect of the mosque. The ceilings in particular are amazing to see.
Hagia Sofia
Hagia Sofia is a grand church that was completed in AD537. In 1453 the Ottomans took over the city, called Constantinople at the time, and converted the church to a mosque. In more recent history, 1935, Atatürk converted it to a museum and it is still undergoing renovation to uncover the original artworks.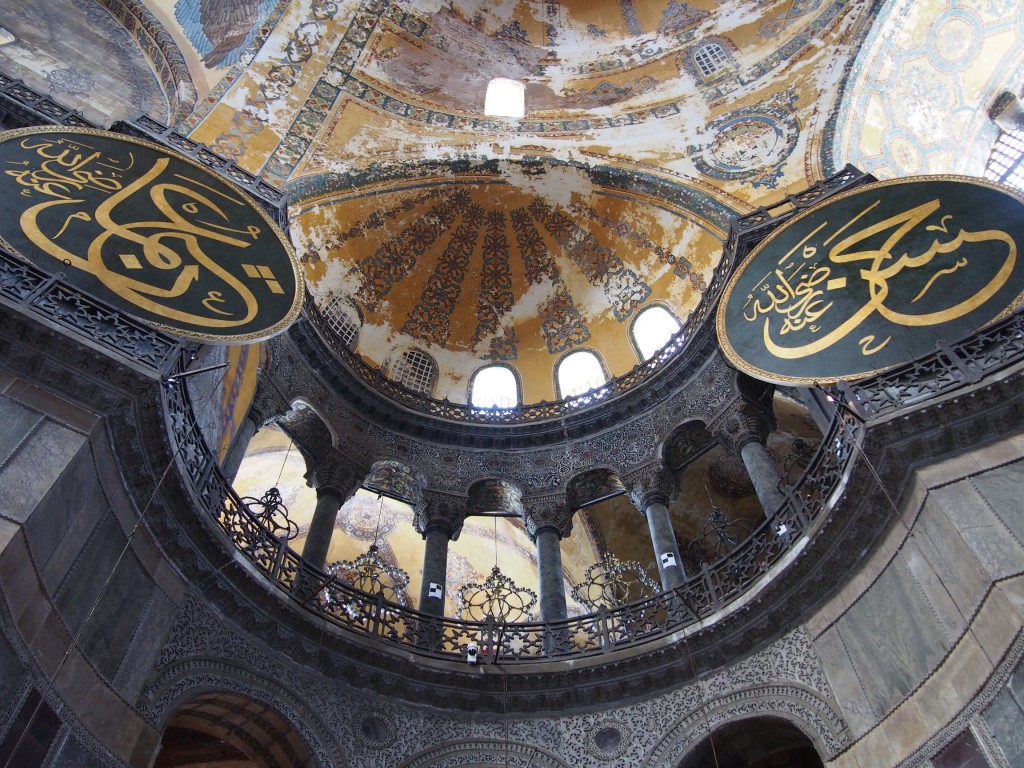 Basilica Cistern
The Basilica Cistern was built in the 6th century. It got its name because it was built underneath a basilica. The huge underground chamber is 9,800 m2 and is capable of holding 80,000 cubic metres of water.
History claims that 7000 slaves were used to build this cistern. Hundreds of these slaves died, and in tribute a column was built with teardrops on it.
The Basilica Cistern was one of my favourite places to visit. Under the bustling streets it has a feeling of calm. The water level is quite low but perfectly calm, the water reflecting the light shining on the many columns. It is simply gorgeous to visit.
Galata Tower
Galata tower was built in 528 to serve as a lighthouse and was originally constructed of wood. It wasn't we rebuilt of stone in 1348. It currently houses a restaurant, and a viewing platform that provides stunning views of the city and the Bosphorus.
Beyoğlu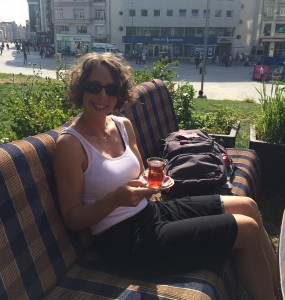 Beyoğlu is essentially the main street, particularly for shopping. It has a really old tram that runs up and down the length of the street up to Taksim Square. Apparently the tram ride is absolutely worth a ride, but I didn't do it myself.
I spent a leisurely day walking up, and then back down the entire shopping street, enjoying some shopping along the way. Once I got to Taksim Square at the top of the hill I found a nice park to sit and enjoy a cup of tea.
Spice Market
The Spice Market, down towards the river area, was quite disappointing. There were many stores with beautiful displays selling wonderful smelling, colourful spices, natural teas and more types of Turkish delight than you thought existed. But there were just as many souvenir stores as there were tea and spice stores. Also they were stores in a big market hall, where I had anticipated more a market style set up. It is definitely worth a visit, but don't expect it to be only spices and teas.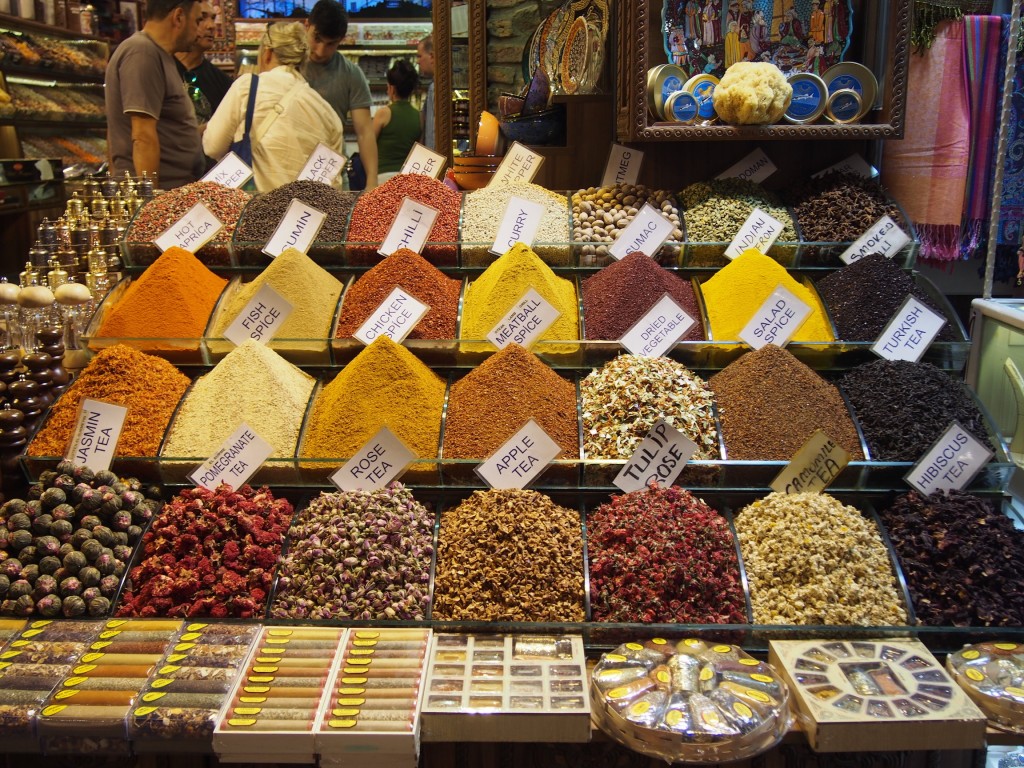 Grand Bazaar
The Grand Bazaar is also a huge market hall with stores, only on a massive scale with many different winding paths throughout. I imagine it would be very easy to get lost in the labyrinth of paths.
There were of course a huge number of souvenir stores in the Grand Bazaar, as well as clothing and shoe stores.
One of the items I have seen many times and consider beautiful, though I would never buy any, are the glass mosaic hanging lamps. So many beautiful colours and patterns!
Food and Drink
Turkish tea, black tea and apple tea, is a popular drink. You will see many little cafés around town, you even see groups of policemen taking time out from their duties to sit and enjoy a cuppa.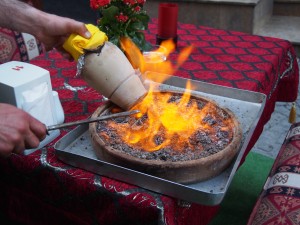 Turkish Coffee is also very popular, but I would have to say that I am not a fan. It is very strong, in a very small cup and basically half of it is coffee grind sludge.
A food that I would highly recommend trying is the Testi Kebab. It's a meat stew with tomato, capsicum and other bits and pieces. It is slow cooked for a few hours in a ceramic jar. Then when you are ready to eat, the last bit of the cooking is done near your table. A tray of salt is lit and in the flames the jar is rotated until it is 'just right'. Then they turn it upside down and smash the base off the jar, before pouring the contents into a warmed tray to serve. It was so fun to watch and it was certainly one of the tastiest dishes I ate in my entire visit to Turkey.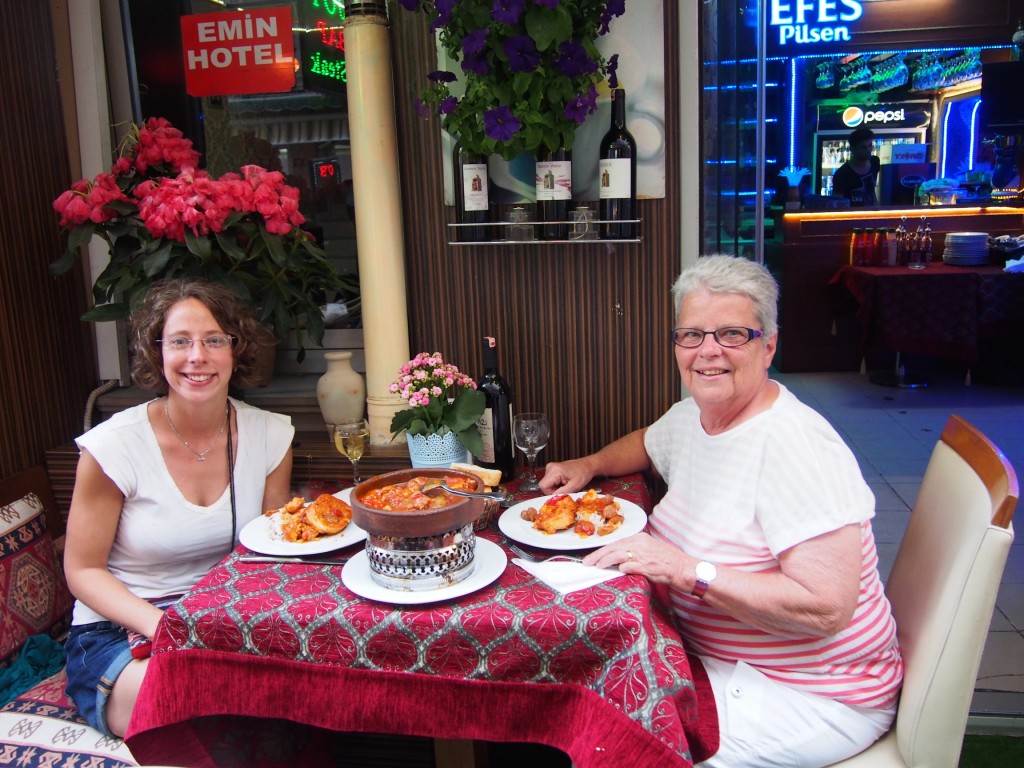 Cooking Class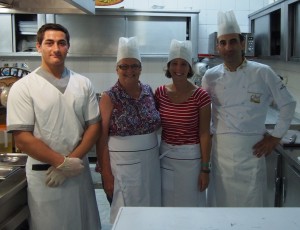 We did a cooking class in Istanbul, I always find it's a good way to learn a bit more about the culture of a country. This class was run from the kitchen of the Arena Hotel, we had a hotel office staff member working as a translator and two chefs.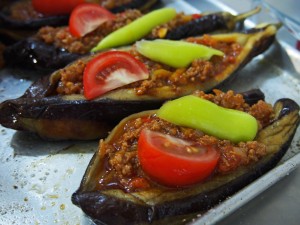 Together we cooked the dishes for one meal (but the quantity for 10 people!). We started with Mercimek Corbasi which is a red lentil soup. The main dish that we made was Karnivak, Aubergines stuffed with a meat and tomato mix. This was served with rice and vermicelli noodles combined (most of the time you are served rice, it contains a second ingredient, like small pasta noodle or another type of grain). The side dish we prepared was Cacik which is a yoghurt, cucumber and mint dip. It was all delicious!!!!