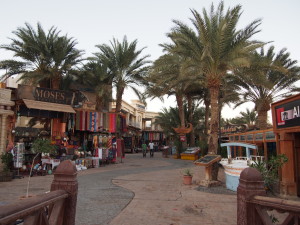 Dahab is a small resort town on the  coast of the Red Sea on the Sinai Peninsula, neighbouring Israel and facing Saudi Arabia across the Red Sea. Accessing the Sinai Peninsula involves passing under the Suez Canal, a major trade route for goods. As this is a major source of income for Egypt it is very well protected with numerous police and military checkpoints.
Dahab appears to have once been a lively town, very popular with snorkelers and divers alike. Due to recent turmoil and the closure of a nearby airport, it has become a very quiet holiday town.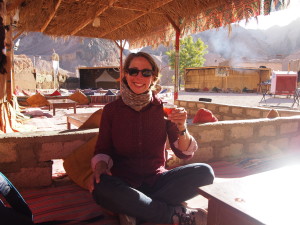 After the fast paced tour through the main sites of Egypt, it was nice to use the time in Dahab both to see the town and to enjoy some rest and relaxation in the resort.
Aside from catching up on sleep, emails and reading my book I enjoyed two of the activities on offer in Dahab: Quad Biking and Snorkelling at the Blue Hole; as well as spending some time in the city center.
Quad Biking
In the hills of Dahab is a desert landscape. While the quad biking wasn't overly epic, it was certainly fun to have a look around. We visited three sites: A valley within the mountains, a bedouin camp for some tea and Laguna Beach on the coast.
Cost: 170EGP
Snorkeling
The Red Sea is well known for it's beautiful coral, so I headed up the coast to the popular diving location of the Blue Hole. The water was colder than anticipated but the coral was beautiful and teeming with sea life.

I snorkelled along the reef edge before passing through the saddle into the Blue Hole. While the Blue Hole is best for divers, it's rim has plenty to offer those who are snorkelling.
Cost: 150EGP