Visiting Jordan
Before I launch into my adventures in the Wadi Rum desert, just a few quick notes on visiting Jordan. Firstly it is worth considering buying a Jordan Pass.  The tour company advised me to buy the Jordan Wanderer Pass which waives the visa entry fee to Jordan, covers a one day visit to Petra and covers the entry fees of numerous other attractions. It costs 70JOD (approx $99USD) which is expensive, but is actually worth the money. It's new to Jordan, so make sure you print out your copy and always keep it on you, together with your passport.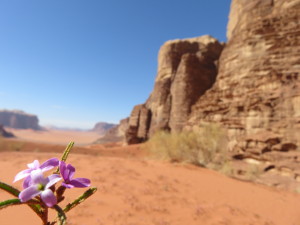 The Jordanian currency is very strong and with the turmoil in the Middle East they seem to have very few tourists visiting. As a result, prices can be obscene and it feels like they are trying to get every possible penny out of you! Despite the crazy costs of many things, eating locally is actually incredibly affordable. I mostly eat for under 2JOD per meal, but you could easily pay up to 20JOD depending on where you go. You are also expected to tip for any kind of service.
Even though the locals want all your money and can sometimes hassle you a little, I did find them all to be very friendly and mostly respectful when you say "No Thankyou" or "Shukran" with a wave of the hand to indicate "no".
Wadi Rum Desert
The Wadi Rum desert is often referred to as the Valley of the Moon due to it's moon-like landscape. Fittingly it is also where parts of the movie The Martian were filmed.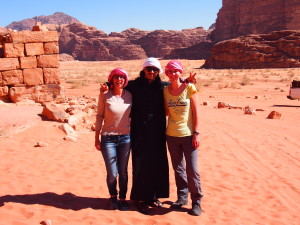 The term Wadi actually translates to Valley and Rum stems from the word rum which refers to the tribe who inhabited the region for a long time. Over the years erum got shortened to rum. Though wikipedia implies that it may have an Aramaic root meaning "high" or elevated".
The desert became popular for tourists as it was seen as a great location for rock climbing and bird watching. I assume it remains popular for these reasons, in addition to the gorgeous natural rock formations in the area.
I spent one night in the Wadi Rum desert, staying in a tent/hut in the Hillawi Camp. As it is low season, and with the tourist issue previously mentioned my tour buddy and I were the only two guests at the camp, the staff were incredibly friendly and helpful throughout our visit. For dinner a bus loads of Jordanians joined us for a traditional Bedouin meal, music and dancing. This made the evening rather entertaining.
I did two activities in the Wadi Rum, a Camel Ride and a Jeep Safari.

Camel Riding for Sunset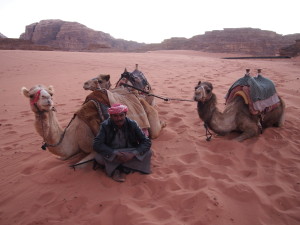 At around 4:30 in the afternoon Abdullah the camel rider turned up at our camp with a small caravan of camels. We hopped on up and off we wandered into the desert. Abdullah taught me a new, and more comfortable way to ride a camel. Rather than sitting with a leg either side, as you would when horse riding, sit cross legged. It is much more comfortable.
The camel driver Abdullah was an absolute hoot!! We walked through the sands, took photos of ourselves on the camels and of the beautiful environment around us.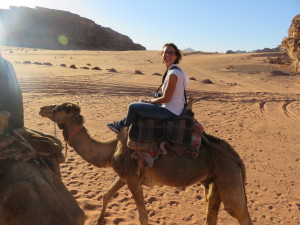 Suddenly with the cry "Yalla! Yalla" (Let's Go!!!) we were trotting along in a rather ungainly fashion on our camels. It was hilarious!!! For all those women out there reading this, if you go camel riding and think there might be a chance of travelling faster than a slow walk, wear a sports bra!
As the sun dropped we "parked' our camels by a mountainous rock and climbed up for a good view of the sunset. The rocks were lit up a fiery red and while the sunset wasn't a huge array of colours it was simply magical. After some entertaining sunset photography we headed back to our camels for some more laughs before dinner time at the camp.
Cost: 15JOD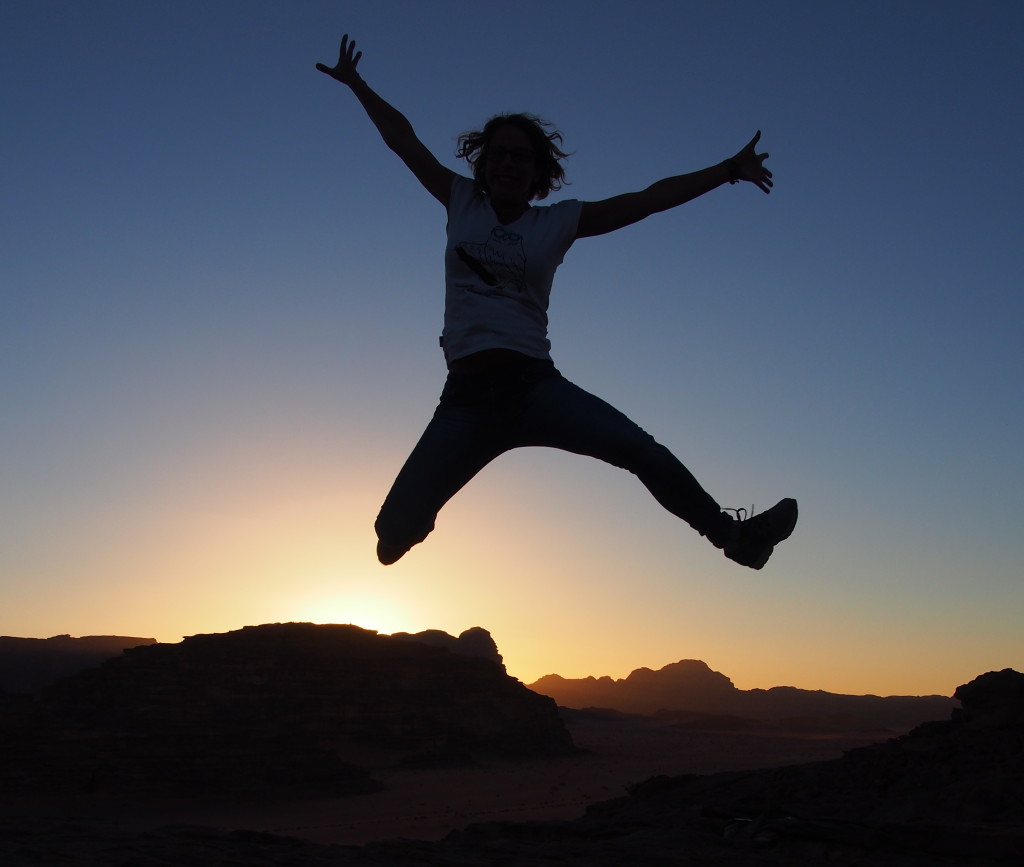 Jeep Safari
Promptly at 9am our jeep driver Akram turned up at the camp to take us on a jeep safari into the desert. Jeep safari's in the desert are mostly driving with a few stops.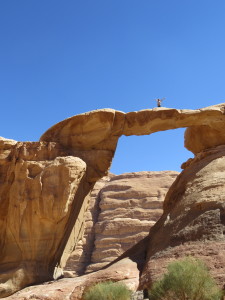 We sat on the back of the 'jeep' and enjoyed the wind whipping through our hair and the golden red/orange glow of the sand and rocks around us.
The desert scenery was spectacular. I was throughly surprised at how much vegetation there was when I had expected to see none. There were even sea's of little purple flowers.
We made a stop at some ancient inscriptions on the rock walls, Lawrence's house, a natural bridge, some sand dunes and some spectacular view points. Along the way we also made two stops for tea in Bedouin huts. Also learning how to tie a headdress/scarf like a true Bedouin. While I didn't feel like we actually saw much of what the Wadi Rum has to offer, I certainly had a spectacularly fun time seeing the bits I saw!