The Garden Route is a very popular tourist route that follows the coast of South Africa from Mossel Bay to Plettenberg Bay. I booked a seven day Garden Route and Winelands tour through TourRadar, operated by HotSpots2C.  (Sign up to TourRadar using my referral link to get 5% off your first booking).
The tour guide for the five day Garden Route was Isaac, and the two day Winelands component was guided by Andrew; both of whom were absolutely fantastic guides.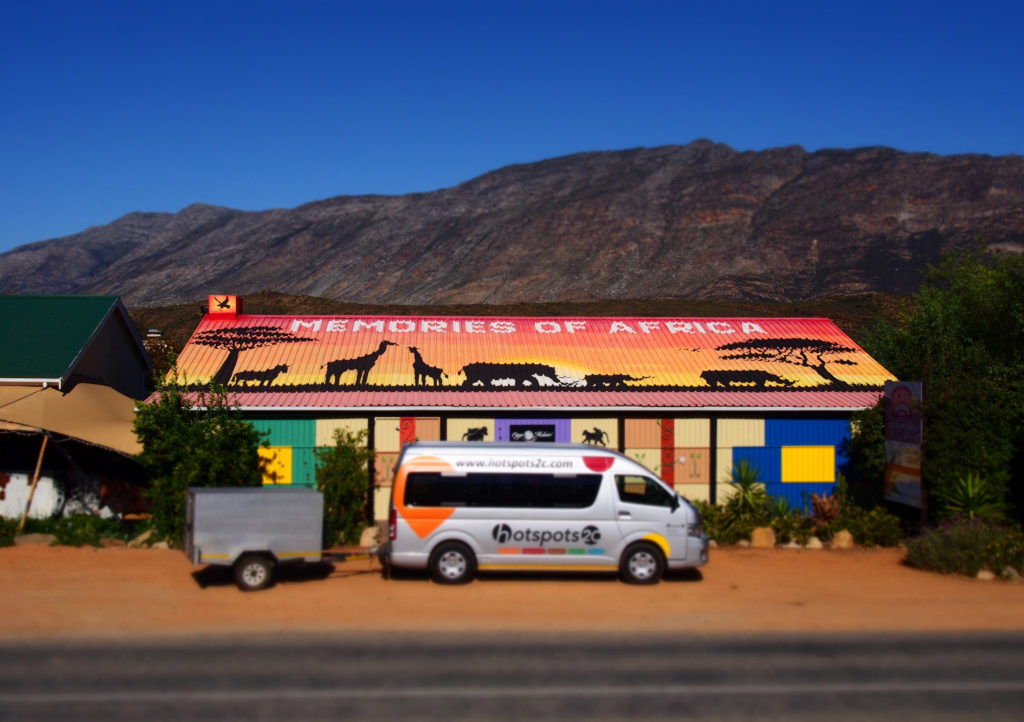 I was picked up from my hostel at 7am on a Monday morning and after a few other pickups we headed along the coast passing first through the scenic coastal town of Mossel Bay and through to our first stop in the seaside town of Wilderness.
Within the Wilderness National Park we enjoyed a relaxing afternoon canoe paddle up and down the river, which was a great way for me start forging friendships with a new tour group.
After our little river splash we continued on to the coastal town of Sedgefield, where we spent a night in a hostel by the Myoli Beach. This gave us the opportunity to enjoy a stunning ocean sunset, something I had been missing!
Our morning involved a visit to the beautiful Knysna Heads before continuing to the Tsitsikamma National Park. The aboriginals of the area named the region Tsitsikamma, meaning 'Abundance of clear water' based on their impressions of the rivers and oceans in this area compared to their original inland home.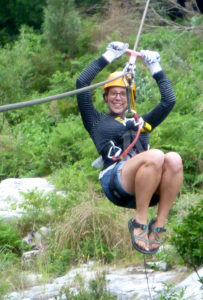 In the National Park we made three stops, the first was where a number of people in our group challenged themselves to a bridge dive from Bloukrans Bridge. At 216 metres, this is currently the Worlds Highest Bungy jump. Having done a bungy two weeks earlier, I just sat back and watched on this occasion.
The second stop was by the ocean where we went on a short hike through the forest out to a suspension bridge and back along the waterfront. It was a beautiful scenic walk which we finished up with a delicious lunch at a beach-side restaurant.
Our third, and for me most exciting stop, was to go ziplining. Over eight lines we zipped back and forth between the trees, passing over the river and small waterfalls. It was loads of fun. If you haven't been ziplining previously, this would be a good introduction to the activity. If you have been previously, then this is quite tame, but still fun.
We spent two nights in the surfer town of Jeffrey's Bay, in order to make a day trip to the furthest east point in our Garden Route tour, to Addo National Park for a sunrise game drive.
While Addo National Park is by no means in my top five national parks (I felt it was a bit too controlled fences keeping the animals contained) we still had a great deal of luck in seeing some amazing animals. We saw a pair of Lion brothers, one even roaring to ensure we were aware that it was his territory we were in. We saw Eland, Kudu, Red Hartebeest, Zebra, Warthog and of course a random assortment of birds.
Our next place of interest was the old town of Oudthoorn, whose history is built on the Ostrich industry. In the 1900s Ostriches migrated to southern Africa from the Sahara. In those days Ostrich products were a clear sign of wealth, and interestingly ostrich feathers used to have a value equivalent to gold. In Oudthoorn we visited an ostrich farm to learn about the role Ostriches played in the towns history, as well as learning facts about the Ostrich.
We finished our day with a visit to the Cango Caves for a short, but fun-packed caving adventure. The Cango Caves are a reasonably sized cave system, with some beautiful stalactite, stalagmite and flowstone formations. There are two tours on offer in the caves, the Heritage Tour and the Adventure Tour. My preference of course was for the adventure tour and we got to spend some time climbing, crawling and squirming through cave formations.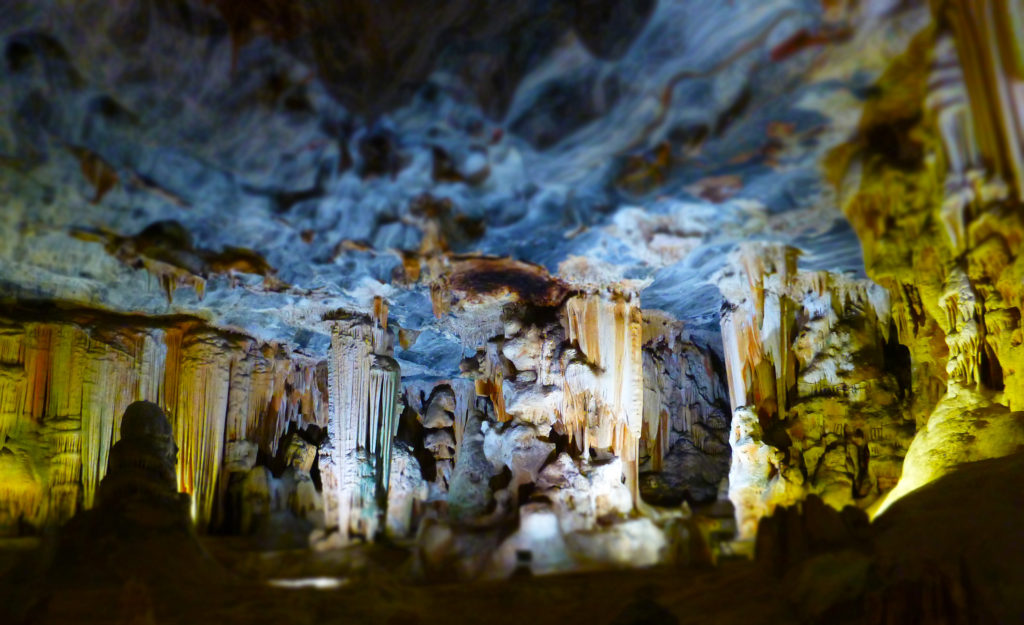 Before the Garden Route part of the tour finished we made a visit to the Cango Wildlife Ranch. This gave us an opportunity to see many of the native animals at closer range.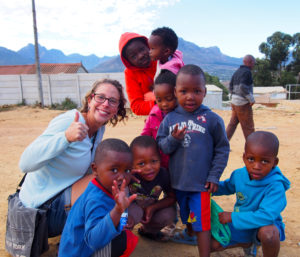 At this point the five day Garden Route was finished, and the two day Winelands tour began. We kicked off the winelands tour with a visit to a local community, Kayamandi. Which was a town established for migrant workers with 117 houses built; over time it has expanded to be quite a large community. There are now numerous houses, some appear to be government developed, solid housing, but man others are haphazardly constructed tin sheds. Around the streets you come across so many children who are all super excited to see you. They come running from all directions to say hi, give you a hug, hold your hand or get their photo taken. It was nice to hear that there are five NGOs working in the community to support the children with after school programs.
From Kayamandi we continued on visit the sites that the Stellenbosch region is known for, the wineries. Stellenbosch is home to over 200 wine farms. We started our visit with a visit to Muratie, which was establish in the late 1600s and is one of the oldest wine farms in the region.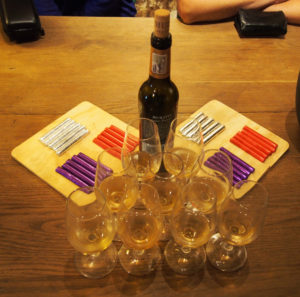 At Muratie we enjoyed a port and chocolate pairing. We had three ports, each paired with chocolates. Starting with a white port and white chocolate pairing, followed by two red ports paired with dark chocolate, one of which was infused with cherry, the other with cinnamon and orange.
The owner of the wine farm was a German soldier who came to the region and was given some land. In his visits around the country, he fell in love with a slave girl in Cape Town. After years of regularly walking days to visit her and days back home, she was eventually freed and moved to the farm where they lived happily ever after.
The white port we drank was named after her, Amber, and the label on the bottle told her story. The two red ports were Cape Ruby and Ben Prins, though I cannot recall the stories behind the people. All of the wines are named after people who have worked on the wine farm.
After Muratie, we continued through to Fairview for a wine and cheese. Fairview lays on the southwestern slopes of the Paarl mountain. The farm was establish in 1693 and produced their first wine in 1699.
I liked the way the Fairview winery was run, we got a list of all the wines and were allowed to pick the six we wanted to try, and as someone who doesn't drink red wine, this was a great relief. So I selected my six white wines and thoroughly enjoyed tasting them all. We tasted three wines, then headed to the cheese counter to try three cheeses, we returned for three more wines and then finish with three cheeses. Aside from a few of the goats cheeses, which I found a bit too strong, everything was absolutely delicious.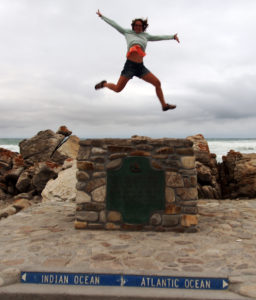 After so much alcohol, we made a lunch stop in Franschhoek to fill our stomachs with some food. Franschhoek translates to French Corner. Its origins stem from a time when a group of French fled France and settled in this region to farm and develop wines. The Dutch who had colonised South Africa already prevented the French from colonising the region by putting Dutch families between each of the French families and requiring them to learn Dutch.
We finished off our wine and food oriented day with a non-consumable, a visit to Cape Agulhas. Cape Agulhas is the southern most tip of Africa, where the Indian and Atlantic Oceans converge. Agulhas is a derivation of a Portuguese word meaning needles. It was at this point where the Portuguese sailors found that their magnetic north would coincide with true North. The Cape Agulhas lighthouse, built in 1849, stands 27 metres tall and provides a warning for ships  of the rugged coastline.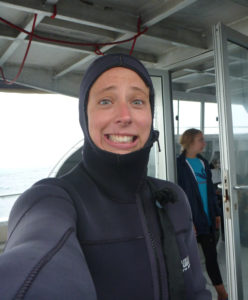 At this point I experienced the highlight of this road trip, Shark Cage Diving in Gansbaai with Marine Dynamics. About 30 minutes by boat from the coast of Gansbaai we dropped anchor, dropped a shark dive cage, squeezed into wetsuits and jumped in to the chilly waters of the South Atlantic Ocean. It wasn't long before we had sharks stopping by to visit. All up we were visited by thirteen different Great White Sharks, the largest of which was 4.5 metres. The marine biologist on board busily took notes and recorded information about the different sharks as the rest of the boat gasped and ooh'd and aah'd at the majestic creatures!
About two minutes before I got in the cage I was absolutely pooping myself "Why the F*** did I sign up for this?!?!" But within moments of being in the cage I realised the only thing worth my being scared of was the cold water. The sharks enjoyed playing with the bait and the decoy seal, but were honestly not in the slightest bit threatening towards us. It was an absolutely amazing experience that I would highly recommend to anyone and everyone! The only disappointment of the whole experience was that the visibility and clarity of the water was quite poor, but that is nature, you get what you get.
We finished off the Garden Route and Winelands tour with some really quiet time, a visit to the African Penguin colony at Stony Point, Betty's Bay.
The African Penguins used to be called jackass penguins because they bray like donkeys. I didn't believe this until I heard it for myself, and it's really quite entertaining. After they were named Jackass Penguins, many other breeds of penguins were discovered to make exactly the same noise, and they since changed the name.
Mini Disclaimer regarding Animals
In any activities involving animals I am quite hesitant in joining in. I am very conscious of the natural habitat of animals and what effect it can have on an animal when removed from that environment, some centres do fantastic things in rehabilitating animals, yet others are more about the profit to be gained from putting animals on show.
While I believe the Cango Wildlife Ranch feel they are behaving ethically in regards to animal treatment and rehabilitation, there is some doubt in my mind. For this reason I didn't love this wildlife experience and I wouldn't be quick to recommend it to others. For the same reason, I opted out of the optional Elephant Walk activity.
With the shark cage diving, I had discussions with people of a similar mind to me and did some reading about the company we were going to book the dive with. I felt that Marine Dynamics were treating the animals with respect, they operate their business in an ethical manner and their research during the tours is beneficial to the shark population.