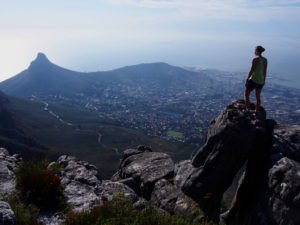 After all my overlanding adventures. I headed to Cape Town for a few weeks of a slightly more luxurious form of travel ie. hostels as opposed to tents. Cape Town is a city on the western coast of South Africa and is one of the most popular tourist destination in the country, upon arrival I could understand why.
The city of Cape Town is absolutely gorgeous, it is on the coast and has beautiful beaches. It is also overlooked by a huge mountain range called Table Mountain, which to a degree, seems to shelter the city from bad weather. I found the city to be stunning, I also found it to be very welcoming. The city has a very positive vibe to it and wandering around I always felt happy, comfortable and safe (except when I walked through the gardens, where I was terrified of being attacked by squirrels – but that's just me). Despite my feeling of safety, as a precautionary measure I wouldn't walk around in poorly lit areas after dark.
During my time in Cape Town I did quite a few different activities, but would definitely like more time there. When I go back the two highest priorities I have are to hike Lion's Head and do a Street Art walking tour (I say when, because I loved the city so much, I plan to return some day, hopefully soon)
Free Walking Tour
As I like to do with most cities, I started my time in Cape Town with a Free Walking Tour. There are three tours to pick from: Historic Tour, Bo Kaap District and District Six. I did the Historic Tour with Ferne and the Bo Kaap District with Charlie. If I had had more time, I probably would have also liked to do the District Six tour.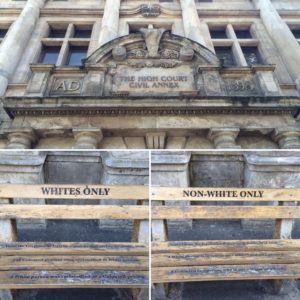 Through the historic tour we got to see the old buildings around the city and learn about their historical significance, such as the High Court where Apartheid laws were established officially in the 1940s and officially abolished in 1990. The court has replica benches out the front that are an indication of the separation enforced on whites and people of colour, and led to a discussion on the sorting and classification processes that all people had to go through to determine their 'colour' and appropriate classification they fit into as a result.
You will frequently hear South Africa referred to as the Rainbow Nation. Without getting the explanation for anyone, I assumed that it was due to the 'colourful' population of South Africa. By colourful I mean the myriad of cultures that for a variety of reasons ended up in the country, native african people from a variety of regions, British, Dutch, Indian, Sri Lankan, Malay and so on. When I looked it up, this is indeed the reason for the name and the term was coined by Archbishop Desmond Tutu to describe post-apartheid South Africa. The country has so many facets, and in addition to the many cultures that originally made up this rainbow nation, it also has 11 national languages and strangely three capital cities. Cape Town is the parliamentary capital; Pretoria is where the Government can be found and Bloemfontein is where the Supreme Courts are.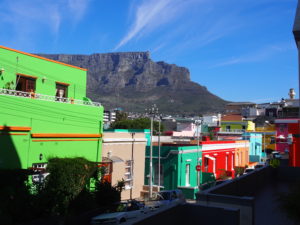 In the Bo Kaap tour we ventured up the hill to Upper Cape Town (Bo Kaap translates to Upper Cape), which was originally established as a 'storage' area for people. In the time of slavery, with the growing population of the city, slaves needed to be housed somewhere. The Bo Kaap district was established with tiny houses for the slaves and it was here that they were relocated. The area is predominantly muslim and was where the first mosque in Cape Town was built.
The people living here are typically Cape Malay, people with Malaysian and slave heritage. The houses were originally bland colours, but some time after the slaves were freed the houses were painted a variety of colours. Since that time the houses have been painted even more brightly and are absolutely spectacular to see, particularly under the South African sun. There are many theories about why the houses have been painted such bright colours, some include being a sign of freedom from slavery, some think it's to attract the tourists and others say "why not?" Whatever the reason, it's worth seeing!
Up in this region, at the top of Waal/Wale Street is the oldest Malay restaurant in Cape Town, Biesmiellah where they sell the national dish of South Africa, Bobotie. It isn't a pleasant looking dish, but it is definitely tasty!
The tours operate at 11am, 2pm and at the peak season 4:15pm from Green Market Square, which is the second oldest public space in South Africa. The site was the original market place for the Dutch East India Company and remains a market place until today where it hosts a daily souvenir market, 7 days per week.
The tours are free but operate on tip basis, 100 Rand or more is a fair amount to pay. The guides do an absolutely fantastic job!!!
City Sightseeing Bus
While a free walking tour is typically my favourite way to orient myself in a new city, the city sightseeing bus in Cape Town is also a brilliant idea. Cape Town is a very big city and to really see it properly, it does require some transport.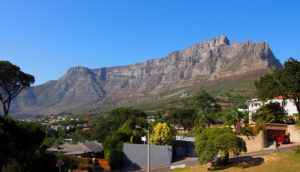 The greatest benefit I found in the bus was the ability to get to Table Mountain and Camps Bay. If you were to access these places by taxi it would certainly start adding up very quickly.
I did the Red City Tour and thoroughly enjoyed it. It gave a greater perspective to the layout of the city, as well as showing me more than just the center.
I think with a two day pass it would be awesome to do the Red and Yellow tours on one day, and the Blue mini peninsula tour on the second day.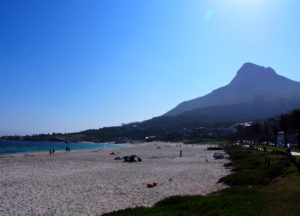 Honestly I ran out of time to make the most of my ticket, but the ticket can be used on any of the coloured routes; you can buy a one day or two day pass. At an additional cost are a few optional additions, such as a sunset bus or harbour cruise (I think you get the cruise for free if you buy a two day pass).
A one day pass is 180 Rand and two days is 280 Rand, both are discounted if you purchase online.
Robben Island
Robben Island is a smallish (574 hecture)  island off the coast of Cape Town that has had a fairly negative history. The island was used as a leper colony for many years, then it was used as a military base during World War II, after which time it was converted to a prison island.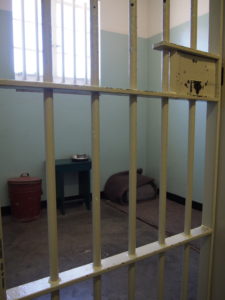 Robben Island is known to most because it was here that Nelson Mandela was imprisoned for eighteen years. After which time he was moved to two other prisons before being released in 1990, after serving 27 years of imprisonment. Robben Island was used as a prison for political prisoners from 1961 to 1996.
The tour of the island has two parts to it, the first part is a bus trip around the island, showing where the prison is, the limestone quarry, the town center and other  historical sights. The bus tour is guided by a local from Robben Island, I was surprised to know that there is an inhabited  township on the island. I didn't overly enjoy the bus tour as you don't really get to get out of the bus and experience any of the places, you just whizz by and take photographs out of the windows.
After the bus tour, you are dropped off at the maximum security prison where you are led on a walking tour of the facility led by a former inmate. This gives the tour a very real and very honest perspective of how things really were on the island. This was by far the most fascinating part of the tour.
Tours are 3 hours in duration, they cost 300 Rand and  depart from the Mandela Gateway at the V&A Waterfront. Ideally you should book tickets online in advance, I would suggest well in advance during high season, but a day or two in advance during low season.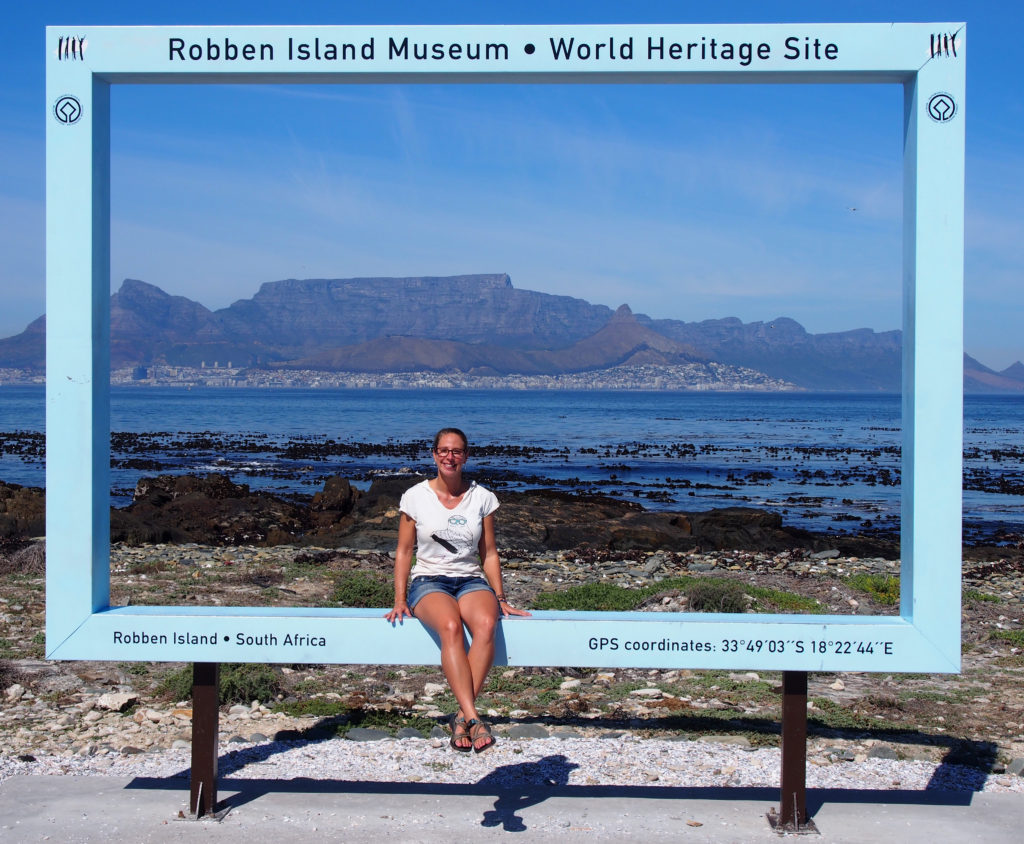 Cape Peninsula Half Day Tour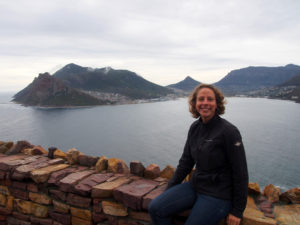 One of the things I really wanted to do around the Cape Town area, was to visit the Cape of Good Hope, the most south-western point of Africa. Unfortunately for me, it got down to my last day in South Africa, the weather was appalling and I slept in.
Lucky for me I managed to book myself a seat on the Cape Peninsula Half Day tour.  I have two things to say about my half day tour: 1) It was great; but 2) don't book a half day tour unless you don't have any other options, full day tours are much better value and more enjoyable.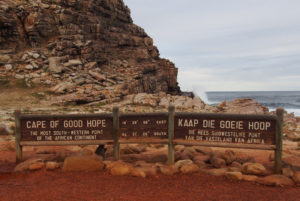 I was picked up around 1pm by my guide and off we drove via the beautiful coast line through to Hout Bay, where we stopped at a scenic viewpoint for some pictures. We continued through to Boulders Beach to visit the African Penguin colony. Then we continued a little further south to the Cape of Good Hope Nature reserve where we made two beautiful, scenic stops. Firstly we visited thte Cape Point lighthouse and then we actually stopped at the Cape of Good Hope.
After this quick whip around the peninsula we headed back to Cape Town and arrived around 6pm.
The cost for the half day tour is 680 Rand. With a different company, you can book a full day tour including lunch costs for around 700 Rand.
Eating
Food has never and will never be something that rates highly on my to do list. That being said I did come across a few awesome places.
Asoka
Asoka is on Kloof Street, Tamboerskloof and has absolutely phenomenal tapas style food. The beef teriyaki is to die for! The atmosphere and decor is almost like a hidden fairy garden, and is so super chilled. I went there with friends and absolutely loved everything about my evening!
Arnold's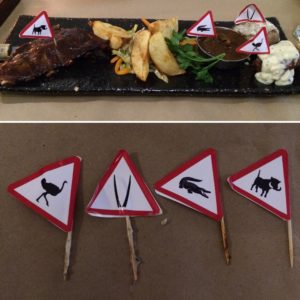 Arnold's is also on Kloof Street, Tamboerskloof. A friend recommended heading to Arnold's for breakfast, which I did. Other friends also advised me that they served delicious dinner, so I did that too. While I didn't think the decor or service were that great, the highlight was the game platter, where I had the opportunity to try Ostrich, Crocodile, Gemsbok and Warthog Ribs.
Truth
Truth is a cafe on Buitenkant Street in District Six. On a rainy day when I planned to go exploring, someone at my hostel recommended grabbing a coffee at Truth, and I was so glad I followed the recommendation!
Truth is a fully themed Steampunk cafe, the staff 'uniforms' and the cafe decor all follow theme and it looks fabulous.
I headed to Truth for a coffee, but on seeing the menu I stayed for breakfast and had some of the most amazing french toast I have ever come across. It was delicious! The staff are really friendly and helpful, and it was just so relaxing to sit for a couple of hours enjoying the good coffee food and atmosphere.
I spent a bit of time wandering around the District Six area after my amazing breakfast, as the area has loads of really cool street art!
Accommodation
I stayed in two different hostels during my time in Cape Town, both were in Tamboerskloof, which despite having nothing to compare to, is an area of Cape Town I really like.
From either hostel it was roughly 15minutes walk to the city center.
Amber Tree Lodge
Amber Tree Lodge is a very homely hostel, it is comfortable and clean. Linen is provided, as well as breakfast and wifi. The staff were absolutely brilliant and I thoroughly enjoyed my stay.
A bed in a 6-bed dorm room cost AUD$17 per night
Ashanti Lodge Gardens
Ashanti Lodge Gardens was certainly a larger and busier hostel than Amber Tree. I think I was also quite unlucky to be there at the same time as a particularly large and loud tour group. I did find Ahsanti to be a fairly noisy hostel and I certainly had less sleep here. However, I still found it to be a lovely hostel, slightly less cosy, but with equally friendly and helpful staff.
A bed in a 6-bed dorm room cost AUD$17 per night


Getting Around
I mostly walked from place to place, but when distances were too far or it was dark, then I found the best option was to catch an Uber. The ride costs were incredibly affordable, and with so many registered drivers in the city I never waited more than a few minutes for my ride.