Despite a forecast of warm temperatures but constant rain, we were pleasantly surprised to experience a three day weekend of nothing but sunshine in Sofia, Bulgaria.
Free Walking Tour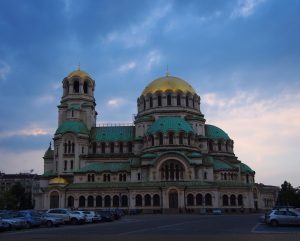 As per usual, I started my Sofia adventure like any other…  with a free walking tour. The guide Niki was probably my favourite guide so far, energetic, enthusiastic, knowledgable, and entertaining.
Bulgaria was originally inhabited by the Thracians from 400BC; the nation later went through a period of Roman occupation which merged into the Byzantine Empire. In 1204 the nation was captured by Crusaders, and by the 14th century Bulgaria was under Ottoman rule. There was a period of uprising and in 1908 the Bulgarians overturned existing treaties and announced its complete independence. At this time they established a monarchy but had lost track of who had royal blood and decided to import royalty from other countries.
The first King of Bulgaria was Alexander from Germany, who abdicated after some time. Then Ferdinand from Austria was put into power. It was under Ferdinand's rule that independence was established, and the nation made great progress in infrastructure and public gardens, among other things.
King Ferdinand requested an Italian bride Maria-Louise,  and their eldest son, Boris III, later led the country. At the time of the Spanish inquisition  the Jews were chased out of Spain and many found themselves in Bulgaria, beginning a Jewish period in Bulgaria. When it was found that Jews were going to be sneakily deported during World War II, Boris led a Bulgarian protest encouraging all citizens to wear the yellow star of David and refusing to give up the Jews; thereby saving the entire Bulgarian Jewish community. (I believe Bulgaria was the only nation to achieve this).
After the war the Monarchy was abolished and a republic was declared. The election was won by the communist party, and from this time until 1989 Bulgaria was a socialist republic.
While Bulgaria is still building itself up after a turbulent history, it is becoming more attractive to tourists and the economy is slowly strengthening. Bulgaria joined NATO in 2004 and the EU in 2007. Today the population of Bulgaria is 7.1 million, with approximately 1.26 million based in the city's capital Sofia.
Niki taught us the history of the city as we went from site to site, as well as illustrating the changing monarchs with some group acting in the park.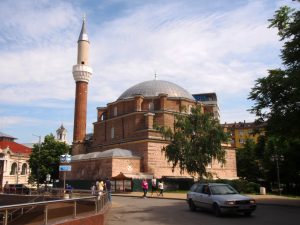 While many of the sites we stopped by were spectacular, one of that struck a chord with us, was the Square of Tolerance. There is a place, near Serdika metro station where you can see an Islamic Mosque, Jewish Synagogue and Catholic Church. They all have beautiful architecture, they are all in the same neighbourhood and they can all coexist in peace, as can each of the followers of their faith. We really appreciate this message and deeply respect the Bulgarians for their tolerance not just now but also in the past. In my opinion it is a fantastic symbol for how we should all live and respect others.
Other sites I really enjoyed for for their stories and architecture were the Alexander Nevsky Cathedral; Sveta Nedelya Church; the Church of St Petka of the Saddlers with it's quirky and haphazard construction; Saint Sophia Statue; City Park; Rotunda of Saint George; National Archaeological Museum; Ivan Vazov National Theatre; and the National Assembly (Parliament).
Coming from the young nation of Australia, it astounds me to walk around such an ancient city as Sofia. Everywhere you go you can still just stumble across ancient Roman ruins! It's ridiculous and fantastic at the same time. The ruins are typically protected from the weather by glass domes.
While we were in the City Park Niki showed us hundreds of white and red bracelets hanging from the branches of the trees. It is a tradition in the Balkan region to give this bracelet to someone you care about on March 1st. The bracelet is then continuously worn until you see a Stork, then you hang it on a blossoming tree to welcome the spring. It is a bizarre and beautiful custom!
Tours operate daily, starting from the Palace of Justice.  Tours run at 10am, 11am and 6pm throughout Summer; and 10am and 11am in Winter.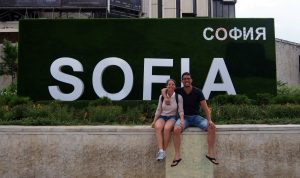 Balkan Bites Food Tour
The Balkan Bites Food Tour is a great way to learn about the origins of the Bulgarian cuisine, the food culture as it exists today and to sample both the traditional and modern cuisine of Sofia.
Our guide Natalie walked us through the main phases of the Bulgarian cuisine, starting with the garlic introduced by the Thracians 6000 years ago. Slavic tribes came later, bringing pastries.
Following this came Nomadic Bulgarians who were dairy farmers making vast quantities of milk, and also yoghurt. The Bulgarian yoghurt is the healthiest in Europe thanks to unique bacteria native to the country. Bulgarians claim that their yoghurt consumption  is the secret to their long and healthy lives.
During the Ottoman Empire spices, and middle eastern dishes were introduced into the cuisine. Refining the flavours I would probably consider as Balkan.
Post World War II and the introduction of communist rule saw the standardisation of menus; where the same name was used for the same dish nationwide. For example, Shopska Salad can be ordered anywhere in Bulgaria and is always comprised of cucumber, tomato, white cheese, resembling the colours of the flag.
Just twenty years ago western influences came into the cuisine, after McDonald's made it to Bulgaria. McDonald's was ridiculously popular at the time – a symbol of independence from soviet rule and perhaps a feeling of being linked to western society. While McDonald's is no longer as popular as when it first opened, the Bulgarians have retained a love of burgers.
Tours run daily at 2pm, meeting at the big head sculpture in Krystal Park. If you want to do the food tour it is recommended to book in advance; alternately be at the meeting point 30 minutes before the tour starts to try grab a spot.
Graffiti Tour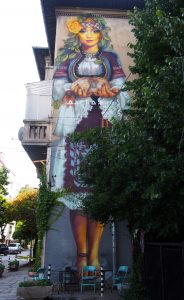 The Grafitti Tour was run by an artist who called himself Niki. He gave us the run down on the graffiti artists and culture of Bulgaria. For two hours he took us through the streets of Sofia to see some of the work of local artists.
In alignment with the name of the tour, it certainly had a focus on graffiti, and not street art as I had hoped. It was interesting that the guide had quite a positive view of graffiti while my own personal view of it is a negative one, I don't consider it to be very creative or requiring extraordinary talent. I do however, really appreciate the complex and creative works of art that I would view as street art. The tour certainly covered some of these, but there were fewer than I had anticipated.
I also found that there was less respect amongst street artists in Sofia compared to so many other cities I have visited, it was visible in how many artists tagged or defaced the work of others.
My favourite piece of art was by Bulgarian artist Nasimo. The piece was of a traditionally dressed Hungarian girl. The patterns on her apron were not symmetrical as Bulgarians see symmetry as a symbol of bad luck. The piece was created after a trip to India,  the influence of  art styles and symbols used in Indian art works was visibly reflected in the work.
Tours run at 3pm on weekends, and start at the Sofia Sculpture near Serdika Metro station.
Out and About on the streets of Sofia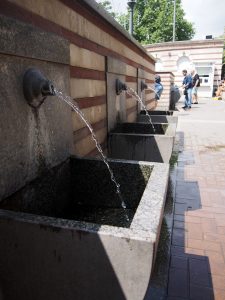 We thoroughly enjoyed just exploring the city of Sofia on foot. It's a very walkable city.
Vitosha Boulevard, named after the mountain visible at the end of the boulevard is a great street to wander for checking out the cafe's, restaurants and shops.
The National Palace of Culture is a fascinating building to look at, but mostly the park in front of it is a wonderful place to stroll through, perhaps dip your feet in the fountain and just sit and soak up the atmosphere.
If you are up for a big walk, the public park called South Park is huge and absolutely beautiful – a great way to get back to nature! We went because we saw it on a map and thought it would be amusing to say we had been to South Park (like the TV show), and were astounded by it's unexpected beauty.
The area surrounding the old thermal bath house is also fantastic, and definitely a great spot to fill up your drink bottle.
The Ladies Market is worth a visit, it is predominantly a fresh food and vegetable market, but where you can also pick up all sorts of other bits and bobs.
Food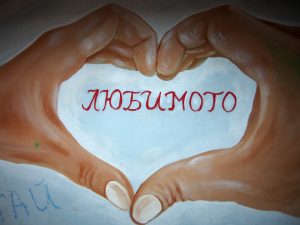 Some traditional foods to try include: Tarator (vegetable soup), Shopska salad, Chuski bôrek, Havarma, Capama, Moussaka, Yuveche.
Food is reasonably inexpensive – we spent the following averages on each meal for two people:
Breakfast: 24 LEV / €12
Lunch: 30 LEV / €15
Dinner: 47 LEV / €23
Restaurant Recommendations
Lubimoto we visited for dinner on the recommendation of the the tour brochure, which also gave us a discount on our meal. The restaurant was a little harder to find, and easy to walk past – but once you get in it has a very cosy, homestead, or small town pub feel to it. It felt very family oriented with traditional food, bursting with flavour.
Manastirska Magernitsa is the Lonely Planet 'Top Choice' restaurant in Sofia and I 100% understand why! It was just like walking into the courtyard of someones home, so welcoming and cosy. Tables were set up through out the courtyard and the house. The house/restaurant is a traditional Bulgarian home complete with family photos and other memorabilia. The food was absolutely exquisite, brilliantly presented with hearty, warm flavours served by smiling and friendly staff. I most definitely recommend this place!
Transport
Flights
We flew Eindhoven-Sofia return with Wizz Air for €110 per person, we found the best deal through Kiwi.com
Getting Around
All the best sights of Sofia are fairly central and easy to walk. If you prefer other options, the subway is cheap and easy to use but there are only two subway lines. Each trip costs 1.60 LEV / €0.80. For this same price you can even ride the subway to the airport!
Airport transfers by taxi cost around 12 Lev / €6. At the airport is an official desk where you can book a taxi voucher. Be aware that there are many taxi scams, the best idea is to go into a hotel and ask them to call you a taxi. If you do take your chances hailing a cab on the street be aware that costs should be <1 LEV per kilometres, if you can see the metre spinning up too quickly, cancel your ride!
Accommodation
We stayed at Rila Hotel Sofia. The entrance looked clean and modern as it was the only part of the hotel which had been renovated. Rooms were outdated, but otherwise clean and functional. While Rila Hotel may not have been the best looking hotel, it was certainly brilliantly located only two minutes walk from the central Vitosha Boulevard.For this reason, I would absolutely recommend staying here.
Three nights in a twin room cost €111.