Many years ago I visited Budapest and due to some personal issues didn't have the best experience, despite being able to see that it was a beautiful city. I felt that it was time to 'redeem' Budapest, and popped over for a super quick city break, followed a few months later by a 5 day trip.
I was not disappointed and had spectacularly wonderful time every time!
Free Walking Tour: Original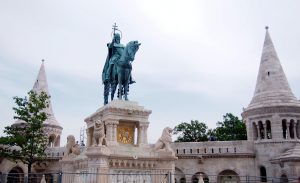 As is my preference to start exploring any city, I started with a Free Walking Tour. Based on the experience and recommendation of a friend, I did the Original Walking Tour.
The tour guide Lilla was a Budapest local, born and raised in Hungary. She walked us through various parts of the city and history.
The city of Budapest is split across two sides of the river Danube. One side of the river is Buda, meaning water and the other is Pest, meaning fire.
Hungary has a population of 10 million, approximately 1.7 million in Budapest, and the nation has 13 Nobel Prize winners. The theory is that the complexity of the language is intertwined with the level of complexity the Hungarian mind can process. This talented and modest nation of people has been the mother to great innovation and creative design including the Rubik's cube, ballpoint pen, helicopter rotors and much more.
Some History
Nomadic pagans first arrived in Hungary from Asia in 896, and as a result the number 96 because a significant, or special number in Hungarian culture. The asian origins of Hungary is still evident today in the language, which is highly complex and has no links to any other European language (Finnish is the other Asian based language in Europe – these two are considered to be among the most complex languages to learn)
St Steven was crowned as the first King of Hungary in 1000, and converted the nation to Christianity.  In 1241 a Mongol invasion caused havoc and and much damage Throughout Hungary; in 1340 Hungary feel under the rule of Louis the Great; in 1526 the Hungarian forces were conquered by the Ottoman Turks; and in 1699 the Turks were expelled and the nation fell under Austrian rule. Eventually Hungary became a partner in the Austro-Hungarian Empire. The Austrian architecture is still the predominant architectural style visible in the city of Budapest.
In 1918, post World War I, a Hungarian republic was proclaimed; but in 1919 the country was taken over by communist rule. According to Lilla, if nothing else, life under communist rule taught Hungarians to have and value a strong separation of their personal and public lives. Public appearances will convey happiness and perhaps wealth – but personally this may or may not be the case.
Hungary finally became an independent democracy in 1990; and is now a member of the European Union, NATO, the OECD, the Visegrád Group, and the Schengen Area. Despite being a member of the EU, Hungary continues to use it's own currency of Forint as the currency is not yet strong enough to make the switch to Euro.
Things to see
The Castle District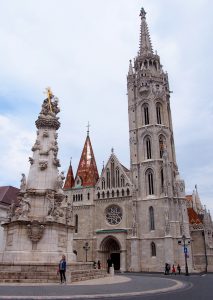 Despite the name, there is no castle on castle hill. Only the ruins can still be found. Regardless of whether a castle remains or not, the castle district is a gorgeous area to explore. Cute little streets, nice green parklands and my two favourites:theMatthias Church and the Fishermans Bastion.
The Church of our Lady, typically referred to as Matthias Church was started in the 13th century but rebuilt 100 years ago in it's original gothic style. It's a beautiful white church with a coloured tile roof.
Entry costs 1500HUF and it is absolutely fantastic inside. Interesting colours and designs – much more lively than other cathedrals I have visited around the world.
The Fishermans Bastion is a terrace constructed along the hillside with seven turrets providing spectacular panoramic views of the river and city below. The seven turrets represent the seven Magyar tribes that settled in the Carpathian Basin in 896. It was constructed around 1900 out of beautiful white stone blocks. You can freely explore the Fisherman's Bastion, but if you wish to walk the upper towers there is an entry fee of 800HUF.
If you want to visit both the cathedral and the bastion, the combo ticket is the best option.
Chain Bridge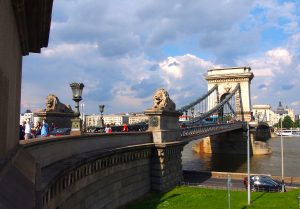 Chain Bridge was the first permanent bridge built over the Danube, to connect the two sides of the city. During the war the bridge suffered a lot of damage, it was blown up but pillars remained intact. The connections between the pillars were rebuilt after war.
Some quirky folklore to go along with this bridge is that the bridge's architect said it was so perfect that he challenged all the people to find a flaw in it. If they found a flaw he would jump off his bridge and kill himself. It took two weeks but eventually a child said that the lions did not have tongues. The architect proceeded to spin a story about lions keeping their tongues in their mouths, unlike dogs – and that this was not a flaw but simply not visible; thus saving his life.
Heroes Square
Heroes Square is the largest square in Budapest. This millenium monument was established to commemorate the first 1000 years of the Hungarian state. The Archangel Gabriel is atop the central pillar, surrounded by seven Magyar Chieftains, and the semi circle of columns contains the likenesses of fourteen important historical figures, such as Kings. It is a beautiful site to wander around and behold.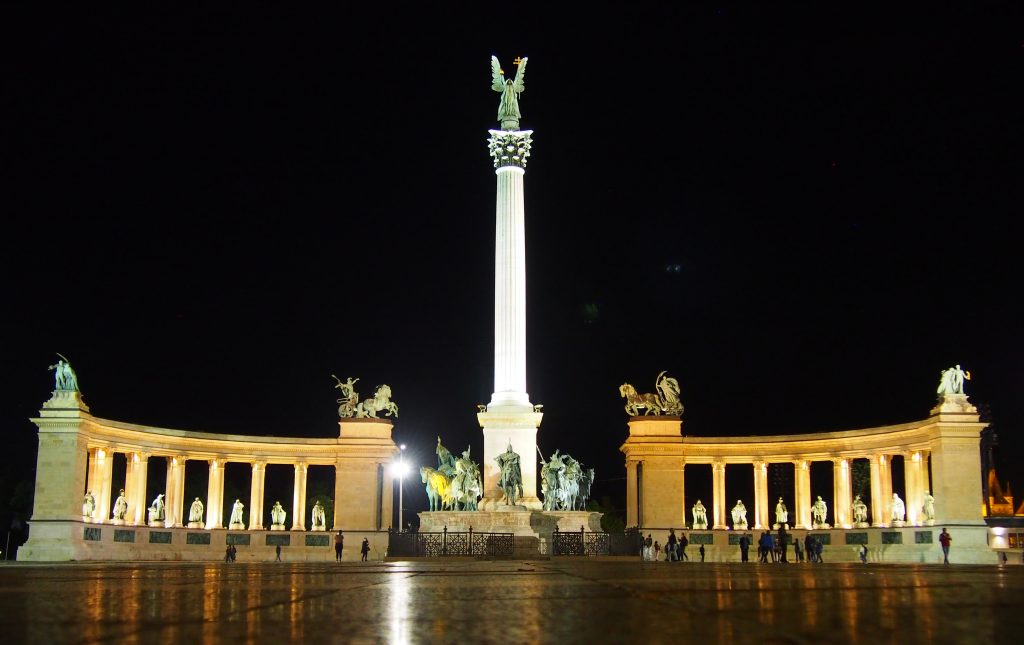 Gellert Hill
Gellert Hill is a 140 metre high Dolomite rock overlooking the river Danube. It is a beautiful area to explore with a natural park, several monuments and a cave church to explore.
On top of Gellert Hill is statue of lady holding palm leaf, which can be seen as a beacon from all over the city.
It was placed in 1947  by the Soviets as a symbol of liberation during World War II. Despite the rule and conditions under which she was placed on the hill, she was kept there because the Hungarians like the sculpture, though the inscription was modified to read "To the memory of those all who sacrificed their lives for the independence, freedom, and prosperity of Hungary".
Tram Line 2
Tram Line 2 is a beautiful old tram,  whose line follows the river and the best sights of the city, offering beautiful views. When you google it, it is listed as one of the best tram rides in the world!
Danube River Cruise
Budapest by night (probably also during the day), from the river is truly stunning. I would highly recommend a Danube river cruise. There are many options to pick from, covering a huge range of prices, some include a dinner.
We chose to do a basic one hour tour with the river line of the Hop-On-Hop-Off bus and we really enjoyed it. Tours depart from dock 8A.
Thermal Baths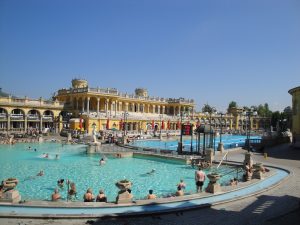 Budapest is home to the largest thermal water cave system and the second-largest thermal lake in the world (Lake Hévíz). With more than 136 thermal springs around the city it is no wonder that there are many thermal baths to visit. The baths are both turkish and non-turkish styles, and an absolutely fantastic way to relax.
Possibly the most famous baths in the city are the Szechenyi Baths, which can be found just a few minutes walk from Heroes Square. Baths range in temperature from icy cold to searing hot, and are both indoor and outdoor. I lolled about in the tepid baths for several hours, genuinely wishing I had the entire day to soak it up and relax.
Prices vary from 4900HUF to 5600HUF dependent on whether you have an advanced booking and a locker or cabin, this gives access for single entry but full day use. The pools are also open in the evening for a 'pool party' in the outdoor pools.
The Rudas Bath is also spectacular. The thermal springs only run under the Buda side of the river. Szechenyi has the thermal waters routed to the pools, where Rudas has natural access to the springs.
Prices at Rudas are a bit cheaper than Szechenyi ranging from 3100 to 5900 depending on the day, and the services you request.
Cave Systems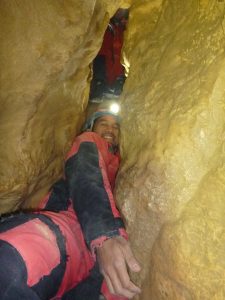 Underneath the city of Budapest are extensive cave systems which you can explore on a variety of tours of differing challenge levels. I'm always up for the biggest challenge and have toured this cave system twice already!
The adventure caving tour is three hours long, you are provided with an overall suit to protect your clothing and a helmet with headlamp. I'd recommend bringing old shoes as they will get a bit dirty. You will be climbing and crawling through big and small caverns and tunnels. It's absolutely fantastic and has always been my number one recommendation for anyone travelling to Budapest!
The cost is 7,000HUF per adult and worth every penny!
Parliament Building
The Parliament Building is Gothic Revival architecture. The building facade is symmetrical with a stunning centre cupola. The architecture, and artwork in the building are beautiful; and the tour was both interesting and informative.. You can take photos throughout the parliament building, except in the centre cupola.
Please note, you really need to book tickets online a week in advance to get in (in high season perhaps 2-3 weeks ahead is necessary). We only managed to book an 8am tour, which turned out to be fantastic as it meant that the tour group wasn't full and the  parliament building wasn't overflowing with people.
A one hour tour costs 2200HUF for EU residents, and 5900HUF for non-EU tourists.
Ruin Bars
During communist rule normal buildings were owned by the state, but  when the conditions of the buildings deteriorated, they were simply deserted. Since then some artists bought them cheap,  did the minimum possible renovations and converted them into bars. The Ruin Bars are a very popular spot to drink (and eat) and can be found in the Jewish district.
Other things to spot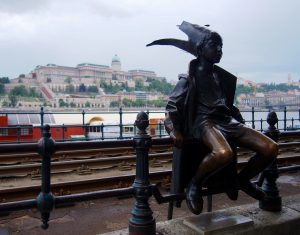 The "Little princess" sculpture by the river was placed in 1972, it was modelled on the daughter of the artist as she played in a paper crown and bathrobe as a mantel.
The Shoes on the Danube is another river side monument. During WWII Jews were lined up, ordered to take off their shoes and then shot from behind so their bodies fell into the river. The monument can be found near the Parliament building.
The Danubius Fountain in Erzsebet  square is beautifully constructed with with four sculptures; one to represent each of the four rivers of Hungary.
Food and Drink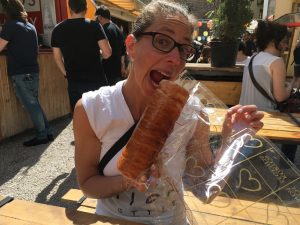 Hungary has a range of cuisine, but three traditional items to point out are Palinka, Langos and Chimney Cake.
Palinka  is a plum brandy, which legally needs to be between 36% to 80% alcohol. It's quite extreme, but a must-try!
Langos is "communist pizza", and a commonly found street food. It is a deep friend flat bread typically served with warm with sour cream and cheese, though there are many toppings available.
Chimney cake is a hollow chimney shaped cake that's quite crispy and coated in a sugary glaze. The sugar and vanilla flavour is most traditional, but more recently the flavours, and fillings, have expanded in options. The best chimney cake has been baked on open fire.
Coffee
After a decent walk there should always be time to chill and have a coffee.
PICNIC is a nice location if you visit the Citadel and are on your way towards Buda Castle.
Madal Cafe is near the Parliament building and serve a good brew.
My Little Melbourne is a Aussie themed location in the city centre. 
Breakfast
STIKA
This corner cafe is quite modern and a bit hipster. We ordered Eggs Benedict and Eggs Florentine on English muffins and they were simply divine!! The service and coffee were also fabulous.
Zoska Reggelizö Kévézó
Zoska is one of the most popular breakfast destinations in Budapest and usually has a queue out the door. A super cute and cosy cafe with delicious food. They offer a variety of options of eggs, and I'd recommend trying them.
Kelet Cafe
Kelet Cafe is a gorgeous cafe full of books, and other cafe decor. They don't have a wide ranging menu, but what they have on offer they do very well!
Lunch
Street Food Karavan
A range of street food options in a chill outdoor environment, I found it a really cheerful place to hang out. The goulash served in a bread bowl would be my food recommendation.
Nothing Special
A super quirky cafe with seating from an old theater. Fantastic service and fabulous food.
Drum Cafe
More in the category of cheap eats, don't visit the cafe for the decor. A great spot to enjoy a traditional meal at an affordable price.
Dinner
Magyar Qtr
Magyar Qtr is a restaurant by the river, you pay for the location as views of the Danube are lovely. While certainly a bit upper end price-wise, the food was absolutely delicious.
Doppio
Doppio Restaurant was cheap and cheerful with great value traditional meals.
Karcsi Vendéglö
Really good food at a really good price. Lovely wait staff and a nice restaurant that was cosy and welcoming.
Accommodation
I am incredibly lucky to have a Hungarian friend, who has an apartment in Budapest which she rents out via airbnb. It's an absolutely gorgeous, recently renovated one bedroom apartment in a brilliant location just a few minutes walk to Heroes Square.
If you are headed to Budapest – then I can't recommend this apartment highly enough as the ideal place to stay!!!
If you haven't already got an airbnb account – feel free to sign up using my link, to give us both some travel credit.
Getting Around
Flights
I typically search for flights using a variety of search engines: Kiwi, Momondo and Kayak. I sometimes check directly on airline websites to see if there's a better deal.
I booked  one of our trips via Momondo, a return flight Amsterdam-Budapest cost €158 with KLM.
The second trip I booked directly with Hungary's budget airline, Wizz Air. The flight was Eindhoven-Budapest return for €70 per person.
Airport Transfers
Sadly Uber doesn't operate in Budapest, but for transfers to and from the airport the most cost effective option for two people was a taxi. On arrival at the airport is an official taxi booth where you request and are assigned an offical taxi. A one way taxi ride cost approximately €20.
If you are ever taking a taxi – do not hail one from the street, as there are many taxi scams. I suggest to phone in a booking, or go into a nearby hotel and ask them to book you a taxi.
The bus to the airport is a dedicated transport ticket, one way for 900HUF on line 100E from the city centre. We were impressed with the efficiency of the bus.
Taxi Numbers: 
+36 1 211 1111   +36 1 666 6666   +36 1 777 7777
Local Transport
Budapest has buses, trams, a subway system and bubi bikes to allow you to move around the city. My preference however is always to walk.
That being said, public transport in Budapest is brilliant. A transport card gives you access to all the forms of public transport. We bought a 7 day travel card for the five days we stayed in Budapest, at a cost of 4950HUF, it was absolutely worth the money. We zipped back and forth across the city with ease.