Baños is a small town four hours south of Quito by bus. The full name of the town is Baños de Agua Santa, which translates to Baths of Holy Water. The town got it's name from the abundance of natural hot springs and waterfalls in the region.
The mountainous region developed into what is essentially the adventure capital of Ecuador. It is here that you can engage in all sorts of outdoor activities, such as the adrenaline pumping sports of Canyoning, Puenting, White Water Rafting, Mountain Biking through to more sedate activities such as swinging over a cliffs edge, hiking, visiting waterfalls and bathing the natural hot springs.
The number of activities you engage in obviously depends on time, budget and interests. During my time in the rural Ecuadorian town of Salasaca, I made two weekend trips to Baños.
In that time I only got around to completing a few of the activities on offer…
Hiking Chimborazo
Cost: Free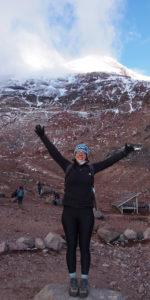 My first weekend adventure was spent together with eight other volunteers from the volunteer house in Salasaka. We headed to a volcano called Chimborazo, which claims to be the highest mountain in the world, 2 kilometres taller than Mount Everest when measure from the centre of the earth.
We caught the bus to a starting point at 4300 metres, signed in at the office and started walking upwards.
While we could see the volcano was snow-capped, the starting point was dry, dusty and to me, moon-like. There was very little vegetation and a few wild vicuñas on the lookout for food.
With the high elevation, walking was very slow going, but the company was fabulous and the views simply spectacular.
At 4800 metres we stopped for lunch and a hot drink, as we were all completely frozen and had burned all our energy with the uphill hike. After the brief respite, we continued onwards past the second refuge to the lake at top, Condor Cocha, our highest point of elevation at 5100 metres.
Puenting
Cost: $20 + $5 for the cd of photos and video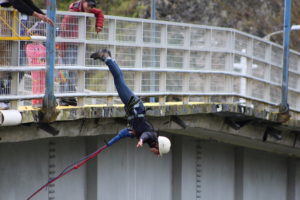 In Spanish the word Puente means bridge, the activity referred to as Puenting is a pendulum bridge swing.
There are a few bridges in the Baños region where you can go puenting, I simply walked to the bridge over Rio Pastaza behind the bus station and local market. I spoke to the people running the operation on the bridge, paid and jumped off.
You can book and pay for a puenting experience at any of the Adventure Centres around town.
Casa Del Arbol
Cost: $1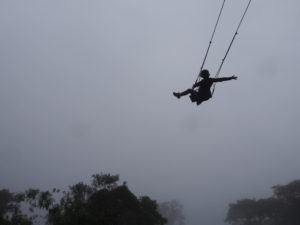 Casa Del Arbol is a treehouse on top of the hill overlooking Baños, with some swing attached. Perched on the hilltop, it appears as though you swing off the edge of the world.
Swinging off the edge of the world was Bucket List Item 35 for me, and despite it not being a particularly high thrill activity, I loved every second of it!
You can either book a trip to Casa Del Arbol with one of the adventure companies or catch a local bus up and down. With a company it may cost around $12 or more, independently using public transport will add up to a total of $3. Buses are infrequent, so check the times carefully.
Pialon del Diabolo
Cost: $1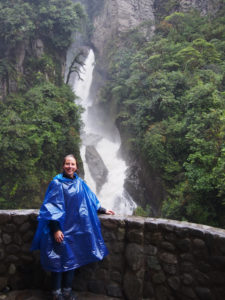 Ideally with enough time and good weather I would recommend renting a bicycle and cycling Ruta de Los Cascadas – the waterfall route. Alternately you can book a trip on a camioneta with any one of the adventure companies and they will transport you from place to place for approximately $6, not including entrance fees..
There are so many waterfalls in the area and they are all simply stunning and worth a visit.
Due to time limitations not to mention the incessant rain, I caught a local bus to Rio Verde for 50 cents each way, and walked the short distance to Pialon del Diabolo, the Devil's Cauldron.
If you want to have a really good look at the waterfall and explore the area, then ideally you should wear a swimsuit and leave your electronics at home. Pialon del Diabolo is an incredible waterfall, with a huge volume of water. No matter how far away you are, you will be splashed as the water rushes down the mountainside.
Canyoning
Cost: $30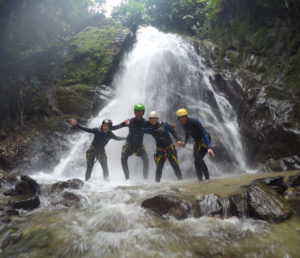 On the recommendation of so many people I have met, Canyoning was added to my To Do list in Baños. Again, basically every company offers half and full day canyoning adventures.
Canyoning involves descending through a canyon, in the water, by means of rappelling, zip-lining, jumping and riding natural water slides. It is absolutely truck loads of fun!
A good friend of mine highly recommended the company Natural Magic for a canyoning trip, based on the professionalism and safety standards of the company. I was not disappointed at all!
My guide John was fantastic, there were no issues along the way, we all felt safe and had a brilliant adventure. We chose the half day canyoning adventure down Rio Blanco for $30.
My preference would have been the full day adventure down Cashaurco Canyon, but with temperatures of 2 -4 degrees celsius forecast, I was unwilling to spend quite so much time in the cold.
Food and Drink in Baños
It feels like there are literally hundreds of food and drink options in Baños. Some places I have been and like are:
Honey – good food coffee and cake
Hickory – delicious, good value, burgers
Pizza Al Pazo – reasonably good pizzas, well priced, quirky decor and friendly staff
Casa Hood – cosy atmosphere and a good range of cuisine at a reasonable price
Stray Dog Brewpub – some decent food such as burgers, also a nice (but expensive) range of beers
In one of the main food streets you will also find an opportunity to taste the local delicacy "Cuy", known in the English language as Guinea Pig. A whole one costs $22, but assuming you just want to taste, a piece costs $3.