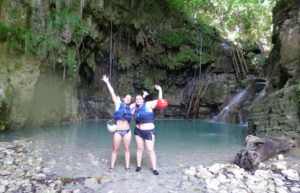 When talking with friends about places I wanted to see in the Dominican Republic, I mentioned my desire to visit Puerto Plata to go adventuring at the 27 Waterfalls of Damajagua, check out the beautiful beaches and ride the Teleférico for a great view of the coast. Upon hearing this my friend Sheila, who is originally from Puerto Plata excitedly offered to go with me…or rather take me, since she has a car.
So we packed up and headed North for a weekend of adventure!
Puerto Plata
Puerto Plata is a large province on the north coast of the Dominican Republic, the capital of this province shares the name, Puerto Plata.
When Christopher Columbus first found the region he saw a silver mountain. It had a silver appearance due to the fog shroud, but also the white undersides of the leaves of the trees gave a silver appearance. He named the mountain Montaña de Plata, mountain of silver. It was through this name that the port city earned it's name Puerto de Plata, Port of Silver. Now it is simply referred to as Puerto Plata; and the silver mountain has since been renamed to Montaña Isabel de Torres.
Within Puerto Plata city, make sure to check out the historical centre. I didn't quite get there myself.
Beaches of Puerto Plata
Being a coastal city, Puerto Plata has many beaches. Central to the town is the Malecon region and beaches. Due to their proximity to the shipping port, the water in this area is polluted and not safe for swimming. A little further West or East however, is no problem.
We headed East to Playa Dorada and Playa Chaparral for an afternoon dip in the Caribbean Sea. Followed by a delicious pizza dinner with Sheila's cousins at Playa Dorada mall.
Fortaleza San Felipe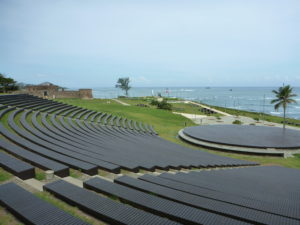 At the west end of the Malecon, the city's port used to be guarded by a fort, Fortaleza San Felipe. While manning the fort with canons and guns is no longer necessary, the building remains and is open most days of the week as a museum.
Having visited on a Sunday the museum was not open, but I enjoyed a stroll around the area to see the Fortaleza San Felipe, other old buildings that were part of the fort complex and a statue of General Gregorio Luperon. Contrasted against the beautiful old buildings are a modern amphitheatre for open air events and a highly reflective rectangular building whose purpose is not yet known.
This would be the ideal place to have a picnic and watch a sunset.
Teleférico up Montaña Isabel de Torres
One of the main attractions in Puerto Plata is the Teleférico, a cable car to the peak of Montaña Isabel de Torres.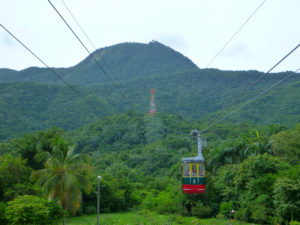 The Teleférico ride costs 350 pesos for tourists (and 200 pesos for locals). It's a reasonably short ride in a super old and quirky cable car. Contrary to my assumption that the peak would just have a viewing platform, the peak has a number of things to see within sprawling gardens.
Firstly the view from the viewing platform extends over lush rainforest, and over the city of Puerto Plata to show just how big the 'small town' really is, continuing on over the Caribbean Sea. On a hazy day the silvery water blurred into the silvery haze, and the boat we saw at a distance appeared to be floating in the sky.
After the view, the most notable site on the mountain top is the Cristo Redentor statue. It's size is not even close to the one in Brazil, but it is certainly photo worthy. There are many people hanging around who will offer to tour you around the area, or take your photo, remember that nothing is for free.
From the statue, Sheila and I wandered along the garden paths checking out the cave, lagoon and replica traditional homestead, before seeking out some hydration at one of the cafes.
If you can bring your own food and drinks I would recommend doing so, as the cafes overcharge in the extreme.
27 Charcos de Damajagua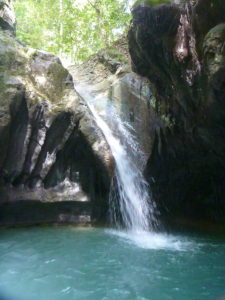 Approximately 30 kilometres out of Puerto Plata are the 27 Charcos de Damajagua, often referred to as the 27 Waterfalls of Damajagua. Damajagua is the name of the river, and the term Charco refers to the natural pools at the base of each waterfall.
Unfortunately due to drought, there is not much water flowing down the river and waterfalls 20 – 27 simply have no water at all. Together with our guide Richard, Sheila and I started at Waterfall 19 and worked our way down.
Many of the waterfalls were so small we could only walk through the river or swim in the pool. However some had enough water to provide a bit of adrenaline. We took every opportunity to leap from the rock walls into the water below or whizz down a natural waterslide. The 3.5 hour tour was absolutely fantastic!
The tour costs 800 pesos per person, you get a guide just for your group and you are provided with lunch.
Cabarete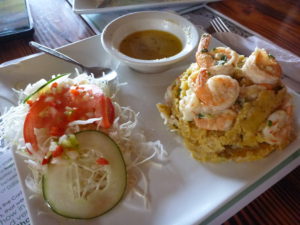 Cabarete is a town and beach area roughly forty kilometres west along the coast of central Puerto Plata. It's an area well known for surfing and kite surfing. It's a busy area, with loads of hotels, shops and restaurants.
I spent some time swimming in the surf and soaking up with sun, while enjoying a cold beer. I chased this challenging afternoon with a traditional Dominican lunch of Mofongo con Camarones, mashed plantain with shrimp. On hearing the description of Mofongo I wasn't super excited about it, but determined to try traditional Dominican food, I gave it a go and it was delicious!
As well as beach and water sports, the area has many other nearby attractions including some caves that I would have loved to have time to visit. Cabarete is definitely a place I would recommend staying a few days.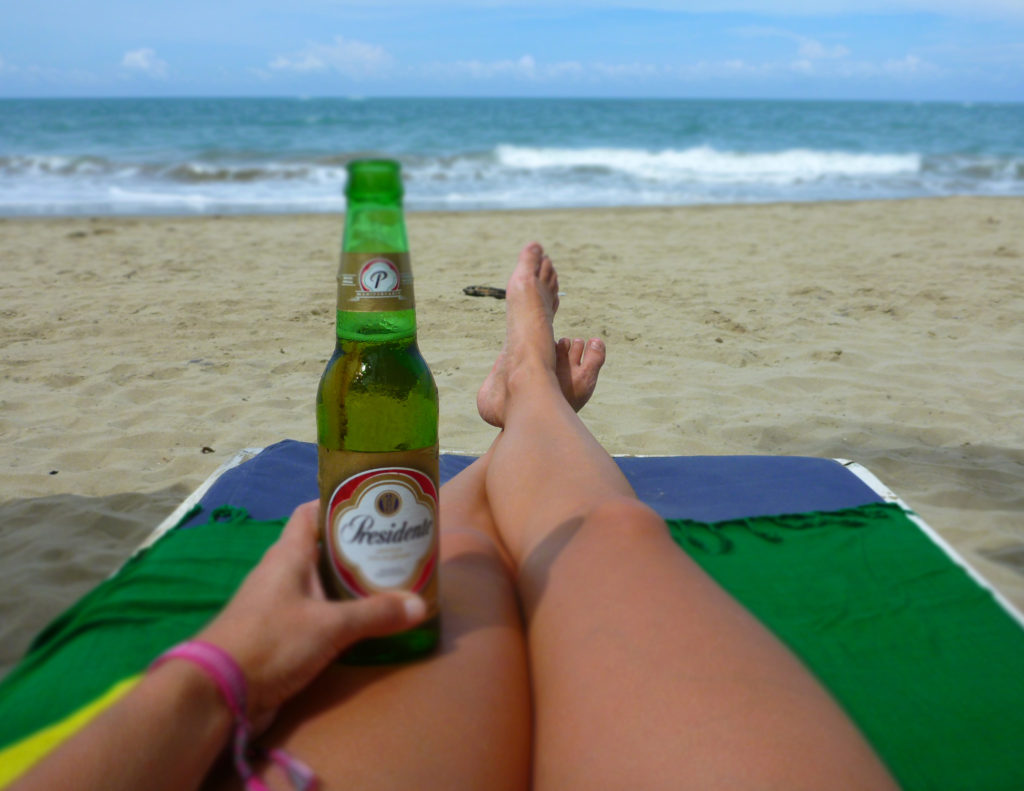 Accommodation and Transport
Travelling with a friend we took her car and stayed with her family, so I don't have any first hand advice on how to get around or where to stay.
Getting There
Buses travel regularly to Puerto Plata from Santo Domingo, the two companies I would recommend are Metro and Caribe.
Getting Around
In discussion with other tourists, it seems that many hotels will offer to organise taxis and/or tours to get you where you want to go.
Accommodation
In deciding where to stay I would recommend either central Puerto Plata or Cabarete. Cabarete would probably be my primary recommendation as it is much smaller, it is easier to get around on foot, the beach is fantastic, there are loads of restaurants. Some of the adventure activities are based in Cabarete, and it simply provides a more chilled out vibe than the city itself.
For booking, I would recommend my usual go-to, booking.com.