After travelling for so long, I decided it was time to slow down. At this point in time an English teaching position was advertised in my twitter feed for a position at Academia Europea in Santo Domingo, the Dominican Republic… so off I went.
Dominican Republic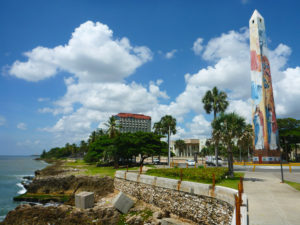 The Dominican Republic is a country in the Caribbean. It can be found on the island of Hispaniola, which it shares with the country of Haiti to its west. I don't know if it is true, but according to wikipedia it is the most visited country in the Caribbean.
The official language is Spanish, but they have a bit of their own spin on it. You will come across many colloquial phrases, and you will find pronounciation is not very clear. Around the more touristic areas, you will find people who speak snippets of English, enough to help you get by.
The country has a land size over just over 48,000 square kilometres, with an estimated population of over 10 million. The capital of the Dominican Republic is Santo Domingo, this is where I live and work.
Santo Domingo
The capital city of the Dominican Republic is Santo Domingo, in the country's south. Unsurprisingly, it is the largest city in the country and has a population of around 1 million.
Most amazing things to see and do are outside of Santo Domingo, but around the city are a few architecturally fascinating buildings, some shopping malls and the two places I would recommend seeing, Zona Colonial and Santo Domingo East.
Zona Colonial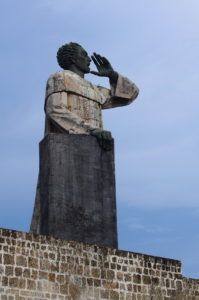 The primary attraction in Santo Domingo is Zona Colonial, a UNESCO World Heritage site. Wandering the streets of Zona Colonial gives you a look at the beautiful old Spanish architecture dating back to the 1500s.
Some of the highlights include:
Basilica Cathedral of Santa Maria la Menor, the first cathedral in the Americas (Entry costs 40 pesos, or 60 with audio guide)
Alcazar de Colon, home built by Diego Colon, son of Christopher Columbus (I'm not sure if it's free entry but I wandered in without paying)
Ruinas del Hospital San Nicolas de Bari (I'm not sure if it's free entry but I wandered in without paying)
Plaza de España
Pantheon Nacional (I'm not sure if it's free entry but I wandered in without paying)
Calle Las Damas
Calle El Conde
Calle Hostos
Parque Independencia
Parque Colon
The Malecon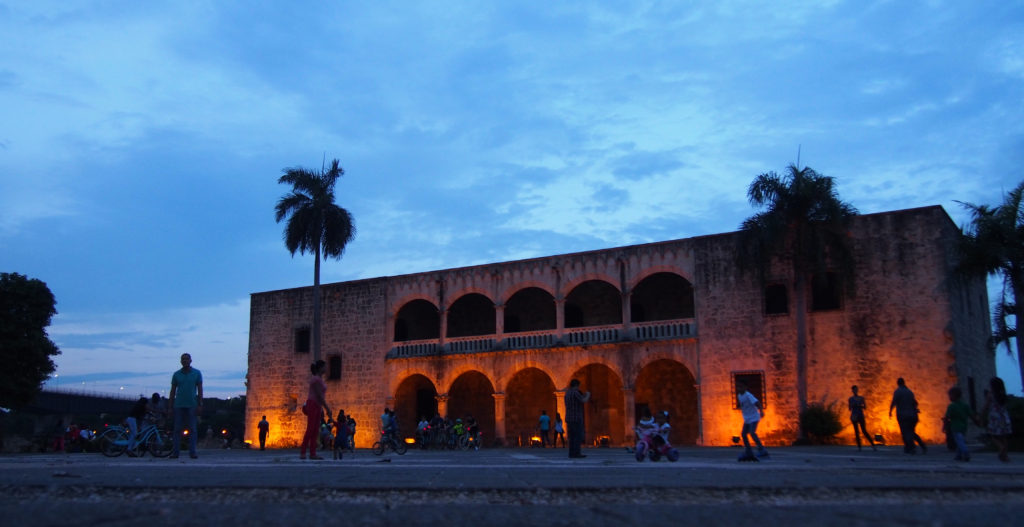 Santo Domingo East
Across the river from central Santo Domingo and Zona Colonial are two sights worth visiting.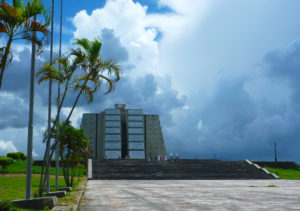 Los Tres Ojos – is a national park with some beautiful gardens and simply stunning sink holes. Entry costs 100 pesos, and the little boat trip across one of the sink holes costs 50 pesos. A guide will try to rent you their services, but in my opinion you do not need a guide.
Faro a Colon – the lighthouse of Christopher Columbus, it is a museum, church and tomb. When I tried to visit it was closed, so I am not sure of the price.
The two sights are very close to each other, however it is a particularly unsafe area, take taxi's or uber everywhere.
Getting Around
Uber
The most easy and reliable way to get around, but it can become expensive.
If you don't have an Uber account, sign up using my code to get a free ride: cats355ue
Taxi
Very expensive, ideally you need the contact details for a specific company/driver and you need to be able to speak Spanish.
Public Taxis/Cars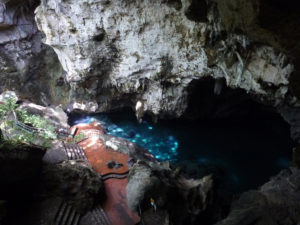 Public cars run the length, up and down, of main streets. You hop in, pay 25 pesos and jump out when you want (longer trajectories will charge up to 50 pesos). They are identifiable mostly because they toot their horn and wave their arm out the window at you to see if you want a lift, they are typically beat up cars with a street name on their roof sign or windshield sticker.
Note: These cars are usually quite full and they will happily fit 6 adults into a car, so get ready to squash in!
Buses
Buses are quite hard to figure out, some run the length of streets, like public cars, others have routes that are probably set, but there are no bus schedules or routes available online or anywhere else. In some cases you just jump on and hope for the best!
Metro
The Metro/ Subway system is very limited, there are only two lines. In the event you want to go somewhere along those lines then it is a very cost effective, safe, reliable means of travel. A single trip costs 35 pesos, a daily card or rechargeable card is more cost effective and get the value of single trips down to as low as 20 pesos.
Walking
You can get anywhere you want by walking, the only issues are that distances can be quite large so it is time consuming, it is very hot and not many the streets of Santo Domingo are safe to walk.
Cultural attitude towards women
Something I think worth mentioning is the attitude towards women. Unfortunately catcalling is something women have to put up with in many countries, it's often not intended in a malicious way but it still makes us feel uncomfortable.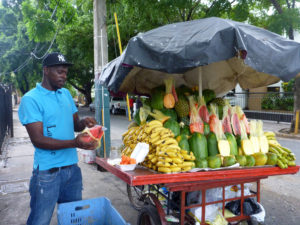 In the Dominican Republic, as a white girl travelling alone, this discomfort most definitely continues. As I walk the streets I am regularly hissed at, stared at and called out to.
"Rubia" "Gringa" "Americana"
Engaging in conversation with people, they rarely ask how I am, the first question out of a man's mouth is "Are you married?", "Do you have a boyfriend?" or "Where are your children?"
It is a foreign concept, that a woman my age would choose to be single, so the assumption is that there is something wrong with me or it must mean I want a Dominican man. Every second man will ask for your phone number within minutes of meeting.
My two main tips for dealing with this are:
a) put on your biggest grin, smile, say hello and just keep walking
b) lie, say you are married and wear a fake wedding ring (if you can find something cheap and nasty to wear, because anything that looks expensive might get stolen)
Safety in Santo Domingo
Santo Domingo, and the Dominican Republic in general, is not a particularly safe place. Do not wear expensive jewellery. Limit what you carry on your person in terms of valuable possessions and money. On the streets and even in cars, avoid having your cell phone or camera visible.
Muggings at gunpoint and theft in general are very common. Always have your wits about you, aim to walk around confidently as though you know where you are going and avoid walking the streets after dark.
Despite safety concerns, do not be deterred from visiting, just stay street smart.